Oklahoma Pro Jason Christie Leads Day 1 Of The Bassmasters Classic!
---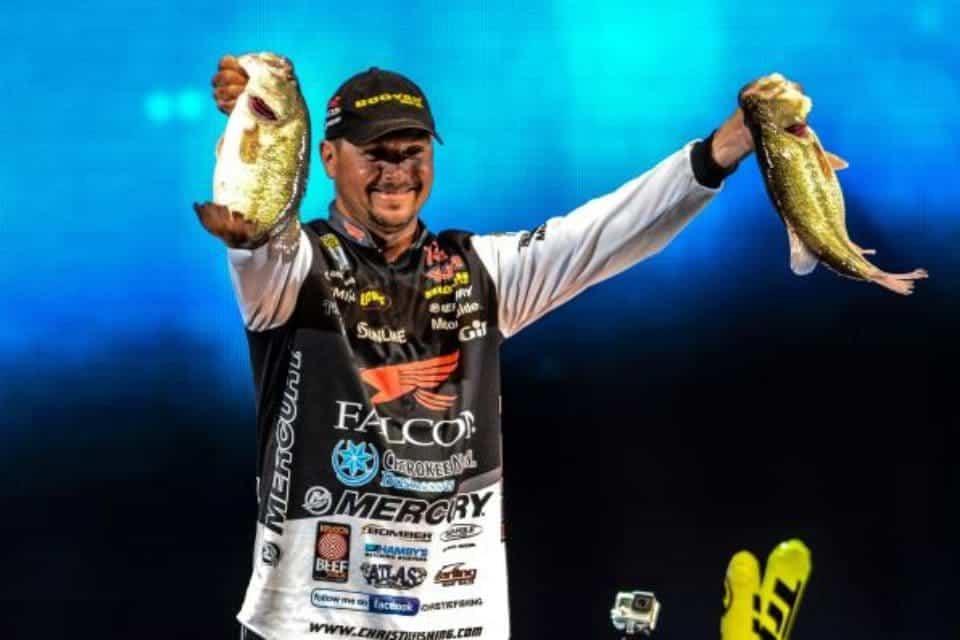 Day 1 of the 2016 Bassmaster Classic has concluded. Many anglers are hopeful that big females will replenish along shallow stretches of Grand Lake. Local favorite Jason Christie leads with 20 pounds, 14 ounces. He's followed by Greg Vinson (18-1) and Alton Jones (17-13) who trails by 3 pounds and an ounce.
Randy Howell is 4th with 17-6. Bill Lowen is 5th with 16-9.
As for locations, one of the top 3 guys is fishing in the mid-lake region, another is camping in the upper third and the other is fishing exclusively on the lower lake.
All over the place. That describes this tournament well. However, the most successful anglers have said that, regardless of what part of the lake they are fishing, they are keying on something specific. And they are definitely on a full-blown prespawn pattern.
While the top performers have figured something out, the guys down the leaderboard lamented either a lack of bites or a lack of size. While some have caught a very few chunky bass, others say their fish ran small, as opposed to practice when they caught quality specimens. A theory put forth by one pro suggests that the big girls pulled up during practice, got hammered and now all that's pulling up are small buck bass. Hard to imagine anglers of this caliber burning their fish in practice. Apparently those who are high in the standings did not.
And the fish that are moving shallow are, let's say, unambitious. Christie explains, "The water temperature came up, not only in certain areas, but all over the lake and it's been my experience here in this region on highland reservoirs that (when that happens) they get lazy. They're prespawn. They want to sun and they just don't bite as good."
Howell says the lack of wind did indeed put his fish into a slumber. "It warms the water up and they get lazy and they just kind of suspend and roam around and sun. Then if the wind ever starts blowing on those places they might turn on. That's what happened to me late today. I think a lot of guys caught them late today. Things change quick."  Many pros complained of short strikes. Lowen says, "I had some of those bites today. One of the biggest fish ate my bait at the trolling motor and I never caught her. Cold, dirty water is a recipe for disaster."
Vinson hinted that poor visibility, due to dirtier-than-usual water may be to blame for the missed strikes. "I wonder how well they can see it; how well they're dialed-in on what I'm throwing.
"The general are where I'm fishing, the water got a little dirtier today. That's usually a cause for concern this time of year," said the Rooster.
Christie and Jones aren't complaining. Christie thinks the near misses may be from UFO's. "I don't think it's bass because the bass I did catch would have the thing in their throat." Jones agrees, "If the fish really bit my bait, I caught him. A good one, right now, when they commit to eat the lure, you're going to be unhooking them with pliers."
Jones would not elaborate as to which lure you'd need to unhook with pliers. He did mention that he slowed down because water in his area actually got cooler today which certainly bucks the trend for the rest of the lake.
Jones also said he burned through a spot today because others were present to help him catch fish. "If I didn't catch them the other guys would have. I will likely have to fish new water tomorrow. If I have something to myself I can save fish, but when there are others around, you might as well go ahead and catch all you can."
The leaders know they can't relax. Lowen says, given the quality of fish the swim in Grand Lake, "Every one of us needs to worry. We all know this lake is full of big fish and I think that we're probably going to see somebody that didn't catch them today catch them tomorrow and maybe even Sunday and make a big move up the leaderboard. We know the lake is full of fish. It's just off a little bit. There are 24-and-25-pound bags swimming around out there. I don't think any one of us is safe right now."
Does this mean Lowen is fearful heading into Saturday's elimination round? "I probably had more confidence coming into this event than I have any other event that I've fished in. Today is over and I still feel like I'm going to catch a 20-pound bag. I'm running a pattern. I'm throwing 2 different baits. I can run all over the lake and catch them on that deal. So to say my confidence is high – it's really high."
Confidence is great and all, but Howell, as usual, lightens the mood with his admission that he doesn't have it all figured out. And he's OK with that. While other pros fretted over their single pattern or one productive lure failing them tomorrow, Howell said, "I wish I had a really good pattern. And a really good 'one bait'. But I still don't. But I've kind of made a living like that. I have a lot of crazy stuff that happens to me and at the end of the day, most times I never understand why but I'm just thankful to the Good Lord when it does happen. I fished a lot of baits today. I'll keep hunting and hope I can get consistent like these guys."
2016 GEICO Bassmaster Classic presented by GoPro 3/4-3/6
Grand Lake O' The Cherokees, Tulsa  OK.
(ANGLER) Standings Day 1
Angler                   Hometown              No./lbs-oz  Pts   Total $$$

1.  Jason Christie         Park Hill, OK            5  20-14    0
  Day 1: 5   20-14   
2.  Greg Vinson            Wetumpka, AL             5  18-01    0
  Day 1: 5   18-01   
3.  Alton Jones            Lorena, TX               5  17-13    0
  Day 1: 5   17-13   
4.  Randy Howell           Guntersville, AL         5  17-06    0
  Day 1: 5   17-06   
5.  Bill Lowen             Brookville, IN           5  16-09    0
  Day 1: 5   16-09   
6.  Matt Herren            Ashville, AL             5  16-04    0
  Day 1: 5   16-04   
7.  Greg Hackney           Gonzales, LA             5  16-02    0
  Day 1: 5   16-02   
8.  Casey Ashley           Donalds, SC              5  15-05    0
  Day 1: 5   15-05   
9.  Todd Faircloth         Jasper, TX               5  14-15    0
  Day 1: 5   14-15   
10. Marty Robinson         Lyman, SC                4  14-12    0
  Day 1: 4   14-12   
11. David Walker           Sevierville, TN          5  14-02    0
  Day 1: 5   14-02   
12. Josh Bertrand          Gilbert, AZ              5  13-14    0
  Day 1: 5   13-14   
13. Edwin Evers            Talala, OK               4  13-12    0
  Day 1: 4   13-12   
14. James Elam             Tulsa, OK                5  13-11    0
  Day 1: 5   13-11   
15. James Watson           Nixa, MO                 5  13-10    0
  Day 1: 5   13-10   
16. Aaron Martens          Leeds, AL                5  13-08    0
  Day 1: 5   13-08   
17. Micah Frazier          Newnan, GA               5  13-02    0
  Day 1: 5   13-02   
18. Brandon Lester         Fayetteville, TN         5  12-15    0
  Day 1: 5   12-15   
19. Keith Combs            Huntington, TX           5  12-14    0
  Day 1: 5   12-14   
20. Brandon Card           Caryville, TN            5  12-12    0
  Day 1: 5   12-12   
21. Skeet Reese            Auburn, CA               3  12-12    0
  Day 1: 3   12-12   
22. Dean Rojas             Lake Havasu City, AZ     5  12-07    0
  Day 1: 5   12-07   
23. Brandon Palaniuk       Rathdrum, ID             4  12-07    0
  Day 1: 4   12-07   
24. Chris Dillow           Waynesboro, VA           3  12-07    0
  Day 1: 3   12-07   
25. Thomas Martens         Lago Vista, TX           3  11-12    0
  Day 1: 3   11-12   
26. Bernie Schultz         Gainesville, FL          4  11-10    0
  Day 1: 4   11-10   
27. Bobby Lane Jr.         Lakeland, FL             4  11-02    0
  Day 1: 4   11-02   
28. Ott DeFoe              Knoxville, TN            5  11-01    0
  Day 1: 5   11-01   
28. Chris Lane             Guntersville, AL         5  11-01    0
  Day 1: 5   11-01   
30. Brent Ehrler           Newport Beach, CA        3  10-13    0
  Day 1: 3   10-13   
31. Gene Bishop Jr         Ridgeland, MS            3  08-14    0
  Day 1: 3   08-14   
32. Boyd Duckett           Guntersville, AL         3  08-08    0
  Day 1: 3   08-08   
33. Brandon McMillan       Clewiston, FL            4  08-03    0
  Day 1: 4   08-03   
34. Russ Lane              Prattville, AL           3  08-01    0
  Day 1: 3   08-01   
35. Clifford Pirch         Payson, AZ               3  07-15    0
  Day 1: 3   07-15   
36. Justin Lucas           Guntersville, AL         3  07-14    0
  Day 1: 3   07-14   
36. Kevin VanDam           Kalamazoo, MI            3  07-14    0
  Day 1: 3   07-14   
38. Mark Davis             Mount Ida, AR            3  07-10    0
  Day 1: 3   07-10   
39. John Proctor           Conway, SC               3  07-06    0
  Day 1: 3   07-06   
40. John Crews Jr          Salem, VA                3  07-02    0
  Day 1: 3   07-02   
41. Albert Collins         Nacogdoches, TX          2  06-12    0
  Day 1: 2   06-12   
42. Brett Hite             Phoenix, AZ              2  06-08    0
  Day 1: 2   06-08   
43. Jordan Lee             Grant, AL                2  06-00    0
  Day 1: 2   06-00   
44. Charles Sim            Ottawa CANADA            2  04-06    0
  Day 1: 2   04-06   
45. Fabian Rodriguez       Ocean City, DE           1  04-02    0
  Day 1: 1   04-02   
46. Greg Vance             Dubuque, IA              1  03-01    0
  Day 1: 1   03-01   
47. Jacob Powroznik        Port Haywood, VA         2  03-00    0
  Day 1: 2   03-00   
48. Michael Iaconelli      Pitts Grove, NJ          1  02-13    0
  Day 1: 1   02-13   
49. Whitney Stephens       Waverly, OH              1  02-01    0
  Day 1: 1   02-01   
50. Chad Pipkens           Lansing, MI              1  02-00    0
  Day 1: 1   02-00   
51. Billy McCaghren Jr     Mayflower, AR            1  01-07    0
  Day 1: 1   01-07   
52. Trevor Lo              Maplewood, MN            0  00-00    0
  Day 1: 0   00-00   
52. Levi McNeill           West Valley, UT          0  00-00    0
  Day 1: 0   00-00   
52. Chad Morgenthaler      Reeds Spring, MO         0  00-00    0
  Day 1: 0   00-00   
52. Chris Zaldain          San Jose, CA             0  00-00    0
  Day 1: 0   00-00   
———————————————————————–
Totals
Day   #Limits    #Fish      Weight
 1        21       184       541-06
———————————-
          21       184       541-06
---