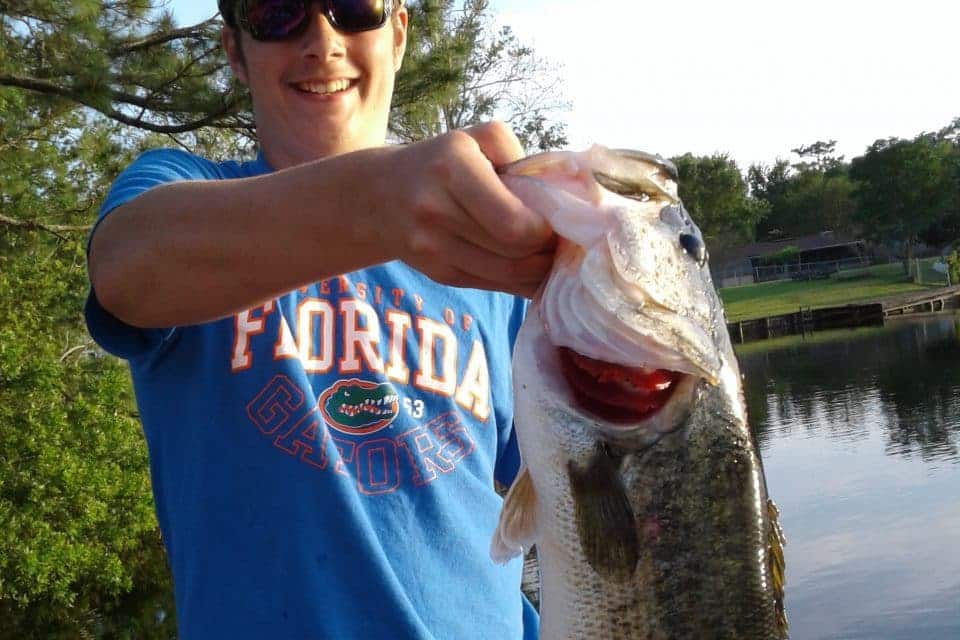 By Vance McCullough
This was supposed to be a story about some of the best post-spawn lures to use in grass-filled lakes.
Yes, there are still plenty of bass just coming off beds in Florida. There are a few still coming in to spawn if you know where to look. Just this weekend we caught a couple of fish that were fat with roe and some that had empty, yet still distended bellies indicating they had recently dumped their eggs.
To support my story about catching such fish I figured I'd do a little field demonstration.
I thought I had proven my point when I caught what I call an 'elbow bass' – one that measures up to the bend in my elbow from the tip of the finger that we use to wave at other motorists, a distance of a little better than 18 inches. I caught a couple of others, missed an overly eager fish that blasted through a thin weed canopy.
Then I rounded a point of pine flat woods and ran into my boy, Hunter, age 14.
We had dragged our kayaks out to this small lake in the woods because, this being Memorial Day, every boat ramp in the country would be jammed with housewives trying to back boat trailers while redfaced husbands holler at them from the helms of their vessels.
There are no roads to this lake. No ramps. No embarrassed wives. It's Jackson Kayak country.
Anyhow, my son quickly destroyed my how-to article on catching post-spawn fish.
"I saw that one you caught back there," said Hunter. "I caught 3 on that bank over there and the smallest one was like the one you caught and it had a huge belly."
If bass wore pants, mine would have been wearing skinny jeans. Its stomach was sunken in. That fish would have eaten anything, maybe even tofu.
So forget what I was going to say. I know nothing of catching post-spawn bass. Oh sure, I whizzed and whirled and buzzed and plopped. I caught small schoolers offshore and junkyard bass in a backwater slough I shared with a croaking gator and a mean cottonmouth snake. I caught fish where there shouldn't have been any.
But my boy doubled me up. Two-to-one. And he had pictures to prove it. His were all tournament grade fish. He would have cashed a check in most tournaments.
I bet you'd like to know how he did it. Well, he kept things simple. He went old school. I don't how many times that boy has beaten me with a simple Texas-rigged worm. He was just casting at anything that looked good and letting the worm do the work.
When he drifted the open water he just popped the worm through the top of the grass. Water was about 4 feet deep, grass was about 2 feet tall. He stitched that worm through it and kept an eye on his line. When it swam off he set the hook.
Solid game plan.
So that's how you catch post-spawn bass that just came off the bed. Or, post-spawn bass that came off the bed 2 weeks ago. Or 2 months ago. Or 10 months ago.
The Texas-rigged worm:  an old trick that still works, even in the hands of a new dog.
---