Mosley does differently for Elite Series Runner-up finish
---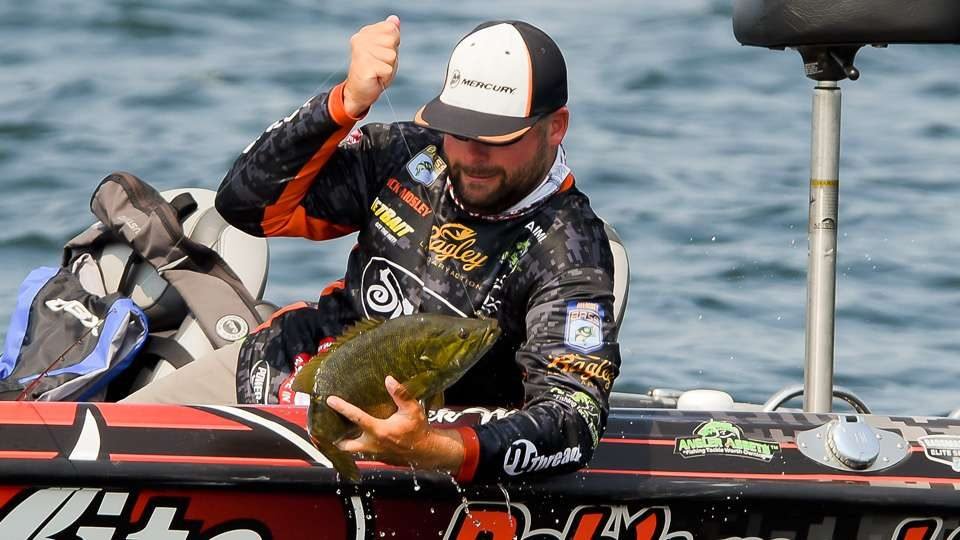 Brock Mosley made a statement this week. He beat 107 Elite Series pros on the St Lawrence River with 82 ponds, 3 ounces of smallmouth bass.
Unfortunately for the 2nd year Elite Series angler from Mississippi, there were 108 other competitors, including Kevin VanDam who weighed-in 90 pounds, 3 ounces to claim his 24th career victory.
Still, it was a great week for Mosley.
"When you average better than 20 pounds a day and you still get beat by 8 pounds there's not much you can hang your head about.
"I'll be real honest, I thought I did just enough to hang onto 5th or 6th place. I didn't have any idea those guys were struggling as bad as they were."
Mosley's performance looked different from the rest of the field, and so does his rod locker.
Mosley uses Spiralite Rods. I looked at their stuff during the recent ICAST show. I was drawn to them because of the guide design. The guides wrap around the blank instead of running straight up it. I questioned Mosley about this design feature 'every rod builder I've ever talked with has stressed the importance of finding the spine of the blank and placing all guides right along it, so what's up with these guides that spiral around the blank?'.
"This technology has been used in saltwater," explained Mosley, "so it will hold up to the bass we catch."
Charley Almassey of Spiralite further explains, "Only the 3 Transition guides are off the spine neareast the reel seat which happens to also be the strongest section of the blank making it a mute point. All of the Running guides in the top 3rd of the rod where tensile strength is most critical are perfectly aligned along the spine."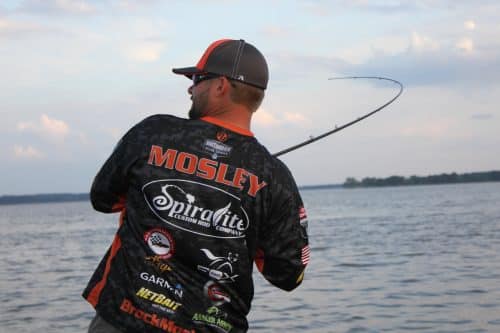 Makes sense to me now!
And it makes even more sense when backed-up by the performance a of a young pro who almost took down the giantest giant in our sport!
"I used a couple of the Defiant Series and a couple of the Maverick Series rods by Spiralite this week," said Mosley. "They are spinning rods."
With those spinning rods Mosley further departed from his peers by tossing a Ned rig (1/5 oz.) with a 4-inch Senko until the final day when winds forced him to switch to a dropshot with a Net Baits Contour Worm. "The wind was blowing so hard I couldn't keep contact with the bottom with the Ned rig."
Mosley had an actual pattern going and he ran new water with it each day. "I caught three 4-pounders today on a spot I hadn't fished all week.
"I was catching them on the shoals in a certain depth, 18-to23 or 24 feet – not much deeper than 25. So I used my Garmin electronics depth-shading feature to outline that contour and I just ran all over the river looking for this certain color that I put on my electronics and, usually, I would catch a fish at each one of them."
The bites came slow, but they were quality fish. "I wasn't getting many bites. I would sit there and fish it for 15-to-20 minutes if not longer to get them to bite but usually if I got a bite it was a good one."
Again, Mosley was mostly alone in his efforts, even among the deep water crowd. "Most of the guys who were fishing deep were fishing faster current areas. I was fishing more slack water."
Going his own way worked well for Brock Mosley. As you read this he is practicing for the next Elite Series event on Lake Champlain where he hopes to keep the momentum going.
"I've been to Champlain several times and I've had a little success there. I've got a Top 10 there before and I would love to get another Top 10 but to do it against this group of guys is not easy to do."
---