Morrow Takes Lead At Walmart Flw Tour On Lake Eufaula Presented By Quaker State
---
Teaser image:
Texas' Honeycutt Wins Co-Angler Title, $25,000
EUFAULA, Ala. (May 15, 2015) – Pro Troy Morrow of Eastanollee, Georgia, caught five bass weighing 18 pounds, 1 ounce Friday to take control of the leaderboard after day two of the Walmart FLW Tour at Lake Eufaula presented by Quaker State. Morrow's two-day total of 10 bass weighing 39 pounds, 9 ounces gives him a 1-pound, 4-ounce advantage heading into the third day of competition in the nationally televised tournament, hosted by the Eufaula Barbour County Chamber of Commerce, that features 149 anglers competing for a top cash award of up to $125,000.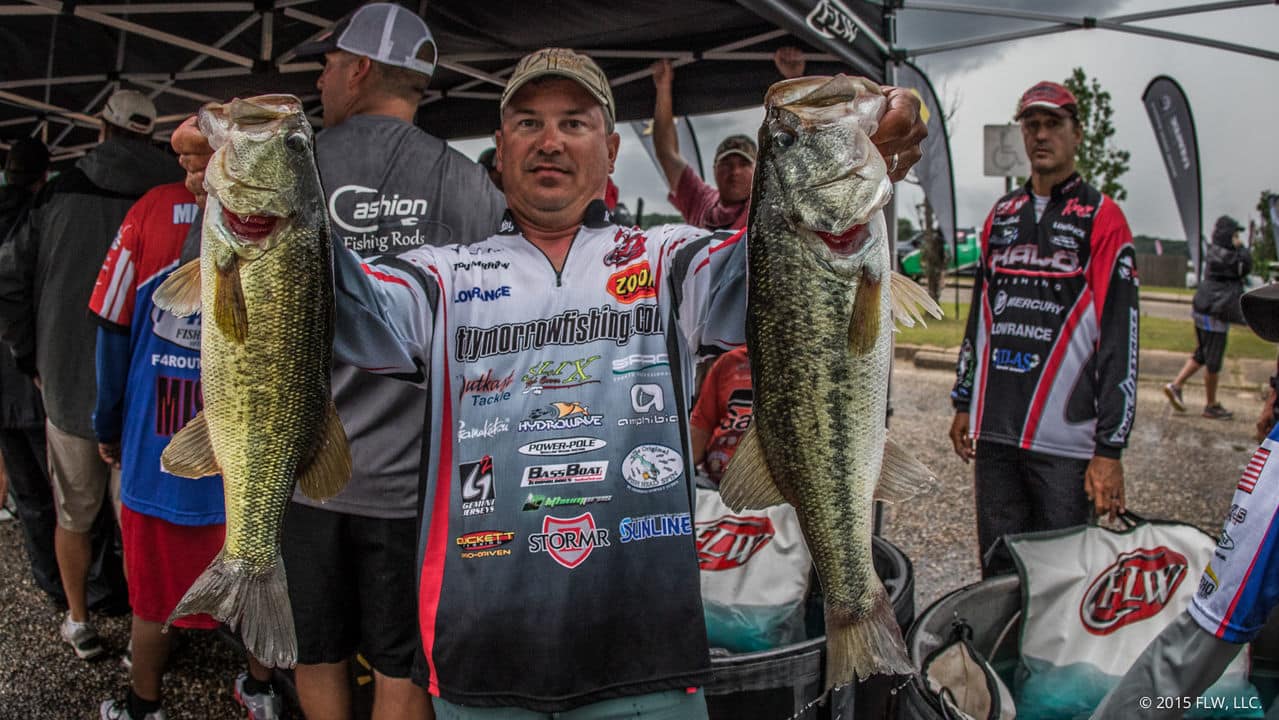 "The first few keepers I caught today came from the brush piles that I targeted yesterday," said Morrow, who already has one top-10 finish on Tour this season. "I was stuck around eight pounds for a long time, so I decided to try new areas. In these areas the spots were close together. I found a stretch of brush piles and caught a good one at each. One of the piles did give me three 3-pounders. I could tell they were different from the old ones by the weight of the fish that were coming in. By 9:30 a.m. I had put together a quality limit.
"I picked at the piles and culled through 15 keepers," continued Morrow. "Once I hit about 18 pounds I saw the storm was coming in and I decided to move up the lake. I'm going to have to re-fish a lot of my spots tomorrow because I crunched so many different piles today. I ended up burning through a little more than I thought I would have to in order to get to this point in the tournament."
Morrow declined to talk specifics about his baits but did mention he had to make a change around 2 o'clock.
"By that time I had10 or 11 pounds, but knew I needed to switch," Morrow said. "I wanted to guarantee that I was going to fish on day three. I did end up figuring out what I need to throw, so hopefully it holds up tomorrow. I have about 20 spots left that have good fish in them so that's where I'll be targeting."
The top 20 pros that made the Buck Knives Cut and will fish Saturday on Lake Eufaula are:
1st: Troy Morrow, Eastanollee., Ga., 10 bass, 39-9
2nd: Clent Davis, Montevallo, Ala., 10 bass, 38-5
3rd: Randy Haynes, Counce, Tenn., 10 bass, 36-7
4th: Jeff Gustafson, Keewatin, Ontario, Canada, 10 bass, 35-11
5th: Zack Birge, Blanchard, Okla., 10 bass, 35-6
6th: Adrian Avena, Vineland, N.J., 10 bass 34-13
7th: Bryan Thrift, Shelby, N.C., 10 bass, 34-11
8th: David Fritts, Lexington, N.C., 10 bass, 32-10
9th: Scott Martin, Clewiston, Fla., 10 bass, 32-8
10th: Derrick Snavely, Rogersville, Tenn., 10 bass, 32-1
11th: Shinichi Fukae, Palestine, Texas, 10 bass, 31-15
12th: John Cox, Debary, Fla., 10 bass, 31-6
13th: Terry Bolton, Paducah, Ky., 10 bass, 29-4
14th: Ramie Colson, Jr., Cadiz, Ky., 10 bass, 29-3
15th: Anthony Gagliardi, Prosperity, S.C., 10 bass, 29-3
16th: Wesley Strader, Spring City, Tenn., 10 bass, 28-7
17th: Darrell Davis, Dover, Fla., 10 bass, 28-4
18th: Peter Thliveros, Saint Augustine, Fla., 10 bass, 27-13
19th: Cody Kelley, Conway, Ark., 10 bass, 27-8
20th: Dave Lefebre, Erie, Pa., 10 bass, 27-7
David Smith of Del City, Oklahoma, won the Bridgford Big Bass Award on the pro side Friday with a bass weighing 7 pounds, 5 ounces to win the $500 prize.
Overall there were 629 bass weighing 1,482 pounds even caught by 145 pros Friday. The catch included 100 five-bass limits.
Keith Honeycutt of Temple, Texas, won the co-angler division and $25,000 Friday with a two-day total of 10 bass weighing 22 pounds, 12 ounces, followed by Hiroyuki Watanabe of Shizuoka, Honshu, Japan, who finished in second place with 10 bass weighing 22 pounds, 12 ounces worth $7,448.
"I was paired with Jeff Gustafson on day one," said Honeycutt, who earned his second career victory as a co-angler on the FLW Tour. "We had a great day fishing shallow and I caught all of my fish on a Rebel Pop-R. Today I was paired with Andrew Upshaw, and he was committed to fishing deep. So, I switched it up and caught all of my fish on a big Zoom Ol' Monster worm. I couldn't have asked for a better week."
The top 10 co-anglers finished:
1st: Keith Honeycutt, Temple, Texas, 10 bass, 18-2 $20,000 + $5,000 Ranger Cup Bons
2nd: Hiroyuki Watanabe, Shizuoka, Honshu, Japan, 10 bass, 17-15, $7,448
3rd: Eric Self, Lawndale, N.C., 10 bass, 16-4, $4,964
4th: Tim Cales, Sandstone, W.Va., six bass, 15-0, $3,971
5th: Mark Howard, Mesquite, Texas, eight bass, 14-15, $2,978
6th: Mark Fisher, Wauconda, Ill., eight bass, 14-13, $2,481
7th: Mike Devere, Berea, Ky., eight bass, 14-9, $1,984
8th: Jerry Reagan, Byrdstown, Tenn., nine bass, 14-9, $1,786
9th: Tom Stark, Angola, Ind., eight bass, 14-8, $1,686
10th: Tony Bennett, Fort Lauderdale, Fla., six bass, 14-8, $1,587
Chad Parks of Bartlett, Tennessee caught Friday's Bridgford Big Bass in the co-angler division, a bass weighing 5 pounds, 14 ounces to win the $250 prize.
Overall there were 323 bass weighing 659 pounds, 15 ounces caught by co-anglers Friday. The catch included 16 five-bass limits.
In addition to casting for top awards of up to $125,000 cash in the pro division and up to $25,000 cash in the co-angler division, anglers are also competing for valuable points in hopes of qualifying for the 2015 Forrest Wood Cup, the world championship of bass fishing. The 2015 Forrest Wood Cup will be in Hot Springs, Arkansas, Aug. 20-23 on Lake Ouachita and is hosted by Visit Hot Springs. The Forrest Wood Cup Champion could win as much as $500,000 – professional bass-fishing's richest prize.
Anglers will take off from the Lakepoint Resort State Park Marina located at 104 Lakepoint Drive in Eufaula at 6:30 a.m. each day of competition. Saturday and Sunday's final weigh-ins will be held at Walmart, located at 3176 S. Eufaula Ave., in Eufaula beginning at 4 p.m.
Fans will also be treated to the FLW Expo on Saturday and Sunday from noon to 4 p.m. at Walmart prior to the final weigh-ins. The Expo includes a Ranger boat simulator, the opportunity to interact with professional anglers, enjoy interactive games, activities and giveaways provided by sponsors, and learn more about the sport of fishing and other outdoor activities. All activities are free and open to the public. Pros Rich Dalbey and Todd Hollowell's "Hooked on Helping" foundation will also be hosting a food drive to benefit the Judson Baptist Association Food Bank. FLW fans who donate five or more cans of food will be entered to win a $50 Walmart gift card.
Coverage of the Lake Eufaula tournament will be broadcast in high-definition (HD) on NBC Sports Network (NBCSN) October 19 from 7 p.m.-8 p.m. ET. when Season 20 of "FLW" returns this fall. The Emmy-nominated "FLW" television show airs on NBCSN, the Pursuit Channel and the World Fishing Network and is broadcast to more than 564 million households worldwide, making it the most widely distributed weekly outdoors-sports television show in the world.
---