Minute Maid. Honey Bunches of Oats
---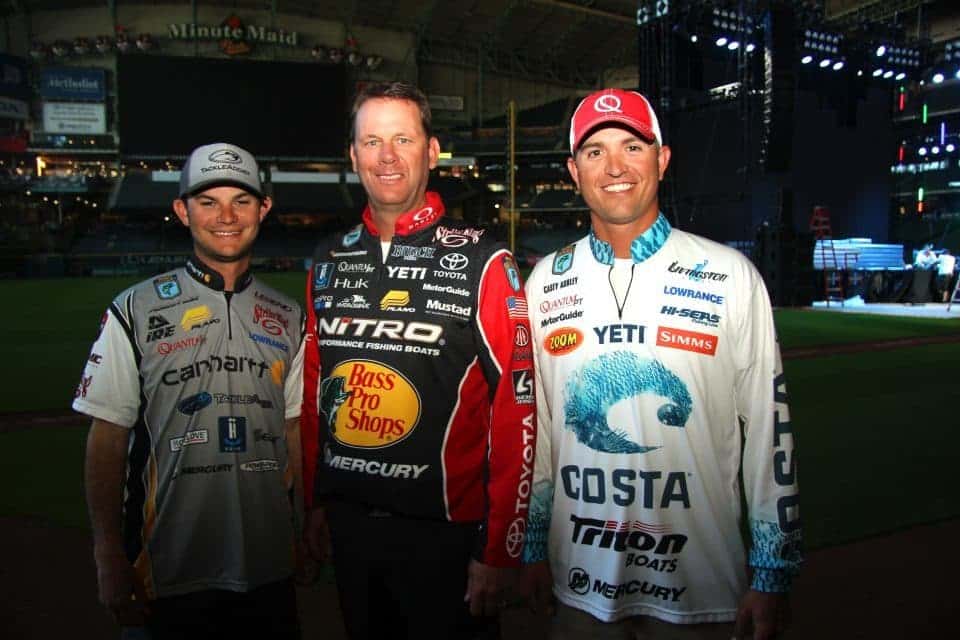 VanDam's Team Partner, Ashley's Love of Minute Maid,
and Jordan Lee's Cereal
On the eve of the 2017 Bassmaster Classic, two Classic champions, and the sport's greatest young talent talk about who'd they choose as a team fishing partner, as well as their predictions for a winning weight, lures that will be used, and even the best food they've eaten since arriving in Houston to compete on Lake Conroe.
1.) What will surprise fans most about this Classic?
Lee: The numbers of guys that don't catch a limit because of the 16" minimum length limit here.
VanDam: Big fluctuations in the leader board with the chance of a come-from-behind winner on Sunday.
Ashley: That weigh-in at Minute Maid Park. I can't believe we get to weigh our fish on a stage inside a Major League Baseball stadium. That's awesome!
2.) If the Bassmaster Classic was a team event, held on a mystery lake, who would you choose as your partner?
Lee: No doubt – VanDam. He'd dang sure guide us to them – and I'd even be his net man.
VanDam: Todd Faircloth. We're both a part of Team Strike King, and I think his methodical approach would compliment my wide-open style.
Ashley: I'd pick Greg Hackney. I'd love to fish with him just to see how his mind works. We fish a lot the same, but he just catches 'em better.
3.) Best meal you've had since arriving at Lake Conroe/Houston?
Lee: Me and Jesse Wiggins roomed together in practice and lived on Honey Bunches of Oats cereal.
VanDam: A friend cooked us rib eyes and Australian lobster tails.
Ashley: Blackened red snapper over a bed of creamy mashed taters.
4.) If you can't win … who would you most like to see win this Classic?
Lee: Aaron Martens. He's finished 2nd so many times. I can't imagine how that feels. I feel for him.
VanDam: Shaw Grigsby. He's been a friend a long time. He's an awesome angler, and an equally great guy. He's earned the right to be a champion for sure. And he'd be a great ambassador.
Ashley: Charlie Hartley. There's not a man on this earth that loves to catch a bass more than him.
5.) Name 4 lures we'll see used a bunch on Lake Conroe:
Lee: Texas-rigged creature bait, medium depth crankbait, ChatterBait, and a wacky worm.
VanDam: Jig, spinnerbait, a crankbait that'll cover that 10 to 18' deep zone, and a ChatterBait.
Ashley: Jig, spinnerbait, medium range crankbait, and Texas rigged soft plastic.
6.) Predict the 3-day 2017 Bassmaster Classic winning weight.
Lee: 65 pounds
VanDam: 59 pounds
Ashley: 63 pounds
---