Louisiana & Texas Teams Tied After First Round Of Bassmaster College Regional on Sam Rayburn heading into day 2
Posted On January 27, 2017
---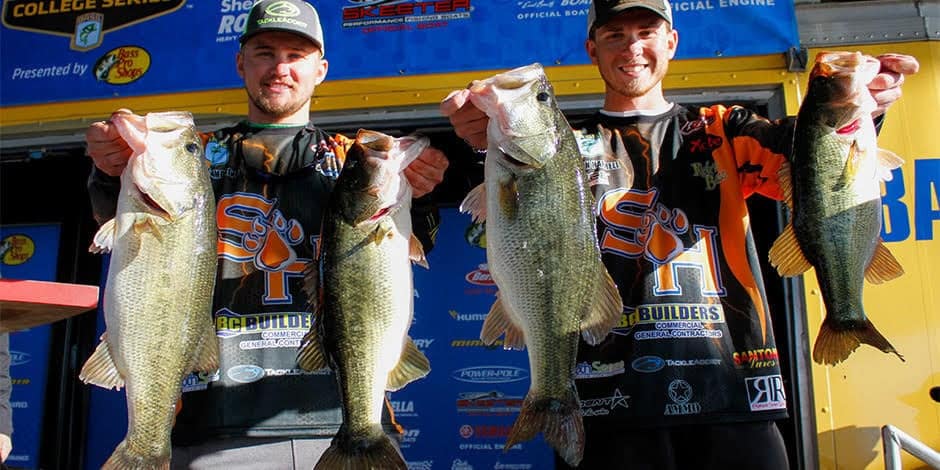 Jan. 26, 2017

LUFKIN, Texas — Bass fishing teams from the University of Louisiana at Monroe and Sam Houston State University are tied after the first day of competition in the Carhartt Bassmaster College Series Central Regional presented by Bass Pro Shops on Sam Rayburn Reservoir.

Tyler Craig and Spencer Lambert of the University of Louisiana at Monroe and Dillon Harrell and Dustin Moreno of Sam Houston State share the lead with 24 pounds, 8 ounces each. That gives them a 1-12 margin over third place.

The weather wasn't what anglers expected in Texas with the unseasonably warm temperatures. Winds stayed at a constant 10 miles per hour clip and temperatures were in the low 40s at takeoff. A weather front passed through the Sam Rayburn area late Wednesday night and high winds came with it, but it didn't seem to hurt the fishing.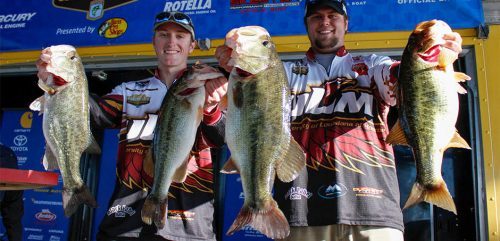 Nine teams weighed in five bass limits heavier than 20 pounds to start off the 2017 Carhartt Bassmaster College Series season. The fishing started hot for the Louisiana-Monroe anglers as they caught their weight by 8 a.m. and left their best spot to save it for the rest of the tournament.
"I found these fish two weeks ago and my first five casts of 2017 were all 3-pounders," said Craig. "Bigger fish have certainly reloaded there since then."
Catching a hefty limit that early in the day allowed Craig and Lambert to search for more areas. They believe another quality five-fish limit is possible on Friday.
"It seems to be strictly a morning spot," Lambert said of their hot spot. "As soon as the sun comes up, they start biting."
Meanwhile, Harrell and Moreno of Sam Houston State utilized knowledge of Sam Rayburn and a strong fishing connection to share the lead today. The teammates are also cousins and have fished together since childhood. When it comes to a tournament partner and strategy, Harrell thinks it's hard to beat Moreno.
"The areas we had fish located were barren today," Moreno said. "Being here so much helped us figure out where they went and how they reacted to the weather."
Moreno and Harrell put all their eggs into one basket and made a gutsy call to stick it out in one or two areas before leaving in the afternoon.
"These fish have been moving a lot lately because of the weather this area has gotten," Harrell said. "We swung for the fences and relied on one or two spots that had key fish for us."
They also tried to manage their fish as they practiced on some newer areas and found places they could catch a quantity of bass if necessary.
Dawson Cranford and Charles Norris of University of Louisiana at Lafayette ended the day in third place with 22-12. Meanwhile, Reed Foster and Colt Benedict of Dallas Baptist University are sitting in fourth with 22-7, in large part because of the 8-14 big bass that anchored their bag. Rounding out the Top 5 is the team of Hunter Mills and Jordan Hartman of Murray State University with 21-14.
The entire 115-boat field will compete on Friday, but only the Top 20 teams will advance to the final day of the regional on Saturday. Hunter Freeman and Thomas Solieau of Louisiana-Monroe are on the Top 20 bubble with 15-15.
Takeoffs will happen at Cassell Boykin Park at 7 a.m. CT and weigh-ins will be at the park as well starting at 3:15 p.m.
2017 Carhartt Bassmaster College Series Title Sponsor: Carhartt
2017 Carhartt Bassmaster College Series Presenting Sponsor: Bass Pro Shops
2017 Carhartt Bassmaster College Series Platinum Sponsor: Toyota
2017 Carhartt Bassmaster College Series Premier Sponsors: Power-Pole, Shell Rotella, Triton Boats, Huk, Humminbird, Skeeter Boats, Mercury, Minn Kota, Nitro Boats, Yamaha, Berkley
2017 Carhartt Bassmaster College Series Supporting Sponsors: Livingston Lures, Lowrance, Costa, Dick Cepek Tires & Wheels, Shimano, ABU Garcia, St. Croix Rods
About B.A.S.S.
B.A.S.S. is the worldwide authority on bass fishing and keeper of the culture of the sport, providing cutting edge content on bass fishing whenever, wherever and however bass fishing fans want to use it. Headquartered in Birmingham, Ala., the 500,000-member organization's fully integrated media platforms include the industry's leading magazines (Bassmaster and B.A.S.S. Times), website (Bassmaster.com), television show (The Bassmasters on ESPN2), social media programs and events. For more than 45 years, B.A.S.S. has been dedicated to access, conservation and youth fishing.
The Bassmaster Tournament Trail includes the most prestigious events at each level of competition, including the Bassmaster Elite Series, Bass Pro Shops Bassmaster Open Series, Academy Sports + Outdoors B.A.S.S. Nation presented by Magellan, Carhartt Bassmaster College Series presented by Bass Pro Shops, Bassmaster High School Series presented by DICK'S Sporting Goods, Toyota Bonus Bucks Bassmaster Team Championship and the ultimate celebration of competitive fishing, the GEICO Bassmaster Classic presented by DICK'S Sporting Goods.
-30-
Media Contact: JamieDay Matthews, 205-313-0945, [email protected] or Dave Precht, 205-313-0931, [email protected]
Carhartt Bassmaster College Series Central Regional presented by Bass Pro Shops
1/26/2017 - 1/28/2017
Sam Rayburn Reservoir - Cassells-Boykin - Lufkin, TX
STANDINGS BOATER DAY 1
 
Name # Fish, # Live, Lbs – Oz, Accumulative # Fish, # Live, Lbs – Oz
1 Tyler Craig - Spencer Lambert University of Louisiana at Monroe 5 5 24- 8 5 5 24- 8
1 Dillon Harrell - Dustin Moreno Sam Houston State University 5 5 24- 8 5 5 24- 8
3 Dawson Cranford - Charles Norris University of Louisiana at LaFayette 5 5 22-12 5 5 22-12
4 Colt Benedict - Reed Foster Dallas Baptist University 5 5 22- 7 5 5 22- 7
5 Hunter Mills - Jordan Hartman Murray State University 5 5 21-14 5 5 21-14
6 John Jay - Grant Pietsch Texas A&M University 5 5 21- 9 5 5 21- 9
7 Brandon Simoneaux - Colby Ogden Lamar University 5 5 20-15 5 5 20-15
8 Matthew Bowden - Barton Courtney Texas Tech University 5 5 20- 9 5 5 20- 9
9 Tyler Rivet - Cameron Naquin Nicholls State University 5 5 20- 6 5 5 20- 6
10 Philip Gottsponer - Ethan Stokes Arkansas Tech University 5 5 19- 4 5 5 19- 4
11 TJ Tucker - Bennett Pierce Arkansas Tech University 5 5 19- 1 5 5 19- 1
12 Corbin Davis - Michael Rollert Texas A&M University 5 5 18-11 5 5 18-11
13 John Moore - Clark Mannas Texas A&M University 5 5 18- 0 5 5 18- 0
14 Cody Barchenger - Garrett Bradford Stephen F Austin State University 5 5 17- 9 5 5 17- 9
15 Josh Dugger - Jake Dugger Arkansas Tech University 5 5 17- 5 5 5 17- 5
16 Alex Murray - Trent Manuel McNeese State University 5 5 16-15 5 5 16-15
17 Chris Zins - Zach Holliday University of Central Oklahoma 5 5 16- 9 5 5 16- 9
18 Tyler Woods - Robert Tweed Stephen F Austin State University 5 5 16- 7 5 5 16- 7
19 Alex Torkleson - Dillon Roberts Rogers State University 5 5 16- 0 5 5 16- 0
20 Hunter Freeman - Thomas Soileau University of Louisiana at Monroe 5 5 15-15 5 5 15-15
21 Josh Bensema - Bradley Fleming Texas A&M University 5 5 15-13 5 5 15-13
22 Justin Seeton - Dakota Ebare Tarleton State University 5 5 15-11 5 5 15-11
23 Ryan Wood - Nathan Wood Dallas Baptist University 5 5 15- 9 5 5 15- 9
24 Gregory Green - Trevor Fox Northwestern State University 5 5 15- 6 5 5 15- 6
25 Eric Hanna - Jack Minnix Oklahoma State University 5 5 15- 5 5 5 15- 5
26 Jay Lawson - Wyatt Frankens Stephen F Austin State University 5 5 15- 4 5 5 15- 4
27 Hunter Fluitt - Maverick Jaggers UAM-CTC 5 5 14-14 5 5 14-14
28 Jordan Ogle - Ladd Owens Arkansas Tech University 5 5 14-13 5 5 14-13
29 Hutton Leppert - Tanner Mizell Northwestern State University 5 5 14-12 5 5 14-12
30 Chandler Burgay - James Marshall Stephen F Austin State University 5 5 14-11 5 5 14-11
30 Dalton Warrington - Kooper Marsh Southwestern Oklahoma State Univers 5ity 5 14-11 5 5 14-11
32 Blaine Timonera - Nate Sleight University of Oklahoma 5 5 14- 7 5 5 14- 7
32 Garret Whitley - Clayton Godfrey Stephen F Austin State University 5 5 14- 7 5 5 14- 7
34 John-Michael Brattlof - Dakota Cline Stephen F Austin State University 5 5 14- 4 5 5 14- 4
34 Scott McClellan - Adam Forester LA Tech 5 5 14- 4 5 5 14- 4
36 Tanner Best - John Lange Texas Tech University 5 5 14- 3 5 5 14- 3
37 Kyle Pasket - Jackson Carrell Sam Houston State University 5 5 14- 1 5 5 14- 1
38 Bates Enmeier - Brady Lobue Oklahoma State University 5 5 13-15 5 5 13-15
39 Aaron Belgard - Logan Laprarie Northwestern State University 5 5 13-14 5 5 13-14
40 Lawrence Kuznik - Dakota Moore University of Louisiana at LaFayette 4 4 13-13 4 4 13-13
41 Stetson Overton - Cason Kelley Tarleton State University 5 5 13-10 5 5 13-10
42 Douglas Bell - Levi Harger Southern Arkansas University 5 5 13- 9 5 5 13- 9
43 Joseph Cheek - Gavin Watts UAM-CTC 5 5 13- 7 5 5 13- 7
44 JP Kimbrough - Jared Rascoe LSU Shreveport 5 5 13- 4 5 5 13- 4
45 Jacob Keith - Brett Clark East Texas Baptist University 5 5 13- 2 5 5 13- 2
46 Will Hughes - Chandler Hayes Stephen F Austin State University 5 5 12-15 5 5 12-15
46 Bo McGraw - Nathan White Texas A&M University 5 5 12-15 5 5 12-15
48 Travis McGuire - Layne Bynum Texas Tech University 5 5 12-14 5 5 12-14
49 Caleb Young - Marshall White University of Texas at Tyler 5 5 12-13 5 5 12-13
50 Turner Mason - Kaito Ajiro Colorado State University 4 4 12-13 4 4 12-13
51 Justin Cooper - Johnny Ledet Northwestern State University 5 5 12-10 5 5 12-10
52 Adam Deakin - Levi Kirk Colorado State University 5 5 12- 6 5 5 12- 6
53 Zachariah Edwards - Zach Cantwell University of Central Oklahoma 5 5 12- 4 5 5 12- 4
54 Logan Wilson - Chance Cobb Tarleton State University 5 5 12- 0 5 5 12- 0
55 Trent Newman - Zackery Hines Dallas Baptist University 5 5 11-14 5 5 11-14
55 Colby Simmons - Brandon Barber East Texas Baptist University 5 5 11-14 5 5 11-14
55 Brennan Soileau - Garrett McDonald LA Tech 5 5 11-14 5 5 11-14
55 Stephen Thomas - Luke Potter Lamar University 5 5 11-14 5 5 11-14
59 Jed Hebert - Grant Curran University of Louisiana at LaFayette 5 5 11-13 5 5 11-13
60 Austin Anderson - Heidi Langschied Stephen F Austin State University 5 5 11-12 5 5 11-12
61 Phillip Borel - Dustin Nash Northwestern State University 5 5 11-11 5 5 11-11
62 Corbin Bogart - James Proctor Tarleton State University 5 5 11-10 5 5 11-10
62 Seth Hausman - Ryan Frier Stephen F Austin State University 5 5 11-10 5 5 11-10
64 Austin Miles - Tyler Hassler Colorado State University-Pueblo 5 5 11- 9 5 5 11- 9
64 Tucker Sargent - Wyatt Young Tarleton State University 5 5 11- 9 5 5 11- 9
66 Dakota Sparks - Levi Sharp LSU 5 5 11- 7 5 5 11- 7
67 Cameron Simmons - Dexter Flick Oklahoma State University 4 4 11- 4 4 4 11- 4
68 Ryan Gunter - Samuel Meaders University of Arkansas 5 5 10-14 5 5 10-14
69 Chad Poulsen - Jared Penton East Texas Baptist University 5 5 10-13 5 5 10-13
70 Hogan Beckley - Koby Dortch University of Louisiana at Monroe 4 4 10- 8 4 4 10- 8
71 Tyler Stewart - Nick Joiner University of Louisiana at Monroe 5 5 10- 5 5 5 10- 5
72 Warren Basinger - Dalton Baker Southern Arkansas University 5 5 10- 3 5 5 10- 3
72 James Hovey - David Bercier McNeese State University 5 5 10- 3 5 5 10- 3
72 Hunter Wellan - Jacob Curtis LA Tech 5 5 10- 3 5 5 10- 3
75 Alec Castonguay - Kyle Dragulski Stephen F Austin State University 5 5 10- 1 5 5 10- 1
76 Devin Nichols - Luke O'Neal University of Louisiana at Monroe 4 4 10- 0 4 4 10- 0
77 Nate Holman - Jay Powers Northeastern State University 5 5 9-12 5 5 9-12
78 Ryan Antee - Harrison Hopkins LSU Shreveport 3 3 9-11 3 3 9-11
79 Nicholas Cantarella - Evan Cook Texas A&M University 5 5 9-10 5 5 9-10
80 Wayne Figg - Brady McFarland Texas A&M University 5 5 9- 9 5 5 9- 9
81 Blaise Weimer - Josh Shapland Oklahoma State University 5 5 9- 8 5 5 9- 8
82 Taylor Tindall - Elijah Cain LA Tech 5 5 9- 5 5 5 9- 5
83 Chris Bradley - Andy Thurston Southwestern Oklahoma State Univers 5ity 5 9- 2 5 5 9- 2
84 Jordan Wood - Blake Smith Lamar University 5 5 8- 9 5 5 8- 9
85 Jose Palma - Andrew Madison University of Central Oklahoma 5 5 8- 8 5 5 8- 8
86 Daniel Sparlin - Kyle Jessie University of Arkansas 3 3 8- 6 3 3 8- 6
87 Nick Gill - Cole Daniel University of Central Oklahoma 3 3 7-12 3 3 7-12
88 Joey Tuminello - Sebastian Smith University of Louisiana at LaFayette 3 3 7-11 3 3 7-11
89 Collin Bode - Colby Bryant Sam Houston State University 4 4 7- 7 4 4 7- 7
90 Cole Perilloux - Hunter Adams LA Tech 3 3 7- 5 3 3 7- 5
91 Drake Dunlap - Will Hewat University of Arkansas 4 4 6-11 4 4 6-11
92 Robert Ramsey - Tarleton State University 3 3 6- 3 3 3 6- 3
93 Alex Edgeman - Drew Fazzino University of Oklahoma 4 4 6- 2 4 4 6- 2
94 Justin Tatum - Blake Bauer Tarleton State University 3 3 6- 2 3 3 6- 2
95 Lewis Laurent - Bryce Coleman Southeastern Louisiana University 3 3 5-15 3 3 5-15
96 Matt Glad - Brent Rome Jr LSU 3 3 5- 6 3 3 5- 6
97 Matthew Anthony - Taylor Barton Stephen F Austin State University 2 2 4- 9 2 2 4- 9
98 Connor Whisenant - Carter Henderson Texas A&M University 3 3 4- 6 3 3 4- 6
99 Tanner Smith - Matthew Lestage McNeese State University 2 2 4- 2 2 2 4- 2
100 Brandon Consalus - Wayne Carillo Tarleton State University 2 2 3-14 2 2 3-14
101 Jake Biram - Rhett Meyer Oklahoma State University 2 2 3-10 2 2 3-10
102 Cody Finkbeiner - Jon Lucas Stephen F Austin State University 1 1 3- 6 1 1 3- 6
103 Blake Crabb - Eagan Carnes Texas A&M Corpus Christi 1 1 2-15 1 1 2-15
104 Justin Diehl - Hunter Jolly Sam Houston State University 1 1 2- 7 1 1 2- 7
104 Jeff Ramsey - LSU Shreveport 1 1 2- 7 1 1 2- 7
106 Lane McCartney - Tyler Hastings Rogers State University 1 1 2- 6 1 1 2- 6
106 Owen Richard - Mitchell Mayard LSU 1 1 2- 6 1 1 2- 6
108 Drew Fleming - Joe Rainwater UAM-CTC 1 1 2- 2 1 1 2- 2
109 Mason Beatty - Noah Batts East Texas Baptist University 1 1 1-12 1 1 1-12
110 Dylan Matherne - Brandon Daigle Southeastern Louisiana University 1 1 1-11 1 1 1-11
111 Cody Hahn - Case Thompson Tarleton State University 1 1 1- 9 1 1 1- 9
112 Austin Cleveland - Kyle Everett LA Tech 0 0 0- 0 0 0 0- 0
112 Landon Darden - Steven Smith Southern Arkansas University 0 0 0- 0 0 0 0- 0
112 Jonathan Ham - Gannon Graves Stephen F Austin State University 0 0 0- 0 0 0 0- 0
112 Hunter Kaemmerling - John Forst Stephen F Austin State University 0 0 0- 0 0 0 0- 0

BIG BASS
Name, City, State Lbs-Oz
1 Colt Benedict - Reed Foster Dallas, TX 8-14
---