Lee Pitts and Steve Ingle Win 2019 Alabama Bass Trail Neely Henry LakeNolen Spencer and Jonathon Reese Claim Northern Division Anglers of the Year Title
---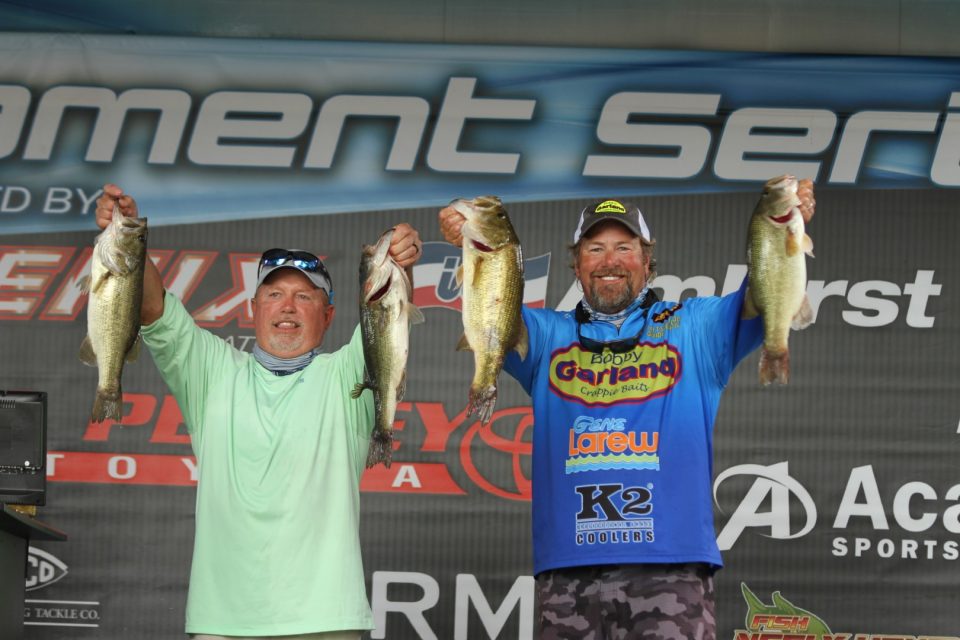 by Dan O'Sullivan
June 8, 2019 – Gadsden, Ala. – Lee Pitts, the noted "Crappie King of Weiss Lake," has had a couple of months to forget in 2019.  Beginning with the flooding of Weiss Lake that damaged much of he and his wife Laura's property at their home, then followed with a fire at his storage facility that caused the loss of his boat and more than 90-percent of his tackle collected over the past 40 years as an angler.
Today, Pitts and his partner Steve Ingle managed to insert a great memory into this season of difficulty when they won the final stop on the 2019 Alabama Bass Trail Northern Division's schedule at Neely Henry Lake.  The pair brought 22.02 pounds of Neely Henry Lake largemouth to the scales at Coosa landing and earned the victory and the $10,000 prize.  It is their second ABT victory, having won previously at Neely Henry Lake in 2016.
They said they were thrilled with the result.  "This is the first time all year that we got to just be able to stop thinking and concentrate on the fish," they said.  "With everything that's been going on – coupled with the crappie guiding season – there has been one distraction after another.  Today we locked into the fish, and the conditions and had a great day."
The pair reported catching more than 30 fish in the mid-lake area between Gadsden and the Southside Bridge.  They reported targeting isolated grassbeds that had wood mixed in them with 3/8-ounce Mama Bream colored Talon Fishing Unlimited Billy Mac Flippin' Jigs matched with green pumpkin Gene Larew Lures Biffle Bugs as trailers on 7'4" Lew's Super Grip Rods and 7.3:1 Tournament Pro reels.  "It helped if there was a little wind blowing into the grass; that's when the biggest bites happened," they reported.  "We caught fish up to about 1:30 this afternoon, culling up to our final limit then; this was a really fun day, and we're so happy with the result."
The team of Phillip and Bailey Dukes put a scare into the winners when their 21.82-pound limit hit the scales two thirds of the way into the weigh-in.  The father / son pair also targeted grass in the mid lake area, and reported finding a specific pattern that they were able to run. "Our best grass was in flat areas in shallow water, and once we figured it out we were able to move quickly and catch the right fish," they reported.  "We caught them on everything we threw, but our best fish came flipping creature baits and throwing a frog.  We would have loved to pull it out, but we're good with the day, and happy for Lee and Steve at the same time."  The team earned $5,000 for their efforts.
The team of Joshua Moore and Harry Peyton claimed the $500 Mountain Dew Big Bass award for the event.  Their 8.06-pound largemouth anchored their 17.38-pound limit, and earned them a 14th place finish.
The Top 10 Standings are below, for complete standings, visit: https://www.alabamabasstrail.org/tournament-series/nhl-results/
| | | | | |
| --- | --- | --- | --- | --- |
| Place | Team | Weight | Big Fish | Winnings |
| 1 | Lee Pitts / Steve Ingle | 22.02 | 5.62 | $10,000 |
| 2 | Phillip Dukes / Bailey Dukes | 21.82 | 5.65 | $5,000 |
| 3 | Chad Hall / Ryan Hall | 20.80 | 4.72 | $4,000 |
| 4 | Gary Thacker / Carter Woodall | 20.29 | 5.05 | $3,000 |
| 5 | Justin Buckles / Chadd Jones | 19.93 | 6.52 | $2,000 |
| 6 | Adam Bain / Kris Colley | 19.75 | | $1,500 |
| 7 | Wyatt Burkhalter / Dax Massey | 19.29 | 5.32 | $1,100 |
| 8 | Hank Hayes / Tanner Hayes | 19.17 | 5.76 | $1,100 |
| 9 | Jeremy Hopper / Ryan Anaya | 19.12 | 6.27 | $1,100 |
| 10 | Mark McCaig / Tim Hurst | 19.03 | 5.60 | $1,100 |
In the season long points race, The team of Nolen Spencer and Jonathon Reese came into the final event with a 10 point lead for the title.  The pair produced 15.40 pounds at Neely Henry, and finished the day in 32nd place, securing them the division's Anglers of the Year Title with 1030 points, 26 points ahead of second place finishers Grant Hopson and Wes Ward.
The top 10 in standings is published below, for complete 2019 Points, visit here: https://www.alabamabasstrail.org/tournament-series/north-division-standings/
| | | |
| --- | --- | --- |
| Place | Team | Points |
| 1 | Nolen Spencer/Jonathon Reese | 1030 |
| 2 | Grant Hopson/Wes Ward | 1004 |
| 3 | Eric Morris/Ben Williamson | 999 |
| 4 | Adam Bain/Kris Colley | 996 |
| 5 | Damien Willis/Tyler Kiker | 991 |
| 6 | Blake Hall/Triston Crowder | 967 |
| 7 | Benjie Seaborn/Johnathan Seaborn | 964 |
| 8 | Josh Butler/Randy Tolbert Jr. | 963 |
| 9 | Mitch Mitchell/Candler Mccollum | 929 |
---