Lane, Swindle Edge Passed Faircloth in Tense Elimination Round
Posted On February 2, 2019
---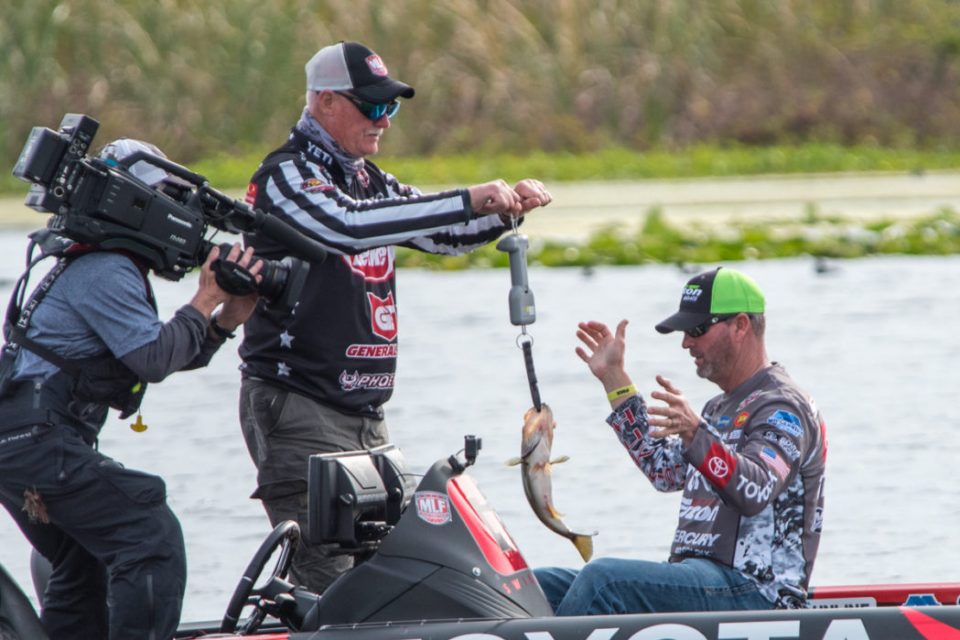 Courtesy of MLF , By Mason Prince – Photo Credit Garrick Dixon
February 1, 2019
KISSIMMEE, Fla. – It was another nail-biter. For the second straight day, the final spot in the Elimination Round of the MLF Bass Pro Tour B&W Trailer Hitches Stage One came down to the final minutes. Bobby Lane, Gerald Swindle and Todd Faircloth battled each other for the last 30 minutes, with Lane and Faircloth securing their spot in Saturday's Knockout Round.
"It's very disappointing and very frustrating," Faircloth said after finishing below the Elimination Line by 1 pound, 8 ounces. "You always hurt for the first man out and I was that guy today. I just didn't fish real clean. You can't do that against this caliber of guys and expect to make it."
With 30 minutes remaining in the round, Swindle landed a 2-13 that shot him just below Faircloth. Then, with 23 minutes until "lines out", G-Man reeled in a 1-6 putting him just 11 ounces behind Faircloth for the final spot. His final strike, a 2-6 with only 7 minutes left in the round that pushed him ahead of Faircloth and Lane, securing the 19th spot. Swindle knew if he was going to make it, he was going to have to keep an eye out for Bobby Lane.
"It was stressful because you don't want to be in Florida and have Bobby ahead of you or right behind you," Swindle recapped. "The Lane brothers can catch them here and you know that they can make the last-minute decisions."
The three-fish run that vaulted Swindle above the cutline was the difference, but his stress level was understandably high during that time.
"If you wanted good TV you got it today," Swindle chuckled. "It sucks when you're holding a fishing pole I tell you that much."
As for Lane, with only 30 minutes remaining in the round he found himself 1-8 behind Faircloth for that final spot inside the Top 20.
"I knew I had to catch at least two more fish to even have a shot at getting in to the next round," Lane explained.
He did exactly that. The Florida native reeled in a 1-2 with 19 minutes left to move within 6 ounces of Faircloth. The final blow: A 1-14 with only three minutes left on the clock.
"It's the best feeling in the world because I love these bodies of water," Lane explained while wrapping up his rods. "It's unfortunate it was that close for me but tomorrow I open up a new book and go somewhere else. The worst I can do now is 40thplace."
The 40-man field is set for Saturday's Knockout Round. All weights are zeroed out as the anglers compete to make it inside the Top 10 and the right to move on to Sunday's Championship Round. Catch the action on MLF NOW! streaming exclusively on MajorLeagueFishing.com and the MLF app starting at 10 a.m. EST.
---