Lamb & Potter drop over 42 pounds on the Scales to Win the 2018 CBA Moses Watersport Event on Chickamauga!
---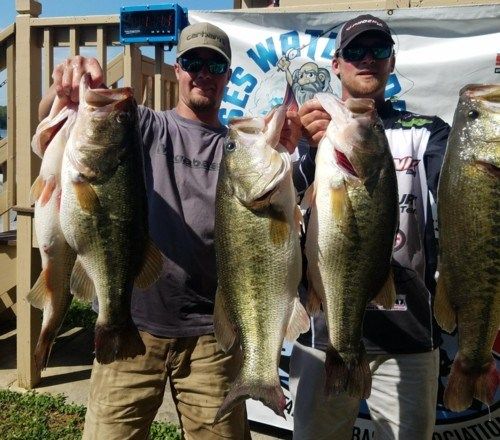 Courtesy of WRCB Chattanooga
CHATTANOOGA (WRCB) – The team of Haden Lamb and Trevor Potter caught a 5 bass limit weighing 42.21 pounds topping out the field of 140 anglers to win first place and $2,000.00 in the Moses Water Sports Chattanooga Bass Association Tournament. This bass event was held May 12th, 2018 out of Chester Frost Boat Ramp.
Haden said "We started the morning in a shad spawn on some gravel points and caught a real nice limit and then started looking for deep fish, finding only one school all day. We culled 3 times from that school including a 11.21 and 2 nice 8 plus pounders". We then spent the rest of the day taking care of our fish releasing all 5 in excellent shape after they were weighed. It would have been nice to break the C.B.A. record of 42.91 but what a blessed day we had ''.
Kevin Drake and Corey Vetter 5 bass limit of 42.91 pounds caught in February of 2018 is the CBA's standing record.
Big fish of this event was caught by Haden Lamb and Trevor Potter a beast of a large mouth weighing11.21 pounds. Second big bass of the day was caught by Corey Vetter and Kevin Drake weighing 8.90 pounds.
All fish caught in this event were released back into Lake Chickamauga to be caught again and special thanks to the fishermen for taking such good care of their catches.
Chattanooga Bass Association President, Jamie Copenhaver, said "Thanks to Moses Water Sports and all our sponsors for their much appreciated support for this 2018 season".
The top 11 money winners are as follows:
Haden Lamb and Trevor Potter 42.21 lbs. $2000
Kevin Drake and Cory Vetter 25.26 lbs. $750
Justin Medley and Jason Garrett 23.97 lbs. $650.00
Hensley Powell and Marshall Deakins 23.24lbs, $550
Tom Kizzah Jr. and tom Kizzah Sr. 23.24 lbs. $450
Danny Hall and Phillip Ledford 23.21 lbs. $350
Barron Adams and Trevor Prince 22.92 lbs. $300
Seth Davis and Brent Butler 22.06lbs. $250
David Craft and Stoney Johnson 21.72lbs. $200
Brian Hatfield and Justin Freeman 20.87lbs. . $200
Steve Kite and Daniel Lewis 20.22lbs. $150
The next CBA event will be held June 9th, 2018 out of Chester Frost Park. This will be a day event with the weigh-in at 4 p.m.
---