Jordan Lee wins the 2017 Bassmasters Classic!
---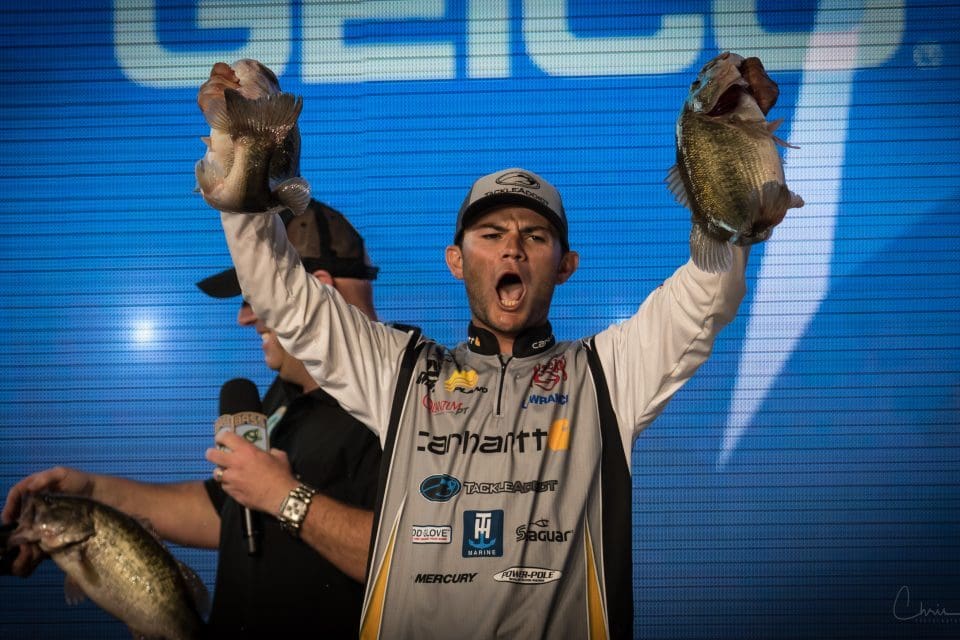 3, 4, 5 . . . Jordan Lee is #1. He won the 47th Bassmaster Classic with only 12 of a possible 15 fish. He caught 3 the 1st day, 4 the 2nd, a finally managed a 5-fish limit on the final day.
It was just enough to lift Lee over a hard-charging Steve Kennedy by 1 pound, 9 ounces.
With a 16-inch size limit this week, any keeper bass would weigh more than a pound and nine ounces, so every of those 12 catches was critical for Lee.
Kennedy was a fish short of a limit. In fact, 3 of the top 5 finishers did not have 15 keeper bass in this tournament.
Brent Ehrler did. He led for 2 days. He and Dave Lefebre caught more than 20 pounds each day. Today, Ehrler's fish shrunk to half the size he had been catching. Lefebre caught just 1 and it was an ounce shy of 2 pounds.
"No way did I ever think I would win today," said Lee. "If I had 35 pounds, I would have thought I had a shot. But Ehrler Evers, Lefebre those guys caught 20 pound a day.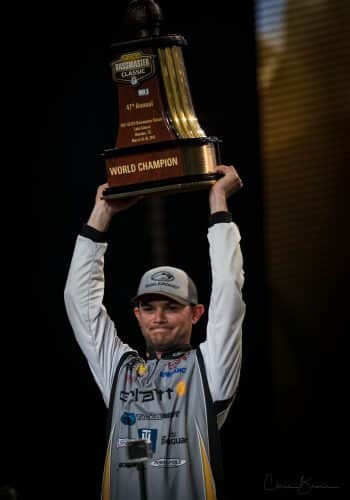 "I mean, you would surely think somebody would catch . . . something." When the comment drew laughter in the press conference, Lee clarified, "I'm giving them a compliment. That shows how good they are. That just really surprised me. That shows you too, how tough the lake is fishing."
Lee found one spot where he could catch quality fish. It was 10-yard-square hard bottom point that only tapered off about a foot in depth – from 5 feet to 6.
High winds on the first day made it difficult for Lee to keep his trolling motor in the water, let alone catch fish on the exposed stretch of water. He scrambled to catch a little more than 8 pounds.
Day 2 didn't look any better for the first few hours. "At noon yesterday I had 8 pounds." Now he has the biggest trophy in the sport.
Lee caught 3 key fish from the point on the afternoon of Day 2. He caught another on the way back to the ramp.
On the eve of the final day Lee told AnglersChannel.com, "I spent the last day of practice looking for 'that one spot'. I found it. I think if it's sunny all day tomorrow and I can hit it a couple of times – I only got to fish it once today – tomorrow if I can let it rest for an hour here, an hour there, I feel like I can probably pick 5 off."
His plan came together today and Lee sacked 27 pounds 4 ounces, the biggest bag of the tournament.
"I probably caught 8 today," said Lee "And that's casting all day. I never ran. I never picked up the trolling motor."
Lee compiled a total weight of 56-10 with 3 primary lures. Lee survived Day 1 by fishing soft plastics. On Day 2 Lee used a Strike King 5XD in the Citrus Shad color and also caught 2 fish on a Strike King Bull Worm on a half-ounce shaky head. Today he tipped a football jig with a Rage Craw trailer and rode that combo to victory.
"The fish wanted it slow," said Lee. "A lot of the bites, my lure was just sitting there and my line would move off. That was the slowest I've ever fished. And I've never fished one spot all day."
---