Jordan Lee – Back to Back Classic Champ!!!
---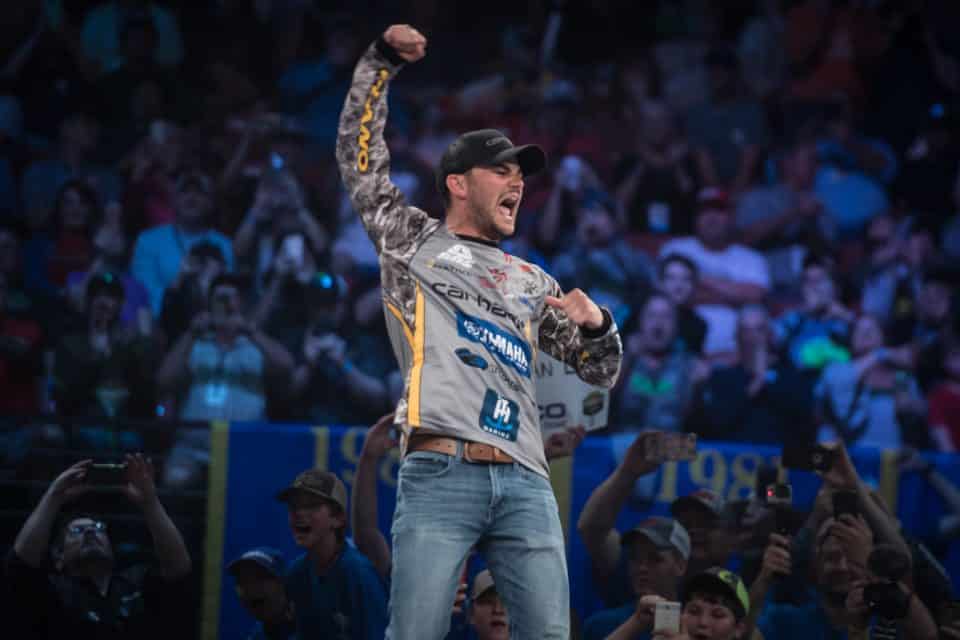 Story by Vance McCullough / Photos by Caden Brown
Jordan Lee is your 2018 Bassmaster Classic Champ! With a total weight of 47 pounds, 1 ounce, Lee rocketed from back in the pack with a 16-pound, 5-ounce final round effort to win a 2nd consecutive Classic title.
Today's exploits were reminiscent of last year's heroics on Lake Conroe, though Lee started today in 6th not 13th as was the case on Conroe. Still, he was six-and-a-half pounds behind Jason Christie who had maintained a stranglehold on the leaderboard for two days.
Once again, the leader left the door open and, again, Lee stepped right through.
For Christie it was another final day stumble on the sport's biggest stage, his 3rd in recent years.
"We don't get do-overs in our sport," said Christie who lost some fish that would have helped him. He stands by his game plan and his effort. "If I had caught 11 pounds somebody would have caught 18 and won it. I did all I could do."
Christie finished 3rd with 45-15.
Fishermen are an optimistic lot. Especially tournament anglers. Everybody waited for Lake Hartwell to gush forth big sacks of bass at some point this week. That day never came. Most of the top pros feel as though they had been bluffed when the cards were finally revealed.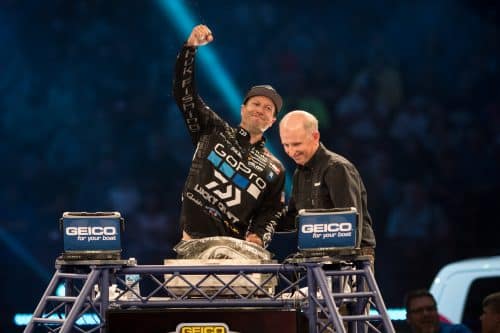 Brent Ehrler finished 2nd, exactly 1 pound behind Lee. He split time between chasing elusive largemouth in the shallows and catching slightly more dependable spots in the depths. Had he just stuck with spots, he believes he would be the Classic Champion now.
"I wasted four hours yesterday trying to catch largemouth with the cloudy conditions," said Ehrler. "I should have spent that time fishing for spots. But I thought, with the weight Christie had, that I needed to catch a big bag to win."
Even Lee didn't think he had a legitimate shot at winning today. "I just wanted to fish a good tournament and fish the way I want to fish. The way I was fishing this week, typically is not the winning pattern here this time of year."
He skipped docks with a Strike King Ocho on a spinning rod during the final round. When heavy pre-spawn females staged beneath floating platforms today, Lee was in the right place at the right time to catch just what he needed to become a back-to-back Classic Champion.
The first two days were dominated by 3 Oklahomans, Christie, Edwin Evers, and James Elam, along with Micah Frazier of Georgia. They were all fishing a similar pattern – targeting shallow cover with bladed jigs.
Looking back at it, Frazier wonders if they fished shallow enough on the final day. Many feel the fish may have moved right past the staging cover and rushed to bedding areas that were, in some cases, inches deep.
Jacob Powroznik and John Cox both caught sight fish.
Powroznik wacky-rigged them from around docks.
Cox though, saw some swimming almost in the dirt. "I saw a 7-pounder about 20 feet from a bed, just looking at the male. I cast to her and her gills flared. I missed her and got nauseous. It was very late in the day. She would have helped."
Cox reported seeing other bass over 4 pounds up shallow today as well.
In contrast, each of the pros on the 'Oklahoma Plan' thought he had to simply out-hustle the others instead of changing to finesse tactics under today's bright, calm conditions. In essence, they psyched each other out. "If I had known the weights were as low as they were, I'd have fished differently," admitted Frazier.
Lee not only switched tactics from the jerkbait he had been throwing to the Ocho, but he also ran to new water. "I went into a pocket I hadn't fished all week and they were under every dock."
While filming The Progressive Bass Wrap Up TV Show today, AnglersChannel.com was fortunate to ride Lake Hartwell with Forrest Wood Cup Champion, Brad Knight. Knight told us that the floating docks, specifically, the black plastic support floats upon which the platforms rest, would radiate solar heat and draw big female bass to stage beneath them. He showed us such a dock as we broke down the shallow cover options available to Classic competitors this week. You can see that on an upcoming episode.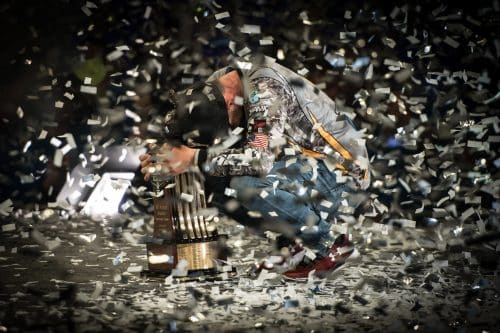 Jordan Lee saw it for himself and slammed the door on the leaders.
The young pro has developed a serious reputation as a guy who can close the deal. And he is wise for his age. This week he didn't need any gaudy weight. Just a consistent effort.
Congrats to Lee for another impressive showing!
---