Johnny Mayer And Chris Epting Win The Cbc On Murray With 23 Lbs And Take Home 8K!!
---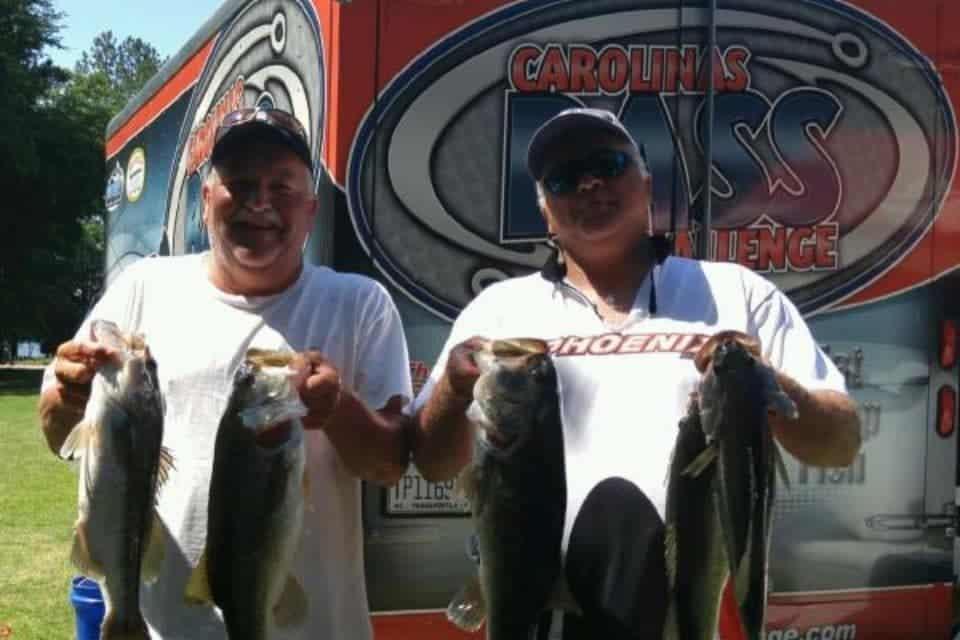 Johnny Mayer & Chris Epting came out on top Saturday at Lake Murray with 5 bass weighing 23.00 lbs! This is their 3rd CBC win and was good for $8,000.00!
Samuel Freeman & Scott Farmer took 2nd with a limit weighing 20.54 lbs and received $2,500.00. They also collected the 1st SKEETER Bonus worth another $4,000.00. They took home a total of $6,500.00.
Kevin Fulmer & Tim Sox weighed up a limit at 16.99 lbs good enough for 5th and 2nd SKEETER Bonus worth a total of $3,750.00.
Brad Smith & Joey Spradley finished 7th with 16.07 lbs and took home the 3rd SKEETER Bonus. They earned $2,450.00!
Derrick & Dustin Compton took 9th with 5 bass weighing 15.53 lbs and collected the 4th SKEETER Bonus good for $1,325.00. Derrick & Dustin also won the SC Points and will receive another $1,000.00 at the CBC Classic on Lake Norman in October.
Happy Anglers Mayor and Epting with their 8k winning stringer!
| | | | | | | | | | |
| --- | --- | --- | --- | --- | --- | --- | --- | --- | --- |
| Place | Team Name | Team#  | # Fish  | Net Weight | BF | Points | Winnings | Skeeter Bonus | Total Winnings |
| 1 | Chris Epting – Johnny Mayer | 4 | 5 | 23.00 | 5.74 | 620 | $8,000.00 |   | $8,000.00 |
| 2 | Samuel Freeman – Scott Farmer | 10 | 5 | 20.54 | 4.35 | 618 | $2,500.00 | $4,000.00 | $6,500.00 |
| 3 | Thomas Vickers – Brian Huskins | 50 | 5 | 20.45 | 6.93 | 616 | $1,500.00 |   | $1,000.00 |
| 4 | Sean Anderson – George Berry | 32 | 5 | 17.99 | 0 | 614 | $1,000.00 |   | $1,000.00 |
| 5 | Kevin Fulmer – Tim Sox | 19 | 5 | 16.99 | 0 | 612 | $750.00 | $3,000.00 | $3,750.00 |
| 6 | Greg Davis – Dennis Parks | 14 | 5 | 16.30 | 6.39 | 610 | $625.00 |   | $625.00 |
| 7 | Brad Smith – Joey Spradley | 8 | 5 | 16.07 | 0 | 608 | $450.00 | $2,000.00 | $2,450.00 |
| 8 | Wendell Causey – Josh Gardner | 18 | 5 | 15.86 | 0 | 606 | $400.00 |   | $400.00 |
| 9 | Derrick Compton – Dustin Compton | 74 | 5 | 15.53 | 0 | 604 | $325.00 | $1,000.00 | $1,325.00 |
| 10 | Daniel Cook – Carl Smith | 6 | 5 | 14.27 | 0 | 602 | $300.00 | | $300.00 |
| 11 | Kenny Drew – Robert. ( Mitch) Drew | 75 | 5 | 13.97 | 0 | 600 | $275.00 | | $275.00 |
| 12 | Brian McDonald – billy bledsoe | 56 | 5 | 13.81 | 5.59 | 598 | $250.00 | | $250.00 |
| 13 | Clay Riddle – Dave Franklin | 42 | 5 | 13.74 | 0 | 596 | $225.00 | | $225.00 |
| 14 | Kevin Rake – Terry Morris | 60 | 5 | 13.19 | 0 | 594 | $200.00 | | $200.00 |
| 15 | Mack Cook – Patrick Cook | 72 | 5 | 13.08 | 0 | 592 | | | |
| 16 | Johnathan Crossland – David Crossland | 59 | 5 | 12.75 | 0 | 590 | | | |
| 17 | Tommy Floyd – Randy Welch | 43 | 5 | 12.65 | 5.06 | 588 | | | |
| 18 | Evan Weaver | 46 | 5 | 12.56 | 0 | 586 | | | |
| 19 | Audie Brantley – Hunter Ciccio | 70 | 5 | 12.43 | 0 | 584 | | | |
| 20 | Wayne Marlow – Scott Peavy | 7 | 5 | 12.34 | 0 | 582 | | | |
| 21 | Daryl Watson – Ken McFarland | 48 | 5 | 12.31 | 0 | 580 | | | |
| 22 | Sandy Oliver – William Gainey | 53 | 5 | 12.16 | 0 | 578 | | | |
| 23 | Matthew Arms – Zach Blair | 35 | 4 | 12.00 | 4.76 | 576 | | | |
| 24 | Dennis Reedy – Jeffrey Thomas | 61 | 5 | 11.88 | 0 | 574 | | | |
| 25 | Joel Watts – Les Westberry | 55 | 5 | 11.67 | 5.23 | 572 | | | |
| 26 | Michael McCaslin – Wade Amick | 83 | 5 | 11.62 | 0 | 570 | | | |
| 27 | White Knoll HS – Hite/Jadin | 89 | 5 | 11.59 | 2.75 | | | | |
| 28 | John Sturkie – Blake Strickland | 84 | 5 | 11.55 | 0 | 568 | | | |
| 29 | Terry Thomas – David Kneece | 81 | 4 | 11.34 | 0 | 566 | | | |
| 30 | Chad Sinclair – Caleb Conner | 25 | 5 | 11.33 | 0 | 564 | | | |
| 31 | Stan Gunter – Bradley Gunter | 1 | 5 | 11.06 | 0 | 562 | | | |
| 32 | Chad Gainey – Mack Kitchens | 5 | 5 | 10.70 | 0 | 560 | | | |
| 33 | Toby Keisler – TJ Keisler | 23 | 5 | 10.23 | 2.59 | 558 | | | |
| 34 | Ross Burns – Jeremiah Jensen | 15 | 5 | 10.08 | 0 | 556 | | | |
| 35 | Larry Moss – Michelle McLain | 9 | 5 | 9.97 | 0 | 554 | | | |
| 36 | Alan Richardson – Timmy Squires | 62 | 5 | 9.82 | 0 | 552 | | | |
| 37 | Southside HS- Brault/Locklair | 90 | 5 | 9.74 | 2.16 | | | | |
| 38 | Kenny Hawk – William Bostic | 77 | 5 | 9.52 | 0 | 550 | | | |
| 39 | Matthew Goheen – Hunter Spivey | 45 | 4 | 9.51 | 0 | 548 | | | |
| 40 | Will Smith – Bill Holmes | 73 | 4 | 9.35 | 0 | 546 | | | |
| 41 | Troy Lytle | 30 | 5 | 9.34 | 0 | 544 | | | |
| 42 | Josh Wilson – Sam Lambert | 41 | 4 | 9.19 | 0 | 542 | | | |
| 43 | Sammie Grier – David Strickland | 17 | 4 | 8.09 | 0 | 540 | | | |
| 44 | Tommy Williams – Thomas Hardwick | 26 | 5 | 8.04 | 0 | 538 | | | |
| 45 | Wesley Cashwell – Shane Doughtie | 66 | 2 | 7.49 | 0 | 536 | | | |
| 46 | Ron Brown – Bobby Brown | 52 | 4 | 7.07 | 0 | 534 | | | |
| 47 | South Florence HS – Drummond/Lynch | 91 | 3 | 7.05 | 3.21 | | | | |
| 48 | Bill Grier – Robby Byrum | 39 | 4 | 6.4 | 0 | 532 | | | |
| 49 | Chad Cook – tony cook | 71 | 2 | 5.87 | 0 | 530 | | | |
| 50 | Union HS – Vaughn/Franklin | 92 | 3 | 5.83 | 0 | | | | |
| 51 | Union HS – Davis/Lawson | 86 | 2 | 5.73 | 2.96 | | | | |
| 52 | Jamie Ethridge – kevin driggers | 63 | 3 | 5.33 | 0 | 528 | | | |
| 53 | Russ Padgett – Meredith Havird | 13 | 2 | 4.01 | 0 | 526 | | | |
| 54 | Gregg Kessler – Gregg Kessler II | 40 | 2 | 3.08 | 0 | 524 | | | |
| 55 | South Florence HS – Floyd/Gibbons | 88 | 1 | 2.00 | 0 | | | | |
| 56 | Harold Turner – Justin Cromer | 12 | 1 | 1.51 | 1.51 | 522 | | | |
| 57 | Winkey Watford – scotty mixon | 2 | 0 | 0 | 0 | 520 | | | |
| 57 | Bradford Beavers – Dwight Beavers | 3 | 0 | 0 | 0 | 520 | | | |
| 57 | Thomas King – Clayton King | 11 | 0 | 0 | 0 | 520 | | | |
| 57 | Matt Mollohan – Jerry Mills | 16 | 0 | 0 | 0 | 520 | | | |
| 57 | britt long – Daniel Howell | 20 | 0 | 0 | 0 | 520 | | | |
| 57 | Juddie Revels – David Oxendine | 21 | 0 | 0 | 0 | 520 | | | |
| 57 | MICHAEL HALL – MIKE HALL | 22 | 0 | 0 | 0 | 520 | | | |
| 57 | Bill Clowney – Matthew Hook | 24 | 0 | 0 | 0 | 520 | | | |
| 57 | Travis Parrish – Justin Hallman | 27 | 0 | 0 | 0 | 520 | | | |
| 57 | John Haas | 28 | 0 | 0 | 0 | 520 | | | |
| 57 | Roger Farr – Clyde Livingston | 29 | 0 | 0 | 0 | 520 | | | |
| 57 | Wendell Ireland – Jeff Glover | 31 | 0 | 0 | 0 | 520 | | | |
| 57 | Ricky Bellamy – Karen Bellamy | 33 | 0 | 0 | 0 | 520 | | | |
| 57 | Nathan Burgess – Brent Riley | 34 | 0 | 0 | 0 | 520 | | | |
| 57 | terry goheen | 36 | 0 | 0 | 0 | 520 | | | |
| 57 | Brad Petway – Jeff Douglas | 37 | 0 | 0 | 0 | 520 | | | |
| 57 | Ronnie McCoy – Jason McCoy | 38 | 0 | 0 | 0 | 520 | | | |
| 57 | Jason Burroughs – Keith Ashley | 44 | 0 | 0 | 0 | 520 | | | |
| 57 | Kiel Kelly – Chuck Whittaker | 47 | 0 | 0 | 0 | 520 | | | |
| 57 | Johnny Houser – Ben Lee | 49 | 0 | 0 | 0 | 520 | | | |
| 57 | Scott Martin – Cole Winn | 51 | 0 | 0 | 0 | 520 | | | |
| 57 | Robert Ross – Lee Morris | 54 | 0 | 0 | 0 | 520 | | | |
| 57 | Wayne King – Jason Morse | 57 | 0 | 0 | 0 | 520 | | | |
| 57 | Greg Hendrick – Ted Urquhart | 58 | 0 | 0 | 0 | 520 | | | |
| 57 | Scott Kessler – Josh Alford | 64 | 0 | 0 | 0 | 520 | | | |
| 57 | Jeff Bush – Dan Parris | 65 | 0 | 0 | 0 | 520 | | | |
| 57 | Ed Matthews | 67 | 0 | 0 | 0 | 520 | | | |
| 57 | grady allen – Calvin Hewitt | 68 | 0 | 0 | 0 | 520 | | | |
| 57 | Alan Roberts – Davey Thomas | 69 | 0 | 0 | 0 | 520 | | | |
| 57 | Glenn Altman – Larry Parker | 76 | 0 | 0 | 0 | 520 | | | |
| 57 | Mike Edge – Casey Warren | 78 | 0 | 0 | 0 | 520 | | | |
| 57 | Carlton Thompkins – Joel Barfield | 79 | 0 | 0 | 0 | 520 | | | |
| 57 | Rusty Bullard – Eric Martin | 80 | 0 | 0 | 0 | 520 | | | |
| 57 | Tony Postell – Frank Sabo | 82 | 0 | 0 | 0 | 520 | | | |
---