Jesse Wiggins Wins Pro Division of Alabama Bass Trail Open at Smith Lake Wesley Sams and Jordan Wiggins win Amateur Division
Posted On September 10, 2018
---
by Dan O'Sullivan
September 8, 2018 – Jasper, Ala. – For the first time since the inception of the Alabama Bass Trail, the trail hosted an event outside of the usual schedule.  The Alabama Bas Trail Open, presented by Phoenix Boats provided anglers to enjoy the Alabama Bass Trail experience in an event that featured a payback that eclipsed $75,000.
The event drew a total of 164 boats, which was an incredible number, especially when considering that there was a B.A.S.S. Open at Logan Martin, along with a BFL Super Tournament at Lake Guntersville on the same day.  The event featured a standalone Pro Division, as well as an Amateur Division.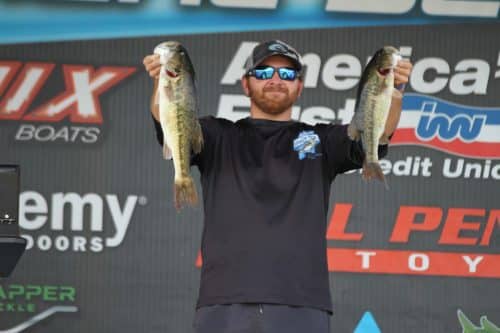 Bassmaster Elite Series pro Jesse Wiggins, who calls Smith Lake his home lake beat FLW Tour pro Bill Hutchison and his partner Billy Green in the winner take all format with 14.59 pounds.  Wiggins said from stage that he started the day throwing moving baits, but that he turned to something he is well known for.  "I weighed most of these fish on a homemade 3/16-ounce shakin' head that we make with a green pumpkin Zoom Trick Worm," he said.  "We have fished this way since I was a kid, and any time I can fish at home, I'm gonna fish it and that setup is gonna be a part of it."
The amateur division was won by Wiggins' brother Jordan and his partner Wesley Sams – who have won an ABT on Smith Lake in the past – claimed victory in the amateur division with a limit of bass weighing 14.92 pounds.  The pair said that the fished the Rock Creek area and targeted largemouth primarily with topwater baits.  "We fought the trend of chasing spotted bass because we thought everyone was going to chase them," they said.  "We got good bites early and managed to fill in a bit later.  Any time you can win at home is a good thing, we are extremely happy."
The father / son team of Kyle and Luke Glasgow posted a 14.23-pound limit that earned them second place.  They said they covered a bunch of water throwing small swimbaits to catch their fish.  "We threw a Keitech on a jighead and burned through 50 gallons of gas to catch our bag," they said.  "We had one big one swipe at the lure and miss it, and while we would have liked to have had it, it's great to get to fish together and do well."
The Mountain Dew Big Bass of the event was caught by Charles and Chuck Beach.  The 5.68-pound largemouth anchored their 34th place finish and earned them the $1000 big bass bonus.
The rest of the Top 10 Standings are below, for complete standings visit: https://www.alabamabasstrail.org/tournament-series/abt-open-results/
PRO RESULTS
| | | | | |
| --- | --- | --- | --- | --- |
| Place | Pro Anglers | Weight | Big Fish | Winnings |
| PRO | Jesse Wiggins/ | 14.59 | 4.19 | $7,500 |
| PRO | Bill Hutchison/Billy Green | 4.66 | | $0 |
AMATEUR RESULTS
| | | | | |
| --- | --- | --- | --- | --- |
| Place | Anglers | Weight | Big Fish | Winnings |
| 1 | Wesley Sams/Jordan Wiggins | 14.92 | 5.13 | $15,000 |
| 2 | Kyle Glasgow/Luke Glasgow | 14.23 | 4.00 | $7,500 |
| 3 | Craig Daniel/Jackie Flack | 14.13 | | $6,000 |
| 4 | Eric Phillips/Tim Cornelius | 13.07 | | $5,000 |
| 5 | David Nixon/Delano Green | 12.39 | | $4,000 |
| 6 | Kyle Welcher/Kevin Whitaker | 12.35 | 4.40 | $3,000 |
| 7 | Jeston Anderson/Gene Latham | 12.29 | 4.01 | $2,500 |
| 8 | David Hudson/Justin Stephenson | 12.26 | | $2,000 |
| 9 | Brian Jett/Matthew Hyde | 12.24 | | $1,500 |
| 10 | Tim Arnold/Brian Graves | 12.10 | 4.12 | $1,000 |
---