Jeff Jerome And Darrell Copeland Use Shad Spawn To Their Advantage To Win Texas Team Trail On Lake Texoma
---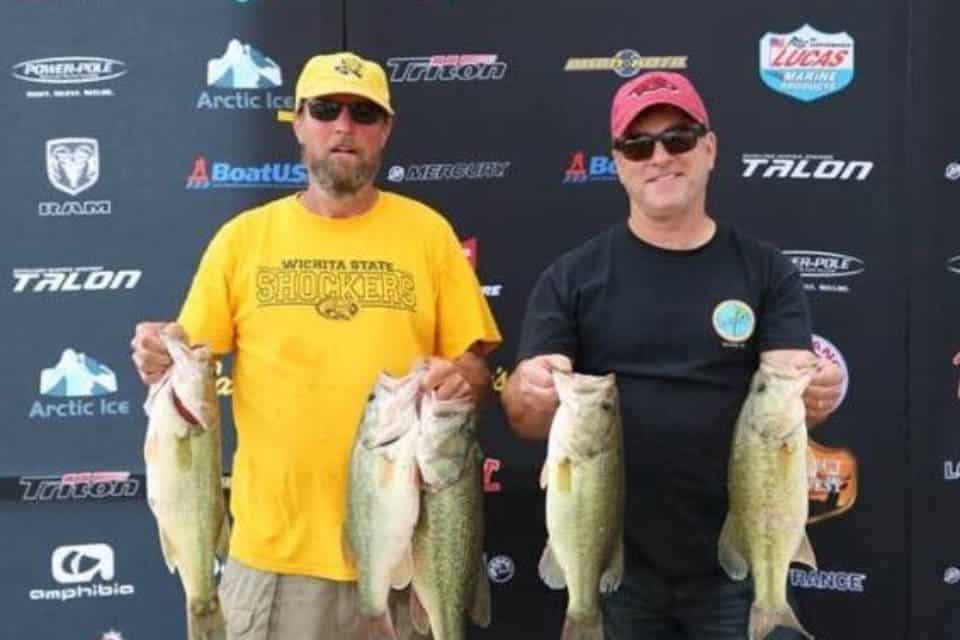 Story courtesy of Brett Carlson and TTT
DENISON, Texas – On the calendar, a mid-April bass tournament on a highland impoundment in north Texas means one thing – sight-fishing. While a good portion of the Lake Texoma bass were up spawning for the fourth Texas Team Trail event of the season, Mother Nature made it extremely difficult to see them. Cloud cover, combined with wind and an algae bloom, turned the sight bite into an intricate game of hide and seek. Instead of sight-fishing, Jeff Jerome and Darrell Copeland decided to play a different game – the shad spawn. Using the cloudy, warm weather in their favor, the two caught a winning stringer weighing over 21 pounds.
As is often the case with the shad spawn, Jerome and Copeland got off to a fast start as they put a five-bass limit in the boat by 8:45 a.m. Unfortunately, they also lost a few nice fish right at the boat.
"I thought, here we go again," recalled Jerome. "I'm going to screw it up again. I was heartbroken at the time."
Slowly but surely, the two overcame their early misfortune. By 10 a.m., they had culled out a pair of smaller fish. Then the bite died as the sun started to pop out. At 1 p.m., they stroked a 5.76-pounder, their biggest bass. With only three minutes left in the day, Copeland stuck a critical 4 1/2-pounder to seal the deal.
The winners caught all of their fish on one bait – the Z-Man Original ChatterBait in white and chartreuse color. For a trailer, they used a white Cabela's Hoochie Koochie swimbait. That combination mimicked the numerous shad that were up shallow spawning.
"I prefished and found the area," added Jerome. "I used a ChatterBait and stuck to it all day. My partner experimented a bit, but every fish we weighed came on that bait."
Jerome and Copeland hunkered down in one small area of the lake known as Big Mineral.
"Early in the morning the shad spawn was strong. They were so shallow we'd even see some flipping around on shore. The bass were there just sitting and waiting. At first, we'd hang out until we saw one bust. If we could get our bait over there in like three to five seconds it was almost a guarantee. If you didn't, you would miss out. Most of our fish came out of like 6 inches of water."
Even when the sun appeared and the shad spawn dwindled, Jerome and Copeland stuck to their guns. In the end, their five best largemouths weighed 21.47 pounds.
"The key was the ChatterBait. It caught the quality bass and it was the only thing we could get bites on too. My partner was trying other things – Senkos, spinnerbaits, Flukes, and wasn't catching anything. They only bit the ChatterBait."
For winning the final regular season event, Jerome and Copeland took home a Stratos 189VLO with a 150-horsepower Evinrude outboard.
"This is my third year on the Texas Team Trail and I'm consumed by it. I've come so close, so close. For it to all work out, I'm beside myself. I was almost in tears up on stage. It's still like a dream. It's not about the money. I'm just elated that we got over the hump and won."
Fennell-Cullum claim Big Bass, second place
Less than a pound behind Jerome and Copeland with 20.68 was James Fennell and Keith Cullum. At 7:15 a.m., the two boated an 8.10-pound largemouth, the biggest bass of the entire tournament. That fish alone earned them $1,080.
"We found her yesterday in practice," explained Fennell. She was not on a bed, but under a boat dock. That was a good way to start the day. From there, we fished around in the same cove and left with four keepers."
The two then made a long run down the lake toward the dam, only to encounter significant boat traffic. While they couldn't get on their best stuff, they did catch another 4-pounder before moving again.
"Then we just started covering water – catching a fish here and there. One time I was joking with my partner and I stopped reeling and a 3 1/2-pound smallmouth just jumped on it. Between the 8-pounder and the smallmouth, we can't complain."
Fennell and Cullum targeted steep, rocky banks with a 1/2-ounce ChatterBait. Fennell believes most of their fish were staging, but some had started the spawning process.
"We were really slowing the bait down. They wouldn't hit it aggressively; they would just kind of load up on it. The key for us was targeting more vertical banks. We never went to the back of the coves."
Fennell and Cullum caught 10 or 12 keepers on the day. Of the five they weighed, three were largemouths and two were smallmouths. With contingency awards, the two earned $8,860.
"We fished clean; it was just not our time."
Cecil and Castledine third with 7-pound kicker
Texas big sticks Russell Cecil and Todd Castledine finished third with a five-bass limit weighing 20.58 pounds. While their impressive weight nearly earned them the winner's trophy, they managed only five keepers, all of which were largemouths.
"We caught our fifth fish, a 7-pounder, at like 2 p.m." said Cecil. "We could have easily weighed four for 14 (pounds)."
In the morning, the two capitalized on the shad spawn. They then switched to sight-fishing and ended up with a nearly even split among the two patterns.
"The shad spawn was wide open man," Cecil added. "It was going like crazy; it was amazing to see. They were flipping out on the bank there were so many of them. We felt like the morning was a major opportunity for us."
Eventually, the temptation to sight-fish was too much. Cecil and Castledine know that it's difficult, if not impossible, to win a tournament on Texoma sight-fishing, but they still couldn't resist. Sight-fishing did eventually produce the 7-pounder, a fish they knew was there, but couldn't see earlier in the day.
"You can get close on sight-fishing; you can make top 10s and earn checks, but it's really tough to win sight-fishing on Texoma. We know that and we still did it some. But we really fished a good tournament from a decision-making standpoint. With that algae bloom and the wind, we had to be careful about how we managed our time."
In the morning, the two used either Strike King spinnerbait or a swim jig with a Big Bites Baits Suicide Shad. When they sight-fished, they used either a Big Bite Baits McClelland Battle Bug or a Strike King Structure Bug. With the stiff wind making travel difficult, the two stayed in the Red River arm.
 "Any time you get close you can second guess yourself. We would have loved to win, but we're also fortunate to get third."
With one event remaining, Cecil and Castledine are leading the Lucas Oil Team of the Year race with 1,205 points.
Fleming-Turner fourth, Pringle-Keele fifth
Greg Fleming and Rick Turner bucked the largemouth trend and targeted all brown bass. With a limit of smallmouths weighing 19.75 pounds, the two took fourth place and earned $3,580. Behind them was Jerrel Pringle and Keith Keele with 19.51 pounds. Anchoring Pringle and Keele's stringer was a 7.60-pound largemouth, the second biggest bass of the day. For fifth place, they earned $3,077.
Rest of the best
Rounding out the top 10 teams at the 2016 Texas Team Trail event on Lake Texoma:
6th: Rusty Edwards and Randy Buchenau, 19.44
7th: Paul Delgado and Greg Chapman, 18.47
8th: Landan Ware and Russell Lee, 17.96
9th: Ernie Stumpf and Tom Mocny, 17.93
10th: Spencer McAlester and Terry Alsup, 17.64
Up next
The final event of the 2016 season, the Texas Team Trail Championship presented by Cabela's, is slated for May 14-15 on Ray Roberts La
---