IN THEIR SPACE AND IN THEIR FACE
---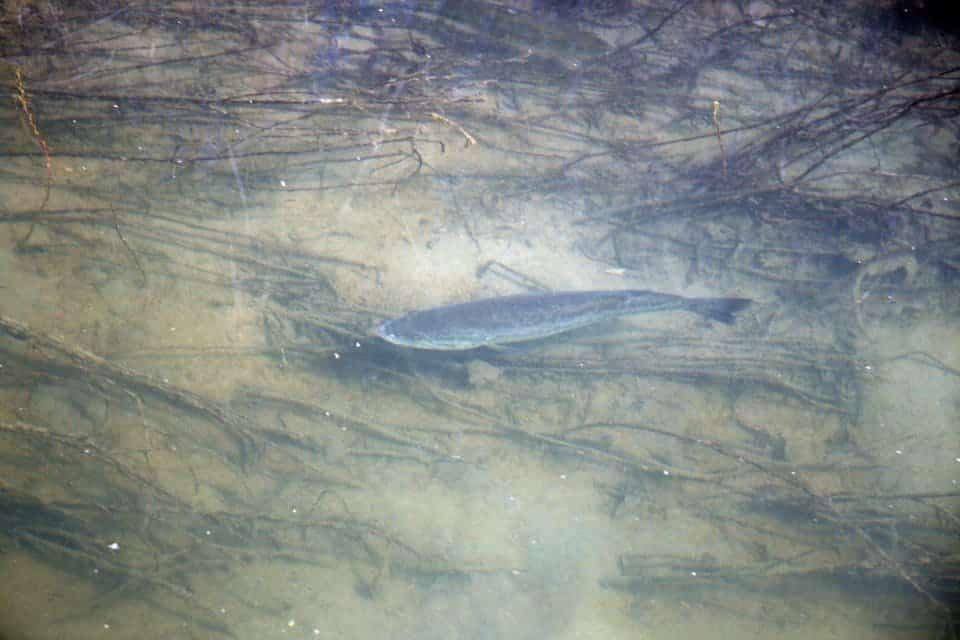 By David A. Brown
We tend to think of spawn fishing as a subtle, delicate, library-behavior kinda deal. Sometimes it is, but there's a lot to be said for a bold, intrusive approach to the spawning grounds.
Bassmaster Elite Series pro Kevin VanDam attributes this to a pedal-to-the-metal aggression level among spawners. In most areas, bluegill pose the biggest threat to their nests, so a large profile bait and a persistent presentation will quickly light what is already a very short fuse.
You'll also want to consider that low light and otherwise low visibility conditions make larger baits not only acceptable; but actually a necessity. For Elite pro Greg Hackney, off-colored water accelerates the popularity of up-sized baits.
"I like a bigger profile in stained water," said Elite pro Greg Hackney. "The dirtier the water, the bigger the profile because you can get by with bigger stuff when the water's dirtier and the fish can find it easier."
In any conditions, in-their-face spawn tactics might put a bend in your rod bend; or they may narrow a broad area to "hot zones" where irritable fish show themselves via wakes or boils. In any case, consider these tips for shaking up the spawning areas with aggressive presentations.
SWIMBAIT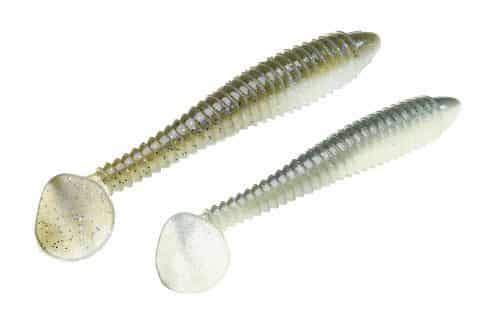 Clearly one of the most effective search baits, a swimbait can also serve a preparatory role. If a big fish eats, wonderful; otherwise, getting her hopping mad at something she may not want to engage creates a lethal scenario for a smaller follow-up bait.
California standout Ish Monroe knows that a River2Sea SWaver 200 can make bedding fish show themselves, so he'll use this taunting presence to find spawners he can't see.
"I throw it around when I'm looking for beds," Monroe said. "It's a big, slow-moving bait that they don't want anywhere near them. When it gets around a bed, they'll come up and swipe at it or inhale it. Most of the time, you get them either way."
FLW Costa Series pro Ken Mah takes in-your-face to another level by removing the hooks on a 9- to 10-inch Osprey swimbait and repeatedly bumping the fish's tail. The idea is to get the fish steaming mad and then switch in a dropshot; but when the bedder decides to attack the hookless swimbait, that's an exciting 3 seconds.
Alabama pro Jimmy Mason plays a similar game, but he prefers to maximize any bites he gets on the agitator. For him, a 6 1/2-inch YUM Money Minnow on a 1/2-ounce lead head allows precise casts with fast fall rates, which leave the bait in a nose-down posture that mimics an intruder looking for eggs.
Mason bumps the bed fish to drive it into bite mode and if the swimbait feels the wrath, no worries. If not, he'll close the deal with a YUM Houdini Shad rigged on a 5/0 Mustad KVD Grip Pin hook.
SWIM JIG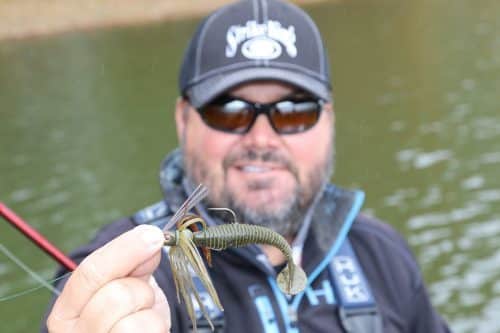 We can include vibrating swim jigs here, as both can navigate the vegetation were bass often spawn, while presenting an ominous form that put bass on high alert. Hackney likes to cover water with a 3/8-ounce Strike King Hack Attack Heavy Cover swim jig and a Rage Craw trailer. Green pumpkin and black/blue patterns resemble bluegill, so keep this in mind.
When Elite pro Bobby Lane suspects fish are bedding in pockets within Kissimmee grass or any other blend of shallow vegetation, he searches the salad with a swim jig carrying a Berkley Havoc Craw Fatty. He said that fan casting likely areas may very well yield bites, but any nest guarders that show themselves become targets for an aggressive flipping effort.
TEXAS RIGS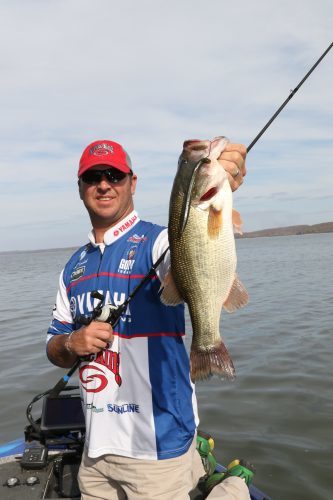 Once he finds an active area, or when he locates that isolated cover, Lane picks it apart by flipping/pitching a Texas-rigged Craw Fatty. Lane beefs up his rig with 1/4- to 1/2-ounce weights to make his rig fall fast and straight — right into the spot where mama bass will not tolerate intruders.  FLW pro Joe Holland won't hesitate to dress up a Gambler Mega Daddy with one, two or even three punch skirts to create a bulkier look than traditional Texas rigs. Varying skirt colors shows the fish one pattern on the fall and then another in the nest.
Todd Faircloth, the Elite pro from Texas, honors his state's reputation for big stuff by employing a 7-inch Strike King Ocho for dual action. First, he can swim the hefty plastic stick bait over grass and next to docks to tease reaction bites. But once he dials in a bed's location, the Ocho's super easy to pitch or cast from a respectable distance and it pierces the water like a dagger.
Now, taking the big rig notion to an extreme level, Monroe goes straight-up MMA on those bed fish with a big and brutal presentation that's guaranteed to make the non-biters run and the biters unleash instant fury.
We're talking about the Ish Tube — 7 inches of bass-angering plastic on a 12/0 wide gap hook.
"When I throw that in there, they eat it immediately because they don't want it anywhere near them," Monroe said.
ROUNDUP
Here are a few more popular baits for shaking up the spawners with aggressive presentations:
 Grass Jigs — Baits like the Witch Doctor Tackle Tungsten Flipping Jig and the JT Kenney Grass Wizard by Nichols Lures feature extended or double weed guards to repel the thick stuff, while a narrow head allows it to sneak in and out of cover that would choke and snag a traditional flipping jig.
FLW pro Mike Surman's a big fan of sending grass jigs into the heavily-fortressed little pockets within reeds and buggy whips where big bass seek private maternity wards. They rarely receive visitors, so suffice it to say that a heavy jig with a wiggling trailer like the Gambler Mega Daddy splashing into their sanctuary will red-line the temper.
Frogs — One of the best search baits you can throw, the frog appeals to prespawners looking to fatten up on protein-rich meals, but Monroe said this bait offers a particularly relevant presentation — hovering. He'll walk his Snagproof Ish's PHAT Frog into a nest perimeter, park it overhead and make that bass fret and fuss over the annoying presence until she has runs out of patience.
While the frog profile is definitely antagonizing, the appearance of a panfish parked overhead simply will not be tolerated. Strike King's Poppin' Perch and Live Target's Sunfish blend the floating form of a hollow body frog with a panfish profile for Sometimes strikes are little more than a push or slurp, so don't overreact. Let the fish pull your line tight before setting the hooks.
Spinnerbait: When Elite pro Keith Combs is searching for beds, he won't hesitate to unleash a 1-ounce spinnerbait with two big willow leaf blades.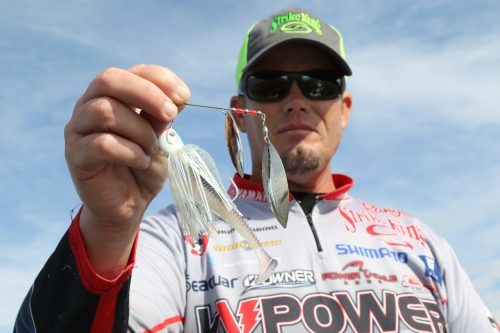 "I'll slow roll a big spinnerbait through all stages of the spawn," Combs said. "It's a big, obnoxious profile that can be reeled slowly over beds you can't see."With any of these agitating baits, persistence drives success. Covering water is step one, but one you find a bed, don't burn a lot of time on stubborn fish. Typically, these agitation baits present a yes-or-no deal.
They won't all play the game, but the ones that do will more than justify the effort.
---