Howard Hopes To Finish In Top 5 And Win Bws Sc Division Points Title At Clarks Hill
Posted On August 26, 2011
---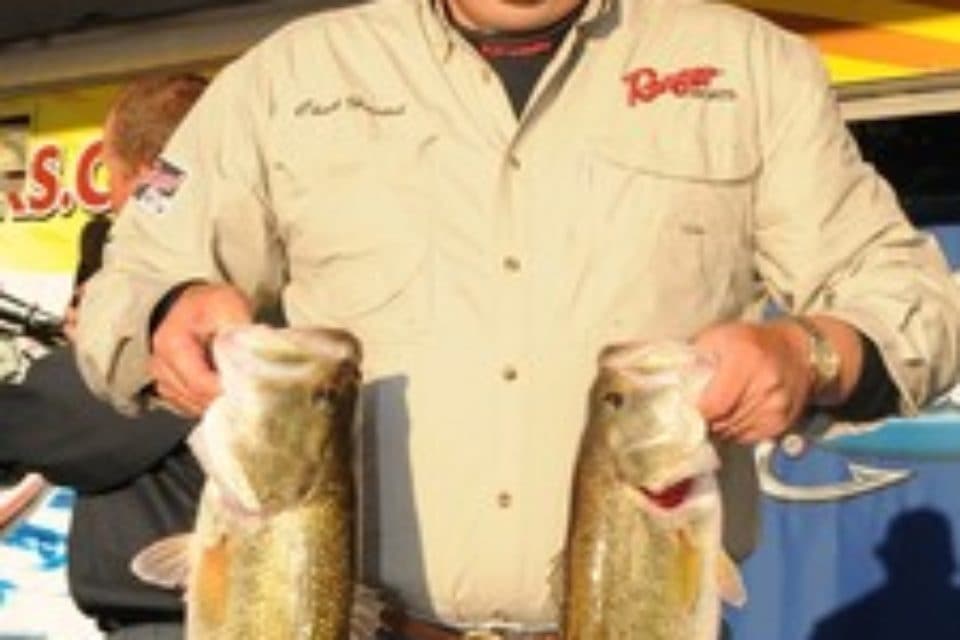 Nothing would suit points leader Chuck Howard better than a top five finish in the Bassmaster Weekend Series South Carolina Division two-day tournament on Clarks Hill Lake this weekend. That, he believes, would give him the S.C. Division points title outright and assure him of a berth in the BWS National Championship on Santee Cooper in November.
But, the Elloree, S.C., angler admits it will not be easy. Fishing is tough on Clarks Hill right now, just as it is on most lakes and reservoirs in the Carolinas this time of year, said Howard who has been practicing on Clarks Hill most of this week.
"I would be thankful to catch 20 pounds total for the tournament. I think that would give me a top five finish and that would win the points. I think the person behind me could win this weekend and I could finish fifth, and he could win the points – but he would have to win the tournament.
Howard goes into the weekend with a six-point lead over Wade Grooms of Bonneau. Ryan McMurtry of Abbeville, who won the 2010 Toyota Tundra Bassmaster Weekend Series Championship Operated by American Bass Anglers last November, is 8 points back. The series final is a double-points tournament so anglers at the top need to finish well lest they be overtaken by someone down in the standings who gets lucky and wins the tournament.
"If you win the points you automatically are qualified for the championship at Santee, but you still have to go to the regional championship and compete in it," said Howard.
The top 40 anglers and co-anglers in the South Carolina Division, based on points, advance to the regional championship on the Mobile Delta Oct. 7-8, to compete against the top 40 in both divisions from Georgia, Florida, Alabama North and Louisiana BWS divisions. The top 50 anglers and top 50 co-anglers from the regional championship qualify to fish in the National Championship Nov. 6-12 at Santee Cooper.
"I'd just as soon go ahead and win the points at Clarks Hill and not have to worry about how I finish at the regional," admitted Howard who said he has been very fortunate to reach the points lead.
"I have not won anything this year, but I started off pretty good at Lake Murray and finished second. I got a little lucky there and caught some decent fish. I only had four, but they were four good ones. And it just continued on. I had a good tournament at Hartwell, finishing third, which really helped me a lot."
He finished seventh at Santee Cooper and he needed that and those two top three finishes because the third tournamnet at Lake Wateree was a bust for him, he noted, Howard finished 23rd at Wateree in April.
"So, now I am here," he said, while acknowledging that he will have a tough time even making a 10-pound-a-day average this weekend unless the fishing changes drastically by Saturday.
"I think the fish are suspended. Most of them are coming out of 10 to 12 feet of water. A lot of small fish are chasing bait on points, little humps and stuff. You can catch those small fish, but the larger fish are not doing much. I'd love to catch a 2-pound fish," he said.
Howard said the fish he is catching are coming on a topwater like a Sammie or a Spook, or a fluke.
"When they see that topwater coming across I think it is mostly a reaction bite. They just come up and hit it. But you better hope they get it when they do because a lot of times if you don't get them you don't see them again."
Howard said he would love to see cloudy, windy and rainy weather this weekend, but he does not think that will happen, even though Hurricane Irene will be cruising up the coast. The hurricane is expected to have little effect on weather inland in South Carolina, except for a few thunderstorms here and there.
Without some weather to roil the waters a little, he plans to head for the lower end of the lake and find the clearest water he can.
"It's just a matter of getting a couple of good bites a day, although that will be tough to do," he said. "I think somebody who can catch 10 to 11 or 12 pounds a day will do well. I think I can catch five each day, but I also think there will be a lot of anglers who will not catch a fish."
Bassmaster Weekend Series South Carolina Division
Aug. 27-28, 2011
Clarks Hill Lake
Dorn Sport Fishing Facility
Call Billy Benedetti 256-230-5632
---