How the Classic Will Be Won
---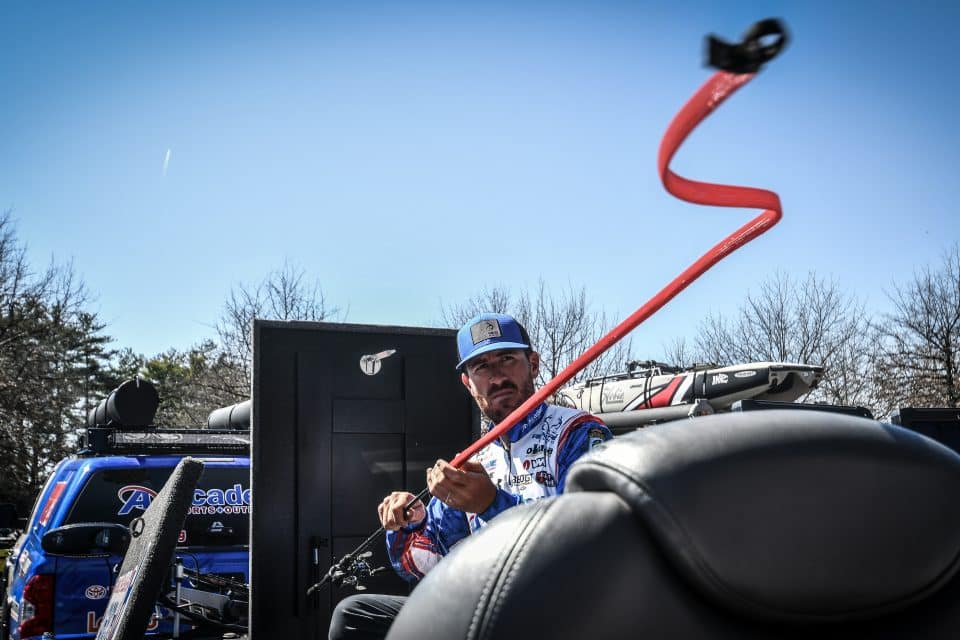 "Three-quarters of this field has a jig tied on," said Rick Morris as he sat in his boat just hours before blasting off in his 6th Bassmaster Classic here on Lake Hartwell.
Jigs are among the most versatile lures. That's why they'll get so much play here on Hartwell this week with so many patterns in play. Well, that, and the fact that they attract bites from big fish. Big fish will be key during a Classic that affords anglers numerous options, including the option to catch big numbers of spotted bass. But spots probably won't cut it this week. Not if a guy wants to win. "It's gonna take largemouth to win this tournament," said Morris.
How an angler goes about catching those largemouth is the subject of much discussion right now. Even most of the pros haven't decided . . . or just won't say. That latter group is the dangerous bunch – the guys who have a little something figured out.
A couple of guys did slip up and mention a spinnerbait as a major player. And the way the conversations steered themselves in that direction gives me a lot of reason to believe there is some validity to it.
But, as usual before a tournament, if they told us the truth we wouldn't know it.
So what about a slightly more honest subject – general areas that might produce a win. John Cox has a chance to set a Classic trophy next to his Forrest Wood Cup on the mantle. When he won the Cup Cox fished so far up a creek that his area wasn't even colored blue on the Navionics chip.
Cox will likely do what he does best this week as he attempts to win his 2nd tourney on Hartwell in 13 months. Not sure when it sustained the damage, but his aluminum boat looks like it has been through a NASCAR race. On a short track. With lots of bumping and rubbing.
"My boat is like my hammer," grinned Cox.
And that's what I like best about the guy – he's not afraid to be rough around the edges, a guy's guy. A real guy. He'll tell it like it is, let it be what it is. He should make things a little more interesting here this week.
"I have one (fish) picked out that I want to run to first thing in the morning and throw a Max Scent General (stickbait) on," said Cox. Those are words the rest of the field doesn't want to hear. When a noted sight fisherman says something like that it usually means he's found the big bass of the whole tournament set up on a bed.
Of course, the problem with shallow patterns in the Classic is that a flotilla of spectators can inadvertently disturb the fish. Cox has considered that. "Well, first of all, I hope I'm lucky enough to have a crowd following me because that would mean I'm doing well, but yeah, on pretty much all of my spots I have some deep water nearby where they can watch without hurting anything too much."
It's not just spectators that influence competitors at the Classic. There are sponsor obligations and the ever-present media. Steve Kennedy admitted he was a bit spun-out by fielding questions and speaking in front of cameras by the time Classic Media Day wound down. "Stop laughing at me!" he admonished as I chuckled at his repeated attempts to record a sound bite for camera man, only to get it right . . . when the camera wasn't rolling.
"Let's talk about fishing!" he said as I approached. We did. You can see the interview on video tab of AnglersChannel.com later.
Denny Brauer once described the Classic to me as a "circus with a 52-man club tournament attached to it." It can certainly feel that way. The ability to manage the distractions is another skill required to win the Classic. For this reason, veterans often hold an advantage over newcomers. This year will be no exception. "This is my 11th Classic," said John Crews. "Just riding around waving at everybody has gotten old. I want to win."
Bobby Lane is fishing his 10th Classic. Last time it was held on Hartwell he came in 2nd. He feels like this could be his time. So do I. There will be a shallow bite this week. After speaking with him, I believe Lane is ready to capitalize on it. "I practiced shallow, turned my attention to catching fish there. The water has come up several feet and when the water comes up, the fish go with it. It's that simple."
'Simple' is not the same thing as 'easy'. Somebody is going to have to stay on the fish through 3 days of changing weather and madding crowds until we find out who our 2018 Bassmaster Classic Champ is. And how he's going to get it done.
---