How Dustin Connell Conquered "The Rez"
---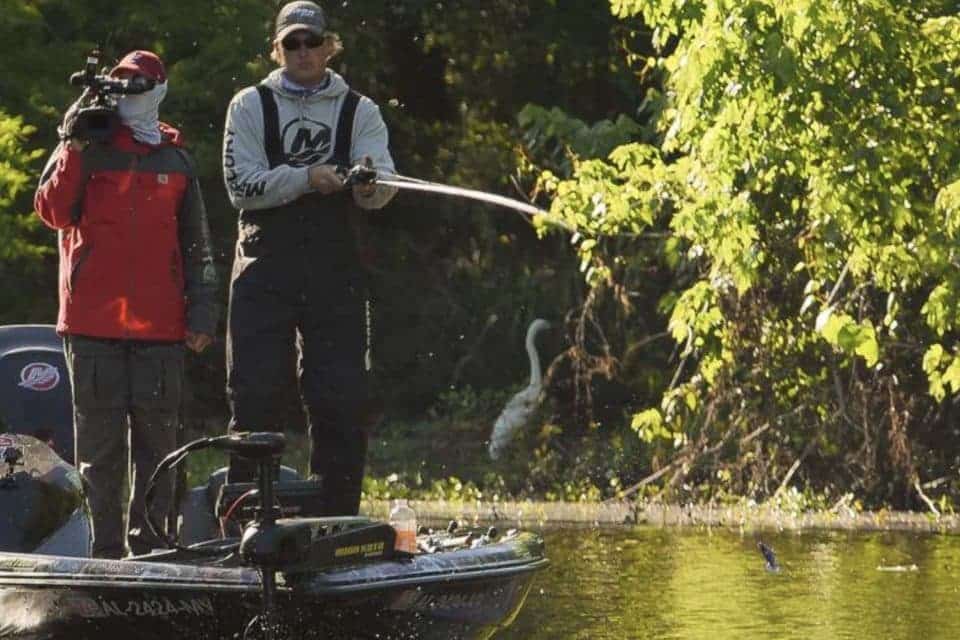 Vance McCullough / Photos Courtesy of BASS
At 1:55 Monday afternoon Dustin Connell laid down his rod and decided it was over.
He had done all he could and now it was time to find out if the Bassmaster Elite Series rookie would win his first big blue trophy in his first season on Tour.
As he idled along a rock jetty, a postfrontal sun strobed across Ross Barnett Reservoir's rippled surface just as doubt flashed across the young man's mind.
"I didn't think I had it won. I really didn't. I thought I had left the door open.
"If you do your best, absolutely the best you can do . . . and I thought I fell short still.
"It was a weird feeling. I kept my cool all day long and I made that last cast and I said, 'that's it'. I pulled my trolling motor up. I started idling back. And I just let loose of all my emotions. I couldn't hold back anymore."
When he reached the weigh in stage Connell saw that the last angler sitting between him and a career-defining moment was Kevin VanDam who occupied the 'hot seat' as the current leader.
If Connell was to take the title, he was going to have to earn it against the most feared competitor in bass tournament history.
"My goal for that day – I said, 'I need to catch 13 pounds'. Somehow, some way I caught 12 pounds, 15 ounces. That was what I needed."
The day's effort ran Connell's 4-day total winning weight to 64-13 and gave him a margin of 2-03 over VanDam.
How does that feel?
"I can't explain it man," says Connell. "It's starting to sink in. I drove home last night and I was just tired. I went to bed and I woke up this morning and went, 'wow, did this whole week really just happen?'. I don't know how to explain it except, it's surreal. It's one of those deals that you dream of  your whole life and when it finally happens it's almost bittersweet. You can't believe it at all."
The week did really happen. 108 other Elite Series pros remember the challenges it brought. So does Connell. "Thursday was the best day of fishing. The weights were high, the fish were biting. That was before they got really beat up.
"Then you had the wind blowing 30-to-40 miles an hour for two days. Not only did that affect the fishing, it affected the navigating. It's stressful knowing you've got to leave 45 minutes early just to get back in time and it's only, like, a 20-minute run. It cut my fishing time. Then you're worrying about your boat and trying to get back safe. Mentally, it was tough."
Late Saturday evening there was speculation that, due to dangerous weather, Sunday's finale would be postponed until Monday. Connell, with a lead of about 6 pounds, had the most to lose if heavy rains muddied his fishing spots up the river. And the upper reaches of the lake would be the first places to feel the change.
Championship Sunday indeed became Championship Monday.
But the delay benefited Connell in a couple of ways. Though there were 4 tornado warnings and a lot of lightning in the area, only about an inch of rain fell into the watershed. His area was largely unchanged.
"The only thing I was worried about was that water rising and getting muddy. But it didn't do it as bad as I thought. The front came in though and slowed things down. I was getting 3 or 4 bites an hour and then the front came in and I got, like, 1 bite every 2 hours the final day."
The biggest difference maker, though, was the rest Connell was able to catch up on. "I didn't realize how tired I was until Sunday rolled around and I woke up at 6:00 and I was like, 'oh man, I'm so tired'. I got a little rest that day and I was ready to go on Monday."
Though he's 26-years-old and in good shape, Connell's exhaustion is understandable. "I've been on the water for about 24 days straight. I'm still tired. I was on the lake for 7 days straight, for which I'm very, very happy now."
Connell shared with AnglersChannel.com in a recent interview that he very much likes to get away from the crowd. It was key to his win this past week on 'The Rez'.
"The biggest thing that helped me was I didn't have any company. I had the whole river to myself. I could run up the river, catch a couple and then save some fish. I didn't really hammer down on them. I didn't have any competition. You don't see that often.
"But that's how you win. You've got to separate yourself. If you can ever connect and do that . . . I mean, sometimes you make that run and it's a long drive back if you don't catch one, but when you do connect like that, it can payoff big time."
As for his pattern: "I was fishing any kind of matted up stuff on the main river. It didn't matter what it was. If it was a log jam, or trash mats or grass mats piled up in trees. Trees were a big factor. I was fishing trees that had mats pushed up in them. That's just what those big fish live in on those river banks. I'm sure a lot of them live on stumps and stuff like that, but they want to get underneath something."
He whacked them on a swim jig during Thursday's opening round. That changed on Friday when Connell found 'the pattern within the pattern'.
"I kind of got dialed-in after Friday; after I started catching them flipping. I found out that a lot of them were directly in the middle of those mats, in the middle of the tree in the shade. Eventually, I just went around flipping right in the middle of them. That was a big deal for me."
"I was fishing the top 2 or 3 feet of the water column right under the mat. A lot of times as I was shaking the lure, trying to get through the mat, they would come lift the mat up and I would be like, 'there's a big one under there!'. Finally, I'd get it in there and they'd bite and be a 4-or-5-pounder."
Water depth beneath a given mat did not matter.
"They were just sitting right up underneath it, in that little 2-foot column up there."
Connell also weighed-in a couple of fish the final day that he caught on a frog. "Early in the morning I'd sneak around in one or two of those pockets just trying to get a little bonus bite. After that I had all day to go catch 3 more fish. That's what I did. And I caught one big one."
Connell said the bass he caught were actually eating the occasional real life bull frog, some of which jumped off the mats when he approached.
They were also eating some very big shad. "I did catch one 5-and-a-quarter-pound bass and it spit up a giant shad in my livewell – like a big super shad. It might have been 10 inches long."
Connell used stout gear to pull big river bass out of mats.
Swim jig setup: 65 lb. braid on an ALX Hammer 7 rod with a 3/8 oz. shad-colored 6th Sense Divine Swim Jig with a Net Bait Baby Paca Craw trailer.
Frog: Spro Bronze Eye on 65 lb. braid.
Flipping setup: Two rods rigged with 70 lb. Samurai Braid with ounce-and-a-half and 2 oz. weights, respectively. Black/blue/purple punch skirt, Net Bait Paca Slim in the 4-inch size in black/blue or green pumpkin/blue. "As long as it was a darker color they were going to bite it."
---