High School All-American Anglers Compete With Pros On Trophy Bass Lake In Texas
---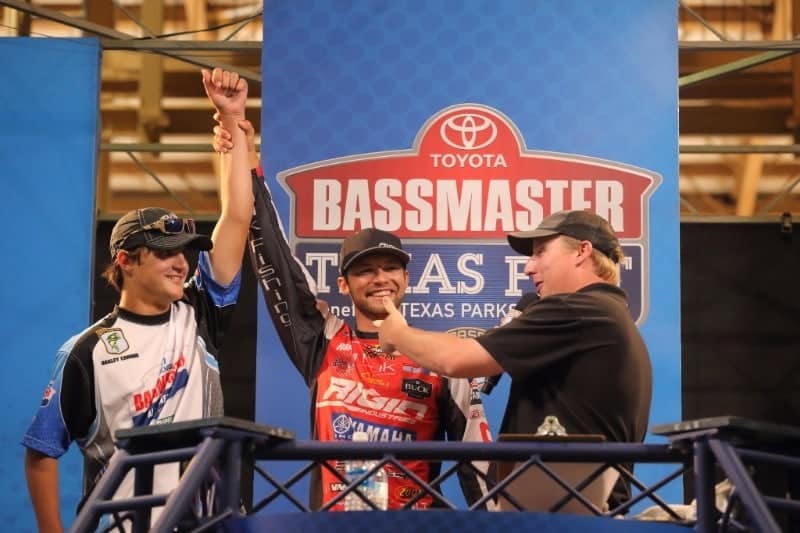 As part of the Toyota Bassmaster Texas Fest, the 12 Bassmaster High School All-Americans presented by DICK'S Sporting Goods were paired with 12 Bassmaster Elite Series pros and earned a chance to fish with the pros on Lake Naconiche. Oakley Connor (left), a South Carolina angler representing Travelers Rest High School, won the one-day event with his Elite Series partner, Brandon Palaniuk. The pair caught 12 pounds, 3 ounces.
Photo by Seigo Saito/Bassmaster
FOR IMMEDIATE RELEASE
May 20, 2017
LUFKIN, Texas — When Reese Jones of Rogers, Ark., received notice that he had been selected as one of 12 members of the 2017 Bassmaster High School All-American Fishing Team presented by DICK'S Sporting Goods, he was ecstatic. Winning the honor meant he would be able to fish with a Bassmaster Elite Series pro during a special tournament in conjunction with the Toyota Bassmaster Texas Fest benefiting Texas Parks and Wildlife Department.
Then his mother, Cheri, broke the bad news. "I pointed out that Reese's graduation was the same weekend, and of course he couldn't go to the tournament. At that point, both he and his father dropped their forks and said that he had to go to Texas."
Cheri was outvoted, and her son spent part of graduation weekend fishing Lake Naconiche, a trophy bass fishery near Nacogdoches, Texas. As a compromise, Cheri Jones acquired a cap and gown for Reese to wear as he crossed the weigh-in stage at the George H. Henderson Jr. Expo Center Saturday. He would only wear the cap, though.
"There's no way he would cover up his All-American jersey with a gown," his mother said.
Through a random drawing, Jones was paired with Elite Series angler Brett Preuett, a former Carhartt Bassmaster College Series champion and GEICO Bassmaster Classic qualifier. Each of the teams were able to count the heaviest single bass for the pro and the high schooler.
The heaviest combined weight was turned in by the team of Oakley Connor of Travelers Rest, S.C., and Brandon Palaniuk, who also happens to be leading Texas Fest, the Elite event here, which ends Sunday.
Should Palaniuk win the Elite competition, it would be an amazing sweep. He also was named winner today of the Autism Angler of April Award, based on a combination of money raised and weight caught in Elite events in April, which is National Autism Awareness month.
He and Connor weighed in 12 pounds, 3 ounces to top the 12-team field. Palaniuk had a 5-14, and Connor caught a 6-5. Dalton Combs of Ozark, Mo., and Skylar Hamilton had 10-3 for second, and Colby Miller of Elmer, La., and Shane Lineberger were third with 9-8.
All the teams caught numerous bass during a storm-shortened day, but no one was able to land one of the giant bass Lake Naconiche is noted for producing. It gave up a 13-plus pound Toyota ShareLunker bass in February, and the lake record is reported to be heavier than 16 pounds.
When asked why he would jeopardize his chances of winning Texas Fest by going out with a high school student today, Palaniuk didn't hesitate. "I had somebody take me fishing when I was young," he said. "That gave me the inspiration to do what I am doing now.
"Besides, I signed up to do this when it was first announced, and I wasn't going to back out." Palaniuk, Gary Klein and David Williams all have volunteered as teammates for high school anglers all three years since the program's inception.
Other teams participating were Cade Fortenberry of Prairieville, La., and Koby Krieger; Jared Goebel of Lumberton, Texas, and Gary Klein; Tyler Lubbat of Wheeling, Ill., and Darrel Ocamica; Perry Marvin of Peru, N.Y., and David Williams; Trace O'Dell of Buna, Texas, and James Niggemeyer; Kyle Palmer of Estill Springs, Tenn., and Jared Lintner; Logan Parks of Auburn, Ala., and Bradley Roy; and Bryer Pennington of Prescott, Ark., and Jesse Tacoronte.
The 12 student anglers were selected for All-American honors by judges who reviewed more than 380 nominations from 40 states. The program, now in its third year, recognizes outstanding young anglers in grades 10 through 12 for excellence in bass tournament competition, leadership, community service and academics.
Read more about the Bassmaster High School All-American anglers on Bassmaster.com and look for their profiles in the September/October issue of Bassmaster magazine.
2017 Bassmaster High School All-American Presenting Sponsor: DICK'S Sporting Goods
2017 Costa Bassmaster High School Title Sponsor: Costa
2017 Costa Bassmaster High School Presenting Sponsor: DICK'S Sporting Goods
2017 Costa Bassmaster High School Platinum Sponsor: Toyota
2017 Costa Bassmaster High School Premier Sponsors: Minn Kota, Nitro Boats, Power-Pole, Shell Rotella, Skeeter Boats, Triton Boats, Yamaha, Berkley, Huk, Hummingbird, Mercury
2017 Costa Bassmaster High School Supporting Sponsors: Advance Auto Parts, Carhartt, Lowrance, Phoenix Boats, Shimano, St. Croix Rods, ABU Garcia, Academy Sports + Outdoors
About B.A.S.S.
B.A.S.S. is the worldwide authority on bass fishing and keeper of the culture of the sport, providing cutting edge content on bass fishing whenever, wherever and however bass fishing fans want to use it. Headquartered in Birmingham, Ala., the 500,000-member organization's fully integrated media platforms include the industry's leading magazines (Bassmaster and B.A.S.S. Times), website (Bassmaster.com), television show (The Bassmasters on ESPN2), radio show (Bassmaster Radio), social media programs and events. For more than 45 years, B.A.S.S. has been dedicated to access, conservation and youth fishing.
The Bassmaster Tournament Trail includes the most prestigious events at each level of competition, including the Bassmaster Elite Series, Bass Pro Shops Bassmaster Open Series, Academy Sports + Outdoors B.A.S.S. Nation presented by Magellan, Carhartt Bassmaster College Series presented by Bass Pro Shops, Costa Bassmaster High School Series presented by DICK'S Sporting Goods, Toyota Bonus Bucks Bassmaster Team Championship and the ultimate celebration of competitive fishing, the GEICO Bassmaster Classic presented by DICK'S Sporting Goods.
---