Hart & Woodell drop over 19 pounds on the scales to win PBC Fashion Rods End of Year Tournament on Jordan Lake
Posted On August 29, 2017
---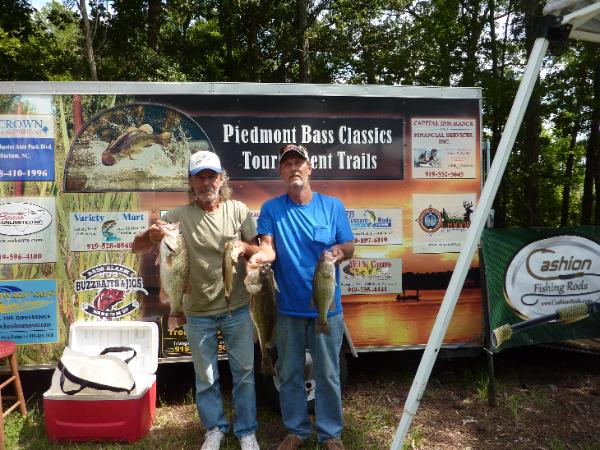 PBC CASHION FISHING RODS 'End of Year' TEAM BASS FISHING TRAIL RESULTS

Saturday August 26th, 2017 ~ Jordan Lake ~ Farrington Point Wildlife Ramp
The team of Ronnie Hart & Danny Woodell won 1st Place, weighing in 5 bass at 19.70 lbs. and also won the 1st Place
Big Fish Award (8.08 lbs.) for a total of $1,688 in winnings. The team said most of their bass were caught off channel
points in 10 to 12' or more of depth using mostly crankbaits.
1st Place
Close behind, the veteran team of Tommy & Roy Blackwood took 2nd with 5 fish weighing 19.60 lbs. & they also
won 2nd Place Big Fish (7.71) to pocket a total of $872. The 3rd place team, Jaime Fajardo & Josh Hooks, caught 5
weighing 19.55 lbs. and also won the 1st Place TWT for a grand total of $1,560 in winnings!!!

143 fish were weighed in for a total of 413 pounds for an average of 2.89 lbs. each. Most of the larger fish were
caught on Carolina rigs, Jerk Baits and Crankbaits in 10-12' of water off main point dropoffs and creek channels.

I want to thank all the anglers that participated and all our sponsors that support this trail. The next Cashion Fishing
Rods 'End of Year' Tournament Trail Qualifier will be September 9th at Falls Lake. Go to this web page for the info
on the 'End of Year' Trail: http://piedmontbassclassics.com/2017CashionEOYTrailMainPage.html
All the information on our tournaments can be found http://piedmontbassclassics.com/

Now here are the full results:

1st Place: Ronnie Hart & Danny Woodell of Bunn Level & Erwin…5 bass…19.70 lbs…$1,030
2nd Place: Roy & Tommy Blackwood of Pittsboro & Efland...5 bass…19.60 lbs…$590
3rd Place: Jaime Fajardo & Josh Hooks of Fuquay Varina & Apex…5 bass…19.25 lbs…$510
4th Place: Chip Baty & Alan Parker of Linden…5 bass…18.59 lbs…$430
5th Place: Todd Sumner & Rich Szczerbala of Southern Pines & Apex…5 bass…18.33 lbs…$350
6th Place: Mark Herndon & Jay Garrard of Bahama & Durham…5 bass…17.89 lbs…$270
7th Place: Brian Fritts & Bo Adams of Raleigh & Pittsboro…5 bass…17.59 lbs…$230
8th Place: Chad Emory & Stephen of Bahama & Durham…5 bass…17.12 lbs…$200
9th Place: Doug Stallings & Seth Ellis of Stem & Durham....5 bass…16.95 lbs…$150

1st Place Big Fish..1st Place Team above...8.08 lbs…$658
2nd Place Big Fish..2nd Place Team above…7.71 lbs…$3282

         1st Place TWT..3rd Place Team above…19.25 lbs…$1,050
2nd Place TWT..4th Place Team above…18.59 lbs…$450
---