Hackney Leads As The Board Shuffled And Many Fell Behind.
---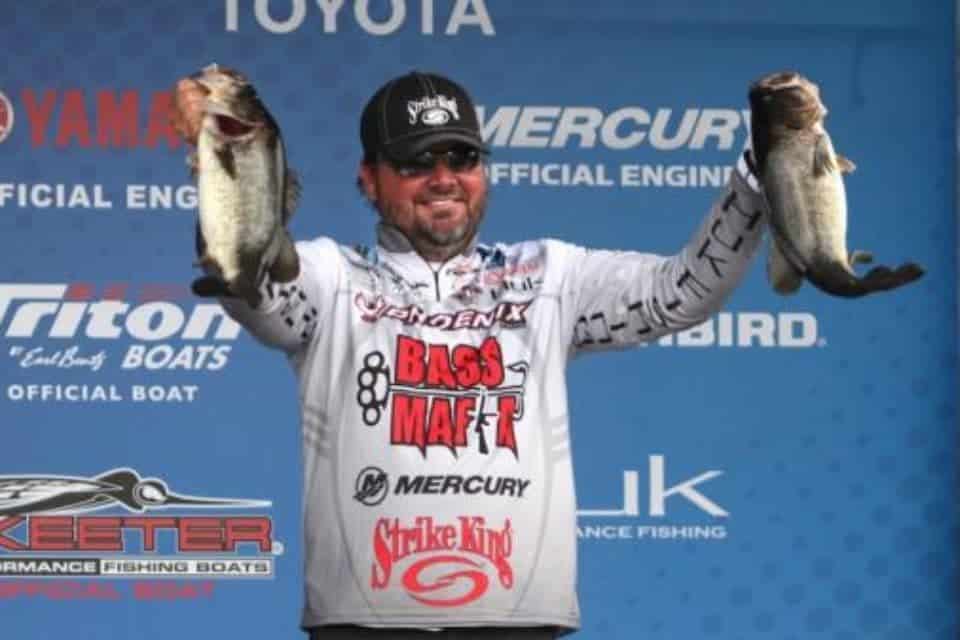 As is often the case in sight fishing derbies, the second round of the Bassmaster Elite Series event on Florida's St Johns River was a much tougher day at the office for most of the 110 competing pros.
The biggest factor? The low-hanging fruit got picked on Day1.
Randall Tharp shed some light on the subject. "Yesterday I was in an area where there were thousands of fish. It seemed like every white spot had a fish on it.  Today I went to the same area and didn't see a fish." Tharp rallied late to cull up to his weight of 12-8 today, which gave him a total of 35-2 and put him safely in the cut at 14th place.
"They went through 'em like a vacuum cleaner yesterday,"  said Jacob Powroznik of the eel grass laden spawning flats that ring Lake George. He did not rebound well enough to make the cut.
As fortunes changed Day 1 leader Brandon Lester fell to 6th with a 14-2 limit but with a total weight of 37-15 he is only a pound and 7 ounces off the lead.
How do you succeed in Florida tournaments? Drew Benton of Panama City put it into perspective: "I went looking for a big one and never found it. Tomorrow I'll go see if I can find another one." Without those big 'uns you end up with 9-14 as Drew did today instead of the 22-15 he weighed yesterday.
Benton fell from 2nd to 24th but with 32-13 he is just a big bite away from taking the lead when action resumes Saturday morning.
Speaking of the lead, it now belongs to Greg Hackney with 39-6 (18-1 today).
Terry Scroggins holds down 2nd place with 38-8 (21-10 today).
Jordan Lee (below) is 3rd with 38-7 (17-8 today). Marty Robinson put 19-12 on the scale and ran his total to 38-5 – good for 4th.
Brent Ehrler is in the 5th  position with 38-3 following an 18-pound, 11-ounce performance today.
Hometown angler Scroggins is known for his hospitality when Palatka hosts Elite Series tourneys. He'll cook for his buddies off the water. On the water, however, he'll take their money. 'Big Show' weighed 21-10 today (38-8 total) to place 2nd for the time being. "I've been running south each day to catch a limit and then running north. There's a small window when I can see 'em (on the heavily tide-influenced north end) and its getting shorter every day."
After Hackney took the lead from Scroggins he was quick and quite as he exited the stage. Those guys that won't talk usually have something special going on. We'll keep an eye on the Hack Attack this weekend.
Many anglers suffered slow starts. Even some of the successful guys went fishless until 10 or 11 o'clock. A lot of guys caught – and in some cases missed – the biggest bass of the day in the closing hour.
Edwin Evers says he missed a couple of opportunities to get quality fish in the boat but he managed to get another giant in the boat today to go along with one from yesterday. The fat girl boosted his total weight to 33-7 (13-2 today) and put him in the 19th spot. The reigning Classic Champ will be looking gun down several competitors and make Sunday's Top 12 round.
There was definitely a strong late bite and the guys who capitalized on it now sit atop the standings.
Lee caught a 4-pounder and a 6-plus-pounder in the last hour and took a temporary lead before settling into 3rd.
Chris Zaldain climbed into the cut (42nd place) on the strength of a late-breaking pattern. He laments what could have been. "If I would've had 20 more minutes," pleaded Zaldain who said he was throwing a Vision 110 jerkbait in the fastest current he could find. And hooking up with big bass.
By contrast, Justin Lucas caught a big bag today. He filled his limit early and never looked back. The 22-13 effort gave him a total weight of 36-10 and put him in 9th place.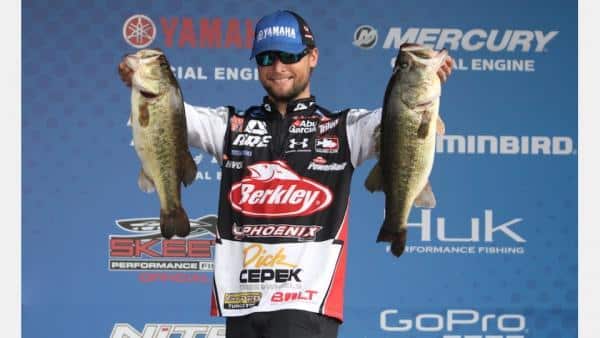 The best showing of the day came as local favorite Cliff Prince rallied the crowd to their feet. He found a bona fide giant weighing 10 pounds, 8 ounces to anchor a 23-pound, 1-ounce sack. "It finally came together. I should've had a giant bag but I messed up a couple of them up."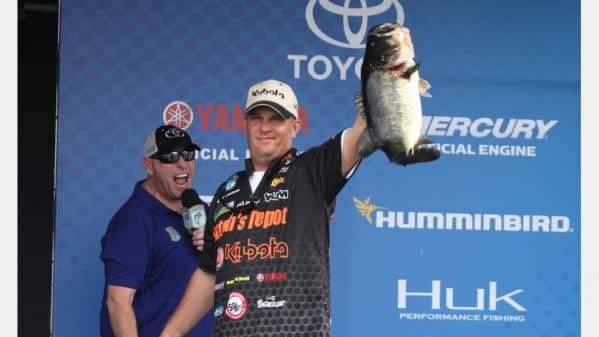 Prince said that in past Elite Series tourneys on his home water he has lost a few monsters. Today he brought one back to Palatka. It was a great rebound from his start of only 10-12 yesterday. With a total weight of 33-13 Prince will launch in 18th place tomorrow.
SOME RANDOM NOTES:
Topwaters are producing big bites.
Later flights caught 'em better.
Clunn is looking for postspawn fish. Not sure he'll be a threat to win, but he does have the momentum coming to him as the sight bite slows and big females leave beds. Clunn begins tomorrow in 31st place, 7 pounds, 14 ounces off the lead.
Shaw Grigsby did 19-2 today to make the cut. On a day when the bed bite got tougher he made a comeback. Does this spell trouble for the rest of the field? He's tied with fellow Florida veteran Bernie Schultz at 31-11 for 28th place. Look out the Sunshine State veterans!
Ken Iyobe is an underrated sight fisherman. He has his own TV show in Japan. He proved he can find them in Florida. Made the cut.
2016 Bassmaster Elite at St. Johns River presented by Dick Cepek Tires & Wheels 3/17-3/20
St. Johns River, Palatka  FL.
(PROFESSIONAL) Standings Day 2
Angler                   Hometown              No./lbs-oz  Pts   Total $$$
1.  Greg Hackney           Gonzales, LA            10  39-06  110
Day 1: 5   21-05     Day 2: 5   18-01
2.  Terry Scroggins        San Mateo, FL           10  38-08  109
Day 1: 5   16-14     Day 2: 5   21-10
3.  Jordan Lee             Grant, AL               10  38-07  108
Day 1: 5   20-15     Day 2: 5   17-08
4.  Marty Robinson         Lyman, SC               10  38-05  107
Day 1: 5   18-09     Day 2: 5   19-12
5.  Brent Ehrler           Newport Beach, CA       10  38-03  106
Day 1: 5   19-08     Day 2: 5   18-11
6.  Brandon Lester         Fayetteville, TN        10  37-15  105
Day 1: 5   23-13     Day 2: 5   14-02
7.  Bradley Roy            Lancaster, KY           10  37-02  104
Day 1: 5   18-05     Day 2: 5   18-13
8.  Billy McCaghren Jr     Mayflower, AR           10  37-01  103
Day 1: 5   20-01     Day 2: 5   17-00
9.  Justin Lucas           Guntersville, AL        10  36-10  102
Day 1: 5   13-13     Day 2: 5   22-13
10. Michael Iaconelli      Pitts Grove, NJ         10  36-05  101
Day 1: 5   19-00     Day 2: 5   17-05
11. Davy Hite              Ninety Six, SC          10  35-15  100
Day 1: 5   15-02     Day 2: 5   20-13
12. Ken Iyobe              Tokoname  Aichi JAPAN   10  35-14   99
Day 1: 5   17-08     Day 2: 5   18-06
13. Skeet Reese            Auburn, CA              10  35-05   98
Day 1: 5   18-11     Day 2: 5   16-10
14. Randall Tharp          Port St. Joe, FL        10  35-02   97
Day 1: 5   22-10     Day 2: 5   12-08
15. Gerald Swindle         Warrior, AL             10  34-08   96
Day 1: 5   15-07     Day 2: 5   19-01
16. Chad Pipkens           Lansing, MI             10  34-05   95
Day 1: 5   18-04     Day 2: 5   16-01
17. Britt Myers            Lake Wylie, SC          10  33-15   94
Day 1: 5   18-14     Day 2: 5   15-01
18. Cliff Prince           Palatka, FL             10  33-13   93
Day 1: 5   10-12     Day 2: 5   23-01
19. Edwin Evers            Talala, OK              10  33-07   92
Day 1: 5   20-05     Day 2: 5   13-02
20. Jason Williamson       Wagener, SC             10  33-04   91
Day 1: 5   21-10     Day 2: 5   11-10
21. Clifford Pirch         Payson, AZ              10  33-03   90
Day 1: 5   16-09     Day 2: 5   16-10
22. Jared Lintner          Arroyo Grande, CA       10  33-01   89
Day 1: 5   17-02     Day 2: 5   15-15
23. Mike McClelland        Bella Vista, AR         10  32-15   88
Day 1: 5   19-15     Day 2: 5   13-00
24. Drew Benton            Panama City, FL         10  32-13   87
Day 1: 5   22-15     Day 2: 5   09-14
25. Bill Lowen             Brookville, IN          10  32-05   86
Day 1: 5   18-03     Day 2: 5   14-02
26. Brian Snowden          Reeds Spring, MO        10  32-01   85
Day 1: 5   13-00     Day 2: 5   19-01
27. Hank Cherry Jr         Maiden, NC              10  32-00   84
Day 1: 5   14-07     Day 2: 5   17-09
28. Shaw Grigsby Jr.       Gainesville, FL         10  31-11   83
Day 1: 5   12-09     Day 2: 5   19-02
29. Bernie Schultz         Gainesville, FL         10  31-11   82
Day 1: 5   12-12     Day 2: 5   18-15
30. Luke Clausen           Otis Orchards, WA       10  31-08   81
Day 1: 5   19-13     Day 2: 5   11-11
31. Rick Clunn             Ava, MO                 10  31-08   80
Day 1: 5   16-11     Day 2: 5   14-13
32. Cliff Pace             Petal, MS               10  31-07   79
Day 1: 5   21-10     Day 2: 5   09-13
33. John Crews Jr          Salem, VA               10  31-07   78
Day 1: 5   19-08     Day 2: 5   11-15
34. Brent Chapman          Lake Quivira, KS        10  31-04   77
Day 1: 5   13-05     Day 2: 5   17-15
35. Ish Monroe             Hughson, CA             10  31-03   76
Day 1: 5   17-10     Day 2: 5   13-09
36. Brandon Palaniuk       Rathdrum, ID            10  31-03   75
Day 1: 5   15-01     Day 2: 5   16-02
37. Jason Christie         Park Hill, OK           10  31-01   74
Day 1: 5   16-06     Day 2: 5   14-11
38. Takahiro Omori         Emory, TX               10  30-14   73
Day 1: 5   15-08     Day 2: 5   15-06
39. Seth Feider            Bloomington, MN         10  30-11   72
Day 1: 5   17-05     Day 2: 5   13-06
40. Todd Faircloth         Jasper, TX              10  30-06   71
Day 1: 5   15-04     Day 2: 5   15-02
41. Alton Jones            Lorena, TX              10  30-00   70
Day 1: 5   19-02     Day 2: 5   10-14
42. Chris Zaldain          Laughlin, NV            10  29-14   69
Day 1: 5   13-03     Day 2: 5   16-11
43. Andy Montgomery        Blacksburg, SC          10  29-12   68
Day 1: 5   14-13     Day 2: 5   14-15
44. Kevin VanDam           Kalamazoo, MI           10  29-10   67
Day 1: 5   20-09     Day 2: 5   09-01
45. Mark Menendez          Paducah, KY             10  29-04   66
Day 1: 5   21-06     Day 2: 5   07-14
46. Keith Combs            Huntington, TX          10  29-02   65
Day 1: 5   19-14     Day 2: 5   09-04
47. Greg Vinson            Wetumpka, AL            10  29-02   64
Day 1: 5   17-03     Day 2: 5   11-15
48. Dean Rojas             Lake Havasu City, AZ    10  29-01   63
Day 1: 5   21-00     Day 2: 5   08-01
49. Cliff Crochet          Pierre Part, LA          8  29-00   62
Day 1: 5   22-14     Day 2: 3   06-02
50. Randy Howell           Guntersville, AL        10  28-12   61
Day 1: 5   20-01     Day 2: 5   08-11
51. Stephen Browning       Hot Springs, AR         10  28-12   60
Day 1: 5   13-15     Day 2: 5   14-13
52. Aaron Martens          Leeds, AL               10  28-06   59
Day 1: 5   14-06     Day 2: 5   14-00
53. Brett Hite             Phoenix, AZ             10  28-05   58
Day 1: 5   16-00     Day 2: 5   12-05
54. Koby Kreiger           Bokeelia, FL            10  28-05   57
Day 1: 5   15-13     Day 2: 5   12-08
55. Jay Brainard           Enid, OK                10  28-00   56
Day 1: 5   18-00     Day 2: 5   10-00
56. Dennis Tietje          Roanoke, LA             10  28-00   55
Day 1: 5   14-15     Day 2: 5   13-01
57. Micah Frazier          Newnan, GA              10  27-03   54
Day 1: 5   15-11     Day 2: 5   11-08
58. David Mullins          Mt Carmel, TN           10  26-15   53
Day 1: 5   14-06     Day 2: 5   12-09
59. Scott Rook             Little Rock, AR         10  26-10   52
Day 1: 5   11-04     Day 2: 5   15-06
60. Josh Bertrand          Gilbert, AZ             10  26-07   51
Day 1: 5   19-07     Day 2: 5   07-00
61. Randy Allen            Shreveport, LA           9  26-07   50
Day 1: 5   18-08     Day 2: 4   07-15
62. Boyd Duckett           Guntersville, AL        10  26-03   49
Day 1: 5   13-15     Day 2: 5   12-04
63. Fletcher Shryock       New Philadelphia, OH     9  26-01   48
Day 1: 5   16-04     Day 2: 4   09-13
64. Kelley Jaye            Dadeville, AL           10  25-11   47
Day 1: 5   11-15     Day 2: 5   13-12
65. Ott DeFoe              Knoxville, TN           10  25-10   46
Day 1: 5   17-04     Day 2: 5   08-06
66. Steve Kennedy          Auburn, AL              10  25-10   45
Day 1: 5   11-12     Day 2: 5   13-14
67. Kelly Jordon           Flint, TX               10  25-08   44
Day 1: 5   14-07     Day 2: 5   11-01
68. Bobby Lane Jr.         Lakeland, FL            10  25-03   43
Day 1: 5   15-08     Day 2: 5   09-11
69. Fabian Rodriguez       Ocean City, DE          10  25-02   42
Day 1: 5   08-06     Day 2: 5   16-12
70. Jeff Kriet             Ardmore, OK             10  25-01   41
Day 1: 5   12-12     Day 2: 5   12-05
71. Chris Lane             Guntersville, AL        10  25-00   40
Day 1: 5   14-09     Day 2: 5   10-07
72. James Niggemeyer       Van, TX                 10  24-11   39
Day 1: 5   15-09     Day 2: 5   09-02
73. Chad Grigsby           Maple Grove, MN         10  24-10   38
Day 1: 5   16-11     Day 2: 5   07-15
74. Casey Scanlon          Rocky Mount, MO          9  24-10   37
Day 1: 5   14-09     Day 2: 4   10-01
75. Jonathon VanDam        Kalamazoo, MI            9  24-09   36
Day 1: 5   16-05     Day 2: 4   08-04
76. Brett Preuett          Monroe, LA              10  24-03   35
Day 1: 5   10-13     Day 2: 5   13-06
77. Casey Ashley           Donalds, SC             10  23-15   34
Day 1: 5   13-02     Day 2: 5   10-13
78. Jacob Powroznik        Port Haywood, VA        10  23-07   33
Day 1: 5   14-02     Day 2: 5   09-05
79. David Walker           Sevierville, TN         10  22-15   32
Day 1: 5   12-12     Day 2: 5   10-03
80. David Williams         Newton, NC              10  22-14   31
Day 1: 5   09-07     Day 2: 5   13-07
81. Kotaro Kiriyama        Moody, AL               10  22-13   30
Day 1: 5   11-14     Day 2: 5   10-15
82. Tim Horton             Muscle Shoals, AL       10  22-11   29
Day 1: 5   14-04     Day 2: 5   08-07
83. Matt Vermilyea         Perrysburg, OH           9  22-11   28
Day 1: 5   13-12     Day 2: 4   08-15
84. James Elam             Tulsa, OK               10  22-11   27
Day 1: 5   09-01     Day 2: 5   13-10
85. Fred Roumbanis         Bixby, OK               10  22-11   26
Day 1: 5   10-12     Day 2: 5   11-15
86. Matt Lee               Guntersville, AL        10  22-10   25
Day 1: 5   14-06     Day 2: 5   08-04
87. Matt Herren            Ashville, AL            10  22-10   24
Day 1: 5   10-04     Day 2: 5   12-06
88. Adrian Avena           Vineland, NJ            10  22-09   23
Day 1: 5   12-05     Day 2: 5   10-04
89. Gary Klein             Weatherford, TX         10  22-03   22
Day 1: 5   14-02     Day 2: 5   08-01
90. Morizo Shimizu         Suita, Osaka JAPAN      10  22-02   21
Day 1: 5   13-01     Day 2: 5   09-01
91. Paul Elias             Laurel, MS              10  20-15   20
Day 1: 5   09-12     Day 2: 5   11-03
92. Chad Morgenthaler      Reeds Spring, MO        10  20-02   19
Day 1: 5   13-05     Day 2: 5   06-13
93. Matt Reed Jr           Madisonville, TX        10  20-02   18
Day 1: 5   08-11     Day 2: 5   11-07
94. John Hunter Jr         Shelbyville, KY         10  20-02   17
Day 1: 5   10-14     Day 2: 5   09-04
95. Mark Davis             Mount Ida, AR           10  19-15   16
Day 1: 5   11-11     Day 2: 5   08-04
96. Dave Lefebre           Erie, PA                10  19-14   15
Day 1: 5   13-00     Day 2: 5   06-14
97. Clent Davis            Montevallo, AL           9  19-04   14
Day 1: 5   10-00     Day 2: 4   09-04
98. Shane Lineberger       Lincolnton, NC           8  19-01   13
Day 1: 5   08-00     Day 2: 3   11-01
99. J Todd Tucker          Moultrie, GA            10  19-00   12
Day 1: 5   07-06     Day 2: 5   11-10
100. Keith Poche            Pike Road, AL           10  18-14   11
Day 1: 5   12-09     Day 2: 5   06-05
101. Brandon Card           Caryville, TN            9  18-09   10
Day 1: 5   12-08     Day 2: 4   06-01
102. Yusuke Miyazaki        Forney, TX              10  18-09    9
Day 1: 5   10-13     Day 2: 5   07-12
103. Byron Velvick          Boenre, TX              10  18-09    8
Day 1: 5   08-15     Day 2: 5   09-10
104. Carl Jocumsen          Queensland TX AUSTRALIA  8  18-06    7
Day 1: 5   10-11     Day 2: 3   07-11
105. Brock Mosley           Collinsville, MS        10  17-13    6
Day 1: 5   10-10     Day 2: 5   07-03
106. Russ Lane              Prattville, AL          10  17-00    5
Day 1: 5   11-04     Day 2: 5   05-12
107. Tommy Biffle           Wagoner, OK              7  11-10    4
Day 1: 5   08-09     Day 2: 2   03-01
108. John Murray            Spring City, TN          5  11-08    3
Day 1: 5   11-08     Day 2: 0   00-00
109. Brandon Coulter        Knoxville, TN            6  11-01    2
Day 1: 5   08-13     Day 2: 1   02-04
110. Paul Mueller           Naugatuck, CT            2  04-06    1
Day 1: 2   04-06     Day 2: 0   00-00
———————————————————————–
---