FLORIDA'S FREDERICK GRABS LEAD ON DAY THREE OF FLW TOUR AT LAKE OKEECHOBEE
Posted On January 28, 2018
---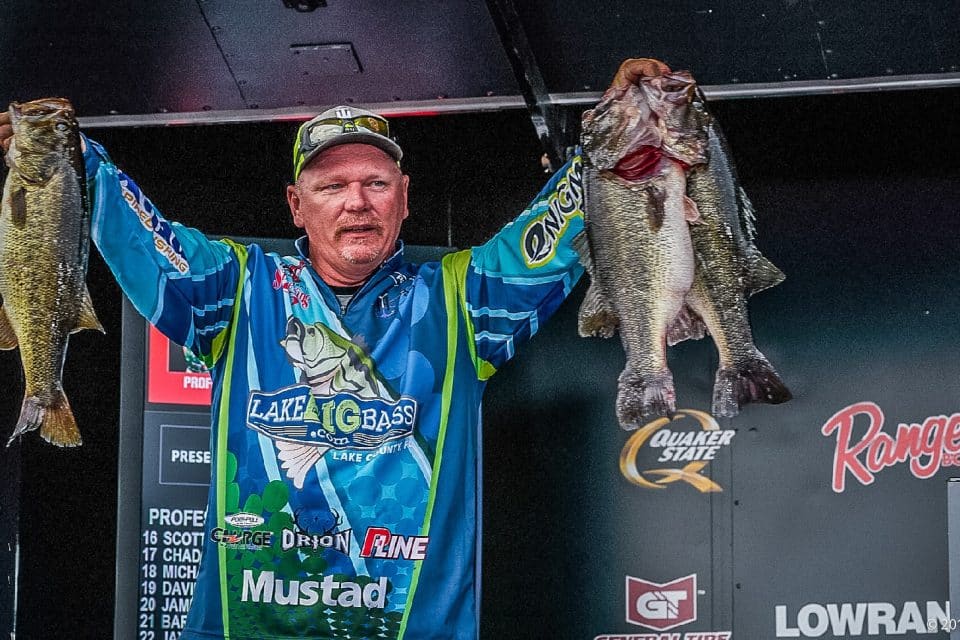 Leesburg Pro Brings 15-ounce Lead into Final Day
CLEWISTON, Fla. (Jan. 27, 2018) – Pro Tim Frederick of Leesburg, Florida, caught two kicker largemouth Saturday – a 6- and 7-pounder – to anchor his 23-pound, 3-ounce limit and jump to the top of the leaderboard after Day Three of the FLW Tour at Lake Okeechobee presented by Evinrude. Frederick's five-bass limit was the only bag Saturday that weighed in excess of 20 pounds, telling when you consider that the lake had pumped out 16, 20+ pound limits in the first two days of competition.
Frederick (15 bass, 65-6) will now bring a 15-ounce lead over second-place pro Bryan Schmitt of Deale, Maryland, (15 bass, 64-7) who led the first two days of competition, into Championship Sunday. Also in striking distance, in third place, is General Tire pro Mark Rose of West Memphis, Arkansas, (15 bass, 61-3). Rose has a history of fast starts to the season, winning the first two events of the 2017 FLW Tour season at Lake Guntersville and Lake Travis.
"My very first FLW Tour event three years ago was on this lake, and I weighed in one bass and finished dead last," said Frederick, who is fishing in his 14th career FLW Tour event. "I've got a love-hate relationship with this lake, and right now I am loving it. I didn't get a lot of bites today, but the ones that I did get were good ones.
"Although my day turned out really well, it didn't start that way," Frederick continued. "It was terribly slow. I caught one of my good ones early – my second fish – but then it took me forever to get a limit. When the water temperature hit 64 degrees I had a 45- to 50-minute window where I caught two more good ones, but I didn't catch more than 9 or 10 fish all day."
Frederick said that his key bait that landed all of his keepers on Saturday was a Texas-rigged black and blue-colored Strike King Ocho worm. He's also mixed in a Strike King Pure Poison Swim Jig and an unnamed swimjig to produce at times during the week.
"I'm usually a power-fisherman, and it's weird because I'm fishing so slowly this week," Frederick said. "I'm throwing at isolated clumps of pencil reeds and it might take me 5 minutes to reel back in. But, if it doesn't feel right, I'll just reel in immediately and make another pitch. I'm fishing by feel, basically. I can actually feel the beds with my bait, and when I do I'll keep making multiple casts to the same area.
"The bite was tougher today, and I think it was due to how cloudy it was. Tomorrow, they're saying that it's going to be worse – rainy and windy. But, my water is still clean and I've got no choice but to be patient and stick it out there. Win, lose or draw, there is enough fish in my area to win it. I just have to get them to bite."
The top 10 pros advancing to the final day of competition on Lake Okeechobee are:
1st: Tim Frederick, Leesburg, Fla., 15 bass, 65-6
2nd: Bryan Schmitt, Deale, Md., 15 bass, 64-7
3rd: General Tire pro Mark Rose, West Memphis, Ark., 15 bass, 61-3
4th: Power-Pole pro Cory Johnston, Cavan, Ontario, Canada, 15 bass, 53-11
5th: Chad Morgenthaler, Reeds Spring, Mo., 10 bass, 53-0
6th: Brandon McMillan, Clewiston, Fla., 15 bass, 52-11
7th: Jared McMillan, Belle Glade, Fla., 15 bass, 51-14
8th: Quaker State pro Scott Canterbury, Odenville, Ala., 15 bass, 51-12
9th: Chris Johnston, Peterborough, Ontario, Canada, 15 bass, 50-8
10th: Christopher Brasher, Longview, Texas, 15 bass, 48-13
Finishing in 11th through 30th are:
11th: Brandon Mosley, Choctaw, Okla., 15 bass, 48-13, $12,000
12th: Tyler Stewart, West Monroe, La., 15 bass, 48-4, $12,000
13th: Michael Neal, Dayton, Tenn., 15 bass, 48-4, $12,000
14th: Cody Meyer, Auburn, Calif., 15 bass, 47-4, $12,000
15th: Jeremy Lawyer, Sarcoxie, Mo., 15 bass, 46-13, $12,000
16th: Casey Scanlon, Lake Ozark, Mo., 15 bass, 46-6, $12,000
17th: David Williams, Maiden, N.C., 15 bass, 45-14, $12,000
18th: James Watson, Lampe, Mo., 15 bass, 44-11, $12,000
19th: Brett Preuett, Monroe, La., 15 bass, 44-3, $12,000
20th: Alex Davis, Albertville, Ala., 15 bass, 42-8, $12,000
21st: Scott Martin, Clewiston, Fla., 15 bass, 42-7, $10,000
22nd: Matt Becker, Finleyville, Pa., 15 bass, 41-12, $10,000
23rd: J.T. Kenney, Palm Bay, Fla., 15 bass, 41-11, $10,000
24th: Barry Wilson, Birmingham, Ala., 15 bass, 40-7, $10,000
25th: David Nichol, Gainesville, Ga., 15 bass, 39-12, $10,000
26th: Jay Kendrick, Grant, Ala., 14 bass, 38-13, $10,000
27th: Billy McCaghren, Mayflower, Ark., 14 bass, 38-4, $10,000
28th: Kerry Milner, Bono, Ark., 13 bass, 37-13, $10,000
29th: James Niggemeyer, Van, Texas, 14 bass, 36-12, $10,000
30th: Zell Rowland, Montgomery, Texas, 13 bass, 35-15, $10,000
For a full list of results visit FLWFishing.com.
Overall there were 143 bass weighing 376 pounds, 8 ounces caught by pros Saturday, Of the final 30 pros, 25 of them were able to bring a five-bass limit to the scale.
Jeffrey Mathews of Maitland, Florida, won the co-angler division and $20,000 Friday with a two-day total of 10 bass weighing 42 pounds, 1 ounce, followed by Tyler Woolcott of Port Orange, Florida, who finished in second place with 10 bass weighing 37 pounds, 15 ounces, worth $7,600.
In FLW Tour competition, pros and co-anglers are randomly paired each day, with pros supplying the boat, controlling boat movement and competing against other pros. Co-anglers fish from the back deck against other co-anglers. The full field of 376 anglers competed in the two-day opening round. Co-angler competition concluded following Friday's weigh-in, while the top 30 pros based on their two-day accumulated weight advanced to Saturday. Only the top 10 pros now continue competition Sunday, with the winner determined by the heaviest accumulated weight from the four days of competition.
The total purse for the FLW Tour at Lake Okeechobee presented by Evinrude is more than $930,000, including $10,000 through 60th place in the Pro division. The tournament is hosted by Roland & Mary Ann Martin's Marina and Resort and the Hendry County Tourism Development Council.
Throughout the season, anglers are also vying for valuable points in hopes of qualifying for the 2018 Forrest Wood Cup, the world championship of professional bass fishing. The 2018 Forrest Wood Cup will be on Lake Ouachita in Hot Springs, Arkansas, Aug. 10-12 and is hosted by the Arkansas Department of Parks and Tourism and Visit Hot Springs.
The final 10 anglers will take off Sunday at 7:30 a.m. EST from Roland & Mary Ann Martin's Marina and Resort, located at 920 E. Del Monte, Ave., in Clewiston. Sunday's final weigh-in will be held at the marina and will begin at 4 p.m.
Prior to the weigh-in Sunday, FLW will host a free Family Fishing Expo at Roland & Mary Ann Martin's Marina and Resort from noon to 4 p.m. each day. The Expo is a chance for fishing fans to meet their favorite anglers, enjoy interactive games, activities and giveaways provided by FLW sponsors, and learn more about the sport of fishing and other outdoor activities.
Television coverage of the FLW Tour at Lake Okeechobee presented by Evinrude will premiere in high-definition (HD) on NBC Sports Network (NBCSN) March 28 from Noon-1 p.m. EST. The Emmy-nominated "FLW" television show airs on NBCSN, the Pursuit Channel and the World Fishing Network and is broadcast to more than 564 million households worldwide.
For complete details and updated information visit FLWFishing.com. For regular updates, photos, tournament news and more, follow the sport's top anglers on the FLW Tour on FLW's social media outlets at Facebook, Twitter, Instagram, YouTube and Snapchat.
---