Fishing Conditions Should Be Excellent For Special Olympics Tournament On Lake Norman
Posted On October 27, 2011
---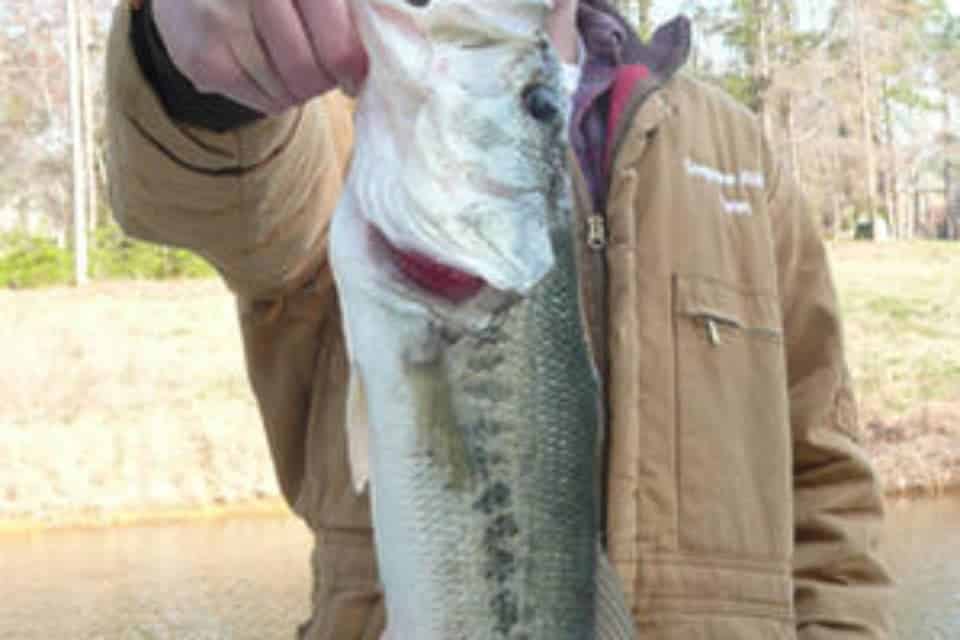 Fishing conditions should be just about perfect for the 5th annual Special Olympics North Shelby School Bass Tournament on Lake Norman, Saturday, Nov. 5, according to bass fishing icon Guy Eaker of Cherryville, N.C.
"The water turned over a couple of weeks ago and that had the fish messed up for a while, but it got straightened out and the fishing is going to be good for the tournament," said Eaker, 71, who fished the Bassmaster Elite Series through 2010, qualified for 10 Bassmaster Classics, and won over $600,000 in B.A.S.S. events. Eaker and fellow pro Ken Cook teamed to win the first-ever Bassmaster Legends Tournament July 31 on Black Water Lake, a 100-acre private fishery located 40 miles northeast of Montgomery, Ala.
"This cold front coming in this weekend will slow the baitfish down so the bass can get in a school and eat them and not have to chase them 50 yards," Eaker said. "All you need is a good cold front and a couple of warm days to follow and those fish will eat like crazy."
Anglers in the tournament should be able to catch bass just about any way they want to fish, Eaker said.
"A man can pick up whatever he likes to throw and stay with it for the day and he can catch a good stringer."
Although, because of a medical condition, he will be unable to host the weigh-in this year as he has done in previous tournaments, Eaker said he plans to attend the weigh-in to visit with anglers and support the tournament because it raises money for special children.
"That is why I got involved," he said. "I always tried to do what I could to raise money for charity. I got involved with Bojangles years ago doing a charity tournament for children and Bojangles is one of my main sponsors. They are still sponsoring the Special Olympics tournament and providing biscuits for the anglers at takeoff."
So, when Ricky Peace, organizer of the Special Olympics North Shelby School Bass Tournament, called on Eaker to help he jumped at the chance.
"I said, if you are raising money for Special Olympics I will help you out. Anytime you can do something for those kids I'll help," Eaker said. "The Good Lord has been good to me so I try to give back as much as I can."
Peace said the tournament grew out of a small fishing club at the Eaton Corporation. Once the club members decided to hold the tournament to benefit Special Olympics the company provided financial support and the first year the tournament raised $14,400.
The tournament really took off once some of the top names in bass fishing from around the area began fishing in it – and helping find good sponsors, Peace said.
"We have to thank all the guys who fish BASS, the FLW Tour and Series – guys like Brian Thrift, Britt Myers, Andy Montgomery, Guy Eaker – and some of the BFL guys who are up and coming, who help us get our foot in the doors we need to get into to get the kind of sponsorship we have to have."
The tournament raises funds for Special Olympics and for the North Shelby School which specializes in serving children with special needs. It is a first class operation, Eaker said.
"It is one of the best tournaments I know of in North Carolina. I really don't know where else you could find a tournament like this, with all the stuff they give away and the way they run the tournament. It is a well-run tournament."
Total purse for the tournament is $14,350 with first place getting $2,500, second $1,500, third $1,000 on down to 20th place, dropping $50 per place from third down, Peace said.
"My goal is to raise $25,000 for the school. That is the budget they need for one year," said Peace who noted that the financial reward for the school has grown every year so far.
"We have put it in God's hands and we will see what we have that Saturday. If it is 80 boats, 100 boats or 120 boats, whatever we get will be better than not doing anything."
Special Olympics North Shelby School Bass Tournament
Sat. Nov. 5, 2011
Lake Norman
Pinnacle Access
Call Ricky Peace, 704-434-7573
---