Fisher Hoping Bass Still Shallow For Berry's Tournament Trail On Sinclair Saturday
Posted On January 3, 2013
---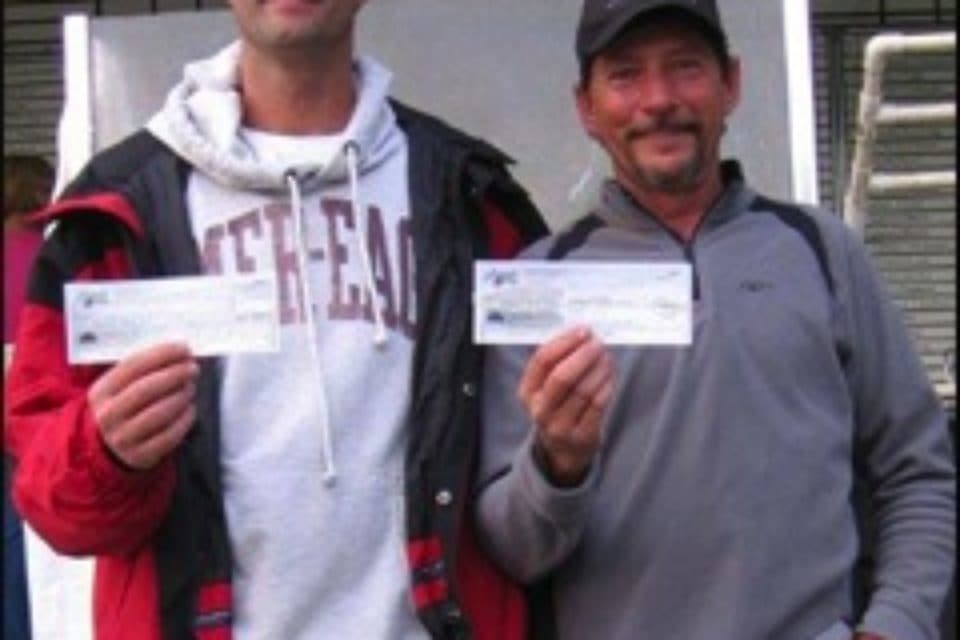 Bobby Jones and David Ellison won the 1st tournament Dec 8 on Sinclair
Pat Fisher and Mark Holloway weighed in a limit of bass at 15.40 pounds to take 5th place in the Dec. 8 Berry's Team Trail tournament on Lake Sinclair by fishing very shallow and they hope to do the same in the second tournament of the series this Saturday, also on Lake Sinclair.
"We caught all our fish in 2 to 3 feet of water around grass beds near docks in December," Fisher said. "The key for us was that we found an area of the lake that was warmer, the mid-lake area. The water temperature there was about 60 degrees that day and everywhere else we would go it would drop into the low 50s. I think that is going to be a big key again this weekend."
Fisher said he would use his practice time Friday to determine if the cold snap this week has changed the patterns of the fish.
"We really have not had any cold this year until this week," he noted. "In practice I plan to go shallow and stay shallow, fishing grass and shallow docks. Then, if that does not work, we will have to back up and punt Saturday."
Fisher said that if the shallow bite is not on he and Galloway probably will go with a ShadRap and a square-billed crankbait.
"They do pretty good this time of year," he noted.
The Berry's Tournament Trail, founded in 2003 by Bobby Berry and his two sons, is somewhat unique in that all eight of the tournaments, plus the season-ending classic, are held on Lakes Oconee and Sinclair. Four regular season tournaments are held on Oconee and four are held on Sinclair, with anglers having to fish at least five tournaments to qualify for the classic, which means they have to fish both lakes at least once.
"It equalizes things," noted Berry who started the series on Oconee and Sinclair when local anglers tired of driving all over Georgia to compete in bass tournaments. Most of the participants in his series are all local anglers.
After the Dec. 8 tournament on Lake Sinclair, the 2012-2013 schedule includes tournaments Saturday on Lake Sinclair, Feb. 16 on Lake Oconee, March 9 on Lake Oconee, March 30 on Lake Sinclair, April 13 on Lake Oconee, April 27 on Lake Sinclair, and May 18 on Lake Oconee, with the two-day classic June 1 on Lake Oconee and June 2 on Lake Sinclair. The Oconee tournaments are held out of Sugar Creek Marina and the Sinclair tournaments are held out of Little River Marina.
Anglers pay a $160 entry fee per boat with 75 percent paid back in cash the day of the tournament, while 12.5 percent is held for the Angler of the Year team award and the Classic.
Berry's Team Tournament Trail
Sat, Jan 5, 2013
Lake Sinclair
Little River Park
Call 770-787-6179
---