FIND THE TRIGGERS FOR BED FISH
---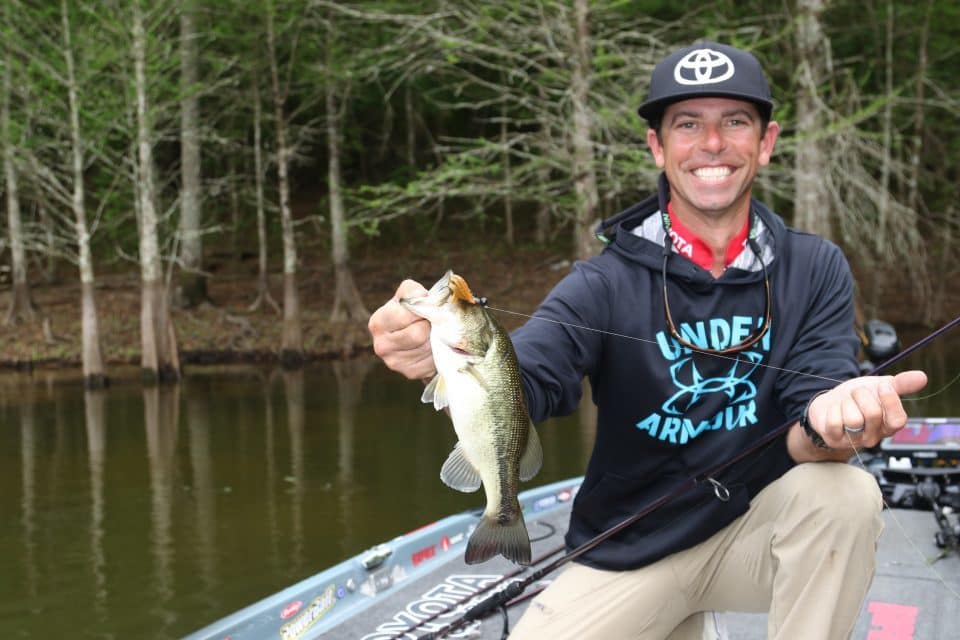 By David A. Brown
Like most who cover this great sport, I often field questions as to the personality and character of the pro anglers with whom I'm fortunate to occasionally work. The usual inquiry: "What's he like?"
Well, when asked about Bassmaster Elite Series pro Mike Iaconelli, one word consistently leaves my lips: Passionate.
Passionate about every aspect of the game, from the competition, to the promotion and marketing, to the behind-the-scenes media work. The guy the fishing world knows as "Ike" truly cares about the industry that rewarded him with a 2003 Bassmaster Classic trophy.
Big part of that passion — teaching; Ike loves figuring out how to make fish bite and then sharing that knowledge with folks who'd like to do the same. It's not enough the he's learned how to catch fish in any scenario, he wants others to enjoy the same.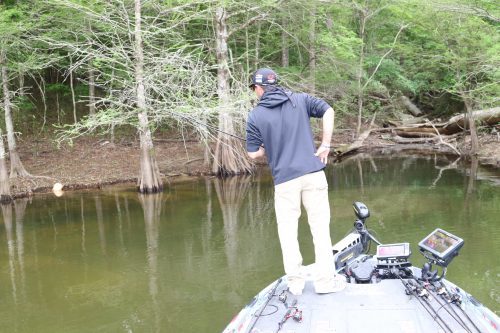 I saw both parts of this premise during a recent media gathering hosted by Dynamic Sponsorships, during which a handful of Elite and College Series anglers representing Toyota, Quantum and Carhartt gave us a glimpse into their tackle trays and wheel houses. Iaconelli and I covered several topics, but it was a completely random occurrence that spawned a teachable moment effervescing with infectious angling passion.
We had tucked into a little pocket off a secondary point to shoot a few casting pics, but on our departure, Iaconelli couldn't resist easing around the back edge and peeking at the shallows. Sure enough, back by the drain, he found a buck bass guarding a nest.
We were pretty much done with the work stuff, so he grabbed a rod and made a few pitches. The fish kept moving in and out of a dark area and with the dim overcast conditions yielding minimal light penetration, he struggled to maintain visual contact.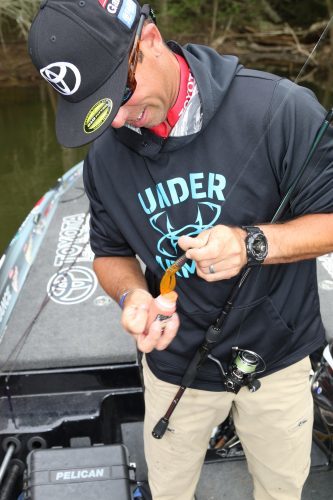 But when you hear a guy like Mike Iaconellis whisper: "Okay, I see what you're doing," you get your camera ready. Essentially, by watching the fish — at times, perched atop his trolling motor mount — he identified the fish's line of movement and set up his presentations accordingly.
Iaconelli wasn't immediately successful, as the fish played hard-to-get. But, as you'll see in the accompanying video, he was able to interpret responses to his various presentation strategies, deduce the necessary adjustments and eventually close the deal.
That made Ike happy.

From beneath that flat bill Toyota cap, unfiltered intensity radiated from the face of a guy who just digs this stuff. Iaconelli did a great job of breaking down what he calls the "triggers" that made this bass bite. Speed and color were the keys here, but taking a holistic view of whatever scenario you face and then picking apart each element typically reveals the magic formula.
Notably, the same principle applies well beyond bed fishing. Maybe it's bringing your squarebill past the other side of a stump, or skipping the opposite side of the dock, or pitching to the upcurrent edge of a laydown after working the downcurrent side.
In any case, banish complacency, put on your thinking cap and explore every variable at your disposal. In just about every case, fate rewards diligence — often with a bent rod.
---