Farlow Leads Costa Northern Day 1 on Erie with over 24 pounds!
---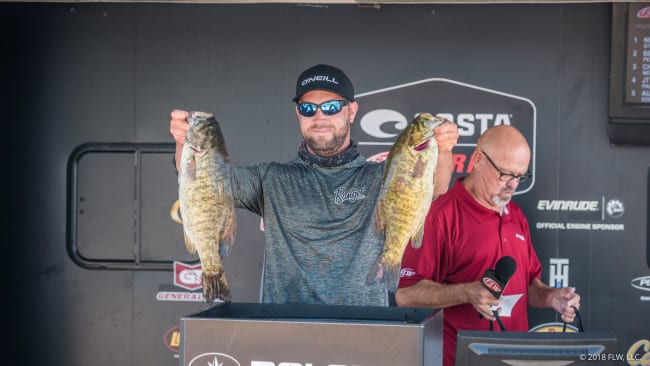 Courtesy of FLW Fishing
July 26, 2018
Lake Erie's exceptional fishing was on full display in the opening round of the Costa FLW Series Northern Division tournament presented by Polaris and hosted by Buffalo Niagara Sports Commission. Forty-four limits weighing at least 20 pounds each were caught. Even co-anglers got in on the smallmouth bonanza, as nine of them brought back limits that totaled 20 pounds or better.
Though Neil Farlow of St. Catherines, Ontario, leads the 169 pros fishing the event with 24-4, there's not much daylight between him and the rest of the top 50. Farlow is an ounce ahead of Ben Wright of Peru, N.Y., and a difference of 4 pounds, 4 ounces separates the Canadian from Bill Chapman of Salt Rock, W.Va., who's in 44th place with 20 pounds.
Farlow didn't provide many details about his day, except to say that he fished spots in Canada and the U.S. and culled a couple of times.
"I used drop-shot rigs and tubes, and tubes seemed to work better when the wind got up in the afternoon," says Farlow, whose 6-6 smallmouth was the big fish of the day. "I'm running a Ranger 522D deep-V, so the wind wasn't that big a problem for me. Tomorrow [Friday] I'm going to do what the wind let's me do. Either I'm going to run my spots or stay longer on some and really fish them out."
Farlow says mixed bottoms of rock and gravel or gravel and sand produced best for him. Perhaps even more critical is the timing of the bite. Many of the anglers with the 20-pound-plus sacks were in the first few flights and reported that the smallmouths started eating as soon as the anglers reached their first destinations. As the day progressed, however, the bite got slower.
Though the wind was manageable Thursday morning, it built during the day, and by late afternoon 6-foot waves could be seen crashing over the seawall that shelters the harbor from the wind's main force. Stronger winds ranging to about 15 mph are predicted for Friday morning, which means some contestants with lengthy milk runs might have to shorten their daily itineraries.
Friday's weigh-in at Safe Harbor Marina starts at 2 p.m. and involves all competitors. Saturday, the top 10 pros and co-anglers advance to the championship weigh-in at Cabela's in Cheektowaga beginning at 3 p.m.
TOP 10 PROS
1. Neil Farlow – St. Catherines, Ontario – 24-4 (5)
2. Ben Wright – Peru, N.Y. – 24-3 (5)
3. Charles Sim – Nepean, Ontario – 23-3 (5)
4. JT Kenney – Palm Bay, Fla. – 23-2 (5)
5. J Todd Tucker – Moultrie, Ga.  – 22-15 (5)
6. Austin Felix – Eden Prairie, Minn. – 22-12 (5)
7. Moo Bae – West Friendship, Md. – 22-8 (5)
8. Travis Manson – Conshohocken, Pa. – 22-6 (5)
9. Philip Jarabeck – Spout Spring, Va. – 22-5 (5)
10. Jason Kervin – Auburn, Maine – 22-3 (5)
10. TJ Lacey – Selwyn, Ontario – 22-3 (5)
---