Elite Sophomore Lee Claims Lead In Smith Lake Bass Open Event
---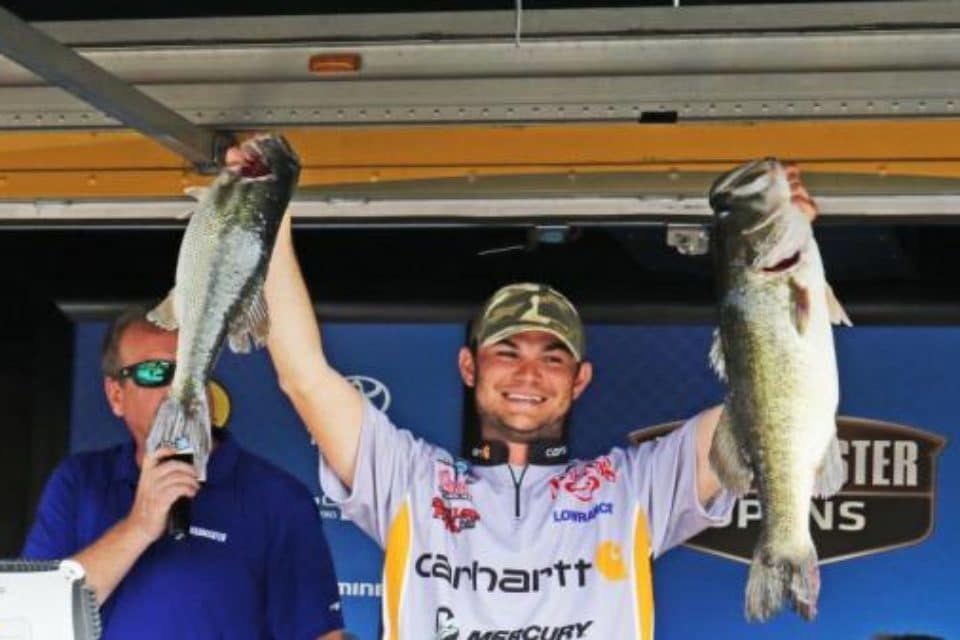 Jordan Lee Claims First-Day Lead In Smith Lake Open
JASPER, Ala. — Jordan Lee was so certain the big largemouth bass he'd found in practice Tuesday wouldn't be there today that he'd didn't even look for it until 1:30 p.m. on Day 1 of the Bass Pro Shops Southern Open at Smith Lake.
It's a good thing he looked. That 7-pound, 13-ounce bass anchored Jordan's first-place 20-pound, 10-ounce bag, and took big bass honors as well.
Due to the strong thunderstorms that cancelled the tournament's scheduled first day yesterday, raised the lake level about a foot and dirtied the water, there were plenty of reasons for Lee to doubt the big female would still be on the spawning bed where he'd first spotted her during practice.
"I couldn't see her today, but I knew right where she'd been sitting," Lee said. "I made three or four flips in there before she bit.
"That big one made my day. You don't catch many of those in Smith Lake."
Lee, who lives in Grant, Ala., but grew up in nearby Cullman, admits he isn't as familiar with Smith Lake as he should be. He's spent much more time on Lake Guntersville.
"I've kicked myself for not coming here more often," Lee said. "I really don't know this lake as well as I should."
But you wouldn't guess that by looking at Friday's leaderboard. Bill Day II of Frankfort, Ky., and Jessie Wiggins of Cullman, Ala., are tied for second place with 18-15. Like Lee, Day's bag was anchored by another big largemouth, a 7-12.
Day had the perfect illustration for how much Smith Lake changed after the storms moved through the area Thursday, and how much the anglers had to change with it.
"I was using 8-pound-test line during practice, and I was using 25-pound test today," Day said. "That tells you how different it is. Tomorrow I may go back to 8-pound. Things are changing really fast, so I'm just going to start all over again."
The remainder of the top five includes Allen Brooks of Canton, Ga., fourth with 18-3, and Mark Rose of West Memphis, Ark., fifth with 17-7.
Smith Lake's abundant spotted bass population showed up in a big way. Of the 179 pro anglers competing, 164 caught limits, mostly all spots.
On the co-angler side, only 10 ounces separates first and fifth place. Don Harvey of Franklin, Tenn., leads with a three-bass limit weighing 10-7, followed by Skeeter Miller of Whittier, N.C., with 10-4; Brandon Bolton of West Point, Miss., with 10-3; Luke Patterson of Middleburg, Ky., with 10-0; and Rodney Tapp of Inman, S.C., with 9-13.
There were 149 three -bass limits caught in the co-angler competition. Don Harvey of Franklin, Tenn., and Randy Futch of Dunnellon, Fla., tied for big bass honors, each with a 4-5.
Due to the cancellation of fishing on Thursday, this will be a two-day tournament that will conclude with the full field fishing again Saturday. Champions in both divisions will be crowned at the completion of the Smith Lake Dam Site Access weigh-in, which begins at 2:30 p.m. CDT.
---