College, High School Classics To Feature Top Student Anglers During Bassmaster Classic
Posted On February 12, 2015
---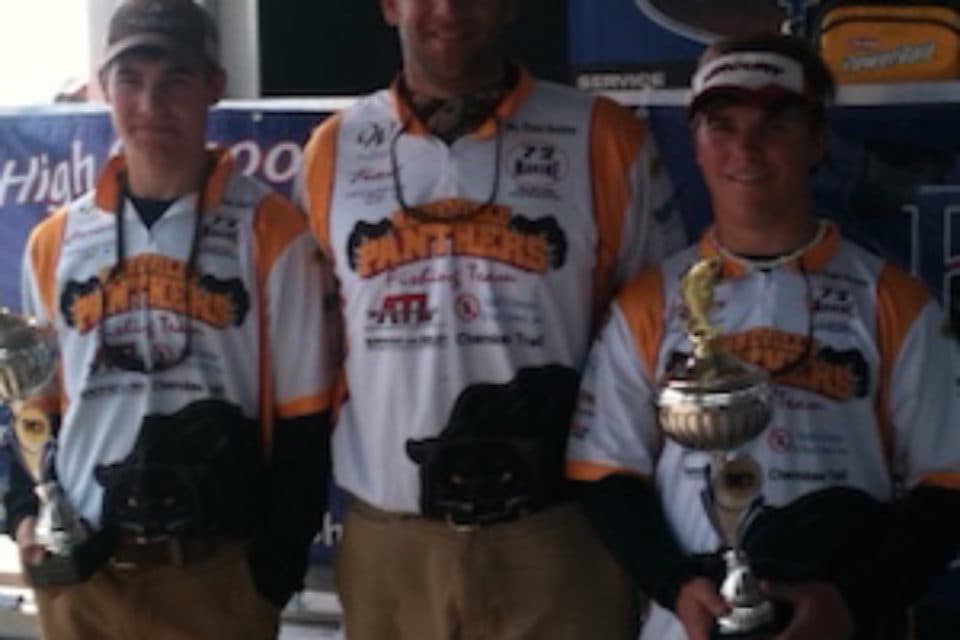 Professional and veteran tournament anglers will not be the only ones walking across the stage to have their fish weighed in the Bon Secours Wellness Arena in Downtown Greenville, S.C., during the 2015 Bassmaster Classic next week.
Top high school anglers and top college anglers will get a taste of what it's like to be a Classic contender during the annual bass world championship. Both groups will fish on nearby Lake Keowee while the pros and veteran tournament anglers are fishing in Lake Hartwell.
The high school anglers will weigh in on Saturday and the college teams will weigh in on Sunday, said Hank Weldon, director of the college and youth fishing programs for B.A.S.S.
"We will have 11 different schools represented in the Bassmaster High School Classic," Weldon said, "from Georgia, Tennessee, Kentucky and South Carolina. These schools qualified from competitions last year and then we had one spot from the host state of South Carolina."
Representing South Carolina in the High School Classic are Carter McNeil and Tucker Smith with the Abbeville high School Panthers and Andrew Mitchell and Christopher Bensel, members of the Dixie High School Hornets in Due West, also from Abbeville County.
McNeil and Smith are no strangers to high level competition, said their boat captain, Trad Whaley, veteran tournament angler and assistant fishing team coach from Abbeville.
"They have been to two national championships and have qualified for another one,. They came in second in the FLW High School Fishing Championship on Lake Keowee last year. They won the FLW Southeastern Conference Championship on Lake Lanier in October 2013, and they won the TBF South Carolina State Championship," Whaley said.
"They won the B.A.S.S. State Championship on Lake Murray and that qualified them to fish the 6-man team in the Old Milwaukee B.A.S.S. Nation Southern Divisional on the Waccamaw River in April. It also qualified them to fish in their second B.A.S.S. High School National Championship this summer."
Whaley said McNeil has signed a scholarship to fish with the Bethel University Fishing Team in McKenzie, Tenn., and several other anglers on the Abbeville fishing team are expected to get college fishing scholarships.
Weldon said eight teams will compete in the Bassmaster College Fishing Classic on Lake Keowee, including six teams from South Carolina universities – two teams from Clemson University, two teams from the University of South Carolina, one team from Coastal Carolina University and one from Lander University – plus the University of North Carolina at Charlotte, defending national champions, and the University of West Alabama, winners of the Bassmaster College Classic in Birmingham, Ala., last year.
"We limited the field in both the high school and college tournaments because we have to get them weighed in ahead of the Classic anglers, but we wanted also to provide something the Classic fans can enjoy as a pre-show attraction," Weldon said.
"As for the student anglers, the main value is to be able to walk across the Classic stage. The sponsors will provide them with some pretty neat swag, but the main thing is getting bragging rights for their team while getting a taste of what it is like to be in a Bassmaster Classic," Weldon said.
2015 Bassmaster Classic
Feb. 20-22, 2015
Lake Hartwell
Launch: Green Pond Landing, near Anderson, S.C.
Weigh-In: Bon Secours Wellness Arena, Greenville, S.C.
Bassmaster Classic Outdoors Expo: TD Convention Center in Greenville
Bassmaster High School Classic
Bassmaster College Classic, Feb. 20, 2015
Both on Lake Keowee, Feb. 21, 2015
Launch: South Cove Ramp
---