Chase Stewart Wins American Bass Anglers AFT-D96 Event on Laker Greenwood!
---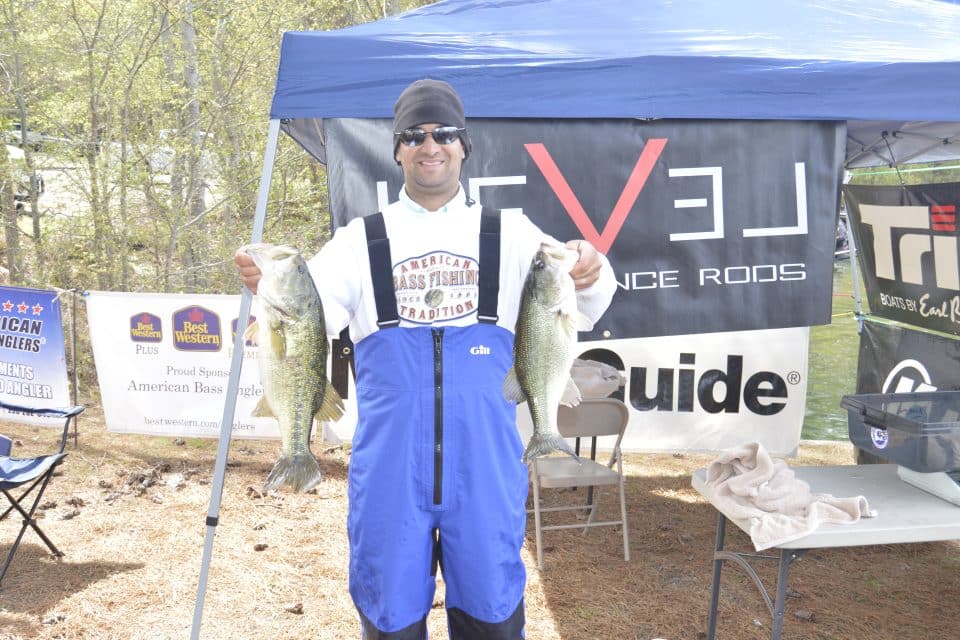 The day started out at 39 degrees with a 15 mph NNE wind. At the 3pm weigh-in it was 60 degrees with a light NE wind. Cloudy and cold until 12 noon when the sun came out and the wind laid down to 5 to 10 mph.
There were 24 anglers fishing this Division 96 1-day qualifier tournament out of Greenwood State Park near Ninety Six, SC.
First place, Chase Stewart had 5 fish weighing 15.31 pounds. Chase was fishing the middle and lower parts of the lake and caught some of his fish early on a chatterbait and the rest bed fishing. The combined payback for first place and first place option pot earned Chase $725 with the first place trophy.
Paul Selle was second with 5 fish weighing 14.92 pounds. He caught some of his fish early on the lower part of the lake with a swimbait and then went to the upper part for the remainder of his limit fishing a shakey head and a chatterbait. Paul took home the second place trophy and $445 for second place, second place option pot.
Andrew Allen took third place with 5 fish weighing 13.08 pounds. He had a kicker fish of 4.12 pounds to anchor his limit. Andrew won third place trophy and $123.
Fourth place was Wayman Coleman with 4 fish weighing 11.47 pounds. Wayman won a $94 for his fourth place finish.
Fifth place and ALX Rod Big Fisn Winner was James Stone with 3 fish weighing 10.53 that included the tournament big fish at 6.89 pounds. James  won $120 for Big fish and a $25 Gift Certificate from Wolfstone Tungsten for fifth place.
The next D-96 tournament for the 2018 season is May 20, 2018 on Clarks Hill Lake out of the Dorn Facility near McCormick, SC.
Here's how we finished:
| | | | | | | | |
| --- | --- | --- | --- | --- | --- | --- | --- |
| | Angler | # Fish | Big Bass | Penalty | Total Wt. | Points | Payout |
| 1 | Chase Stewart | 5 | | | 15.31 | 200 | $725 |
| 2 | Paul Selle | 5 | | | 14.92 | 199 | $445 |
| 3 | Andrew Allen | 5 | 4.12 | | 13.08 | 198 | $123 |
| 4 | Wayman Coleman | 4 | | | 11.47 | 197 | $94 |
| 5 | James Stone | 3 | 6.89 | | 10.53 | 196 | Wolfstone Tung |
| 6 | George Berry | 4 | 5.5 | | 10.21 | 195 | Level Hat |
| 7 | Steve Wicker | 3 | | | 10.17 | 194 | ALX Hat |
| 8 | Kameron Harbin | 5 | | | 9.82 | 193 | $0 |
| 9 | Rodney Cromer | 3 | 4.54 | | 9.68 | 192 | $0 |
| 10 | Gene Parker | 5 | | | 8.76 | 191 | $0 |
| 11 | Don Kneece | 5 | | | 8.62 | 190 | $0 |
| 12 | Mike Dimatteo | 2 | 4.54 | | 6.35 | 189 | $0 |
| 13 | Jason Moyer | 3 | | 2 | 6.15 | 188 | $0 |
| 14 | Dalton Dowdy | 3 | | | 5.4 | 187 | $0 |
| 15 | Zach Watkins | 2 | 2.98 | | 5.27 | 186 | $0 |
| 16 | Phil Morris | 2 | | | 5 | 185 | $0 |
| 17 | Don Branham | 2 | 2.37 | | 4.71 | 184 | $0 |
| 18 | Jay Treon | 2 | | | 4.14 | 183 | $0 |
| 19 | Chad Brounkowski | 1 | | | 1.28 | 182 | $0 |
| 20 | Lou Engel | 0 | | | 0 | 50 | $0 |
| 21 | Rhett Manus | 0 | | | 0 | 50 | $0 |
| 22 | John Bowie | 0 | | | 0 | 50 | $0 |
| 23 | Ben Little | 0 | | | 0 | 50 | $0 |
| 24 | Phillip Anderson | 0 | | | 0 | 50 | $0 |

D-96 Angler of the Year Leaders for 2018 Season:

Andy Lake – 793 points

George Berry – 792 points

Joey Miller – 788 points

Phillip Anderson – 783 points

Rhett Manus – 782 points

ALX Rod Big Fish Leader for 2018 Season:

Jonathan Botts – 9.45 pounds Clarks Hill Lake, January 7, 2018

ALX Rods Big Fish Award for the 2018 Season (New ALX IKOS Series Rod for Season Big Fish Winner www.alxrods.com )

Jonathan Botts won an ALX IKOS Series Promise 7 Rod at the drawing on December 3rd Lake Greenwood weigh-in.

Level Performance Rods Big Sack Leader for 2018 Season:

Russell Clark – 23.67 pounds Clarks Hill Lake, January 7, 2018

Andy Lake won a Level Rod at the drawing at the August 20th Murray weigh-in.

Local Sponsors:

Our local sponsors will be providing products or money for products for the anglers fishing Division 96 tournaments. Please give them your support by looking to them first when considering your purchases. They are supporting you!

Palmetto Electrical Systems serving Greenwood, SC. Residential & Commercial Services – 30 years experience – Quality Service – Reasonable Prices – Free Estimates – Locally owned and operated by Mark T. Abbott – 8117 Highway 246 S, Ninety Six, SC – 864-227-8500

Kneece Investigations, LLC Saluda, SC www.kneeceinvestigations.com (864-445-3713) (one stop for both your Investigative and Surveillance Equipment needs)

ALX Rods Aiken, SC www.alxrods.com (866-628-5052) Email: [email protected] (ALX Rods are available locally at Palmetto State Armory Fishing Outpost (Fernandina Road in Columbia, SC & also stores in Summerville & Mt. Pleasant, SC), Cabela's (Augusta, Ga. Greenville and Fort Mill, SC) Wacky Riggers (Salisbury, NC), Calyx Outdoors (Piedmont, SC) Grady's Great Outdoors (Anderson, SC), Number 1 Tackle (Clearwater, SC) and direct at www.alxrods.com ) 3 ALX IKOS Rods are to be  awarded to D-96 anglers. 1 at a 1-day drawing – 1 at the 2-day drawing – 1 for the Big Fish of the Season

Antler Road On-Line Shopping – This is an on-line store with items your wives and female anglers will like with jewelry, bags and items for the home. www.antlerroad.com

WolfStone Tungsten is our local Columbia SC area tungsten manufacturer. WolfStone is providing the fishing industry with the best tungsten products at the best prices. Gift certificates will be provided at our tournaments this season. You can contact them and place orders through their facebook page with their web site www.wolfstonetungsten.net

Level Performance Rods: Rods designed and fished by FLW Pro Anthony Gagliardi of Prosperity, SC. See the complete line of these affordable rods at www.levelfishingrods.com (803-500-2354) Also Level Rods are at Palmetto State Armory Fishing Outpost Fernandina Road in Columbia, SC. 3 Level Rods are to be awarded to D-96 anglers. 1 at a 1-day drawing – 1 at the 2-day drawing – 1 for the Big Sack of the Season

Complete results and news on www.aba-sc.com and see your photos on 'facebook' at D-96 American Fishing Tour

Up Coming Tournaments:

D-26  Apr. 14-15, 2018          Clarks Hill            Wildwood Park

D-94 Apr. 15, 2018               Savannah River   Milstone Landing

Open Series Apr. 21, 2018     Hartwell              Green Pond

D-25  Apr. 22, 2018               Hartwell               Green Pond

SC Couples Apr, 28, 2018      Hartwell               Green Pond

D-94 May 5-6, 2018              Savannah River   Stokes Bluff / Milstone Landing

D-96  May 26, 2018               Bring A Youth      Greenwood State Park

SC Couples May 19, 2018      Russell                Russell State Park

D-25  May 19-20, 2018          Russell                Hwy 72 Ramp

D-96  May 20, 2018               Clarks Hill            Dorn Facility

D-96 May 26, 2018               Bring A Youth      Greenwood

D-96  Jun. 2-3, 2018             Greenwood         Greenwood State Park

SC Couples Jun. 9, 2018        Greenwood         One Stop Marina

Open Series Jun. 9, 2018       Clarks Hill           Dorn Facility

Open Series Oct. 6-6, 2018    Norman              Blythe Landing

AFT 2018 National Championship was announced to be on Lake Hartwell, Anderson, SC out of the Green Pond Facility.  October 21-26, 2018

 

Thanks to everyone for fishing,

Phil Morris
---