Carper Dominates Gator Division Opener on Stingy St Johns
Vance McCullough
Eddie Carper mined a single spot in Lake George for a 26-pound limit that give him a huge lead and an even bigger pay day of over $12,000 (for a $200 entry fee) in the FLW Phoenix Boats Bass Fishing League Gator Division season opener presented by A.R.E. on the St Johns River out of Palatka, Fla. He bested a field of 139 boats.
$7,000 of that money was a contingency bonus from Phoenix Boats.
Carper also took big bass honors with a 9-pound, 15-ounce specimen.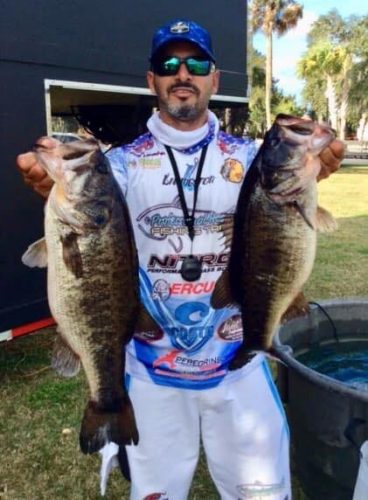 His nearest competitor was Yoan Alvarez of Miami. Fla. who had a total weight of 21-14.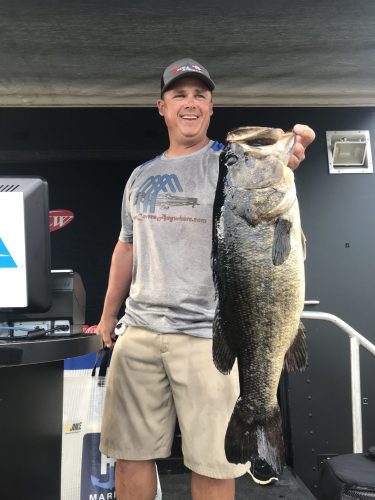 Lee Stalvey of Palatka, Fla. was 3rd with 19-12.

Carper got his first look, ever, at the St Johns River on Friday, the day before the tournament. He's from Valliant, Oklahoma, but a work assignment had him stationed in Georgia and he decided to ride down and fish the big river in North Florida. "I took yesterday off and just drove down and fished. I got in the truck about 10:30 Thursday night, hooked up the boat and drove down here. At 4 o'clock I hung around the ramp a little and then went riding. I had 1 bite all day, so that (spot) is all I had. Just a little 30-by-30-yard, I guess an old pier or something, but a bunch of pilings in two feet of water. It was on the east side of George, about halfway to the bottom end.
"Beginners luck, I guess," concluded the 47-year-old Carper.
Carper caught a single fish first thing Saturday morning on a finesse model War Eagle spinnerbait. After that, he caught everything on a Zoom Ultravibe Speedworm, junebug, on a 1/8 oz. weight and 20 lb fluorocarbon line. "If I used a heavier weight, they wouldn't touch it. It was hard to cast it in that wind. I probably had the chance to have about 29 or 30 pounds today, but I jumped a bunch of fish off today. I don't know why. They were grabbing the back of it, didn't have the hook good."
'Slow' was the way to go. "I had to point my rod tip down to the water to keep my worm on the bottom and just drag it real slow and they would pick it up. When it got cloudy, they shut it down but then the sun would come back out and they'd feed again. I believe they were there the whole time, right beside the pilings."
Carper credits his co-angler, Charles Owens, with an assist. Not only was he a good net man, but Owens showed extreme respect for Carper's small area. "Hands down, the best co-angler I've ever fished with. He wouldn't throw in there. I told him to throw in there, gave him the bait, said 'here's the bait, throw in there'. He wouldn't do it. He just let me have it all to myself until I had a limit and, probably, an hour after that, he finally did and wound up catching 2 fish." Owens, of Rockledge, Fla. would go on to place 11th in the co-angler division with 2 fish that weighed 5-10.
Carper's contention that the fish were biting weird was echoed by Florida fishing giant John Bitter, owner of Bitter's Baits who said he slowed down and switched to an 8-inch ribbontail worm when he couldn't get the fish hold onto a trick worm. "I had 60 bites today, just pecking at the tail, running with it. Those 5 are the only ones I hooked," said Bitter of his 10-3 limit. "I got to the point where I just let them swim with it like I was walking a dog on a leash before setting the hook."
Carper wasn't the only one to boat bass on a spinnerbait. Co-angler Kyle Gelles of Pingree, Idaho won big bass in that division with a 6-11 that ate a chartreuse and white spinnerbait about noon time on shallow wood.
It only counted once, but Carper caught his big fish twice. "About 15 minutes before I caught her, I was using some lighter line – 15 lbSeaguar – and the line broke when I set the hook. I pulled another rod out of the locker, loaded it up with 20 lb Seaguar, tied everything back up and made a circle back around my little patch of pilings, got another bite and set the hook. When I got her in, my co-angler looked in the net and said 'hey, isn't that the hook you lost in that other fish?' I'm saying the good Lord blessed me!"
Then again, Carper was blessed before he left Oklahoma. "I've got a good wife, Becky. She stays there and takes care of the house and the grandkids. I just work. And go fishing once in a while."
The top 10 boaters finished the tournament as follows:
1st:       Eddie Carper of Valliant, Okla., five bass, 26-0, $5,415 + $7,000 FLW PHOENIX BONUS
2nd:      Yoan Alvarez of Miami, Fla., five bass, 21-14, $2,360
3rd:       Jerry Stalvey Jr. of Palatka, Fla., five bass, 19-12, $1,574
4th:       Mike Jackson of San Mateo, Fla., five bass, 19-5, $1,101
5th:       Terry Fisher of Jacksonville, Fla., five bass, 16-4, $944
6th:       Trevor Brown of Deltona, Fla., five bass, 14-8, $865
7th:       Kyle Walters of Grant Valkaria, Fla., five bass, 13-13, $787
8th:       Dawayne Burke of Cross City, Fla., five bass, 13-10, $708
9th:       John Mobley of Macclenny, Fla., five bass, 13-4, $629
10th:     Jason Reed of Hollister, Fla., five bass, 13-1, $551