California, Arizona Qualify Teams For High School Championship
---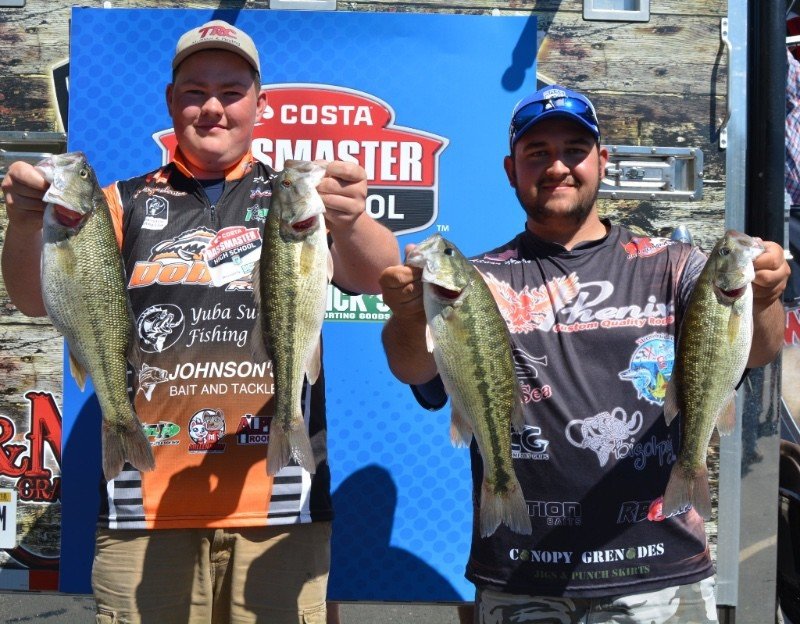 Zachary Featherston (left) and Adrian Murar of California won the inaugural Costa Bassmaster High School Western Open presented by DICK
'
S Sporting Goods on Lake Oroville with 11.23 pounds.
Photo by Tyler McCollum/Bassmaster
April 29, 2017
OROVILLE, Calif. — California and Arizona will both be sending teams to the 2017 Costa Bassmaster High School National Championship presented by DICK'S Sporting Goods this summer in Tennessee.
Adrian Murar and Zachary Featherston of California and Tyler Derman and Marlin Paschal of Arizona earned berths in the championship today in the first-ever Costa Bassmaster High School Western Open on California's Lake Oroville.
Murar and Featherston won the one-day event with 11.23 pounds.
"I had never seen this lake until today," said Murar, 18. "We fished the bridge pilings right near launch, and we caught more than 100 fish there today."
The biggest of the hundred they caught weighed in at 2.77 pounds, which shows how hard it was to catch fish of any size. Most anglers who crossed the stage said catching fish was no problem; it was catching big fish that was the issue.
The biggest bass weighed in was 3.77 pounds, caught by the second-place team of Derman and Paschal from Arizona.
Murar and Featherston said they never slowed down all day.
"We caught fish all day long," said Featherston, 16, who fishes Oroville a lot. "We were in the right place. The lake is dropping, so fish went to the bridge pilings where they know there's always structure."
The bass were suspended on the pilings in 10 feet of water, in a spot that's more than 100 feet deep.
The teammates used an underspin setup with a BladeRunner in black shad and a 3.8-inch Keitech swimbait in pro blue as their primary lure. They also used a 6-inch Huddleston swimbait in hitch color and switched to Senkos and darter heads later in the morning looking for a bigger bite.
"It was fish after fish after fish," said Murar. "It was fun."
For Arizona's Derman and Paschal, it was drop shotting that led them to 10.39 pounds.
"Drop shots nailed it," said Paschal.
Drop shots, underspins, spinnerbaits and shaky heads were the main lures for most of the field. All 16 high school teams managed a five-bass limit.
"We were thrilled to be able to offer a High School Open out here in the West," said Mike Landy, youth director for the California B.A.S.S. Nation. "We only expect this to grow over time. We're already excited about next year."
Neither of the four championship qualifiers — Murar, Featherston, Derman or Paschal — have ever been to Tennessee. Both teams are looking forward to representing the West on Kentucky Lake, June 22-24.
2017 Costa Bassmaster High School Title Sponsor: Costa
2017 Costa Bassmaster High School Presenting Sponsor: DICK'S Sporting Goods
2017 Costa Bassmaster High School Platinum Sponsor: Toyota
 
2017 Costa Bassmaster High School Premier Sponsors: Mercury, Minn Kota, Nitro Boats, Power-Pole, Shell Rotella, Skeeter Boats, Triton Boats, Yamaha, Berkley, Huk, Humminbird
2017 Costa Bassmaster High School Supporting Sponsors: Academy Sports + Outdoors, Advance Auto Parts, Carhartt, Lowrance, Phoenix Boats, Shimano, St. Croix Rods, ABU Garcia
About B.A.S.S.
B.A.S.S. is the worldwide authority on bass fishing and keeper of the culture of the sport, providing cutting edge content on bass fishing whenever, wherever and however bass fishing fans want to use it. Headquartered in Birmingham, Ala., the 500,000-member organization's fully integrated media platforms include the industry's leading magazines (Bassmaster and B.A.S.S. Times), website (Bassmaster.com), television show (The Bassmasters on ESPN2), radio show (Bassmaster Radio), social media programs and events. For more than 45 years, B.A.S.S. has been dedicated to access, conservation and youth fishing.
The Bassmaster Tournament Trail includes the most prestigious events at each level of competition, including the Bassmaster Elite Series, Bass Pro Shops Bassmaster Open Series, Academy Sports + Outdoors B.A.S.S. Nation presented by Magellan, Carhartt Bassmaster College Series presented by Bass Pro Shops, Costa Bassmaster High School Series presented by DICK'S Sporting Goods, Toyota Bonus Bucks Bassmaster Team Championship and the ultimate celebration of competitive fishing, the GEICO Bassmaster Classic presented by DICK'S Sporting Goods.
-30-
Media Contact: JamieDay Matthews, 205-313-0945, jmatthews@bassmaster.com or Dave Precht, 205-313-0931, [email protected].
2017 Costa Bassmaster High School Western Open presented by DICK'S Sporting Goods
April 29, 2017 — Lake Oroville, Oroville, CA
Place
Boater
Nonboater
Bass
Weight
1
Zachary Featherston
Adrian Murar
5
11.23
2
Marlin Paschal
Tyler Derman
5
10.39
3
Jonah Henrickson
Jack Geist
5
10.28
4
Cody Malecha
Trevor Sinclair
5
10.25
5
Ryan Jaeger
Shawn Fields
5
9.95
6
Alec Engelhardt
Jacob Marriner
5
9.90
7
Cody Derby
Tanner Mayhood
5
9.23
8
Brandon DeVincenzi
Austin Splane
5
9.19
9
Joseph Mariani
Jack Mariani
5
9.03
10
Sean O'Riordan
Caeser Lewis
5
8.97
11
Brian Lopez
Roger Newton
5
8.43
12
Vance Hayes
PJ Allen
5
8.38
13
Manuel Nevarez II
Jessica Spencer
5
8.05
14
Ralph Miller IV
Forrest Southard
5
7.60
15
Joseph Brown
Luke Liponovich
5
7.07
16
Zachary Kedzior
Trevor Rumsey
5
6.64
Total
80
144.59
---