Bryan Schmitt Takes A 7 Ounce Lead Into The Final Day Of The Bass Northern Open On Lake Champlain
Posted On September 23, 2016
---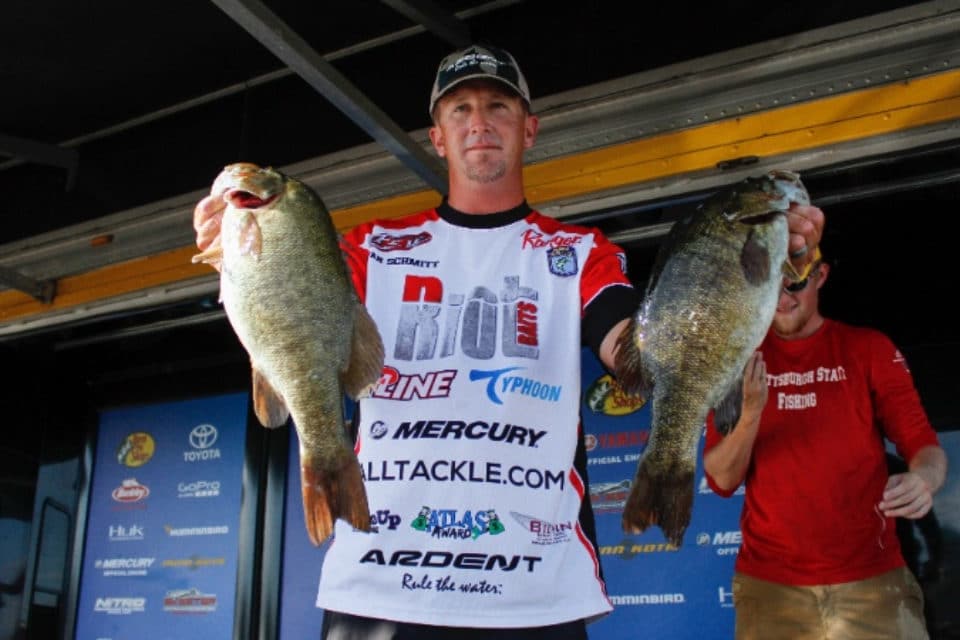 Bryan Schmitt Climbs Into First In Bassmaster Open On Lake Champlain
PLATTSBURGH, N.Y. — Bryan Schmitt had planned on catching a mixed bag of largemouth and smallmouth bass on Lake Champlain, but it was a limit of five smallmouth that nudged him into the second-round lead in the Bass Pro Shops Bassmaster Northern Open.
When the lake's surface turned slick in the afternoon, Schmitt knew what to do. He knew Lake Champlain smallmouth liked to feed on calm, sunny days.
"I leaned on the smallmouth as hard as I could, and that really helped me out," said Schmitt, who took over the lead with 40 pounds, 15 ounces. "I had a lot of fun out there today. Hopefully, I'll have one more day of it."
The Deale, Md., angler caught a five-fish limit of smallmouth bass weighing 20-6, almost exactly the same weight as his mixed bag of largemouth and smallmouth from Wednesday, which totaled 20-9.
The first morning, Schmitt concentrated on largemouth and caught a couple of keepers but had to switch over to a smallmouth pattern to complete his limit. Today, he decided to stick with brown bass, especially when the weather turned favorable for a smallmouth bite.
Both days he has keyed on three spots, and he said he never saw another competitor's boat. "I really sat on those spots a long time and tried to work them the best I could," said the 35-year-old Chesapeake Bay charter guide. "Tomorrow, I can go lean on the smallmouth again the rest of the day. I am hoping a couple of things that I am doing will work because there shouldn't be anybody there."
A couple of missed fish plagued first-day leader Jesse Tacoronte, who slipped into second place with 40-8.
"I jumped two 4 1/2-pounders off," Tacoronte said. "I had one of them in my hand, and it jumped over my hand and broke the line." The 49-year-old owner of Enigma Fishing Co. used different baits and a different approach to catch smallmouth today. He had most of his 19-5 limit by 9:38 a.m.
The Orlando, Fla., angler plans to focus on two spots that are loaded with smallmouth for the final day.  "I haven't seen a single boat anywhere near my water," he said. "So who knows how many hundreds of thousands of fish I have to myself. With smallies, you can throw into the same spot a hundred times and catch 40 fish."
Rounding out the Top 5 in the pro division are Chris Molineaux, Hope Valley, R.I., third place, 40-4; Wil Hardy II, Harlem, Ga., fourth, 38-14; and Alton Jones Jr., Lorena, Texas, fifth, 38-5.
Drop-shotting with one of his own lures helped Nicholas Sokolowski, Brewerton, N.Y., move into first place in the co-angler division with 23-4.  The 22-year-old construction worker and owner of Soco Baits caught three keepers weighing 12-5 today with a Soco Baits Large Fry, a 2 1/2-inch minnow bait that he rigged on a drop shot.
The Phoenix Boats Big Bass award is currently held by Chris Molineaux of Hope Valley, R.I., after catching a 6 pound, 9 ounce bass Thursday.
The Adirondack Coast Visitors Bureau (www.goadirondack.com) is the host for this week's Northern Open. The final-day launch and weigh-in featuring the Top 12 anglers in the pro and co-angler divisions will be held at Dock Street Landing at 5 Dock Street in Plattsburgh.
2016 Bass Pro Shops Bassmaster Opens Series Title Sponsor: Bass Pro Shops
2016 Bass Pro Shops Bassmaster Opens Series Platinum Sponsor: Toyota
2016 Bass Pro Shops Bassmaster Opens Series Premier Sponsors: Humminbird, Mercury, Minn Kota, Nitro Boats, Skeeter Boats, Triton Boats, Nitro Boats, Skeeter Boats, Triton Boats, Yamaha, Berkley, GoPro, Huk
2016 Bass Pro Shops Bassmaster Opens Series Supporting Sponsors: Lowrance, Power-Pole, Rapala, Shell Rotella, Shimano, A.R.E. Truck Caps, Carhartt, Dick Cepek Tires & Wheels, Livingston Lures
About B.A.S.S.
B.A.S.S. is the worldwide authority on bass fishing and keeper of the culture of the sport, providing cutting edge content on bass fishing whenever, wherever and however bass fishing fans want to use it. Headquartered in Birmingham, Ala., the 500,000-member organization's fully integrated media platforms include the industry's leading magazines (Bassmaster and B.A.S.S. Times), website (Bassmaster.com), television show (The Bassmasters on ESPN2), social media programs and events. For more than 45 years, B.A.S.S. has been dedicated to access, conservation and youth fishing.
The Bassmaster Tournament Trail includes the most prestigious events at each level of competition, including the Bassmaster Elite Series, Bass Pro Shops Bassmaster Open Series, B.A.S.S. Nation, Carhartt Bassmaster College Series presented by Bass Pro Shops, Costa Bassmaster High School Series, Toyota Bonus Bucks Bassmaster Team Championship and the ultimate celebration of competitive fishing, the GEICO Bassmaster Classic presented by GoPro.
-30-
Media Contact: JamieDay Matthews, 205-313-0945, jmatthews@bassmaster.com or Dave Precht, 205-313-0931, [email protected].
2016 Bass Pro Shops Bassmaster  Northern Open Lake Champlain 9/21-9/23
Lake Champlain, Plattsburgh  NY.
(BOATER) Standings Day 2



   Angler                   Hometown              No./lbs-oz  Pts   Total $$$



1.  Bryan Schmitt          Deale, MD               10  40-15  200     $250.00

  Day 1: 5   20-09     Day 2: 5   20-06   

2.  Jesse Tacoronte        Orlando, FL             10  40-08  199

  Day 1: 5   21-03     Day 2: 5   19-05   

3.  Chris Molineaux        Hope Valley, RI         10  40-04  198

  Day 1: 5   18-11     Day 2: 5   21-09   

4.  Wil Hardy II           Harlem, GA              10  38-14  197

  Day 1: 5   18-13     Day 2: 5   20-01   

5.  Alton Jones Jr.        Lorena, TX              10  38-05  196

  Day 1: 5   18-11     Day 2: 5   19-10   

6.  Brett Carnright        Plattsburgh, NY         10  38-02  195

  Day 1: 5   19-09     Day 2: 5   18-09   

7.  Bryan Labelle          Hinesburg, VT           10  37-14  194

  Day 1: 5   16-11     Day 2: 5   21-03   

8.  Adrian Avena           Vineland, NJ            10  37-14  193

  Day 1: 5   20-15     Day 2: 5   16-15   

9.  Stephen Mui            Bartlett, IL            10  37-11  192

  Day 1: 5   19-01     Day 2: 5   18-10   

10. David Gaston           Sylacauga, AL           10  37-01  191

  Day 1: 5   18-12     Day 2: 5   18-05   

11. Sam George             Athens, AL              10  36-11  190

  Day 1: 5   17-08     Day 2: 5   19-03   

12. Steve York             Bronson, MI             10  36-11  189

  Day 1: 5   19-00     Day 2: 5   17-11   

13. John Murray            Spring City, TN         10  36-06  188   $2,550.00

  Day 1: 5   15-14     Day 2: 5   20-08   

14. Brent Shores           Boise, ID               10  36-02  187   $2,550.00

  Day 1: 5   18-01     Day 2: 5   18-01   

15. Dylan Fulk             Concord, NC             10  35-11  186   $2,550.00

  Day 1: 5   18-00     Day 2: 5   17-11   

16. Scott Pellegrin        Eau Claire, WI          10  35-09  185   $2,550.00

  Day 1: 5   19-13     Day 2: 5   15-12   

17. Chad Pipkens           Lansing, MI             10  35-07  184   $2,550.00

  Day 1: 5   16-00     Day 2: 5   19-07   

18. Pete Gluszek           Mount Laurel, NJ        10  35-00  183   $2,550.00

  Day 1: 5   14-07     Day 2: 5   20-09   

19. Dave Davenport         Milford, OH             10  35-00  182   $2,550.00

  Day 1: 5   16-15     Day 2: 5   18-01   

20. Jamie Hartman          Newport, NY             10  34-15  181   $2,550.00

  Day 1: 5   19-03     Day 2: 5   15-12   

21. JT Kenney              Palm Bay, FL            10  34-13  180   $2,550.00

  Day 1: 5   18-06     Day 2: 5   16-07   

22. Jacob Wheeler          Indianapolis, IN        10  34-13  179   $2,550.00

  Day 1: 5   17-00     Day 2: 5   17-13   

23. Brian Bylotas          Scott Township, PA      10  34-13  178   $2,550.00

  Day 1: 5   17-10     Day 2: 5   17-03   

24. Pete Garnier           Trenton ONTARIO CANADA  10  34-12  177   $2,550.00

  Day 1: 5   18-00     Day 2: 5   16-12   

25. Ben Nielsen            Lowell, MI              10  34-11  176   $2,550.00

  Day 1: 5   16-00     Day 2: 5   18-11   

26. Lancen Halbert         Simpsonville , SC       10  34-06  175   $2,244.00

  Day 1: 5   14-11     Day 2: 5   19-11   

27. Justin McClelland      Rogers, AR              10  34-04  174   $2,244.00

  Day 1: 5   16-12     Day 2: 5   17-08   

28. Ed Loughran III        Mechanicsville, VA      10  34-03  173   $2,244.00

  Day 1: 5   17-11     Day 2: 5   16-08   

29. Whitney Stephens       Waverly, OH             10  34-00  172   $2,244.00

  Day 1: 5   16-10     Day 2: 5   17-06   

30. Frankie Appaluccio     Franklin, NJ            10  33-14  171   $2,244.00

  Day 1: 5   18-00     Day 2: 5   15-14   

31. Rick Morris            Lake Gaston, VA         10  33-12  170   $1,938.00

  Day 1: 5   17-05     Day 2: 5   16-07   

32. Douglas Reed           Bridgeton, NJ           10  33-08  169   $1,938.00

  Day 1: 5   16-09     Day 2: 5   16-15   

33. Al Farace Jr           Cockeysville, MD        10  33-07  168   $1,938.00

  Day 1: 5   16-02     Day 2: 5   17-05   

34. Tom Huynh              Moorehead, MN           10  33-06  167   $1,938.00

  Day 1: 5   13-02     Day 2: 5   20-04   

35. Glenn Browne           Ocala, FL               10  33-02  166   $1,938.00

  Day 1: 5   16-07     Day 2: 5   16-11   

36. Carl Jocumsen          Queensland TX AUSTRALIA 10  33-00  165   $1,632.00

  Day 1: 5   17-06     Day 2: 5   15-10   

37. Jimmy Kennedy          Plainfield, VT          10  32-12  164   $1,632.00

  Day 1: 5   14-15     Day 2: 5   17-13   

38. Jess Salmon            Milford, NJ             10  32-11  163   $1,632.00

  Day 1: 5   17-04     Day 2: 5   15-07   

39. Darrin Schwenkbeck     Moretown, VT            10  32-08  162   $1,632.00

  Day 1: 5   15-09     Day 2: 5   16-15   

40. David Dudley           Lynchburg, VA           10  32-08  161   $1,632.00

  Day 1: 5   16-04     Day 2: 5   16-04   

41. Tim Gillies            Union City, MI          10  32-07  160

  Day 1: 5   17-10     Day 2: 5   14-13   

42. Ron Johnson            Chandler, AZ            10  32-07  159

  Day 1: 5   16-04     Day 2: 5   16-03   

43. Destin DeMarion        Grove City, PA          10  32-05  158

  Day 1: 5   14-02     Day 2: 5   18-03   

44. Thomas Lavictoire      West Rutland, VT        10  32-03  157

  Day 1: 5   17-05     Day 2: 5   14-14   

45. Frank Ramsey           Spring Grove, IL        10  32-02  156

  Day 1: 5   17-04     Day 2: 5   14-14   

46. Mike Lavallee          Sandy, UT               10  32-02  155

  Day 1: 5   17-03     Day 2: 5   14-15   

47. Chris Flint            Potsdam, NY             10  32-01  154

  Day 1: 5   16-14     Day 2: 5   15-03   

48. Kurt Dove              Del Rio, TX             10  31-13  153

  Day 1: 5   16-09     Day 2: 5   15-04   

49. Mike Elsea             Mooresville, IN         10  31-11  152

  Day 1: 5   15-07     Day 2: 5   16-04   

50. Rob Jordan             Flowery Branch, GA      10  31-10  151

  Day 1: 5   14-00     Day 2: 5   17-10   

51. Tom  Graziano          Chester, NY             10  31-10  150

  Day 1: 5   14-11     Day 2: 5   16-15   

52. Robert Pepe            Plainville, CT          10  31-09  149

  Day 1: 5   15-09     Day 2: 5   16-00   

53. Chris Noffsinger       Interlochen, MI         10  31-08  148

  Day 1: 5   17-00     Day 2: 5   14-08   

54. Matthew Sphar          North Java, NY          10  31-06  147

  Day 1: 5   14-07     Day 2: 5   16-15   

55. Jason Bacon            Nutting Lake, MA        10  31-05  146

  Day 1: 5   16-01     Day 2: 5   15-04   

56. Tim Aldrich            Shutesbury, MA          10  31-02  145

  Day 1: 5   15-07     Day 2: 5   15-11   

57. Craig Workman          Fort Worth, TX          10  31-01  144

  Day 1: 5   14-08     Day 2: 5   16-09   

58. Hunter Shryock         Newcomerstown, OH        7  31-00  143

  Day 1: 5   14-11     Day 2: 2   16-05   

59. Tyler Berger           Worthington, OH         10  30-15  142

  Day 1: 5   17-04     Day 2: 5   13-11   

60. Derek Cummings         Clayton, NC             10  30-14  141

  Day 1: 5   16-03     Day 2: 5   14-11   

61. Shayne Berlo           Fairfax, VA             10  30-14  140

  Day 1: 5   15-10     Day 2: 5   15-04   

62. Dana Perrotte          Colchester, VT          10  30-10  139

  Day 1: 5   13-09     Day 2: 5   17-01   

62. David Smith            Del City, OK            10  30-10  139

  Day 1: 5   17-01     Day 2: 5   13-09   

64. Chad Van Slyke         Cicero, NY              10  30-09  137

  Day 1: 5   16-12     Day 2: 5   13-13   

65. Josh Douglas           Mound, MN               10  30-07  136

  Day 1: 5   16-15     Day 2: 5   13-08   

66. Sean Wilkes            Latham, NY              10  30-04  135

  Day 1: 5   16-00     Day 2: 5   14-04   

67. Jody White             Gilbertsville, KY       10  30-04  134

  Day 1: 5   14-14     Day 2: 5   15-06   

68. Chris Daves            Spring Grove, VA        10  30-03  133

  Day 1: 5   12-06     Day 2: 5   17-13   

69. Derek Yasinski         Senoia, GA              10  30-03  132

  Day 1: 5   17-00     Day 2: 5   13-03   

70. Paco Giner             Danbury, CT             10  29-15  131

  Day 1: 5   14-06     Day 2: 5   15-09   

71. Alvin Shaw             Roaring Gap, NC         10  29-14  130

  Day 1: 5   13-10     Day 2: 5   16-04   

72. Grae Buck              Harleysville, PA        10  29-09  129

  Day 1: 5   12-06     Day 2: 5   17-03   

73. Lee Rogers             Swartswood, NJ          10  29-07  128

  Day 1: 5   17-06     Day 2: 5   12-01   

74. Bill Alexander         Sylvan Beach, NY        10  29-06  127

  Day 1: 5   15-14     Day 2: 5   13-08   

75. Jason Root             Fostoria, OH            10  29-04  126

  Day 1: 5   14-14     Day 2: 5   14-06   

76. Jake Whitaker          Fairview, NC            10  29-02  125

  Day 1: 5   13-04     Day 2: 5   15-14   

77. Shin Fukae             Palestine, TX           10  29-02  124

  Day 1: 5   15-07     Day 2: 5   13-11   

78. Jason Dudek            Excelsior, MN           10  29-01  123

  Day 1: 5   11-00     Day 2: 5   18-01   

79. Nick Ray               Ingleside, IL           10  29-00  122

  Day 1: 5   14-14     Day 2: 5   14-02   

80. James Plessinger       Mechanicsville, VA      10  28-15  121

  Day 1: 5   14-03     Day 2: 5   14-12   

81. Kyle Kempkers          Hamilton, MI            10  28-14  120

  Day 1: 5   12-00     Day 2: 5   16-14   

82. Tony Dorman            Taylor, PA              10  28-13  119

  Day 1: 5   13-07     Day 2: 5   15-06   

83. Jeff Hippert           Hamburg, NY             10  28-12  118

  Day 1: 5   12-11     Day 2: 5   16-01   

84. Craig Rexford          Grand Isle, VT          10  28-09  117

  Day 1: 5   16-07     Day 2: 5   12-02   

85. Michael Purvis         Canton, GA              10  28-09  116

  Day 1: 5   14-01     Day 2: 5   14-08   

86. Lucas Bogosian         Harrington Park, NJ     10  28-04  115

  Day 1: 5   14-07     Day 2: 5   13-13   

87. Paul Pagnato Jr        Reston, VA              10  28-03  114

  Day 1: 5   16-14     Day 2: 5   11-05   

88. Austin Felix           Eden Prairie, MN        10  28-03  113

  Day 1: 5   11-10     Day 2: 5   16-09   

88. Kendall Ulsh           Schoolcraft, MI         10  28-03  113

  Day 1: 5   11-10     Day 2: 5   16-09   

90. Craig Nelson           Mather, PA              10  28-02  111

  Day 1: 5   15-00     Day 2: 5   13-02   

91. Cameron Smith          Mashpee, CA             10  27-13  110

  Day 1: 5   17-01     Day 2: 5   10-12   

92. Edward Naydihor Jr     Kenosha, WI             10  27-13  109

  Day 1: 5   15-14     Day 2: 5   11-15   

93. Tim Grein              Winston Salem, NC       10  27-13  108

  Day 1: 5   15-00     Day 2: 5   12-13   

94. Ed Stiefel             Mahwah, NJ              10  27-13  107

  Day 1: 5   13-12     Day 2: 5   14-01   

95. John Wright            Concord, NH             10  27-12  106

  Day 1: 5   13-13     Day 2: 5   13-15   

96. Garrett Paquette       Canton, MI               9  27-09  105

  Day 1: 4   11-03     Day 2: 5   16-06   

97. Cody Pike              Powhatan, VA            10  27-09  104

  Day 1: 5   12-15     Day 2: 5   14-10   

98. Scott Parker           Candia, NH              10  27-08  103

  Day 1: 5   12-14     Day 2: 5   14-10   

99. George Yund            Glenmont, NY            10  27-08  102

  Day 1: 5   14-07     Day 2: 5   13-01   

100. Steve Lucarelli        Meredith, NH            10  27-07  101

  Day 1: 5   14-09     Day 2: 5   12-14   

101. Christopher Liobis     Branchburg, NJ          10  27-05  100

  Day 1: 5   15-01     Day 2: 5   12-04   

102. Woo Daves              Spring Grove, VA        10  27-03   99

  Day 1: 5   13-07     Day 2: 5   13-12   

103. Mike McClelland        Bella Vista, AR         10  27-00   98

  Day 1: 5   13-03     Day 2: 5   13-13   

104. Thomas Waltz           St. Albans, VT          10  26-14   97

  Day 1: 5   12-08     Day 2: 5   14-06   

105. Matt Greenblatt        Port St Lucie, FL       10  26-14   96

  Day 1: 5   12-08     Day 2: 5   14-06   

106. Joe Lucarelli          Center Harbor, NH       10  26-12   95

  Day 1: 5   11-14     Day 2: 5   14-14   

107. Tommy Little           Chester, VA             10  26-12   94

  Day 1: 5   12-04     Day 2: 5   14-08   

108. Carl Svebek III        Orangefield, TX         10  26-12   93

  Day 1: 5   12-11     Day 2: 5   14-01   

109. Jason Burger           Bridgeton, NJ           10  26-11   92

  Day 1: 5   09-12     Day 2: 5   16-15   

110. Jonathon VanDam        Kalamazoo, MI           10  26-08   91

  Day 1: 5   13-04     Day 2: 5   13-04   

111. Scott Shafer           Glenville, NY           10  26-07   90

  Day 1: 5   09-07     Day 2: 5   17-00   

112. Jason Young            Port St Lucie, FL       10  26-07   89

  Day 1: 5   11-04     Day 2: 5   15-03   

113. Joseph Sancho          New Windsor, NY          8  26-06   88

  Day 1: 5   18-05     Day 2: 3   08-01   

114. Randy Pyne             Upton, MA               10  26-04   87

  Day 1: 5   15-14     Day 2: 5   10-06   

115. Jeffrey Randall        Lake Luzerne, NY        10  25-15   86

  Day 1: 5   10-12     Day 2: 5   15-03   

116. Scott Dobson           Clarkston, MI           10  25-14   85

  Day 1: 5   10-04     Day 2: 5   15-10   

117. Buddy Cipoletti        West Islip, NY          10  25-13   84

  Day 1: 5   14-04     Day 2: 5   11-09   

118. David Cioppa           Hopkinton, MA           10  25-10   83

  Day 1: 5   11-00     Day 2: 5   14-10   

119. Joseph Vacanti         Mount Laurel, NJ        10  25-06   82

  Day 1: 5   09-09     Day 2: 5   15-13   

120. Alex Wetherell         Middletown, CT          10  25-06   81

  Day 1: 5   15-10     Day 2: 5   09-12   

121. Brian Wilhoit          Oxon Hill, MD           10  25-05   80

  Day 1: 5   10-05     Day 2: 5   15-00   

122. Travis Guindon         Sea Grave CANADA        10  25-05   79

  Day 1: 5   13-06     Day 2: 5   11-15   

123. Buck Mallory           Lawton, MI              10  25-04   78

  Day 1: 5   13-12     Day 2: 5   11-08   

124. Mark Hicks             Glouster, OH             9  24-13   77

  Day 1: 5   13-07     Day 2: 4   11-06   

125. Greg Dipalma           Millville, NJ           10  24-13   76

  Day 1: 5   11-11     Day 2: 5   13-02   

126. Tyler Ferris           Webberville, MI          9  24-06   75

  Day 1: 4   12-06     Day 2: 5   12-00   

127. Jon Englund            Farwell, MN             10  24-05   74

  Day 1: 5   15-01     Day 2: 5   09-04   

128. Michael Kozell         Lancaster, NY           10  24-03   73

  Day 1: 5   11-09     Day 2: 5   12-10   

129. Trevor Lo              Maplewood, MN           10  23-14   72

  Day 1: 5   14-03     Day 2: 5   09-11   

130. Jeff Lugar             Cross Junction, VA      10  23-14   71

  Day 1: 5   13-06     Day 2: 5   10-08   

131. Charlie Hartley        Grove City, OH          10  23-11   70

  Day 1: 5   11-12     Day 2: 5   11-15   

132. William Shipes         Williston, SC           10  23-07   69

  Day 1: 5   09-12     Day 2: 5   13-11   

133. Seiji Kato             Shiga JAPAN              8  23-02   68

  Day 1: 5   17-03     Day 2: 3   05-15   

134. Kyle Albers            Durham, NC              10  23-00   67

  Day 1: 5   10-09     Day 2: 5   12-07   

135. Randy Morrison         Piedmont, SC            10  21-10   66

  Day 1: 5   11-09     Day 2: 5   10-01   

136. James Ciferni          Hammond, NY              8  21-04   65

  Day 1: 5   14-10     Day 2: 3   06-10   

137. Donald Holt Jr         Perrysburg, OH          10  21-03   64

  Day 1: 5   14-05     Day 2: 5   06-14   

138. Chris Novack           Mansfield Center, CT    10  21-02   63

  Day 1: 5   10-03     Day 2: 5   10-15   

139. Trait Crist            Fort Worth, TX           8  20-10   62

  Day 1: 3   08-04     Day 2: 5   12-06   

140. Michael Simonton       Avon Lake, OH            9  20-02   61

  Day 1: 5   10-13     Day 2: 4   09-05   

141. Ross Rhodes            Mattawan, MI             9  20-01   60

  Day 1: 4   06-04     Day 2: 5   13-13   

142. Gerald Sensabaugh      Kingsport, TN           10  20-00   59

  Day 1: 5   07-04     Day 2: 5   12-12   

143. Tyler Ashby            Swanton, MD              7  19-07   58

  Day 1: 5   12-08     Day 2: 2   06-15   

144. John Gifford           E Woodstock, CT         10  18-10   57

  Day 1: 5   08-07     Day 2: 5   10-03   

145. Vince Troiano          Chesterfield, NJ         8  18-05   56

  Day 1: 3   07-02     Day 2: 5   11-03   

146. Wayne Vaughan Jr       Chester, VA              5  16-07   55

  Day 1: 5   16-07     Day 2: 0   00-00   

147. Nicky Diamandas        Oak Ridge, NJ           10  16-02   54

  Day 1: 5   06-14     Day 2: 5   09-04   

148. Scott Siller           Milwaukee, WI            8  15-05   53

  Day 1: 3   06-01     Day 2: 5   09-04   

149. Randy Elliott          Winston Salem, NC        8  12-11   52

  Day 1: 3   03-09     Day 2: 5   09-02   

150. Timothy Macknair       Rices Landing, PA        8  10-12   51

  Day 1: 3   03-15     Day 2: 5   06-13   

151. Chris Dillow           Waynesboro, VA           4  08-04   50

  Day 1: 4   08-04     Day 2: 0   00-00   

152. Bill Gallagher III     Swedesboro, NJ           2  03-12   49

  Day 1: 2   03-12     Day 2: 0   00-00   

153. Douglas Wilson         Waterbury, VT            0  00-00    0

  Day 1: 0   00-00     Day 2: 0   00-00   

-----------------------------------------------------------------------

Totals

Day   #Limits    #Fish      Weight

 1       142       743      2186-06

 2       142       731      2198-00

----------------------------------

         284      1474      4384-06
2016 Bass Pro Shops Bassmaster  Northern Open Lake Champlain 9/21-9/23
Lake Champlain, Plattsburgh  NY.
(NON_BOATER) Standings Day 2



   Angler                   Hometown              No./lbs-oz  Pts   Total $$$



1.  Nicholas Sokolowski    Brewerton, NY            6  23-04  200

  Day 1: 3   10-15     Day 2: 3   12-05   

2.  Josh Cotier            Clinton, MA              6  23-02  199

  Day 1: 3   11-13     Day 2: 3   11-05   

3.  Michael Conway         Mechanicville, NY        6  23-01  198

  Day 1: 3   11-08     Day 2: 3   11-09   

4.  Mike Sciacca           Augusta, NJ              6  22-15  197

  Day 1: 3   10-11     Day 2: 3   12-04   

5.  Eric Stecker           Quakertown, PA           6  22-13  196

  Day 1: 3   10-03     Day 2: 3   12-10   

6.  Chad Smith             Minnetonka, MN           6  22-12  195

  Day 1: 3   09-02     Day 2: 3   13-10   

7.  Scott Dupuis           Wilmington, VT           6  22-11  194

  Day 1: 3   10-09     Day 2: 3   12-02   

8.  Charles Jedlica Jr     Merrick, NY              6  22-08  193

  Day 1: 3   10-07     Day 2: 3   12-01   

9.  Anthony Bell           Beavercreek, OH          6  22-07  192

  Day 1: 3   11-11     Day 2: 3   10-12   

10. William Clute          Hogansburg, NY           6  22-04  191

  Day 1: 3   11-11     Day 2: 3   10-09   

11. Jack Dice              Lynchburg, VA            6  22-04  190

  Day 1: 3   11-01     Day 2: 3   11-03   

12. Robin Roystan          Bath, NH                 6  22-02  189

  Day 1: 3   11-15     Day 2: 3   10-03   

13. Ryan Kempton           Plymouth, MA             6  22-00  188   $1,224.00

  Day 1: 3   11-11     Day 2: 3   10-05   

14. Matt Madlener          Lake Villa, IL           6  22-00  187   $1,122.00

  Day 1: 3   11-03     Day 2: 3   10-13   

15. Richard Congero        Wayne, NJ                6  21-14  186   $1,020.00

  Day 1: 3   10-15     Day 2: 3   10-15   

16. Michael Duell II       Bridgeport, NY           6  21-13  185     $918.00

  Day 1: 3   10-15     Day 2: 3   10-14   

17. Allen Robbins III      Asheboro, NC             6  21-12  184     $714.00

  Day 1: 3   11-02     Day 2: 3   10-10   

18. Greg Tesch             Middlebury, CT           6  21-05  183     $612.00

  Day 1: 3   09-10     Day 2: 3   11-11   

19. Steve Broderick        Stephentown, NY          6  21-01  182     $612.00

  Day 1: 3   11-11     Day 2: 3   09-06   

20. Michael Barton         Endicott, NY             6  20-13  181     $510.00

  Day 1: 3   10-14     Day 2: 3   09-15   

21. Peter Jerrom           Pipersville, PA          6  20-13  180     $434.00

  Day 1: 3   10-13     Day 2: 3   10-00   

22. Richard French         Newfield, NY             6  20-11  179     $434.00

  Day 1: 3   10-11     Day 2: 3   10-00   

23. Akira Okuyama          Woodside, NY             6  20-08  178     $434.00

  Day 1: 3   10-08     Day 2: 3   10-00   

24. Greg Mauldin           Archdale, NC             6  20-06  177     $434.00

  Day 1: 3   11-04     Day 2: 3   09-02   

25. Henry Mckee IV         Haddon Heights, NJ       6  20-06  176     $434.00

  Day 1: 3   09-12     Day 2: 3   10-10   

26. Michael Sweeney        Plymouth, MA             6  20-06  175     $434.00

  Day 1: 3   10-03     Day 2: 3   10-03   

27. Edward Pecore          Plattsburgh, NY          6  19-15  174     $434.00

  Day 1: 3   09-13     Day 2: 3   10-02   

28. Mike Kloss             Hopatcong, NJ            6  19-13  173     $434.00

  Day 1: 3   10-05     Day 2: 3   09-08   

29. Billy Harris           Cayuga, NY               6  19-09  172     $434.00

  Day 1: 3   08-12     Day 2: 3   10-13   

30. Zachary Hajecate       Wallkill, NY             6  19-09  171     $434.00

  Day 1: 3   09-13     Day 2: 3   09-12   

31. Stephen Morella        Philadelphia, PA         6  19-08  170     $434.00

  Day 1: 3   07-12     Day 2: 3   11-12   

32. Bill Kuslaka           Windham, NH              6  19-07  169     $434.00

  Day 1: 3   08-15     Day 2: 3   10-08   

33. Andrew Zapf            Whippany, NJ             6  19-05  168     $434.00

  Day 1: 3   09-09     Day 2: 3   09-12   

34. Steve Hanley           Schenectady, NY          6  19-03  167     $434.00

  Day 1: 3   10-14     Day 2: 3   08-05   

35. Scott Leppanen         Byfield, MA              6  19-01  166     $434.00

  Day 1: 3   09-08     Day 2: 3   09-09   

36. Ralph Ferrusi III      Bearsville, NY           6  19-00  165     $434.00

  Day 1: 3   10-06     Day 2: 3   08-10   

37. Mike England           Sunbury, OH              6  18-15  164     $434.00

  Day 1: 3   10-08     Day 2: 3   08-07   

38. Barry Brandt Jr.       Newport News, VA         6  18-14  163     $434.00

  Day 1: 3   10-15     Day 2: 3   07-15   

39. Tim Whitaker           Fairview, NC             6  18-11  162     $434.00

  Day 1: 3   08-15     Day 2: 3   09-12   

40. Drew Osborn            Maryville, TN            6  18-09  161     $434.00

  Day 1: 3   08-11     Day 2: 3   09-14   

41. Chuck Thurlow          Auburn, AL               6  18-07  160

  Day 1: 3   08-03     Day 2: 3   10-04   

42. Bill Facompre, Jr.     Woodstock, NY            6  18-07  159

  Day 1: 3   08-07     Day 2: 3   10-00   

43. Benjamin Wright        Peru, NY                 6  18-07  158

  Day 1: 3   08-11     Day 2: 3   09-12   

44. Tom Stark III          Angola, IN               6  18-06  157

  Day 1: 3   09-08     Day 2: 3   08-14   

45. Bubba Leister III      Quakertown, PA           6  18-06  156

  Day 1: 3   09-04     Day 2: 3   09-02   

46. Katherine Owczarzak    Buffalo, NY              6  18-05  155

  Day 1: 3   09-03     Day 2: 3   09-02   

47. Edward Barton IV       Crofton, MD              6  18-03  154

  Day 1: 3   08-08     Day 2: 3   09-11   

48. Keith Moyer            Canfield, OH             6  18-02  153

  Day 1: 3   07-04     Day 2: 3   10-14   

49. Richard Agostinoni     Monroe, NY               6  18-02  152

  Day 1: 3   08-08     Day 2: 3   09-10   

50. Mark Bartosch          Clarksville, TN          6  18-01  151

  Day 1: 3   07-13     Day 2: 3   10-04   

51. Joesph Simko           Swoyersville, PA         6  17-15  150

  Day 1: 3   08-07     Day 2: 3   09-08   

52. Chris Smith            Rochester, MN            6  17-12  149

  Day 1: 3   08-11     Day 2: 3   09-01   

53. Mike Jones             Fayetteville, AR         6  17-11  148

  Day 1: 3   08-12     Day 2: 3   08-15   

54. Donald Vantassel       South Egremont, MA       6  17-10  147

  Day 1: 3   07-07     Day 2: 3   10-03   

55. Bill McMillan          Oldtown, MD              6  17-10  146

  Day 1: 3   09-10     Day 2: 3   08-00   

56. Brent Heyn             South Hero, VT           6  17-09  145

  Day 1: 3   09-06     Day 2: 3   08-03   

57. James Schneider        Watervliet, NY           6  17-08  144

  Day 1: 3   06-14     Day 2: 3   10-10   

58. Michael Reid           Brookville, OH           6  17-07  143

  Day 1: 3   10-14     Day 2: 3   06-09   

59. Frank Miller           Berwick, PA              6  17-04  142

  Day 1: 3   07-01     Day 2: 3   10-03   

60. Brandon Hoppert        Ridgeley, WV             6  17-03  141

  Day 1: 3   08-08     Day 2: 3   08-11   

61. Cody Okrepki           Binghamton, NY           6  17-02  140

  Day 1: 3   07-09     Day 2: 3   09-09   

62. Beau Bickford          Findlay, OH              6  17-01  139

  Day 1: 3   10-05     Day 2: 3   06-12   

63. Justin Hughes          Poestenkill, NY          6  17-00  138

  Day 1: 3   06-04     Day 2: 3   10-12   

64. Scott Dawson           New Windsor, NY          6  17-00  137

  Day 1: 3   07-01     Day 2: 3   09-15   

65. Steven Ortepio         Flemington, NJ           6  16-15  136

  Day 1: 3   05-10     Day 2: 3   11-05   

66. Kevin Jenckes          New Durham, NH           6  16-15  135

  Day 1: 3   06-12     Day 2: 3   10-03   

67. Justin Thomas          Arlington, MA            6  16-13  134

  Day 1: 3   05-14     Day 2: 3   10-15   

68. PJ Mcmanamon           Ruby, NY                 6  16-12  133

  Day 1: 3   08-05     Day 2: 3   08-07   

69. Anthony Lorefice Jr    Johnson City, NY         6  16-11  132

  Day 1: 3   07-10     Day 2: 3   09-01   

70. Mike Concato Jr        Wayne, NJ                6  16-10  131

  Day 1: 3   09-12     Day 2: 3   06-14   

71. Steve Kaczinski        Kintnersville, PA        6  16-08  130

  Day 1: 3   06-06     Day 2: 3   10-02   

72. Jeff Cox               Saline, MI               6  16-07  129

  Day 1: 3   09-10     Day 2: 3   06-13   

73. Shawn Gokey            Fairfax, VT              6  16-07  128

  Day 1: 3   07-11     Day 2: 3   08-12   

74. Tim Hamburger          Quakertown, PA           6  16-06  127

  Day 1: 3   05-06     Day 2: 3   11-00   

75. Travis Kerns           Wheatfield, IN           6  16-06  126

  Day 1: 3   06-12     Day 2: 3   09-10   

76. Robert Ramasci         Wakefield, MA            6  16-05  125

  Day 1: 3   07-09     Day 2: 3   08-12   

77. David Chamberlain      Trenton, NJ              6  16-05  124

  Day 1: 3   08-06     Day 2: 3   07-15   

78. Mark Carro             Horseheads, NY           6  16-04  123

  Day 1: 3   08-03     Day 2: 3   08-01   

79. Stephen Schneider      Selden, NY               5  16-02  122

  Day 1: 2   04-09     Day 2: 3   11-09   

80. Ashley Bishop          Chesapeake, VA           5  16-01  121

  Day 1: 2   05-09     Day 2: 3   10-08   

81. Bill Spence            Saint Albans, VT         6  16-01  120

  Day 1: 3   07-15     Day 2: 3   08-02   

82. Alec Morrison          Peru, NY                 6  16-00  119

  Day 1: 3   08-15     Day 2: 3   07-01   

83. Cody Bertrand          Dyer, IN                 6  15-13  118

  Day 1: 3   09-12     Day 2: 3   06-01   

84. Josh Wich              Camden, DE               6  15-13  117

  Day 1: 3   07-08     Day 2: 3   08-05   

85. Christopher Hall       South Abington Township  6  15-12  116

  Day 1: 3   10-10     Day 2: 3   05-02   

86. Preston Vargo          Port Henry, NY           6  15-10  115

  Day 1: 3   06-15     Day 2: 3   08-11   

87. Clark Bossler          Leesport, PA             6  15-08  114

  Day 1: 3   09-05     Day 2: 3   06-03   

88. Trevor Topken          Allendale, NJ            6  15-08  113

  Day 1: 3   06-15     Day 2: 3   08-09   

89. Mike Elkins            Kalamazoo, MI            6  15-07  112

  Day 1: 3   08-06     Day 2: 3   07-01   

90. Mark Shopene           Point Pleasant Beach, N  6  15-07  111

  Day 1: 3   07-05     Day 2: 3   08-02   

91. Scott Johnson          Bath, PA                 6  15-06  110

  Day 1: 3   05-05     Day 2: 3   10-01   

92. Bobby Lavin Jr         Doylestown, PA           5  15-04  109

  Day 1: 3   09-02     Day 2: 2   06-02   

93. James Perez            Rensselaer, NY           5  15-02  108

  Day 1: 3   09-09     Day 2: 2   05-09   

94. Richard Pennacchio     Hillsborough, NJ         6  15-02  107

  Day 1: 3   08-00     Day 2: 3   07-02   

95. Rick Shannon           Woodlawn, TN             6  15-00  106

  Day 1: 3   04-12     Day 2: 3   10-04   

96. Jerry Britt            Barhamsville, VA         6  14-15  105

  Day 1: 3   06-11     Day 2: 3   08-04   

97. George Saliba          Lakefield Ontario CANAD  6  14-15  104

  Day 1: 3   07-11     Day 2: 3   07-04   

98. Chuck George           Uxbridge, MA             6  14-15  103

  Day 1: 3   07-08     Day 2: 3   07-07   

99. Will Francis           East Northport, NY       6  14-14  102

  Day 1: 3   05-05     Day 2: 3   09-09   

100. Camron Mills           Hewitt, TX               6  14-14  101

  Day 1: 3   05-08     Day 2: 3   09-06   

101. Darryl Halbert         Enoree, SC               6  14-13  100

  Day 1: 3   05-02     Day 2: 3   09-11   

102. Richard Williams Jr    Sandston, VA             5  14-11   99

  Day 1: 2   07-00     Day 2: 3   07-11   

103. Marvin Stith Jr.       Piscataway, NJ           6  14-09   98

  Day 1: 3   05-01     Day 2: 3   09-08   

104. Jenoah Mcleod          Williston, VT            5  14-07   97

  Day 1: 3   09-07     Day 2: 2   05-00   

105. Raul Delgado           Cohoes, NY               6  14-05   96

  Day 1: 3   08-06     Day 2: 3   05-15   

106. William Beekman        Diamond Point, NY        6  14-05   95

  Day 1: 3   08-01     Day 2: 3   06-04   

107. Michael Dushane        Crown Point, NY          6  14-02   94

  Day 1: 3   04-04     Day 2: 3   09-14   

108. Joe Barnes             Utica, NY                6  14-00   93

  Day 1: 3   06-08     Day 2: 3   07-08   

109. Robert Bruguiere       Mechanicsville, VA       5  13-14   92

  Day 1: 3   09-07     Day 2: 2   04-07   

110. Dan Harris             Tewksbury, MA            6  13-08   91

  Day 1: 3   09-01     Day 2: 3   04-07   

111. Alex Antipenko         Brooklyn, NY             6  13-08   90

  Day 1: 3   07-05     Day 2: 3   06-03   

112. David Wright           Red Lion, PA             6  13-06   89

  Day 1: 3   05-11     Day 2: 3   07-11   

113. Mandel Pettus          Sound Beach, NY          5  13-06   88

  Day 1: 3   06-15     Day 2: 2   06-07   

114. Jeff Burke             Merrimack, NH            6  13-04   87

  Day 1: 3   06-09     Day 2: 3   06-11   

115. Matthew Lieberman      Glenville, NY            5  13-03   86

  Day 1: 3   08-02     Day 2: 2   05-01   

116. John Mastrangelo Jr    Pine Bush, NY            6  13-03   85

  Day 1: 3   05-02     Day 2: 3   08-01   

117. Kevin Senecal          Southwick, MA            5  13-00   84

  Day 1: 2   02-07     Day 2: 3   10-09   

118. Shawn Parenteau        Kingston, NH             6  12-15   83

  Day 1: 3   07-04     Day 2: 3   05-11   

119. Gary Walker            Amesbury, MA             4  12-11   82

  Day 1: 1   02-12     Day 2: 3   09-15   

120. Jesse Buss             Pennsburg, PA            6  12-10   81

  Day 1: 3   08-03     Day 2: 3   04-07   

121. Wes Campbell           Centerville, OH          6  12-07   80

  Day 1: 3   06-11     Day 2: 3   05-12   

122. John Mcgraw            Trenton, NJ              6  11-15   79

  Day 1: 3   04-13     Day 2: 3   07-02   

123. Kevin Comes            Addison, VT              5  11-14   78

  Day 1: 3   08-02     Day 2: 2   03-12   

124. Todd Hughes            Mount Bethel, PA         5  11-09   77

  Day 1: 2   05-03     Day 2: 3   06-06   

125. Bryan Doyle            Holland, OH              6  11-06   76

  Day 1: 3   06-14     Day 2: 3   04-08   

126. John Watts Jr          Flushing, MI             4  11-05   75

  Day 1: 1   02-11     Day 2: 3   08-10   

127. Chris Donley           Zionhill, PA             6  11-04   74

  Day 1: 3   07-02     Day 2: 3   04-02   

128. Robert Scott Jr        Poultney, VT             5  11-03   73

  Day 1: 2   02-03     Day 2: 3   09-00   

129. Gary Sphar             Attica, NY               5  10-13   72

  Day 1: 3   07-08     Day 2: 2   03-05   

130. Christopher Martin     Bassett, VA              5  10-11   71

  Day 1: 3   07-02     Day 2: 2   03-09   

131. Ed Guidon              Bethlehem, PA            4  10-09   70

  Day 1: 3   09-04     Day 2: 1   01-05   

132. Jason Reid             Joint Base Mdl, NJ       5  10-06   69

  Day 1: 2   02-04     Day 2: 3   08-02   

133. Jeremy Seamans         Dracut, MA               4  10-03   68

  Day 1: 1   02-11     Day 2: 3   07-08   

134. Anthony Patrie         West Chazy, NY           4  09-13   67

  Day 1: 2   04-06     Day 2: 2   05-07   

135. Bean Lefebvre          Malden, MA               4  09-09   66

  Day 1: 1   02-03     Day 2: 3   07-06   

136. Brett Walker           Kansas City, MO          3  09-08   65

  Day 1: 0   00-00     Day 2: 3   09-08   

137. Jim Oconnell Jr        Castle Rock, CO          4  09-04   64

  Day 1: 1   03-07     Day 2: 3   05-13   

138. Ryan Fry               Stockertown, PA          4  08-13   63

  Day 1: 1   01-06     Day 2: 3   07-07   

139. Brian Schram           White Lake, MI           3  08-08   62

  Day 1: 3   08-08     Day 2: 0   00-00   

140. Wesley Watson          Huntington, WV           3  08-04   61

  Day 1: 3   08-04     Day 2: 0   00-00   

141. Rich Perez Jr          Schenectady, NY          3  08-00   60

  Day 1: 3   08-00     Day 2: 0   00-00   

142. Joey Murphy            Elkton, MD               3  07-13   59

  Day 1: 0   00-00     Day 2: 3   07-13   

143. Garrett Green          Bracebridge Ontario CAN  3  07-12   58

  Day 1: 3   07-12     Day 2: 0   00-00   

144. Marc Letourneau        Brome Quebec CANADA      3  07-11   57

  Day 1: 3   07-11     Day 2: 0   00-00   

145. Jason Pemble           Pittsfield, MA           3  07-09   56

  Day 1: 3   07-09     Day 2: 0   00-00   

146. Daniel Richardson      Palm Harbor, FL          3  07-06   55

  Day 1: 3   07-06     Day 2: 0   00-00   

147. Ronald Bestwick        Grisword, CT             4  06-14   54

  Day 1: 1   02-08     Day 2: 3   04-06   

148. Robert Hicks           Valley Falls, NY         3  06-14   53

  Day 1: 2   03-14     Day 2: 1   03-00   

149. Jeffrey Barry          South Royalton, VT       3  06-12   52

  Day 1: 3   06-12     Day 2: 0   00-00   

149. Kurt Fraser            Edgewater, MD            3  06-12   52

  Day 1: 3   06-12     Day 2: 0   00-00   

151. Richard Rodriguez      Williamsburg, VA         3  05-12   50

  Day 1: 1   01-01     Day 2: 2   04-11   

152. Tom Hafner             Tunkhannock, PA          1  02-06   49

  Day 1: 1   02-06     Day 2: 0   00-00   

153. Jp Lopez Jr            Brooklyn, NY             1  01-00   48

  Day 1: 1   01-00     Day 2: 0   00-00   

---