BREAKING NEWS – Cabelas Collegiate Big Bass Bash this weekend on KY Lake changed from two-day event to One Day Event – Saturday Only
---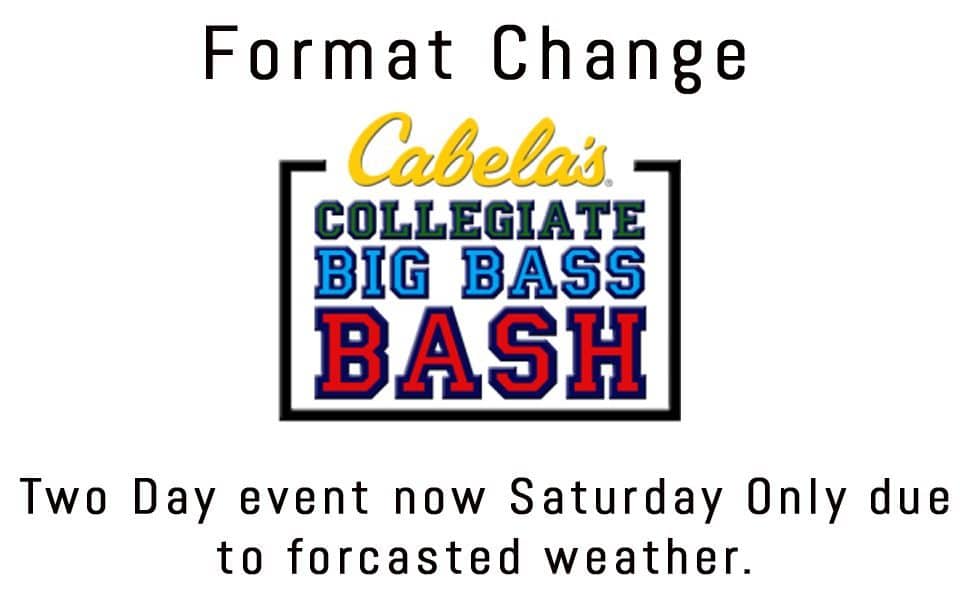 Cabela's Collegiate Big Bass Bash presented by Berkley:  FORMAT CHANGE
SAN ANTONIO, TX (March 10, 2017
)  –  The Association of Collegiate Bass Anglers has announced a format change to this weekend's Cabela's Collegiate Big Bass Bash presented by Berkley.  This change is due to the weather forecast for the Kentucky Lake area on Saturday night and into Sunday morning with some forecast models calling for as much as 3 inches of snow.  
The event has been changed from a two-day event to a one-day event that will feature all 8 weigh-in sessions.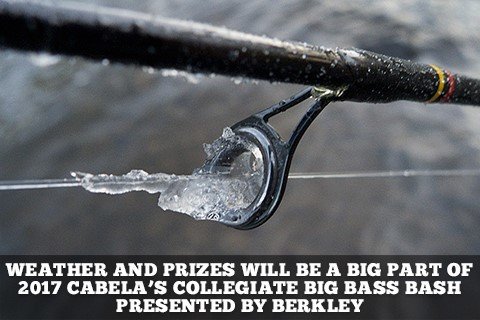 "Safety is a big concern and based on the weather forecast this format change makes the most sense.  We all know it may snow or it may not snow.  However,  the temperatures are forecasted to be below freezing much of Saturday night and into Sunday morning.  By going to this one-day format  the anglers and staff won't be waking up to the possibility of conditions that would not be safe and being forced to make a last second change at that time.  So it is better to  make the format change now to a one-day event and keep anglers off the water and allow them more time to safely travel back home as needed," said Wade Middleton, Director of the Association of Collegiate Anglers and President of CarecoTV.
The format change will have anglers being able to launch their boat at any boat ramp on the lake on Saturday morning; however, they won't be able to leave that ramp/marina until 6:00AM.   Anglers then can begin to slowly and safely motor to their first fishing location and make their first cast at 6:30AM.
The end of each of the 8 weigh-in sessions will start at 9:00AM with the final session closing at 4:00PM.  Prizes will be handed out at the end of the final weigh-in session.  A complete list of prizes can be found below:
2017 Cabela's Collegiate Big Bass Bash presented by Berkley:  PRIZE LIST
"Saturday will be a cold day of fishing, it might be wet and we possibly may even see a few snow flakes fluttering around, but we'll do 8 session weigh-ins and give away so many prizes some anglers might need more room to haul it all home," said Anthony Wright, Tournament Director of Cabela's Collegiate Bass Fishing Series.
You can follow all the action on the 
www.collegiatebasschampionship.com
 blog for Cabela's Collegiate Big Bass Bash presented by Berkley, as well as on our social media channels.
---