Bethel Repeats in Championship at Pickwick
---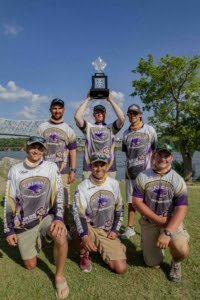 FLORENCE, AL – "First feeling, man it's awesome. To do it one time is a big deal, but to do it twice is even bigger," said Carter McNeil of Bethel University. For the first time in the history of the BoatUS Collegiate Bass Fishing Championship presented by Bass Pro Shops, a school has repeated as champions. Not only that, the team that manages to go back-to-back is comprised of the same two anglers. Cole Floyd and Carter McNeil take home the victory this year on Pickwick Lake with 45.65 pounds.
Floyd and McNeil entered this week as one of the key teams to watch. Following day one, they quickly asserted themselves at the top of the leaderboard with over 22 pounds. The pairing worked several key deep water areas, and knew that they were around the fish to win. "We gave ourselves an opportunity to catch a big bag. I really didn't think we were on what we were on. You know, it all fell in place and we had a good time," added Floyd.
One of their go-to baits was a purple colored ribbon tail worm. Fishing along deep water structure in 15-25 feet of water, they quickly sacked up a limit. By roughly 10:00 AM this morning, Floyd and McNeil had over 20 pounds of bass in the boat. This mirrors the exact same scene that played out on day one as they struggled to upgrade later on in the day. It proved not to matter, as they were able to ride their morning wave of fish catches to another national title.
Today's victory not only makes back-to-back titles for Floyd and McNeil, it isalso the third time that Bethel has won this particular event. The program has grown into one of the true powerhouses of the sport. At each and every event they enter, teams representing Bethel University are considered to be among the favorites. Today, Cole Floyd and Carter McNeil cemented their place among the best in program history. "When we first came to Bethel University, we knew we had big shoes to fill. Today, we're fortunate enough to win two times. I can't say enough about how awesome of a program it is," said McNeil.
Finishing the tournament in second place are Jordan Thompson and Landon Smith from Calhoun Community College. After finishing high up in the standings at this event in 2018, they were able to improve upon their highest finish by weighing in a two day total of 38.33 pounds. "Oh it feels great, that was our goal. This is our last tournament together and our goal was to hopefully finish a bit higher than we did last year," noted Smith.
Pickwick Lake tends to become very crowded during an event like this. Teams locate the same schools, and rotate through those schools multiple times throughout the day. Smith & Thompson managed to escape the crowds, and find a spot to themselves. "We had no fishing pressure on us at all this week. So we could sit there and relax and not have to worry about anybody coming in on us," said Thompson. That lack of pressure allowed the anglers from Calhoun Community College to relax, and fish their way to a runner-up finish.
Completing the top three are Jacob Moore and Gilliam Tharpe of North Carolina State University. Working a combination of spinnerbaits and crankbaits along submerged grass beds, they totaled up 35.77 pounds of Pickwick Lake bass. This third place finish means a lot to both Moore and Tharpe. "This tournament specifically, Pickwick, the BoatUS National Championship, is really big in our club's history. So to come here and finish third with all of the alumni cheering us on and stuff, it's been really cool," added Tharpe.
Top 10
1. Carter McNeil & Cole Floyd – Bethel University
2. Jordan Thompson & Landon Smith – Calhoun Community College
3. Jacob Moore & Gilliam Tharpe – North Carolina State University
4. Ty Cox & Chandler Boman – Blue Mountain College
5. Trevor McKinney & Blake Jackson – McKendree University
6. Chase Dawson & Grayson Perkins – University of Tennessee
7. Robert Gee & Saxton Long – University of Tennessee
8. Heath Pinell & Taylor Cranford – Louisiana State University
9. Hunter McCarty & Sloan Pennington – University of North Alabama
10. Ryan Nevil & Nathan Wood – Dallas Baptist University
---