Bassmaster Classic – Day 2 Notes & Quotes
---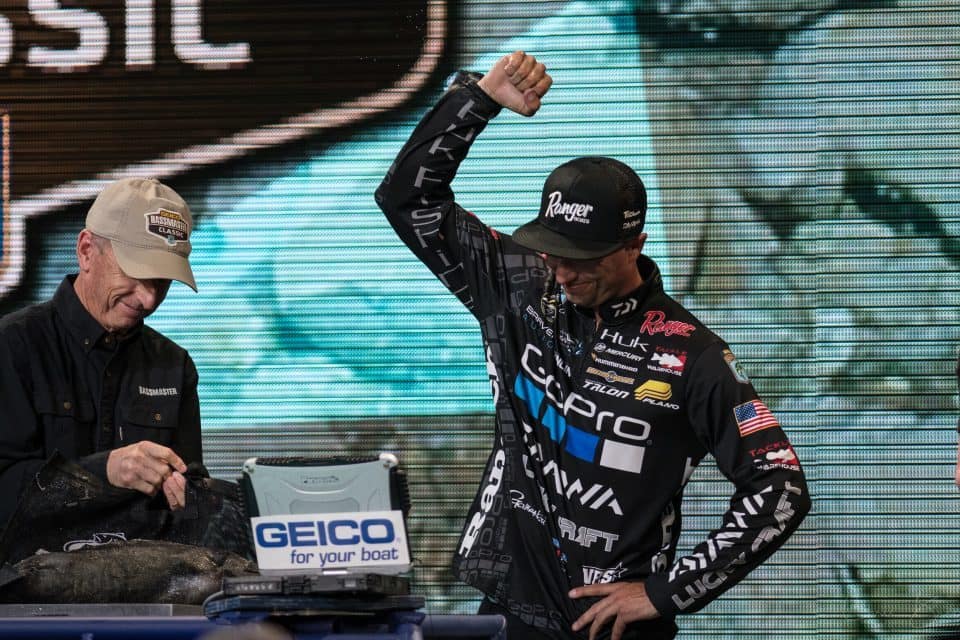 The 2017 Bassmaster Classic is a flipin' fest. That's how the top guys are doing it this week. In fact, that's been one of the few constants on a rapidly-changing Lake Conroe fishery.
Some are catching fish early by winding a lure. Cliff Crochet is having a blast throwing a frog. But flipping is the deal for the other 7 hours of the day.
Noted finesse tactician, Brent Ehrler has turned to beefy gear and a delicate presentation to pull the right 10 fish out of flooded willows and buck brush on a flat that grew thick with the cover during years when the water was low. Scores of spectators watched him deftly place a lure in cover without leaving a ripple.
Some even tried to help catch the fish in the area.
Mike Iaconelli, no stranger to controversy, had words with one such local fisherman yesterday. "For 3 days, they can't lay off the fish?" questioned Ike as he spoke to reporters in the press room this evening.
A huge number of well-behaved onlookers enjoyed watching Ike and several other pros pile into the area where Ehrler caught his 20-pound, 1-ounce sack today. Steve Kennedy is among the pros who started there on Day 1 and hope to finish out a strong tournament effort on the big flat.
Kennedy wasn't as excited to see Ike as the fans were. "I'm sharing water with the leader and now with 6th place (Ike's spot in the standings).
Fishless at noon, Ike climbed to that rank entirely on the strength of the fish he caught after literally crossing paths with Kennedy. We saw Bobby Lane, Skeet Reese and Cliff Crochet on the flat as well. Lane and Crochet made the cut and will fish tomorrow. Drew Benton is fishing nearby. He's in 10th.
The north end has been good to the anglers this week. The big question is whether it's been beaten too hard by the tournament anglers, spectator traffic and the plastic navy of kayakers who were out fishing in droves on the extreme upper end of the lake today.
"Being on the backside of the full moon, these fish aren't likely to move up in great numbers this weekend," said Bobby Lane. "What's there is there they won't replenish. Next full moon would be a great time to be here. These are my Florida bass in this lake. I know how they act."
Kennedy pointed out, "I don't feel like we've got a new group of fish coming in there. That's what hurts more than anything."
Then again, the areas that have been hammered are popular places to fish and, as such, they normally get picked-over yet still produce fish. "That place was getting hammered before we got here. It's probably been getting hammered for 2 or 3 month," said Kennedy. "There's still some big fish in there."
Dave Lefebre is only using 2 rods. Each has a jig tied on. And he's in 2nd. That's 3 reasons he's the most dangerous man in the field. "I made 10 bass famous on one jig. We're gonna go for 15 on it.
"I'm fishing a bulky, but light jig in 2 feet of water – fishing super shallow."
Brent Ehrler may have saved enough fish to fend off Lefebre and the rest of the field. After a fast start he didn't catch many more. "I tried to lay off a little bit."
Edwin Evers is in good shape as he occupies 3rd place. He would be higher if he could get one of those Conroe giants to bite. "I'm surprised I haven't caught a big one. I'm shocked. Maybe I'm saving it for tomorrow."
The Top 5 looks like this:
Brent Ehrler – 43-4
Dave Lefebre – 41-1
Edwin Evers – 39-0
James Elam 37-13
Bradley Roy – 37-10
Chris Zaldain is the last man to make the cut, in 25th with 21-11.
---