B. Hite Takes Over Lead, Jordon Lurks Close Behind As Elite Tourney On Winyah Bay Enters Final Day
---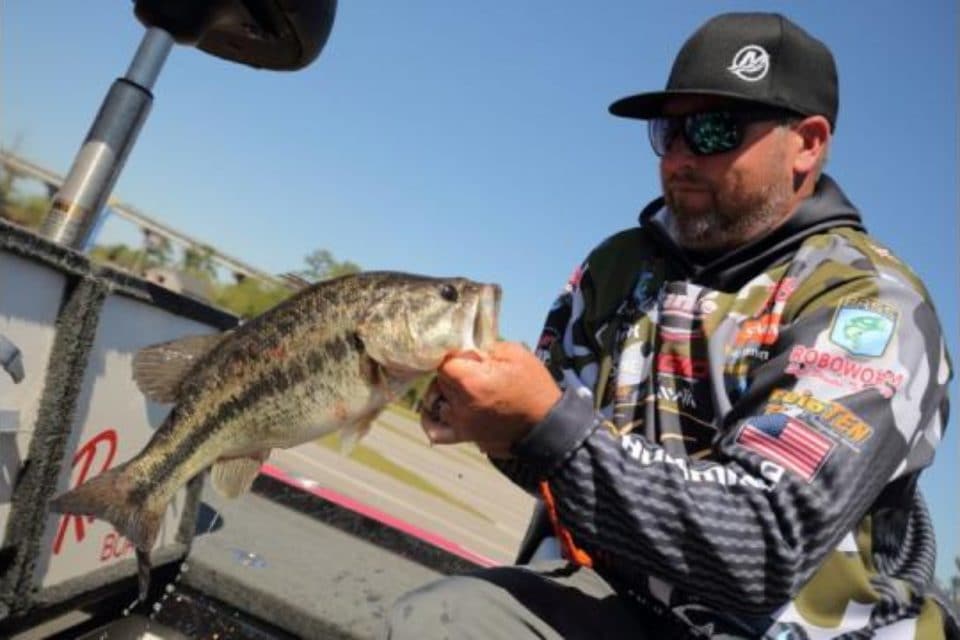 Third lead change in as many days at the Elite tourney on Winyah Bay.
First day leader Carl Jocumsen collected his $10,000 paycheck today. He missed the Top 12 cut so his work here is done.
Day 2 leader Britt Myers slipped to 3rd today. He says a late discovery today will put him position to take the title tomorrow.
Kelly Jordon, riding the momentum of yesterday's giant sack (biggest of the tournament so far at 24-7) hangs in 2nd, only a pound and two ounces off the lead.
That lead is now held by Brett Hite who brought 18 pounds to the scale and says that, with an adjustment or two, he can get the job done again tomorrow in the same stretch of water that has gotten him this far over 3 days of competition.
And how about Elite Series rookie John Hunter! With 22-3 today the Shelbyville, KY angler rocketed into 4th from back in the pack. Easily the biggest mover of the day. If he can do that again in tomorrow's finale . . .
. . . well, this is certainly shaping up to be the exciting contest we hoped it would be!
One thing we can say is that this fishery didn't give-out after the first day. So many times we see the heaviest weights in the first round and then, after the pros have hammered a lake, weights start to decline. Yesterday was better than Thursday and if the entire field had fished again today who knows what would have happened. Hunter's 22-pound sack may be a good indication.
With only 12 pros left to venture forth tomorrow, mathematically, you wouldn't expect another oddly heavy sack, but this Coastal Carolina fishery is the type of place where guys can spread out and manage their fish in what they can call their 'own' piece of water for the week. That makes a huge difference because, as Alton Jones explained during the last Elite Series stop on the St Johns River, when you share an area you have to beat it for all you can or the other guy will. When you have something to yourself you can manage it to produce steady limits of fish for multiple days instead of burning it all at once. Rick Clunn has repeatedly pointed out in recent years that weather is no longer the biggest factor in fishing success. Angling pressure is.
That elbow room may be the single biggest reason we may see another 20-pound sack tomorrow. Stay tuned!
Elite Series rookie John Hunter whacked 'em today. photo by Shaye Baker/B.A.S.S.
Here's the official story and weights from B.A.S.S.:
GEORGETOWN, S.C. — Despite a powerful cold front accompanied by strong northerly winds, many of the Top 51 anglers still made the long grueling run to the Cooper River near Charleston, S.C., to catch their fish.
Saturday was a shootout between the Top 3 anglers, which ended with the third lead change in as many days.
Brett Hite of Phoenix, Ariz., successfully plucked 18 pounds of largemouth bass from the same area he has been fishing the past two days. Hite will leave the docks on Championship Sunday with a three-day weight of 50-2, looking for the second victory of his career at the Huk Performance Fishing Bassmaster Elite at Winyah Bay presented by GoRVing.
So far, the biggest concern has been the long boat rides to access the bass-rich waters of the Cooper River. However, the attention has now shifted to rapidly dropping tides and a large cold front that will likely impact Sunday's fishing.
"I've been focusing my efforts on the same school of bass for the past three days, and I expect the fishing to be just as good for one more day," Hite said. "But, I'll have to adapt tomorrow after this front pushes through. I've been catching good numbers of fish each day, but with the dropping tide, I had shallower water to deal with, which positioned the schools of bass near certain pieces of structure."
Hite, who holds a slim lead over Texas angler Kelly Jordon (49-0), has been catching his limit of bass early enough during the day to head back to the launch ahead of time.
"The long boat rides have been going smoothly, but when you're in contention to win a tournament like this, it's smart to play it safe whenever you can," he said. "It's going to be much colder in the morning, but typically, tidal-river bass aren't as affected by weather conditions — I hope that holds true. I will likely have to make some adjustments tomorrow, but I'm confident I'll be able to stay on the school."
Hite's weights have been going up each day, but yesterday Jordon swung for the fences and weighed the heaviest five-bass limit of the tournament with 24-7. Jordon's Friday limit, plus today's 16-4, has put him in position to win on Sunday.
"I gambled yesterday, and it paid off," Jordon said. "I slept great last night, and I'm going to sleep well again tonight. It helps to know exactly where I'm going tomorrow, and how I will be fishing. It's just going to depend on whether or not the right bass eat or not."
Jordon said the bite was different today. He caught a couple solid fish, but lost several others that would have helped his total Saturday.
"The fish were short striking my lures, which made it difficult to get a solid hook set and keep the bass on the line," he said. "I blame the cold front for that, and I'll adjust accordingly tomorrow."
After leading on Friday, Britt Myers of Lake Wylie, S.C., slipped into third place today with 8-15, pushing his three-day total to 46-14. Myers explained that while he didn't do as well as he had hoped, he's still in contention for the title.
"To be honest, today's small limit of bass might be the best 8 pounds, 15 ounces I've ever weighed. Especially if it turns into a victory tomorrow," Myers said. "The fish I've been catching are still in the same basic location, but they've relocated to accommodate the shrinking tide, and I think I figured out where at the end of the day."
Sunday's field will be cut to the Top 12 anglers who will compete for top honors and the $100,000 payday. Behind Hite, Jordon and Myers, the remainder of the field will be as follows: John Hunter Jr., 40-14; Brent Chapman, 38-7; Jacob Powroznik, 37-9; Keith Combs, 36-6; Randy Howell, 36-1; Mark Menendez, 35-12; Boyd Duckett, 35-5; Chris Zaldain, 35-0; and Gerald Swindle, 34-13.
Take-off on Championship Sunday will be held at 7a.m. ET at the Carroll Ashmore Campbell Marine Complex with the final weigh-in scheduled at the same location at 3:30 p.m.
2016 Huk Performance Fishing Bassmaster Elite at Winyah Bay presented by Go RVing 4/7-4/10
Winyah Bay, Georgetown  SC.
(PROFESSIONAL) Standings Day 3
Angler                   Hometown              No./lbs-oz  Pts   Total $$$
1.  Brett Hite             Phoenix, AZ             15  50-02  110
Day 1: 5   12-07     Day 2: 5   19-11     Day 3: 5   18-00
2.  Kelly Jordon           Flint, TX               11  49-00  109
Day 1: 1   08-05     Day 2: 5   24-07     Day 3: 5   16-04
3.  Britt Myers            Lake Wylie, SC          15  46-14  108     $500.00
Day 1: 5   16-08     Day 2: 5   21-07     Day 3: 5   08-15
4.  John Hunter Jr         Shelbyville, KY         13  40-14  107
Day 1: 5   06-10     Day 2: 3   12-01     Day 3: 5   22-03
5.  Brent Chapman          Lake Quivira, KS        14  38-07  106
Day 1: 4   07-01     Day 2: 5   14-13     Day 3: 5   16-09
6.  Jacob Powroznik        Port Haywood, VA        15  37-09  105
Day 1: 5   09-13     Day 2: 5   12-03     Day 3: 5   15-09
7.  Keith Combs            Huntington, TX          15  36-06  104
Day 1: 5   13-13     Day 2: 5   12-04     Day 3: 5   10-05
8.  Randy Howell           Guntersville, AL        15  36-01  103
Day 1: 5   10-11     Day 2: 5   09-01     Day 3: 5   16-05
9.  Mark Menendez          Paducah, KY             15  35-12  102
Day 1: 5   10-13     Day 2: 5   11-10     Day 3: 5   13-05
10. Boyd Duckett           Guntersville, AL        15  35-05  101
Day 1: 5   07-03     Day 2: 5   14-05     Day 3: 5   13-13
11. Chris Zaldain          Laughlin, NV            15  35-00  100
Day 1: 5   08-15     Day 2: 5   12-06     Day 3: 5   13-11
12. Gerald Swindle         Warrior, AL             15  34-13   99
Day 1: 5   10-05     Day 2: 5   11-09     Day 3: 5   12-15
13. James Elam             Tulsa, OK               12  34-06   98  $10,000.00
Day 1: 2   02-09     Day 2: 5   16-02     Day 3: 5   15-11
14. Stephen Browning       Hot Springs, AR         15  34-00   97  $10,000.00
Day 1: 5   09-04     Day 2: 5   09-14     Day 3: 5   14-14
15. Dave Lefebre           Erie, PA                15  33-15   96  $10,000.00
Day 1: 5   12-05     Day 2: 5   08-03     Day 3: 5   13-07
16. Randall Tharp          Port St. Joe, FL        15  33-09   95  $10,000.00
Day 1: 5   13-11     Day 2: 5   11-13     Day 3: 5   08-01
17. Takahiro Omori         Emory, TX               15  33-07   94  $10,000.00
Day 1: 5   09-07     Day 2: 5   11-03     Day 3: 5   12-13
18. Bradley Roy            Lancaster, KY           15  32-15   93  $10,000.00
Day 1: 5   11-11     Day 2: 5   10-10     Day 3: 5   10-10
19. David Mullins          Mt Carmel, TN           15  32-14   92  $10,000.00
Day 1: 5   08-10     Day 2: 5   11-05     Day 3: 5   12-15
20. Adrian Avena           Vineland, NJ            15  32-08   91  $10,000.00
Day 1: 5   07-09     Day 2: 5   10-10     Day 3: 5   14-05
21. Kevin VanDam           Kalamazoo, MI           15  32-00   90  $10,000.00
Day 1: 5   08-07     Day 2: 5   13-01     Day 3: 5   10-08
22. Matt Herren            Ashville, AL            15  31-05   89  $10,000.00
Day 1: 5   14-06     Day 2: 5   06-02     Day 3: 5   10-13
23. John Crews Jr          Salem, VA               14  31-03   88  $10,000.00
Day 1: 4   06-10     Day 2: 5   12-14     Day 3: 5   11-11
24. Cliff Pace             Petal, MS               15  30-13   87  $10,000.00
Day 1: 5   09-01     Day 2: 5   11-03     Day 3: 5   10-09
25. Brandon Coulter        Knoxville, TN           12  30-02   86  $10,000.00
Day 1: 4   10-11     Day 2: 4   08-01     Day 3: 4   11-06
26. Ish Monroe             Hughson, CA             15  29-13   85  $10,000.00
Day 1: 5   08-00     Day 2: 5   10-14     Day 3: 5   10-15
27. Justin Lucas           Guntersville, AL        13  29-02   84  $10,000.00
Day 1: 5   13-00     Day 2: 5   08-10     Day 3: 3   07-08
28. Tim Horton             Muscle Shoals, AL       12  28-15   83  $10,000.00
Day 1: 3   07-14     Day 2: 5   10-02     Day 3: 4   10-15
29. Greg Hackney           Gonzales, LA            15  28-12   82  $10,000.00
Day 1: 5   08-10     Day 2: 5   09-05     Day 3: 5   10-13
30. Hank Cherry Jr         Maiden, NC              15  28-12   81  $10,000.00
Day 1: 5   09-00     Day 2: 5   10-10     Day 3: 5   09-02
31. Aaron Martens          Leeds, AL               14  28-06   80  $10,000.00
Day 1: 4   08-11     Day 2: 5   08-06     Day 3: 5   11-05
32. Brent Ehrler           Newport Beach, CA       15  28-05   79  $10,000.00
Day 1: 5   11-06     Day 2: 5   08-04     Day 3: 5   08-11
33. David Williams         Newton, NC              15  28-02   78  $10,000.00
Day 1: 5   08-02     Day 2: 5   10-12     Day 3: 5   09-04
34. Bill Lowen             Brookville, IN          15  27-14   77  $10,000.00
Day 1: 5   07-01     Day 2: 5   10-02     Day 3: 5   10-11
35. Steve Kennedy          Auburn, AL              15  27-13   76  $10,000.00
Day 1: 5   08-05     Day 2: 5   09-10     Day 3: 5   09-14
36. Carl Jocumsen          Queensland TX AUSTRALIA 11  27-10   75  $10,000.00
Day 1: 5   19-11     Day 2: 1   01-08     Day 3: 5   06-07
37. Cliff Crochet          Pierre Part, LA         15  27-05   74  $10,000.00
Day 1: 5   08-12     Day 2: 5   10-01     Day 3: 5   08-08
38. Cliff Prince           Palatka, FL             14  27-04   73  $10,000.00
Day 1: 5   10-10     Day 2: 5   10-00     Day 3: 4   06-10
39. Edwin Evers            Talala, OK              15  27-00   72  $10,000.00
Day 1: 5   10-02     Day 2: 5   09-04     Day 3: 5   07-10
40. J Todd Tucker          Moultrie, GA            14  26-14   71  $10,000.00
Day 1: 4   08-11     Day 2: 5   09-10     Day 3: 5   08-09
41. Brock Mosley           Collinsville, MS        13  26-03   70  $10,000.00
Day 1: 3   08-04     Day 2: 5   09-12     Day 3: 5   08-03
42. Mike McClelland        Bella Vista, AR         15  26-01   69  $10,000.00
Day 1: 5   08-10     Day 2: 5   10-00     Day 3: 5   07-07
43. Clifford Pirch         Payson, AZ              15  25-14   68  $10,000.00
Day 1: 5   07-11     Day 2: 5   09-05     Day 3: 5   08-14
44. Drew Benton            Panama City, FL         12  25-05   67  $10,000.00
Day 1: 5   09-13     Day 2: 4   11-01     Day 3: 3   04-07
45. Bobby Lane Jr.         Lakeland, FL            15  24-14   66  $10,000.00
Day 1: 5   09-04     Day 2: 5   08-11     Day 3: 5   06-15
46. Micah Frazier          Newnan, GA              14  24-10   65  $10,000.00
Day 1: 5   09-05     Day 2: 5   09-03     Day 3: 4   06-02
47. Casey Scanlon          Rocky Mount, MO         15  24-08   64  $10,000.00
Day 1: 5   08-08     Day 2: 5   08-10     Day 3: 5   07-06
48. Marty Robinson         Lyman, SC               11  23-12   63  $10,000.00
Day 1: 5   10-09     Day 2: 5   11-05     Day 3: 1   01-14
49. Matt Reed Jr           Madisonville, TX         8  22-13   62  $10,000.00
Day 1: 1   03-09     Day 2: 5   14-12     Day 3: 2   04-08
50. Randy Allen            Shreveport, LA          13  22-10   61  $10,000.00
Day 1: 5   10-02     Day 2: 5   08-05     Day 3: 3   04-03
51. Terry Scroggins        San Mateo, FL           12  22-09   60  $10,000.00
Day 1: 5   10-03     Day 2: 5   08-13     Day 3: 2   03-09
———————————————————————–
Totals
Day   #Limits    #Fish      Weight
1        58       400       780-05
2        75       470       978-09
3        41       235       535-15
———————————-
174      1105      2294-13
---