B.A.S.S. Names Students To 2017 Bassmaster High School All-State Team
---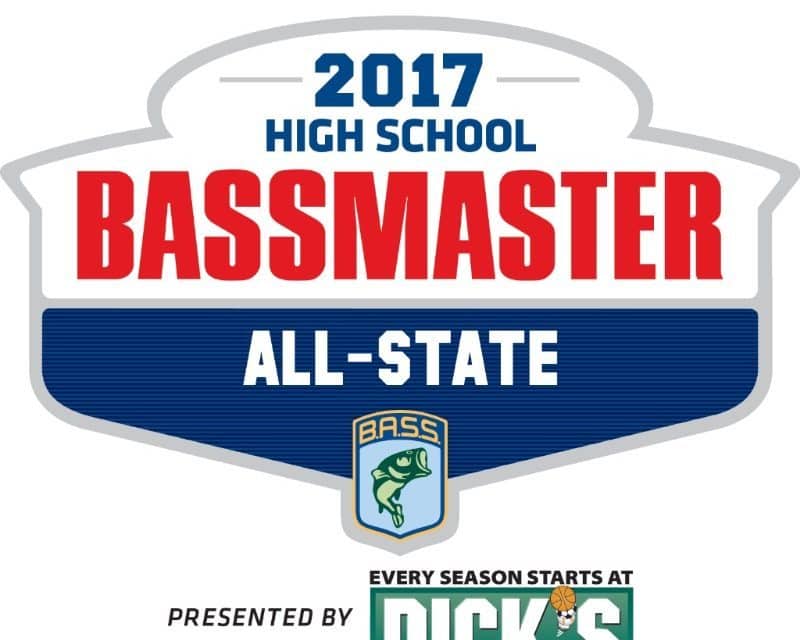 March 20, 2017
BIRMINGHAM, Ala. — Sixty-nine outstanding high school anglers from across the country have been named to the 2017 class of Bassmaster High School All-State Fishing Team presented by DICK'S Sporting Goods.
The students were selected for the honor based on their success in bass tournament competition, academic achievement and leadership in conservation and community service.
"From the very beginning, a guiding principle of B.A.S.S. has been to introduce youngsters to the sport of fishing, and the resumes of the young people nominated for All-State and All-American honors proves that these efforts are paying off," said Bruce Akin, B.A.S.S. CEO. "High School fishing programs are great incentives for getting students and their parents out of doors and on the water."
To be considered for the All-State Fishing Team, a student must have been nominated by a parent, coach, teacher or other school official. Students currently enrolled in grades 10-12 with a current-year grade point average of 2.5 or higher are eligible.
B.A.S.S. received more than 380 nominations from across the nation, a 75 percent increase over the number nominated in the first two years of the program. From these, judges selected 69 student anglers from 40 states to make the All-State Fishing Teams.
"Our All-State team is such a strong group of young anglers who have tremendous fishing accomplishments, as well as extensive community service and academic achievements," said Hank Weldon, senior manager of the B.A.S.S. High School program. "We are extremely proud to recognize these student anglers, and we congratulate them on their success on and off the water."
A second panel of judges will review nominations of the 69 All-State team members and select the 12 members of the 2017 Bassmaster High School All-American Fishing Team presented by DICK'S Sporting Goods. As in all-state judging, criteria include success in high school fishing tournaments, involvement in conservation efforts and other community service activities.
The 12 finalists will compete in a one-day Bassmaster All-American High School Bass Tournament held during the 2017 Toyota Bassmaster Texas Fest benefiting the Texas Parks and Wildlife Department event, a fan-favorite festival that will be held May 17-21 on Sam Rayburn Reservoir out of Lufkin, Texas.
Elite Series anglers will serve as teammates and "coaches" of the student anglers in the tournament. The high school standouts will be honored on the main Texas Fest stage at the weigh-in. All will be profiled in Bassmaster Magazine, read monthly by 4.4 million people, as well as on Bassmaster.com.
"Because of the tremendous increase in nominations this year, and because the All-State anglers in many states were decided by razor-thin margins, B.A.S.S. decided to recognize an additional group of outstanding students with honorable mention awards," said Helen White, High School All-American program manager. "These student anglers illustrated strong tournament success rates as well as solid community service and academic achievement."
Below is the list of the 69 All-State anglers, in order by state:
Alabama 
Logan Parks, Auburn
Briana Tucker, Moulton
Lucas Lindsay, Auburn — Honorable Mention
Ryan Sweeney, Springville — Honorable Mention
Arizona 
Steven Mack, Queen Creek
Taj White, Glendale
Tommy Sendek, Tucson — Honorable Mention
Arkansas 
Reese Jones, Rogers
Bryer Pennington, Prescott
California 
Luke Johns, Folsom
Brian Lopez, Yuba City
Colorado
Eric "Jordan" Evans, Colorado Springs
Connecticut 
Noah Winslow, Naugatuck
Delaware 
Jackson Staib, Wilmington
Florida 
Colin Blanton, Winter Springs
Cole Thompson, St. Cloud
Jacob Eaton, Fort Myers — Honorable Mention
Parker Klump, North Fort Myers — Honorable Mention
Georgia 
Jake Blumling, Evans
Cy Casey, Evans
Taylor Cox, Carrollton — Honorable Mention
Cal Culpepper, Hamilton — Honorable Mention
Garrett Hayes, Chatsworth — Honorable Mention
Emil Wagner, Marietta — Honorable Mention
Illinois 
Tyler Lubbat, Wheeling
Alex Wojtowicz, Shorewood
Nathan Doty, Decatur — Honorable Mention
Adam Hingson, Atwood — Honorable Mention
Indiana 
Blake Albertson, Bloomington
Beau Ashcraft, Lafayette
Adam Puckett, Bloomington — Honorable Mention
Iowa 
Sam Louw, Story City
Kaleb Tweite, Riceville
Kyler Bauer, Riceville — Honorable Mention
Isaiah Minton, Marion — Honorable Mention
Kansas 
Hunter French, Buhler
Zach Vielhauer, Shawnee
Brock Bila, Overland Park — Honorable Mention
Thomas Heinen, Topeka — Honorable Mention
Kentucky 
Dustin Jones, Stanford
Kyle Roy, Jamestown
Morgan Miracle, Lancaster — Honorable Mention
Louisiana 
Cade Fortenberry, Prairieville
Colby Miller, Elmer
Annabelle Guins, Lake Charles — Honorable Mention
Wes Rollo, Natchitoches — Honorable Mention
Maine 
Reid Lavigne, Biddeford
Maryland 
Jospeh McClosky, Swanton
Tyler Wallace, New Market
Massachusetts
Evan Bramhill, Northborough
Teddy Peznola, Leominster
Michigan 
Keegan Findley, Grand Haven
Gunner Wilson, Fenton
Matthew Davis, Coloma — Honorable Mention
Minnesota 
Reid Saarela, Lakeville
Matt Stearns, Lakeville
Solomon Glenn, Lakeville — Honorable Mention
Mississippi 
Russell Brown, Hattiesburg
James Willoughby, Gulfport
Missouri 
Dalton Combs, Ozark
Tristin Williams, Grain Valley
Grant Nisbet, St. Louis — Honorable Mention
Nebraska 
Draven Ray, Plattsmouth
New Hampshire 
Jeremy Bates, Chichester
Craig Beucler, Sandown
New Jersey 
Joe Buthusiem, Collingswood
Vincent Pustizzi, Pittsgrove
New Mexico 
Alex Rigg, Las Cruces
New York 
Matthew Arndt, North Syracuse
Perry Marvin, Peru
Brandon Biby, New York City — Honorable Mention
North Carolina 
Christopher Guest, Shelby
Alden Patterson, Mebane
Titus Ward, Statesville — Honorable Mention
Ohio 
Colten Didion, Westerville
Connor Aten, Macedonia
Oklahoma 
Taylor Hamburger, Tulsa
Garrett McCrackin, Jennings
Kaden Knoch, Harrah — Honorable Mention
Pennsylvania 
Austin Gaab, Montoursville
Rhode Island 
Tyler Conde, Chepachet
Jordon Leahy, Lincoln
South Carolina 
Caleb Blackwood, Rock Hill
Oakley Connor, Travelers Rest
Drake Boyd, Abbeville — Honorable Mention
Andrew Mitchell, Donalds — Honorable Mention
Tennessee 
Kyle Ingleburger, Winchester
Kyle Palmer, Estill Springs
Hunter Conatser, Jamestown — Honorable Mention
Landry Cooper, Vonore — Honorable Mention
Cameron Kirkland, Knoxville — Honorable Mention
Samuel Vandagriff, McMinnville — Honorable Mention
Texas 
Jared Gobel, Lumberton
Trace O'Dell, Buna
Hunter Martindale, Jasper — Honorable Mention
Hunter Muncrief, Pineland — Honorable Mention
Virginia 
Trent Carr, Rhoadesville
Gavin Haley Locust Grove
Hylton Scott, Stuart — Honorable Mention
Travis Walker, Stuart — Honorable Mention
West Virginia 
Grace Caldwell, Berkeley Springs
Landon Harrington, Berkeley Springs
Wisconsin 
Bailey Bleser, Burlington
Bradley Gumtow, Neenah
Colton Haney, Baldwin — Honorable Mention
2017 Costa Bassmaster High School Title Sponsor: Costa
2017 Costa Bassmaster High School Presenting Sponsor: DICK'S Sporting Goods
2017 Costa Bassmaster High School Premier Sponsors: Power-Pole, Minn Kota, Toyota, Berkley, Yamaha, Triton Boats, Humminbird, Huk, Shell Rotella, Mercury, Nitro Boats
2017 Costa Bassmaster High School Supporting Sponsors: Carhartt, Lowrance, ABU Garcia, St. Croix Rods, Phoenix Boats, Shimano, Academy Sports + Outdoors
About B.A.S.S.
B.A.S.S. is the worldwide authority on bass fishing and keeper of the culture of the sport, providing cutting edge content on bass fishing whenever, wherever and however bass fishing fans want to use it. Headquartered in Birmingham, Ala., the 500,000-member organization's fully integrated media platforms include the industry's leading magazines (Bassmaster and B.A.S.S. Times), website (Bassmaster.com), television show (The Bassmasters on ESPN2), social media programs and events. For more than 45 years, B.A.S.S. has been dedicated to access, conservation and youth fishing.
The Bassmaster Tournament Trail includes the most prestigious events at each level of competition, including the Bassmaster Elite Series, Bass Pro Shops Bassmaster Open Series, Academy Sports + Outdoors B.A.S.S. Nation presented by Magellan, Carhartt Bassmaster College Series presented by Bass Pro Shops, Costa Bassmaster High School Series presented by DICK'S Sporting Goods, Toyota Bonus Bucks Bassmaster Team Championship and the ultimate celebration of competitive fishing, the GEICO Bassmaster Classic presented by DICK'S Sporting Goods.
---