Andy Montgomery hopes to leave mediocrity behind in 2013
Posted On December 29, 2012
---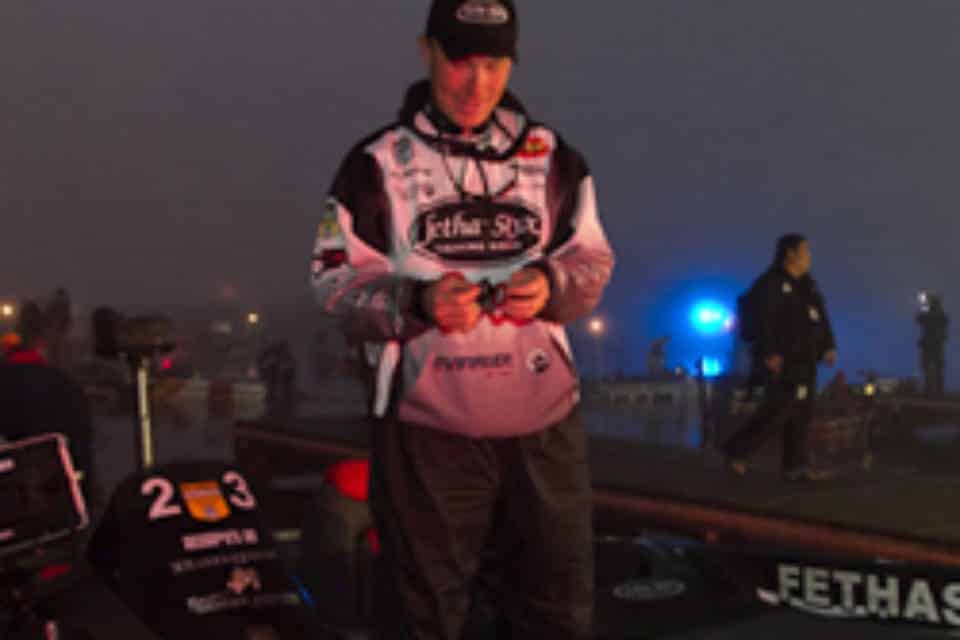 This past year on the tournament circuit was, in his own words, "a mediocre year" for BASS Elite pro Andy Montgomery of Blacksburg, S.C.
"I made a little money, but I only had one big tournament I finished 6th on Douglas Lake in Tennessee in May. Other than that I just got a check here and there and that was about it," said Montgomery who finished 49th in the Elite Series point standings for the year.
The problem all year long, he said, was a lack of big bites.
"I was doing the right things and I caught a lot of fish, but I never did get the big bites. And I had a couple here and there that I lost, two in particular that would have really helped."
Looking to the Elite Series in 2013, however, Montgomery said he plans to keep on doing what has worked for him in the past.
"I don't believe in saying, 'I'm gong to win.' Everybody does that. You just have to find what you think is the best pattern in practice and go with it in the tournament – and hope it is good enough."
In his tournament career it has been a strategy that has worked fine and, Montgomery believes, 2012 was just a fluke year for him.
In fact, in the past decade he has won more than $655,000 on the various BASS and FLW circuits. During that time he notched 19 top 10 finishes in FLW Outdoors tournaments. He was Co-angler of the Year in the FLW Tour Majors Division in 2006 and he finished second in the Co-Angler Division of the Forrest Wood Cup that year. He also did well in the Forrest Wood Cup in the Pro Division, finishing 25th, 13th twice and 8th in the last one he fished in 2011.
Since moving to BASS three years ago, Montgomery has nine top 20 finishes, including six in the top 10. One of those was a first place in the Southern Open on Alabama's Smith Lake in 2010.
In 2012 Montgomery earned a check in four Elite tournaments, with his best finish 6th place in the Douglas Lake tournament in May. His best finish in the Southern Opens was 8th place on Smith Lake in October.
Montgomery's best year in BASS tournaments was 2011 when he won more than $67,000. He won $10,000 less than that in 2012, but he figures if he had got some of the big bites he expected and had not lost a couple of big fish at critical times he could have had an even better year than in 2011.
But 2013 is a new year and he has a new Ranger bass boat coming, so he anticipates getting back on the right track.
Between now and the first Elite of 2013 in March he plans to get in some rabbit hunting, organize his tackle, outfit his boat and do some winter fishing on nearby Lake Wylie.
"Fishing from now until mid-February is going to be basic winter fishing," Montgomery said. "It's all about the bait. You have to find where the bait is and usually that is where the fish are going to be. They like to get in the mouths of the creeks – Crowders Creek, Seven Oaks, Allison and Mill Creek. You can catch them there on a suspending jerkbaits and a grub."
Last year, he said, the Alabama Rig was a hot item on Wylie, but not so much so far this year.
"It used to be hard to catch bass on Wylie in the wintertime, but people started figuring out how to fish a chartreuse grub and a suspending jerkbait and found they can catch fish all over the lake this time of year."
Montgomery operates the Rack & Reel Outfitters with fellow tournament angler Matt Arey of Shelby, N.C. Sponsored by Ranger Boats, Strike King Lure Company, and Evinrude Outboards, he guides on both Lakes Wylie and Norman. To book a fishing trip, call him at (704) 692-6642 or call (704) 484-7715. Check out the guide service website at: www.rackandreeloutfitters.com.
---