Anderson Leads Day 1 of ABA Ray Scott Championship on Red River!
---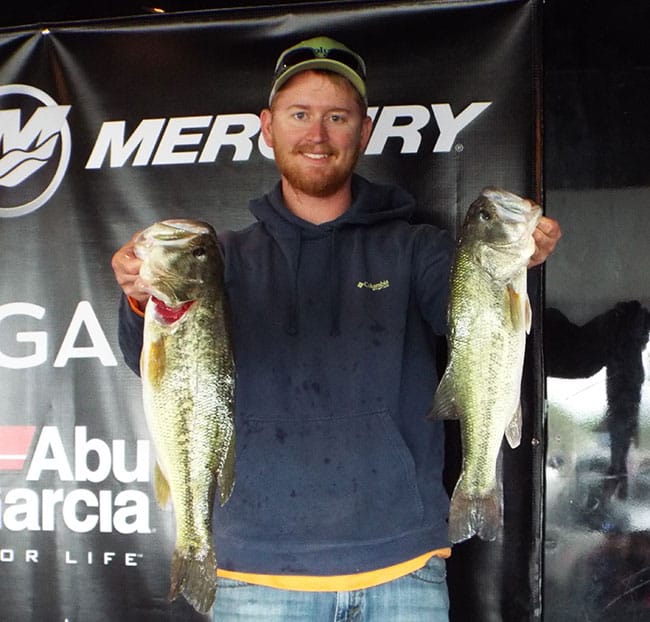 ATHENS, Ala. –  The 2018 Ray Scott National Championship is underway on the Red River near Shreveport & Bossier City, LA and the first day has come to a close on April 5th with a challenging day for the anglers trying to gain early positions in the event.
Angler John Anderson of McKinney, TX took the first lead over a field of 143 boaters with a total weight of 16.53 from a 5-fish bag after his first day on the water. Anderson locked down his weight with a 5.29 pound kicker, and he will be looking forward to maintaining his current lead on day two. "We had a little backwater area to ourselves with a little bit of clear water, and we just got lucky," Anderson explained after weigh-in.
Trent Menees of Saginaw, TX. moved into second place awith 5 fish weighing a total of 14.89. Although he has a gap to cover looking to the leading position, Trent has set himself up nicely for the days ahead.
In third place is Nick LeBrun, right out of Bossier City, LA. Nick also came in with a limit bag of 5 fish weighing in at 14.40 lbs, which he is aiming to improve on for day two tomorrow.
The current top 10 on the boater side is rounded out by the following anglers:
4th –    Luke Palmer of Coalgate, OK                    – 13.32 lbs
5th –    Scott Dean of Terrell, TX                            – 12.63 lbs
6th –    Eric Silverstrim of Indian Mound, TN        – 12.50 lbs
7th –    Billy Graves of Montgomery, LA                – 11.35 lbs
8th –    Donald Tripoli of Webster, NY                   – 11.27 lbs
9th –    Tyler Rivet of Raceland, LA                       – 11.17 lbs
10th – Albert Collins of Nacogdoches, TX           – 11.01 lbs
For the coangler side of the house, Keith Whipple out of Iuka, MS is currently in control of the lead with a total weight of 8.88 lbs, held with his biggest fish at 3.68 lbs. His 3-fish limit bag gives him a reliable start going into day two. "I caught everything on a crank bait, a shaky head," informed Whipple. "We stayed just off the river. We had a breakdown this afternoon but had a good day regardless."
Second for the coanglers is Brandon Foard out of Rincon, GA. His 3-fish bag provided him with an overall weight of 7.88 lbs with a larger bass hitting 5.06 pounds.
In third place for the coanglers after the first day on the river is Dante Gray out of Ruther Glen, VA. His bag came to the scales with a weight of 7.28 lbs, held down with a 3.94 lbs kicker.
The current top 10 on the coangler side is rounded out by the following anglers:
4th –    Brian Lasiter of Elba, AL                             – 7.00 lbs
5th –    Jared West of Mont Belvieu, TX                – 6.99 lbs
6th –    Ike Gray of Kissimmee, FL                         – 6.89 lbs
7th –    Randy Depto of Kane, PA                          – 6.89 lbs
8th –    Michael Nantz of Ben Wheeler, TX           – 6.63 lbs
9th –    Rudy Staab of Roxbury, NY                       – 6.31 lbs
10th – Samuel Thomas of Lexington, NC            – 6.08 lbs
The largest bass of the day for the boaters was caught by Joseph Hethcoat with a weight of 5.72 lbs. "I caught my big bass back in some clear water. Everybody knows about it, but everyone was flipping and I wanted to do something different. So, I just kept cranking and finally it paid off," stated Hethcoat
The big bass for the coanglers was brought in by Brandon Foard weighing in at 5.06 lbs. "I threw a brush hog all day, didn't put it down all day," Foard explained. "I had three bites, and got three fish. I had a great boater, so it worked out good."
The field of championship anglers launched out from Red River South Marina at 6:35 am on April 5th and began checking in for weigh-in at 3pm. Look forward to another eventful day of fishing competition on the river as day 2 takes off at daybreak on April 6th.
The public is invited to attend the Ray Scott Championship daily weigh-ins at Red River Marina South starting Thursday, April 5th at 3 pm. The final weigh-in will be on Sunday, April 8th with the top 25 boater and co-anglers. Red River Marina South is located at 250 Red River South Marina Road, Bossier City, LA 71112, (318) 747-9545.
American Bass Anglers' commitment is to provide low cost, close to home tournaments for the weekend angler and at the same time offer each competitor an upward path for individual angler progression. For more information about American Bass Anglers and the American Fishing Tour, the ABA Open Series, the Triton 100% Plus Team Tour, or the American Couples Series, visit www.americanbassanglers.com 
---