An Overdue Win – How John Murray won the Toledo Bend Elite Series Event
---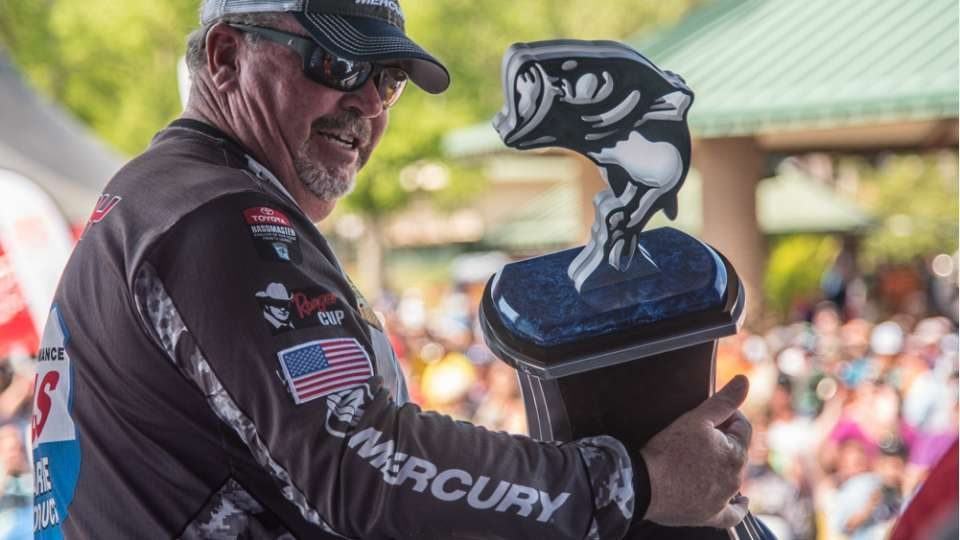 Vance McCullough / Feature Photo by Garrick Dixon, BASS
When the Elite Series debuted in 2006 John Murray was in the field. He had already won other B.A.S.S. tourneys so he figured he'd hoist one of those big blue trophies sooner or later.
Or later.
"It only took 11 years to finally win one," laughs the Arizona native who now gets his mail in Tennessee. "You start doubting yourself and that's a problem. I was close a couple times early on. Then recently I didn't even have a shot many times. You start hoping just for a check and sort of disregard thinking about winning anymore."
His fellow pros thought about Murray winning. A handful of them stayed in Many, LA an extra day to watch him weigh his final catch in hopes that their former rival would close out the win. The point was not lost on an appreciative Murray.
"As you get older in this sport you see people that were your competitors, battlers, become your friends. And then you see that and it's like 'wow, that's what it's all about'. They know how hard it is, we all know how hard it is to actually win one. That means a lot when you see them there, when you get their calls and texts, and people standing there. It's just been a great experience."
Not only has Murray's first Elite Series win been a long time coming, in general, but it also marks the culmination of several Toledo Bend tournaments spent in the same area that built to the peak experience he enjoyed this past weekend. The area is a ridge on the lake's north end covered in stumps, not grass, as would be common on the lower part of Toledo Bend. "It's been a great spot for me.
"I won a Bassmaster Open event – a championship – on it in '03, within a half-mile. Twice in the past 5 years I've had a top 25 finish off that spot. It's a long area. It changes a little bit, as far as how deep they are, but it's been productive for me and I think the key is it's sort of like pond fishing where you know every stick and branch and everything in your pond. I sort of know that on that ridge so it really feels like home. Every time I venture away from it I don't do well. And I've always had it to myself, pretty much."
The 'ugly water' pattern led Murray to the north end of Toledo Bend. "That's how I found it. It looked good to me but people said 'nah, it's not very good. There's a lot of stumps and it's hard to get to'. I said 'well that sounds like an area I want to go to'. That was the philosophy I used years ago on Lake Powell – 'where's the worst part of this lake?' That's where you want to go because the guys will all run to the, supposedly, best areas.
"Overall, it seems like there's less pressure up there. I think the fish leave and go out to the structure and suspend in the trees which makes it hard for fishermen to catch them whereas down lake they go out in the grass and get caught and caught and caught down there.
"I think it's the terrain up there that allows the fish to grow big without being molested. They go out in those trees, suspend and eat white bass. It's almost like a different lake up there than it is down below. I never saw a blade of grass. It's been like that a couple of years now. They rely on hard targets, foundations and stumps."
As usual, there's a prime spot on the spot. "I've seen the lake about 9 feet low so I've seen this spot with my eyes. It's basically a clay area and it's got rubble from an old house foundation down there. It's definitely a hard spot where the fish were. It's one cast. I caught 4 of the 6 big fish I caught (in the area) on one specific cast. It's a needle-in-a-haystack but obviously, with the electronics we've got now, we can make that cast again and again. That's the key – finding that one cast. I had to find it in practice and it worked in the tournament."
If the rubble pile on the ridge sounds like a crankbait target, it is. "I used a Strike King Series 5XD crankbait and caught two big ones the first day on it and the two 7-pounders the last day on it."
Jerkbaits, a Lucky Craft model and an old Smithwick Rogue, rounded out Murray's arsenal. He matched them to the 5-to-6-inch white bass he saw regurgitated in his livewell.
There was a defined bite window and Murray missed it when he made a run to get something out of his system on the huge lake's south end. "They were feeding in the morning and then they were done, I mean done."
For this reason Murray didn't catch the big crankbait fish on days 2 and 3. But when he caught them on the last morning . . .
"They didn't even look like the same species everybody else was fishing for. They were so fat and healthy. They were up there eating white bass, which were feeding on shad, and when the white bass dispersed the bass went back to where they live. It was a critical thing to get there sort of early on that deal. I think that's why I didn't catch them there the 2nd day – I started down lake. I should have gone right there," admitted Murray with one of the few hints of regret in his voice as we discussed his otherwise stellar performance.
One thing he got right was Murray found pre-spawn fish, the last their kind on the lake for the year, he suspects. "Everyone had post-spawn fish. But there was no doubt, the 4 fish I caught out on that spot were all pre-spawn, big, fat, big-bellied, ready to come in and spawn."
Fish in the coves and creeks had been bedding but Murray notes that main lake fish are the last spawn. Also, the north end of the lake lagged behind the rest in terms of the mating calendar. Normally Murray would have fished deeper along his favorite ridge but the fish were positioned up on top because they were staging in preparation for the spawning rites. "These were the last in the lake spawning."
The fish may have been the last to go, but they made Murray 1st – for the first time in his Elite Series career.
---