Alabama, Missouri State, and Tusculum College talk Carhartt Bassmaster National Championship
---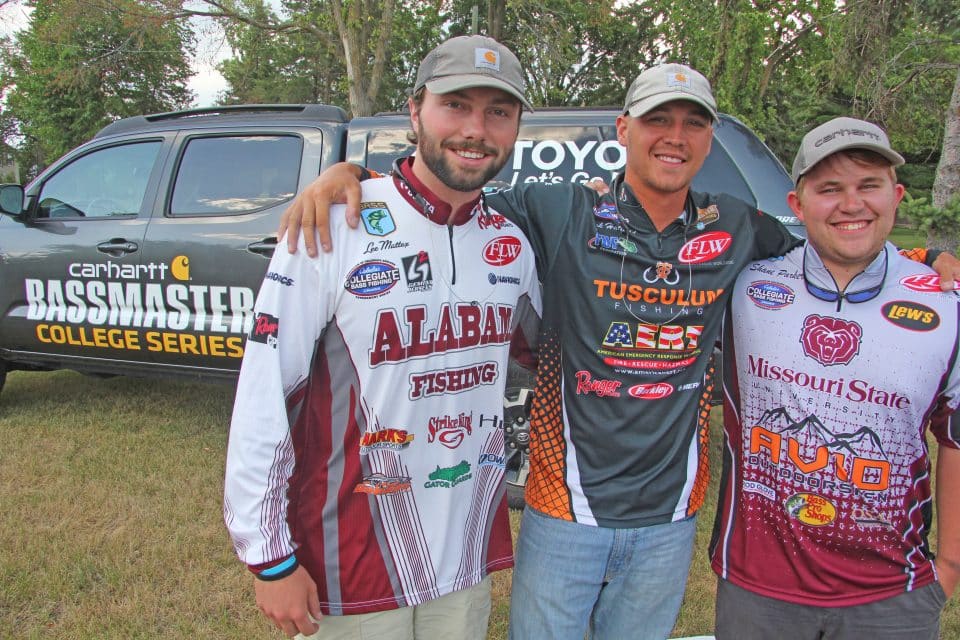 Story & Photo from Alan McGuckin / Dynamic Sponsorships
Teams representing 61 colleges and universities are at Lake Bemidji in Northern Minnesota this week for the Carhartt Bassmaster College Series National Championship.
Lee Mattox, a chemical engineering major from the University of Alabama, Nick Hatfield a business major from Tusculum in East Tennessee, and Shane Parker a media major from Missouri State, are just three of the dozens of college anglers dreaming of a chance to qualify for the 2018 Bassmaster Classic in South Carolina through a win in Minnesota this week.
All three anglers were gracious enough to share their thoughts on college fishing, as well as the specifics of this week.
 Ten years from now, what will you remember most about your time spent as a college bass fishing competitor?
Mattox, University of Alabama: All the friendships I've made.
Hatfield, Tusculum College: Getting to travel from Tusculum in East Tennessee to this championship in Minnesota.
Parker, Missouri State: A combination of great times on the water, as well as getting to know all the guys on the team, and learning from one another.
What's your favorite bass fishery anywhere in America?
Mattox: Lake Champlain, throwing a drop shot for Smallmouth.
Hatfield: Lake Guntersville, throwing a crankbait in June.
Parker: Lake of the Ozarks, pitching a jig in early summer.
What's your favorite thing about Lake Bemidji so far?
Mattox: It's got an abundance of Northern Pike.
Hatfield: The pike fishing is really good.
Parker: It's got aquatic vegetation, and we don't get to fish much of that in Missouri.
So the pike fishing is great, but you can't weigh those in. Will this tournament be won with Smallmouth of Largemouth Bass?
Mattox: Largemouth
Hatfield: Largemouth
Parker: Largemouth
---