Alabama High School Team Grabs Early Lead In Bassmaster High School National Championship
---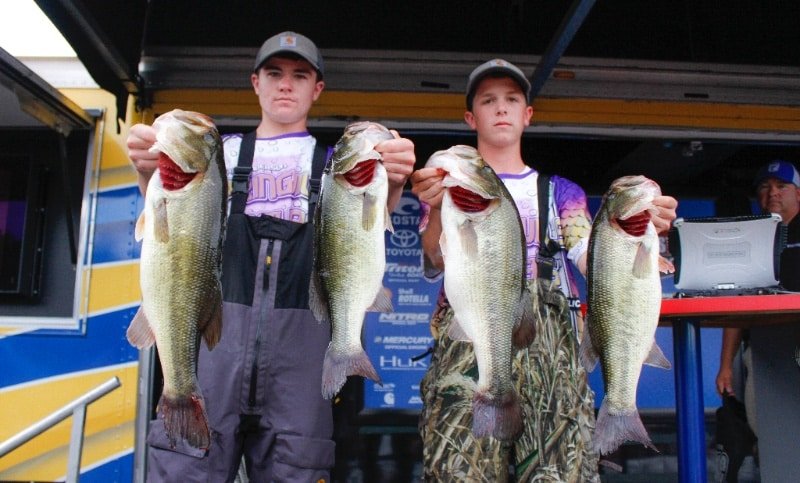 Logan Henderson (left) and Steven Swann of Springville Anglers Bass Club in Alabama take the lead on the first day of the 2017 Costa Bassmaster High School National Championship presented by DICK'S Sporting Goods with 23 pounds, 12 ounces.
Photo by Ronnie Moore/Bassmaster
FOR IMMEDIATE RELEASE

June 22, 2017

PARIS, Tenn. — Steven Swann and Logan Henderson picked up where they left off back in April when they won the Costa Bassmaster High School Southern Open.

Swann and Henderson of the Springville (Ala.) Anglers team won the Southern Open with 24 pounds, 1 ounce — setting a record for the heaviest winning weight in a Bassmaster High School tournament — and followed up today with a five-bass limit weighing 23-12 to take over first place in the Costa Bassmaster High School National Championship presented by DICK'S Sporting Goods at Kentucky Lake.

The anglers believed the change in the weather from hot and sunny to cloudy and windy today helped their pattern. "We got a lot of little bites in practice, but today it seemed like the bigger ones were all fired up," Swann said.

Despite the weather change, the team didn't have to make any adjustments to catch fish. The wind and waves, however, did limit them to fishing only one of the 10 spots they found in practice. "It was rough," Swann said of the waves. "We both felt like we were going to get seasick."

Henderson noted they caught their limit by about 7:45 a.m. and had bites in 30- to 45-minute intervals throughout the day. "We caught fish early, and it just seemed like when the wind picked up the baitfish got moving and the bass just started eating," he said.

The Springville Anglers team is making up for a disappointing finish in last year's Costa Bassmaster High School National Championship. They weighed in 10 pounds the first day last year and blanked the next day.

The leaders are among 461 anglers from 231 high school teams competing for the national title. The teams qualified for the national championship through a series of state and regional tournaments.

Two high school anglers are teamed in each boat with a coach, who serves as a mentor for the high school anglers and operates the outboard motor.

Henry County High School anglers Shawn Burkhart and Gavin Gordon moved into second place with a 22-11 limit.

"The weather conditions limited us to where we could go," Burkhart said. "We threw pretty much the same stuff that we threw in practice. We had a really good practice, and it really showed out today."

They tried some of their best places in the morning and had a limit early — they left to try some other spots where they knew schools of bass started biting later in the day. However those spots failed to produce, so they tried to go back to their early morning areas. When they found those spots were already full of boats, they tried some new places and finished the day culling through about 35 keepers.

Gordon said he and his teammate caught about 25 pounds worth of bass in practice and are confident they will have plenty of places to try if the weather cooperates the next two days.

The Moody Fishing team of Jackson Isbell and Trent Robinson weighed in a 22-7 limit to take over third place. Isbell said they had to move around to different places today because of the weather. "It was perfect conditions in practice for what we were doing but today it wasn't there," he said.

Robinson said they caught most of the fish early and late in the day. "We got most of our bites in the morning and then right before we weighed in," he said.

The rough water and wind apparently worked in favor of some teams as 14 limits of 20 pounds or better were weighed in. Rounding out the Top 5 teams were Reese Jones and Dalton Johnson of the Arkansas Youth Anglers and the Brentwood High School team of Luke Byerly and Bryson Mills, with both teams weighing in 22-1.

The full field of teams will compete again on Friday, but the field will be cut to the Top 12 for the final day of fishing on Saturday. The teams are vying for $70,750 in scholarship money. B.A.S.S. and its sponsors are awarding $22,750 to the competitors, and Bethel University in McKenzie, Tenn., will be presenting the remaining $48,000 to the winners.

Tournament officials are consulting with National Weather Service authorities to determine whether weather conditions will be suitable for fishing Friday. Thunderstorms with heavy rains were predicted as tropical storm Cindy moves inland. If conditions permit, the prep anglers take off at 5:30 a.m. CT from Paris Landing State Park and return at 1:45 p.m. to weigh in at the same location. The final weigh-in will switch locations to downtown Paris at 2:30 p.m. on Saturday.

Henry County Tourism, Carroll County and Bethel University are hosting the national championship.

2017 Costa Bassmaster High School Title Sponsor: Costa

2017 Costa Bassmaster High School Presenting Sponsor: DICK'S Sporting Goods

2017 Costa Bassmaster High School Platinum Sponsor: Toyota

2017 Costa Bassmaster High School Premier Sponsors: Nitro Boats, Power-Pole, Shell Rotella, Skeeter Boats, Triton Boats, Yamaha, Berkley, Huk, Hummingbird, Mercury, Minn Kota

2017 Costa Bassmaster High School Supporting Sponsors: Carhartt, Lowrance, Phoenix Boats, Shimano, St. Croix Rods, ABU Garcia, Academy Sports + Outdoors, Advance Auto Parts

About B.A.S.S.
B.A.S.S. is the worldwide authority on bass fishing and keeper of the culture of the sport, providing cutting edge content on bass fishing whenever, wherever and however bass fishing fans want to use it. Headquartered in Birmingham, Ala., the 500,000-member organization's fully integrated media platforms include the industry's leading magazines (Bassmaster and B.A.S.S. Times), website (Bassmaster.com), television show (The Bassmasters on ESPN2), radio show (Bassmaster Radio), social media programs and events. For more than 45 years, B.A.S.S. has been dedicated to access, conservation and youth fishing.

The Bassmaster Tournament Trail includes the most prestigious events at each level of competition, including the Bassmaster Elite Series, Bass Pro Shops Bassmaster Open Series, Academy Sports + Outdoors B.A.S.S. Nation presented by Magellan, Carhartt Bassmaster College Series presented by Bass Pro Shops, Costa Bassmaster High School Series presented by DICK'S Sporting Goods, Toyota Bonus Bucks Bassmaster Team Championship and the ultimate celebration of competitive fishing, the GEICO Bassmaster Classic presented by DICK'S Sporting Goods.

-30-

Media Contact: JamieDay Matthews, 205-313-0945, jmatthews@bassmaster.com or Dave Precht, 205-313-0931, [email protected].
Costa Bassmaster High School Championship presented by DICK'S Sporting Goods
6/22/2017 – 6/24/2017
Kentucky Lake – Paris Landing State Park – Paris, TN
STANDINGS BOATER DAY 1
Name # Fish # Live Lbs – Oz # Fish # Live Lbs – Oz
1 Logan Henderson – Steven Swann Springville Anglers 5 5 23-12 5 5 23-12
2 Shawn Burkhart – Gavin Gordon Henry County High School 5 4 22-11 5 4 22-11
3 Jackson Isbell – Trent Robinson Moody Fishing 5 5 22- 7 5 5 22- 7
4 Reese Jones – Dalton Johnson Arkansas Youth Anglers 5 4 22- 1 5 4 22- 1
5 Luke Byerly – Bryson Mills Brentwood High School 5 4 22- 1 5 4 22- 1
6 Joseph Bruener – Hunter Curry Douglass HS Fishing Team 5 5 21-12 5 5 21-12
6 Samuel Vandagriff – Matthew Vandagriff Warren County Pioneer Anglers 5 5 21-12 5 5 21-12
8 Beau Browning – McCoy Vereen Lakeside HS 5 5 21-11 5 5 21-11
9 Logan Millsaps – Spencer Childers Pickens Bass Fishing 5 5 21- 6 5 5 21- 6
10 Riley Fletcher – Gavin White Cassville Wildcats 5 5 20-14 5 5 20-14
11 Zachary Featherston – Adrian Murar Yuba Sutter Fishing Club 5 5 20-13 5 5 20-13
12 Brooks Anderson – David Britt Mt.Bethel Christian academy 5 5 20- 1 5 5 20- 1
13 Evan Bramhill – Sean Prendergast Mass Bass Nation HS 5 5 20- 1 5 5 20- 1
13 Tommy Floyd JR – James Gibbons South Florence High 5 5 20- 1 5 5 20- 1
15 Connor Nimrod – Dylan Nimrod De Soto Bass Team 5 5 19-13 5 5 19-13
15 Matthew Roberts – Richard Cornett Perry County Central High School 5 5 19-13 5 5 19-13
17 Luke Glasgow – Gavin Norris Winfield Student Anglers 5 4 19-13 5 4 19-13
18 Michael Childers – Landon Nelson Brewer High School 5 5 19-11 5 5 19-11
18 Cal Culpepper – Mason Waddell GA-Harris County High School 5 5 19-11 5 5 19-11
20 Blake Harold – Cameron Cochran Madison Southern 5 5 19- 7 5 5 19- 7
21 Cody Miles – Jordan Bowlin Benton High School 5 5 18-15 5 5 18-15
22 Tyler Christy – Trust Say Christy, Springer and Say Com. Club 5 5 18-11 5 5 18-11
23 Matt Stearns – Reid Saarela Lakeville High School 5 5 18- 9 5 5 18- 9
24 Taj White – Thomas Sendek AZ HS Bass Nation 5 5 18- 8 5 5 18- 8
25 Tyler Gavlick – Benjamin King Susquehanna Valley Fishing Team 5 5 18- 1 5 5 18- 1
25 Christopher Miller – Bryant Cooper Tellico Plains High School 5 5 18- 1 5 5 18- 1
25 Casey Shearer – Levi Keith East Jassamine High School 5 5 18- 1 5 5 18- 1
28 Foster Dubroc – Caleb Straight Marrietta Bassmasters 5 5 17-10 5 5 17-10
28 Will Garrett – Fischer Keel Auburn Anglers 5 5 17-10 5 5 17-10
28 Gavin Hessler – Tucker Nauss St. Croix Central HS 5 5 17-10 5 5 17-10
31 Preston Crowley – Wesley Hall Tuscaloosa County High School 5 5 17- 9 5 5 17- 9
32 Justin Kanute – Adam Altman York County 5 5 17- 6 5 5 17- 6
33 Tyler Eagan – Noah Lewis Raintree HS Angler Club 5 5 17- 6 5 5 17- 6
33 Noah Jenkins – Louie Marques CA BASS Nation 5 5 17- 6 5 5 17- 6
35 Bailey Fain – Dalton Harrison Lenoir City High School 5 5 17- 4 5 5 17- 4
36 Garrett McWilliams – Dalton Jones Discovery Christian School Lions 5 3 17- 4 5 3 17- 4
37 Justin Watts – Alexander Heintze Livingston Parish Bassmasters 5 5 17- 2 5 5 17- 2
38 Blake Albertson – Dillan White Southside Anglers 5 5 16-15 5 5 16-15
39 Lucas Lindsay – Logan Parks Auburn Anglers 5 5 16-13 5 5 16-13
39 Cap Massey – Jade Massey NM-Mesilla Valley Bass Anglers 5 5 16-13 5 5 16-13
41 Britt Myers – Tanner Maness York County High School 5 4 16-13 5 4 16-13
42 Dawson Hembree – Seth Roberts Campbell Co HS 5 5 16-12 5 5 16-12
43 Austin Smith – Noah Pierce Campbell Co HS 5 5 16-11 5 5 16-11
44 Kyle Palmer – Kyle Ingleburger Grundy County HS 5 5 16- 9 5 5 16- 9
45 Adam Hutmacher – Brennan Swanson Chamberlain High School 5 5 16- 7 5 5 16- 7
45 Trevor St. John – Craig Wilson Campbell Co HS 5 5 16- 7 5 5 16- 7
47 Merritt Arnold – Troy Harris North Oconee HS 5 5 15-15 5 5 15-15
48 Grayson Hanson – Blayne Gunnells Pell City High School 5 5 15-13 5 5 15-13
49 Patrick Walsh – William Hinckley Notre Dame Bass 5 5 15-11 5 5 15-11
50 Ty Ball – Jackson Manis Cherokee 5 4 15-11 5 4 15-11
51 Samuel Bergeron – Andres Barletta Ascension Anglers 5 5 15- 9 5 5 15- 9
52 Lake Norsworthy – William Burt Brandon HS 5 5 15- 8 5 5 15- 8
53 Hunter Martin – Justin Jacob Lutcher High Fishing Team 5 5 15- 8 5 5 15- 8
54 John Adams Gray – Abby Montgomery Lakeside High School 5 5 15- 7 5 5 15- 7
55 Bryce Goff – Jonathan Waters Winter Haven HS 5 5 15- 6 5 5 15- 6
56 Ike Andrews – Jake Shattner Benedictine College Prep 5 5 15- 5 5 5 15- 5
57 Logan Guy – Micah Hubbard Central HS 5 5 15- 3 5 5 15- 3
58 Julius Mazy – Steven Mack Arizona High School Club 5 5 15- 1 5 5 15- 1
59 Gunner Wilson – Zach Manneback Hartland Eagles Bass Club 5 4 15- 0 5 4 15- 0
60 Case Anderson – Grant Hodosi Grundy County HS 5 5 14-14 5 5 14-14
61 Greyson Benoit – Zane Gunter Sulphur High School 5 5 14-12 5 5 14-12
61 Matthew Milatz – Joshua McGill Spanaway HS 5 5 14-12 5 5 14-12
63 Shaw Sandy – Sam Bennett Athens Anglers 5 5 14-11 5 5 14-11
64 Dylan Fitzgerald – Cameron Carter Upper Kanawha Valley Warriors 5 5 14-11 5 5 14-11
65 Mason Raveling – Ben Provost Prior Lake High Schol 5 5 14-10 5 5 14-10
66 Christopher Capdeboscq – Dillon Wilson Northlake Christian 5 3 14-10 5 3 14-10
67 Harry James – Trip Costello Franklin High School 5 5 14- 9 5 5 14- 9
68 Hagen Speegle – Landon Graham Goodhope High School 5 5 14- 8 5 5 14- 8
69 Austin Birdwell – Matthew Weaver Grundy County HS 4 4 14- 8 4 4 14- 8
70 Nate Lacombe – Andrew Eaton Monument Mountain 5 5 14- 5 5 5 14- 5
71 Brandsford Dean – Austin Goins Rhea County High School 5 5 14- 4 5 5 14- 4
72 Asa Robertson – Blake Delong Warren County 4 4 14- 4 4 4 14- 4
73 Kyle Roy – Jesse York Russell County HS 5 5 14- 3 5 5 14- 3
73 Ezra Smith – Devin Howard Walker Valley HS 5 5 14- 3 5 5 14- 3
75 Jeremy Bates – Joshua Holden Bishop Brady HS 5 5 14- 2 5 5 14- 2
75 Ethan Greene – Cody Lynn Lakeside Chiefs 5 5 14- 2 5 5 14- 2
75 Josh Pitre – Lucas Senay York Bassmasters 5 5 14- 2 5 5 14- 2
78 Jace Ladner – Collin Ladner Hancock High School 5 5 13-12 5 5 13-12
78 Louis Monetti – Frank Lucchese Christian Brothers Academy 5 5 13-12 5 5 13-12
80 Wesley Gore – Blake Davenport Jemison HS 5 5 13-11 5 5 13-11
81 Cade Crocker – Hunter Porter Hillcrest High School 5 5 13-10 5 5 13-10
82 Michael Bonadona – Trent Tullier Brusley High School 5 4 13- 9 5 4 13- 9
83 Ty Brooks – Brandon Brewer Grainger High School 5 5 13- 6 5 5 13- 6
83 Noah Daczewitz – Hunter Hilger Sand Springs Sandite Bass Club 5 5 13- 6 5 5 13- 6
83 Alex Wiczek – Max Wiczek Elk River Fishing Team 5 5 13- 6 5 5 13- 6
86 Garrett Bartlett – Ty Thompson Seymour HS 4 3 13- 5 4 3 13- 5
87 Seth Moser – Reilly Butler Sequoyah High School 5 5 13- 4 5 5 13- 4
88 Jason McMillan – Hunter Kogel Walker High School 5 4 13- 3 5 4 13- 3
89 Evan Hughes – Jacob Gray Abbeville HS 5 5 13- 1 5 5 13- 1
89 Trent Lohr – Quinn Iden Southern Garrett 5 5 13- 1 5 5 13- 1
91 Casey Trosclair – Levi Areno Sulphur High School 5 5 13- 0 5 5 13- 0
92 Jonathon Hodges – Thomas Bridges Mortimer Jordan HS 4 4 13- 0 4 4 13- 0
93 Chase Herndon – Heath Hardaway Christian Heritage HS 5 5 12-15 5 5 12-15
93 Jacob Woods – Austin Winter Lenoir City High School 5 5 12-15 5 5 12-15
95 Clay Garnder – Nate Somerstad Rogers High School 5 5 12-13 5 5 12-13
95 Garick Robinson – Micah Bryant Sequoyah High School 5 5 12-13 5 5 12-13
97 Brayden Campbell – Colton Kay Ripley High School 5 5 12-12 5 5 12-12
97 Hunter Courvelle – Alex Erickson Sam Houston High School 5 5 12-12 5 5 12-12
97 Braxton Martin – Brandon Martin North Hall Fishing Club 5 5 12-12 5 5 12-12
100 Jacob Bruener – Austin Brewer Douglass HS Fishing Team 4 4 12-12 4 4 12-12
101 Scott Torkleson – Daniel Anthamatten Cascia Hall 5 5 12-10 5 5 12-10
102 Morgan Miracle – Logan Miracle Garrard County HS 5 5 12- 9 5 5 12- 9
102 Daelyn Whaley – Molly Beauford Abbeville HS 5 5 12- 9 5 5 12- 9
104 Zach Vielhauer – Remington Wagner Kickback High School Club 5 5 12- 8 5 5 12- 8
105 Landon Owens – Caleb Mayfield Marion High School 5 5 12- 6 5 5 12- 6
105 Adam Puckett – Keaton Greenawald Southside Anglers 5 5 12- 6 5 5 12- 6
107 James Willoughby – Ashton Saucier West Harrison HS Bass Team 5 5 12- 5 5 5 12- 5
108 Gavin Ainslie – Collin Gregory Central HS 5 5 12- 3 5 5 12- 3
109 Lee Lambrecht – Nick Morrison Capital HS Bass Club 5 4 12- 2 5 4 12- 2
110 Tyler Goss – Clayton Shaw South Granville HS 5 5 12- 1 5 5 12- 1
111 Grant Bourque – Ethan Smart Ascension Anglers 5 5 12- 0 5 5 12- 0
111 Cade Fortenberry – Brennan Edmond Ascension Anglers 5 5 12- 0 5 5 12- 0
113 Jaxon Brown – Jordan McCaleb Gardendale Rockets 5 5 11-14 5 5 11-14
113 James Cobbs – Justin Lowery Cullman High School 5 5 11-14 5 5 11-14
113 Dalton Powell – Baylor Layne Whitwell High School 5 5 11-14 5 5 11-14
116 Josh Lee – Mason Cizek Karns Bass Fishing Club 5 5 11-12 5 5 11-12
117 Jake Beihoffer – Bailey Faires Soddy Daisy HS 5 5 11- 9 5 5 11- 9
118 Zachary Bray – Jake Stamps Clayton High School 5 5 11- 8 5 5 11- 8
119 Daniel Helsley – Jackson Hall Lovejoy High School 4 4 11- 7 4 4 11- 7
119 Tyan Massengale – Brandon Bates Soddy Daisy 4 4 11- 7 4 4 11- 7
121 Jackson Staib – George Carr Concord HS 4 4 11- 6 4 4 11- 6
122 Brian Linder – Nathan Thompson Eagan High School 5 5 11- 4 5 5 11- 4
123 Stuart Roggli – Abbigail Roggli Grundy County HS 5 5 11- 2 5 5 11- 2
123 Wyatt Sauder – Micah Ford Sequoyah High School 5 5 11- 2 5 5 11- 2
125 Harley Owens – Emory Vinsant Campbell Co HS 5 5 11- 1 5 5 11- 1
126 Joseph Gorman – Nehemiah Glenn Lakeville High School 5 5 11- 0 5 5 11- 0
127 Braeden Thurmond – Colby Thurmond Coffee County 4 4 11- 0 4 4 11- 0
128 Cameron Andrews – Luke Brown NC HS Bass Anglers 5 5 10-15 5 5 10-15
129 Jacob Bigelow – Trace Yeager Shawano Bass Assassins 4 3 10-15 4 3 10-15
130 Ian Madere – Jordan Davenport East Baton Rouge Bassmasters 4 4 10-14 4 4 10-14
130 Chase Parsons – Hayden Drucker Hillcrest High School 4 4 10-14 4 4 10-14
132 Ethan Perry – Chase Gibson Bridgeport High School 5 5 10-13 5 5 10-13
133 Owen Marsh – Michael Anderson Rhode Island Bass Assassins 4 4 10-12 4 4 10-12
134 Kyler McKie – Michael Burch North Augusta Fishing Team 5 5 10-11 5 5 10-11
135 Davey Warf – Kaleb James Sale Creek Anglers 5 5 10-10 5 5 10-10
136 Tyler Lubbat – Nolan Siara Buffalo Grove Bass Fishing 5 5 10- 5 5 5 10- 5
137 Nolan Wright – Coltin Pool Blanchard HS 5 5 10- 3 5 5 10- 3
138 Thomas Heinen – Brock Bila Topeka Capital City 5 5 9-15 5 5 9-15
138 Will Norton – Peyton Knowles McClain Christian Academy 5 5 9-15 5 5 9-15
140 Cole Moore – Layken Moore Anacoco High School 5 5 9-14 5 5 9-14
141 Brett Wray – Kasey Anderson North Desoto High School 4 4 9-13 4 4 9-13
142 Kobe Thompson – Jagger Lindell Renegades 5 5 9- 9 5 5 9- 9
143 Parker Reed – James Gravitte Sale Creek Middle High 4 4 9- 8 4 4 9- 8
144 Cameron Bankston – Spencer Minter Whitwell High School 3 3 9- 8 3 3 9- 8
145 Hunter Conaster – Luke Patton York Bass Fishing Club 5 5 9- 3 5 5 9- 3
146 Dawson Andrews – Wyatt Ensminger Central HS 4 4 9- 3 4 4 9- 3
147 Grant Dees – Ben Freeman Grundy County HS 2 1 9- 1 2 1 9- 1
148 Mason Peace – Blake Stephenson Clarks Hill Youth 4 3 9- 0 4 3 9- 0
149 Brandon Brekke – Jake Burton Windsor High School 4 4 8-15 4 4 8-15
150 Hunter White – CJ Guest NC HS Anglers Comm Club 4 4 8-14 4 4 8-14
151 Lawson Graves – Cameron Glasscock Cullman High School 3 3 8-13 3 3 8-13
152 Levi Dyall – Bryce McCall Appling Christian Academy 3 3 8-12 3 3 8-12
153 Craig Beucler – Jayson Lannon Timberlane Regional High School 4 4 8-10 4 4 8-10
154 Hunter Baird – Nick Davenport Capital HS Bass Club 4 4 8- 7 4 4 8- 7
154 Devin Page – Nicholas Page Magna Vista HS 4 4 8- 7 4 4 8- 7
156 Alex Rigg – Joshua Austin Mesilla Valley Bass Anglers 4 4 8- 6 4 4 8- 6
157 Christian Greico – Sebastian Greico HS Hawg Hunters 3 3 8- 4 3 3 8- 4
157 Noah Winslow – Nonnewaug HS 3 3 8- 4 3 3 8- 4
159 Stephen Cross Mathis – Evan Bowling Broome High School 3 3 8- 3 3 3 8- 3
160 Tyler Dearman – Marlin Paschal AZ HS Bass Nation 1 1 8- 1 1 1 8- 1
161 Logan Waidelich – Gabe Clow Brainerd HS 4 4 8- 0 4 4 8- 0
162 Bryar Chambers – Tyler Pendergrass Airport Marine 3 3 8- 0 3 3 8- 0
162 Andrew Mitchell – Corey Waits Dixie HS 3 3 8- 0 3 3 8- 0
164 Eric Noyes – Mikey Reiss Broken Arrow High School 4 4 7-15 4 4 7-15
165 Dalton Hibboard – Dalton Noble Perry County Central HS 3 3 7-15 3 3 7-15
166 Brad Sampson – Austin Navarre Pearl River Central HS 3 1 7-12 3 1 7-12
167 Brady McCoy – Jace Smith WI – Mississippi Coulee 3 3 7-11 3 3 7-11
167 Carter Pourciau – Zach Naquin Assumption High School 3 3 7-11 3 3 7-11
169 Hagen Cooley – George Dehoven II DeRidder HS 2 2 7-11 2 2 7-11
170 Joshua Mook – Andrew Henry Susquehanna Valley Fishing Team 3 3 7- 3 3 3 7- 3
171 Draven Ray – Justin Burns Plattsmouth Blue Devil Fishing 3 3 6-13 3 3 6-13
172 Nick Gould – Joey Grogg Lewis County High School 2 2 6-11 2 2 6-11
172 Sam Morgan – Chandler Guffey Grundy County HS 2 2 6-11 2 2 6-11
174 Garrett McCrackin – Jackson Lawless Mannford High School 3 3 6- 9 3 3 6- 9
175 Colby Reed – Jenna Albertson Southside Anglers 2 2 6- 8 2 2 6- 8
176 Tucker Weidler – Chace Gregory 3 3 6- 7 3 3 6- 7
177 Gavin Koch – Matt Barnes Clifton-Clyde Eagle Anglers 3 3 6- 5 3 3 6- 5
178 Jacob Smith – Oakley Connor Travelers Rest HS Devildog Anglers 3 3 6- 3 3 3 6- 3
179 Braden Ryals – Wes Dubose Forrest County AHS 3 3 6- 1 3 3 6- 1
180 Mathew Windham – Branson Linder Pine City Anglers 2 2 6- 1 2 2 6- 1
181 Andrew Lowe – Garrett Zody Clinton High School 3 3 6- 0 3 3 6- 0
182 John-Murphy Day – Will Harding Corner High School 3 3 5-15 3 3 5-15
183 Joey Dobbs – Garrett Flynn Southside Anglers 2 2 5-15 2 2 5-15
184 Houston Calvert – Chase Abbott Cold Springs Fishing Team 3 3 5-14 3 3 5-14
185 Adam Sansom – Chase Carter Northwest HS 2 2 5-14 2 2 5-14
186 Jacob Tarpley – Keigan Maturin Teurlings Catholic High School 3 3 5-13 3 3 5-13
187 Colin Blanton – Joey Bloom Winter Springs HS 3 3 5-11 3 3 5-11
188 Jarod Riddle – Collin Stahlman Oconee County High School 2 2 5- 7 2 2 5- 7
189 Tucker Putnam – Will Dickerson Good Hope Fishing Team 3 3 5- 6 3 3 5- 6
190 Connor Petsche – James Ford Cedar Rapids Jr 3 3 5- 5 3 3 5- 5
191 Casey Cornelius – Jacob Vestal Mt Vernon Bass Team 2 2 5- 0 2 2 5- 0
192 Cole Scott – Seth Kearns Sand Spings High School 2 2 4-15 2 2 4-15
193 Carter Ball – Ethan Shaw Noblesville High School 3 3 4-14 3 3 4-14
194 Layton Brown – Parker Brown Rockwall Heath Bass 2 2 4-10 2 2 4-10
195 Cameron Haskins – Tanner Varvel Oakwood High School Fishing 2 2 4- 9 2 2 4- 9
196 Trevor Whisenant – Brett Lasley Kick Back High School 2 2 4- 6 2 2 4- 6
197 Jarrett kmiecik – Colton Kelle Star City HS 2 2 4- 5 2 2 4- 5
198 Marcus Vermillion – Kole Aubiel Claymont High School 2 1 4- 4 2 1 4- 4
199 Alden Patterson – Logan Jennings NCBN HS East Comm Club 2 2 4- 1 2 2 4- 1
199 Nathan Powell – Chase Cantrell Whitwell High School 2 2 4- 1 2 2 4- 1
201 Cole Lamb – Tristan Weaver Melbourne Bearkatz 2 2 3-14 2 2 3-14
202 Dale Sherrick – Will Manning Washington High School 2 2 3-12 2 2 3-12
203 Shawn Kenner – Nicholaus Oliver Douglass HS 1 1 3-10 1 1 3-10
204 Reid Swann – Taylor Brown Rehobeth High School 2 2 3- 5 2 2 3- 5
205 Dakota Green – Seathe Patterson Hayden High School 1 1 3- 3 1 1 3- 3
206 Isaiah Minton – Dawson Hamdorf Eastern Iowa Bassmasters 1 1 3- 1 1 1 3- 1
207 Drake Ofsthun – Reed Ofsthun Kamiakan HS 1 1 3- 0 1 1 3- 0
208 Colton Williams – Chase Taylor Good Hope Fishing Team 1 1 2-14 1 1 2-14
209 Noah Howard – Hunter Barbrey South Granville HS 1 1 2-12 1 1 2-12
210 Nicholas Dombrowski – Vincent Matuszak Mad Bassin 1 1 2-10 1 1 2-10
211 Zach Temperly – Ashton Schmitt Seminole Jr Anglers 1 1 2- 9 1 1 2- 9
212 Ryan Park – Tommy McDonald Plainfield South Bass Fishing Team 1 1 2- 8 1 1 2- 8
213 Troy Milbrath – Joe Hartmann Windsor High School 1 1 2- 6 1 1 2- 6
214 Hayden Pinho – Hunter Pinho Patterson High School 1 1 2- 4 1 1 2- 4
214 Cody Russell – Jacob Siner Chiles High School 1 1 2- 4 1 1 2- 4
214 Matthew Woodard – Jackson Williams Auburndale High School 1 1 2- 4 1 1 2- 4
217 John Miller – Caden Pennington Sand Spring Sandites 1 1 2- 1 1 1 2- 1
218 Josh Spurger – Cody Banks Cold Springs HS 1 1 1-15 1 1 1-15
219 Ryan Sweeney – Kaitlyn Reynolds Springville Anglers 1 1 1-14 1 1 1-14
220 Thomas Behen – Reid Lavigne Biddeford HS Bass Team 0 0 0- 0 0 0 0- 0
220 Noah Belt – Lane Couch Kiowa HS 0 0 0- 0 0 0 0- 0
220 Tanner Calhoun – Joey Carignan Idaho Trophy Hunter 0 0 0- 0 0 0 0- 0
220 Aaron Fusco – Ethan Frain 905 HS Fishing Club 0 0 0- 0 0 0 0- 0
220 Brady Huddleston – Ethan Carr Livingston Academy 0 0 0- 0 0 0 0- 0
220 Caleb Mayers – Dane Balfantz Ascension Anglers 0 0 0- 0 0 0 0- 0
220 Wyatt Powell – Ian Smith Wirt County Tigers 0 0 0- 0 0 0 0- 0
220 Lane Robinson – Gabe Litterell Panhandle Bass Anglers 0 0 0- 0 0 0 0- 0
220 Corbett Sands – Lance Frazier Walker Valley High School 0 0 0- 0 0 0 0- 0
220 Hunter Terry – Sacker Rivers Beauregard HS 0 0 0- 0 0 0 0- 0
220 Tyler Wallace – Ryan Appleby Linganore 0 0 0- 0 0 0 0- 0
220 Stephen Whitlow – Richard Vennum Sarasota High School 0 0 0- 0 0 0 0- 0
BIG BASS
Day Name City,State Lbs-Oz
1 Tyler Dearman – Marlin Paschal Glendale, AZ 8- 1
---