Airport Marine Team Trail Results – Lake Martin – February 19, 2011
Posted On February 24, 2011
---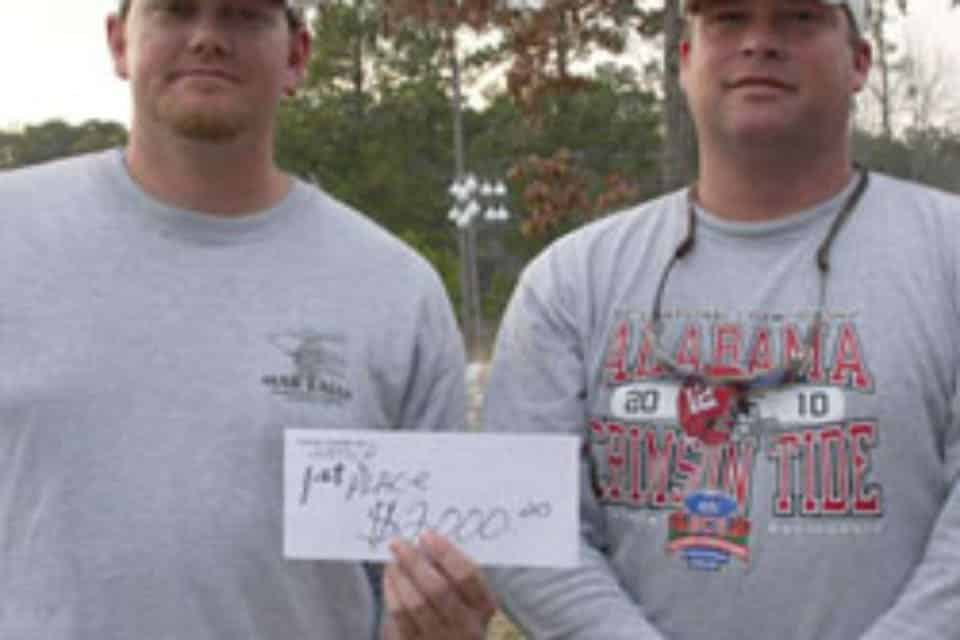 There were 72 boats that contained teams consisting of 144 of Alabama's best bass anglers, most of which just came out of late winter's state of hibernation looking for a cure for their bad case of cabin fever…and most of these anglers found it real fast on Alabama's Lake Martin this past Saturday, February 19. Over 50 of those teams weighed in bass on this partly cloudy day, following a week-long warming trend, with air temps in the upper-60's to low-70's including slowly, rising water temperatures in the 50's.
Perfect conditions for catching a bunch of pre-spawn bass!
There were buddy teams (that paid 12 places – 1st place paid $2000), parent and child teams (paying 3 places – 1st place paid $500), and male and female teams (paying 3 places – 1st place paid $500), all that were paid a nice first place pay day in each class.
* First Place Buddy Team – Andy Chappell & Jamie Butler – 5 bass weighing 18.66 pounds.
* Second Place Buddy Team – Chris Dill & Vern Moody – 5 bass weighing 15.48 pounds – (including the biggest largemouth bass – weighing 7.30 pounds)
* Second Place Buddy Team – Marty Giddens & Kim Giddens – 15.16 pounds
* It took 11.69 pounds (for 12th place) to get in the money on the buddy team pay out.
* Although most anglers caught some bass, there were some anglers that did not. There were 17 boats that turned in a zero weight for the day.
* See www.airportmarinetrails.com for the entire Lake Martin Tournament results, pay outs, pictures and the entire 2011 tournament schedule for all of Airport Marine's Buddy Trails, Annual Events and Solo Trail Tournament Trails.
OUR DAY
So how did our day go?
I fished this tournament with Terry Davidson. In all, we had about 25 bass that day. We made about 2000 long casts each that day and utilized a slow, stop and go presentation. I think most bites we had were instinct / reaction strikes from smaller male bass that had just moved shallow this past week. All but one of those 25 bass (that one I caught on a jig and craw combo) came on shallow to mid-diving crankbaits. Almost every bass we caught that day was near the bank in 1-3 feet of water.
Our day started off with a nice 5 bass limit in the boat by 7 a.m. One of our 3 best bass that day was caught by Terry on his very first cast of the day, fooled on a shallow diving crankbait. Another nice bass I caught at mid morning came on a jig & craw combo fishing brush in 10 feet of water. Up in the day Terry had another good bass caught in 3 feet of water on a mid-diving crankbait. Also, there was one key bass Terry lost…the only bass either of us lost all day, one that probably kept us just out of the money.
We placed 13th with 11.69 pounds. Just one spot out of the money. Our day came to a rather reluctant end when Terry hooked a very strong fish at 2 p.m. It was laying in 2 feet of water, right next to a Christmas tree brush pile. It looked to weigh about 8 pounds and it was caught on a shallow diving crankbait. But in this BASS tournament you cannot weigh in a cat fish…so he threw it back. Had that cat fish been a bass it would have moved us into second place for the day with over 15 pounds. But, it wasn't.
LAKE MARTIN CONDITIONS
In the past few weeks Alabama anglers have seen 2-3 inches of snow that quickly melted in a couple of days. Lake Martin water temperatures then were in the low 40's and the lake down 8 feet in early February. Two weeks ago a warming trend of 60-70 degrees began. Saturday, Feb. 19 the morning water temperature was 51 degrees at blast off in Airport Marine's Tournament. Some anglers reported seeing water temps close to 60 degrees by 2 p.m. that day.
With no rain in weeks the mid-to-upper lake is rather clear. Normally, in late February it is cold in the mid 40's and heavily stained. With heavy rain and thundershowers predicted for tonight and Friday all this could change by this weekend. Also the lake is slowly rising now at 7 feet below normal full pool lake levels.
So what can anglers expect that are planning on fishing Saturday's March 5 FLW Outdoors Bass Fishing League Tournament? Lots of bass weighed in that's what! Although most major bass tournaments held on Lake Martin during the early spring period are won with an average weight of 15 -16 pounds there is always a pair of anglers that may find bigger bass.
Water temperatures on Lake Martin should exceed 60 degrees by this Saturday, March 5 with mid-60's air temps predicted for Lake Martin. Coupled with rising waters and Martin's bass will be moving shallow to prepare for their annual rituals of bedding and making beds.
Wood cover and rock cover will hold bass in the shallows. It may take multiple casts with a variety of lures featuring several different presentations, to even get these now highly pressured bass to bite. Or it could mean fishing slow. Or it could call for covering water and fishing fast hitting as many key spots as you possibly can in one days time. We will just have to wait and see!
FISHING NEWS AND WEBSITES
* GUIDED TRIPS TO ANY ALABAMA LAKE
Stumped? Tired of trying to figure out these early spring season bass with little or no help? Always call on Reeds Guide Service…first! (205) 663-1504 or E-mail [email protected] Website www.fishingalabama.com  Not only for fishing Lake Martin but for targeting bass on any lake in Alabama. "Alabama's oldest, professional "bass fishing only" freshwater guide service, for over 40 years guiding on all of Alabama's lakes for largemouth bass, spotted bass, smallmouth bass, and huge, striped bass"
Call me or e-mail me today to book / reserve your fishing trip date. Booking fast for spring and summer on all Alabama lakes! Corporate guided trips, family outings with several professional guides and boats, tournament anglers welcome, parent and child learning trips, discounts on two day or more guided trips, year round on all Alabama lakes! See the Guide Service link on my website www.fishingalabama.com for more info.
* CHECK OUT MY NEW WEBSITE! WWW.FISHINGALABAMA.COM  SAME NAME – ALL NEW LOOK, NEW CONTENTS, FISHING REPORTS, FISHING TIPS, OLD AND NEW PICTURES, NEW FISHING LINKS, FISHING ARTICLES, ETC. FOR FISHING ALL OF ALABAMA'S LAKES YEAR ROUND IN ALL SEASONS!
* HUNTING AND FISHING ITEMS, NEW STORE and NEW LOOK! Check out www.marksoutdoors.com for all your outdoor needs! Coming to Marks Thursday, March 10 "Turkey Day Outdoor Cookout" with free food and hundreds of fishing and hunting bargains! All at Marks Outdoors Sports in Vestavia, Alabama! See you there!
* LOOKING FOR A NEW OR USED BOAT? Go to Airport Marine in Clanton, Alabama. or check out their website www.airportmarine.com for new and used boats, parts, expert mechanic work and a great sales staff. Also see their tournaments at www.airportmarinetrails.com Next tournament is on Guntersville Lake Saturday, March 12 out of Goosepond boat launch! Get there early to sign up, should be a huge crowd! See you there!
* WORLDS BEST BASS BOAT? See www.rangerboats.com newly designed website!
* NEW WEBSITES IN ALABAMA See www.bassnboat.com and www.bamabass.com and my new website www.fishingalabama.com !
* NEED NEW BOAT TROLLING OR CRANKING BATTERIES? Check out Exide Batteries! You can see a link to their website EXIDE BATTERIES on the home page of my website www.fishingalabama.com I have been using these 3 excellent batteries furnished by Airport Marine for my Ranger Bass Boat since the Fall of 2010. They hold a great charge all day, I have never ran down the trolling motor battery's and the 1000 amp cranking battery will last all day and keep a full charge. Even when not running the boat and running the live wells all day it never fails to crank that big outboard motor!
* WBRC FOX 6'S GOOD DAY ALABAMA MORNING SHOW  – See Reed Montgomery Owner of Reeds Guide Service make his next appearance Tuesday, March 29 at 8 a.m. on Fox 6's Good Day Alabama morning show. Reed is on this very popular show seen state wide every, "Last Tuesday of each month" on Fox 6 Television now for over 6 years, answering all your fishing questions with his "Ask the Angler" Question and Answer session each month!
Thanks and Good Fishin' !
Reed Montgomery / Outdoor Writer
Owner / Reeds Guide Service
Alabaster, Alabama (205) 663-1504
E-mail: [email protected]
Website: www.fishingalabama.com
" Over 40 Years Guiding, Fishing and Exploring Every Lake in Alabama For Largemouth Bass, Smallmouth Bass, Spotted Bass and Striped Bass "
Always Call on Reeds Guide Service…first!
Alabama's Oldest Professional, Freshwater Fishing Guide Service!
---