347 Boats, Over 24 pounds for the winners and a 10-11 BIG Fish Cap off Record setting day for BASS High School Event on Chickamauga!
---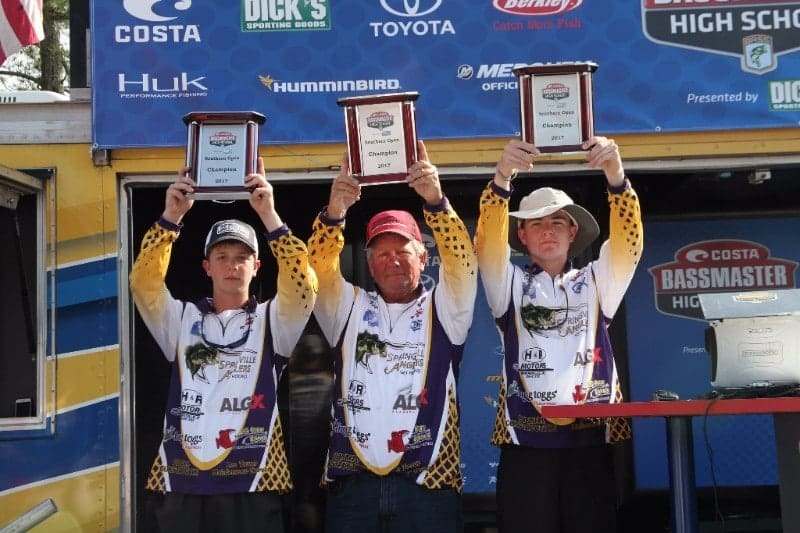 Logan Henderson (right) and Steven Swann of Springville Anglers Bass Club in Alabama won the 2017 Costa Bassmaster High School Southern Open presented by DICK'S Sporting Goods with 24 pounds, 1 ounce.
Photo by Brent Miller/Bassmaster
FOR IMMEDIATE RELEASE

April 29, 2017

Multiple Records Fall During High School Southern Open on Chickamauga Lake

DAYTON, Tenn. — A field of 347 boats and 1,033 total participants took part in Saturday's Costa Bassmaster High School Southern Open presented by DICK'S Sporting Goods on Chickamauga Lake.

The event broke records before the first cast was made, with the largest field in B.A.S.S. history. Then once the fishing began, the records just kept falling.

Logan Henderson and Steven Swann from the Springville (Ala.) Anglers won with a 24-pound, 1-ounce limit of bass that now ranks as the largest ever caught in a B.A.S.S. high school event. They finished just ahead of Colton Williams and Chase Taylor of the Good Hope (Ala.) fishing team, who placed second with 22-11.

The previous record catch of 23-14 was caught by Alex Heintze and Justin Watts in 2015.

"It started off kind of slow for us," said Henderson, a sophomore at Springville High School in St. Clair County, Ala. "Then we caught one about 5 pounds — Steven did — and at about 10:15 (a.m.), we caught one that weighed 8-3.

"Then from about 10:15 until about noon, it just got slow."

Henderson and Swann caught all of their fish around brushpiles in 12 to 15 feet. They couldn't get the bass to bite anything but a Strike King 5XD crankbait — but it wasn't for lack of trying.

"We fished a football head jig and a spoon, but we couldn't get them to hit either one," Swann said. "All of a sudden, from about 1 to 3, they just started biting again."

It was the first trip for the pair to Chickamauga, and they only had about a day and a half to practice. Their boat captain, Kenny Pannell, who is also Logan's grandfather, arrived a day earlier than the youngsters and did a little scouting himself.

There were moments of anxiety for the winning team during the midday lull — even with two big fish already in the livewell.

"It's tough, because you're anticipating another big one," Henderson said. "We didn't want to waste those two big ones we had already caught.

"We finally changed areas, and the second spot where we started catching them had brush that was a little more scattered."

Henderson and Swann knew by the time they got to the weigh-in stage that they would need a big weight to replace Williams and Taylor as the leaders. The eventual second-place finishers weighed in early, and had been sitting in the hot seat with 22-11 for more than an hour when Henderson and Swann took the stage.

The impressive catch of Williams and Taylor was anchored by a largemouth that weighed 7-10.

"We pulled up on a spot where we knew there was some grass, but we didn't catch anything for about 30 minutes," Taylor said. "We moved a little deeper and started catching them. That was the only spot we stayed in all day."

The spot, which was only about 20 feet long, was the kind of place tournament anglers of all ages dream of finding.

"We caught 43 fish out of that one spot," Williams said. "It was just a lucky spot that we had never fished before."

The anglers stayed with their special spot as long as they could. But with boat troubles dogging them throughout the day, they decided to make a 35-minute run back to another spot that was closer to the launch site.

Fishing was much tougher for them after the move.

"I know we could have caught another kicker if we could have stayed there longer," Taylor said.

Taylor spent most of his day using a 1/2-ounce chartreuse ChatterBait with a small swimbait trailer. Williams said he used a 1/2-ounce crawfish-colored Rat-L-Trap.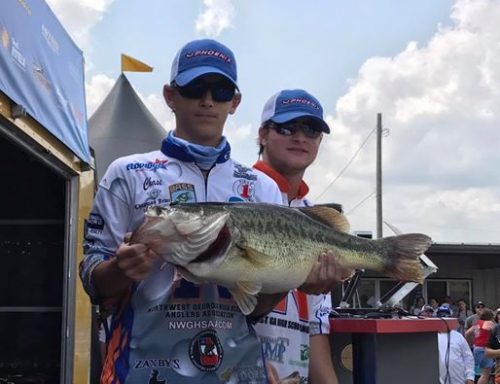 Another record that fell was the largest bass ever caught during a B.A.S.S. high school event. Chase Carter and Adam Sansom of the North West Georgia Anglers established a new mark — one that will be hard to top in the future — with a largemouth that weighed 10-11.
On a day when numerous bass in the 7- to 8-pound range were caught, Carter and Sansom easily earned the award for Big Bass.
"He thought he had a catfish," said Sansom, a high school junior. "But then when that thing opened its mouth, my heart just stopped."
Carter, a sophomore, had a similar reaction.
"It probably took me an hour to stop shaking," he said.
Rounding out the Top 5 were Houston Calvert and Chase Abbott, Cold Springs Fishing Team (20-14), Justin Lowery and James Cobbs, Cullman High School (20-7) and Chace Gregory and Tucker Weidler, Helena High School (20-6).
The Top 35 teams from the event qualified for the Costa Bassmaster High School National Championship presented by DICK'S Sporting Goods, scheduled for June 19-24 on Kentucky Lake in Paris, Tenn.
2017 Costa Bassmaster High School Title Sponsor: Costa
2017 Costa Bassmaster High School Presenting Sponsor: DICK'S Sporting Goods
2017 Costa Bassmaster High School Platinum Sponsor: Toyota
2017 Costa Bassmaster High School Premier Sponsors: Humminbird, Mercury, Minn Kota, Nitro Boats, Power-Pole, Shell Rotella, Skeeter Boats, Triton Boats, Yamaha, Berkley, Huk
2017 Costa Bassmaster High School Supporting Sponsors: ABU Garcia, Academy Sports + Outdoors, Advance Auto Parts, Carhartt, Lowrance, Phoenix Boats, Shimano, St. Croix Rods
About B.A.S.S.
B.A.S.S. is the worldwide authority on bass fishing and keeper of the culture of the sport, providing cutting edge content on bass fishing whenever, wherever and however bass fishing fans want to use it. Headquartered in Birmingham, Ala., the 500,000-member organization's fully integrated media platforms include the industry's leading magazines (Bassmaster and B.A.S.S. Times), website (Bassmaster.com), television show (The Bassmasters on ESPN2), radio show (Bassmaster Radio), social media programs and events. For more than 45 years, B.A.S.S. has been dedicated to access, conservation and youth fishing.
The Bassmaster Tournament Trail includes the most prestigious events at each level of competition, including the Bassmaster Elite Series, Bass Pro Shops Bassmaster Open Series, Academy Sports + Outdoors B.A.S.S. Nation presented by Magellan, Carhartt Bassmaster College Series presented by Bass Pro Shops, Costa Bassmaster High School Series presented by DICK'S Sporting Goods, Toyota Bonus Bucks Bassmaster Team Championship and the ultimate celebration of competitive fishing, the GEICO Bassmaster Classic presented by DICK'S Sporting Goods.
-30-
Media Contact: JamieDay Matthews, 205-313-0945, jmatthews@bassmaster.com or Dave Precht, 205-313-0931, [email protected].
Costa Bassmaster High School Southern Open presented by DICK'S Sporting Goods
4/29/2017 – 4/29/2017
Chickamauga Lake – Dayton Boat Dock – Dayton, TN
STANDINGS BOATER DAY 1
Name # Fish # Live Lbs – Oz # Fish # Live Lbs – Oz
1 Logan Henderson – Steven Swann AL-Springville Anglers 5 5 24- 1 5 5 24- 1
2 Colton Williams – Chase Taylor Good Hope Fishing Team 5 5 22-11 5 5 22-11
3 Houston Calvert – Chase Abbott Cold Springs Fishing Team 5 5 20-14 5 5 20-14
4 Justin Lowery – James Cobbs Cullman High School 5 5 20- 7 5 5 20- 7
5 Chace Gregory – Tucker Weidler AL-Helena High School 5 5 20- 6 5 5 20- 6
6 Jacob Bigelow – Trace Yeager Shawano Bass Assassins 5 5 20- 5 5 5 20- 5
7 Kaleb James – Davey Warf Sale Creek Anglers 5 5 19-12 5 5 19-12
8 Matthew Roberts – Richard Cornett Perry County Central High School 5 5 19-10 5 5 19-10
9 Adam Sansom – Chase Carter North West Georgia Anglers 5 5 19- 2 5 5 19- 2
10 Dakota Green – Seathe Patterson Hayden High School 5 5 18- 1 5 5 18- 1
11 Chase Herndon – Heath Hardaway 5 5 17-13 5 5 17-13
12 Garrett Zody – Andrew Lowe Clinton High School 5 4 17-12 5 4 17-12
13 Kyle Palmer – Kyle Ingleburger TN-Grundy County HS 5 5 17-10 5 5 17-10
14 Christopher Miller – Bryant Cooper Tellico Plains High School 5 4 17- 3 5 4 17- 3
15 Shawn Burkhart – Gavin Gordon Henry County High School 5 5 16-13 5 5 16-13
15 Wyatt Sauder – Micah Ford Sequoyah High School 5 5 16-13 5 5 16-13
17 Dalton Hibboard – 5 5 16- 9 5 5 16- 9
18 Corbett Sands – Lance Frazier Walker Valley High School 5 5 16- 1 5 5 16- 1
19 Britt Myers – Tanner Maness York County High School 5 5 15-13 5 5 15-13
20 Blake Albertson – Dillan White Southside Anglers 5 5 15- 7 5 5 15- 7
20 Parker Reed – James Gravitte Sale Creek Middle High 5 5 15- 7 5 5 15- 7
22 Case Anderson – Grant Hodosi Grundy County HS 5 5 15- 3 5 5 15- 3
23 Hagen Speegle – Landon Graham Goodhope High School 5 5 15- 2 5 5 15- 2
24 Kaitlyn Reynolds – Ryan Sweeney 5 5 15- 1 5 5 15- 1
25 Chase Parsons – Hayden Drucker Hillcrest High School 5 5 15- 0 5 5 15- 0
26 Cal Culpepper – Mason Waddell GA-Harris County High School 5 5 14-10 5 5 14-10
27 Foster Dubroc – Caleb Straight Marrietta Bassmasters 5 5 14- 5 5 5 14- 5
28 Josh Spurger – Cold Springs HS 4 4 14- 1 4 4 14- 1
29 Harley Owens – Emory Vinsant Campbell County High 4 4 13-13 4 4 13-13
30 Ethan Carr – Brady Huddleston Livingston Academy 4 4 13-13 4 4 13-13
31 Seth Moser – Reilly Butler Sequoyah High School 4 4 13- 7 4 4 13- 7
32 Craig Wilson – Trevor St. John TN-Campbell Co HS Cougars 5 5 13- 6 5 5 13- 6
33 Tucker Cox – Andy Bunch 5 5 13- 4 5 5 13- 4
34 Justin Kanute – Adam Altman York County 5 5 13- 0 5 5 13- 0
35 Caleb Williamson – Bryan Hicks Campbell County High School 5 5 12-15 5 5 12-15
36 Hunter Nanney – Jake Kimbrough North Mississippi 5 5 12-14 5 5 12-14
37 Dalton Powell – Baylor Layne Whitwell High School 5 5 12-11 5 5 12-11
38 Derek Carile – Hunter Miller 5 5 12-10 5 5 12-10
39 Hunter Porter – Cade Crocker Hillcrest High School 5 5 12- 7 5 5 12- 7
40 Alex Prince – Ben Finley Fannon Fishing Club 5 5 12- 6 5 5 12- 6
41 Jonathan Ayers – Hunter Richardson Campbell Co HS Cougars 5 5 12- 5 5 5 12- 5
41 Jacob Woods – Austin Winter TN-Lenoir City High School 5 5 12- 5 5 5 12- 5
43 Luke Byerly – Bryson Mills Brentwood High School 5 5 12- 4 5 5 12- 4
44 Dawson Stripling – Chance Spurling Temple High School 5 4 12- 4 5 4 12- 4
45 Brody Montgomery – Connor Handley Vinemont High School 5 5 12- 3 5 5 12- 3
46 Hunter Runyan – Chris Mcabee TN-Roane County High 5 5 12- 1 5 5 12- 1
47 Brady Harp – Mason Huey Spain Park High School 5 5 12- 0 5 5 12- 0
48 Gavin Ainslie – Collin Gregory 5 4 11-15 5 4 11-15
49 Dustin Jones – Mason Moore Lincon County High School 4 4 11-15 4 4 11-15
50 Ethan Floyd – Evan Kerr 5 5 11-14 5 5 11-14
51 Blade Parker – Dustin Hall NWGAHSAA – Sonoraville High Schoo 5l 5 11-11 5 5 11-11
51 Tanner Scruggs – Storm Cline Anderson County High School 5 5 11-11 5 5 11-11
53 Cody Mealer – Dylan Allen Odenville Bass Club 4 4 11- 8 4 4 11- 8
54 Keegan Jones – Hunter Edwards Hillcrest High School 5 5 11- 6 5 5 11- 6
55 Tucker Putnam – Will Dickerson AL-Good Hope Fishing Team 5 5 11- 5 5 5 11- 5
56 Asa Robertson – Blake Delong Warren County 3 3 11- 5 3 3 11- 5
56 Tucker Trowell – Jantzen Calvo NWGAHSAA – Dalton Bass 3 3 11- 5 3 3 11- 5
58 Samuel Alstat – Matthew Brandon Herrin High School 5 5 11- 0 5 5 11- 0
59 Griffin Fernandes – Joe Keller Southeastern Bass Anglers 5 5 10-13 5 5 10-13
60 Seaver McCall – Austin Banther Central High School 5 5 10- 9 5 5 10- 9
61 Brayden Milling – Gabe Brown Ringold High School 4 4 10- 9 4 4 10- 9
62 Troy Powers – Matt Stager Roane County High School 3 3 10- 9 3 3 10- 9
63 Parker Woods – Tyler Curtis Hayden High School 5 5 10- 6 5 5 10- 6
64 Preston Williamson – Nathan Hardin GA-Bremen High School 5 5 10- 3 5 5 10- 3
65 Easton Stanley – Spencer Hucks 3 3 10- 3 3 3 10- 3
66 Merritt Arnold – Troy Harris 5 5 10- 1 5 5 10- 1
67 Jerren Gieske – Will Daniels Lawrence County High 4 4 9-15 4 4 9-15
68 Alex Gault – Connor Phillips Lincoln County High School Falcons 4 4 9-14 4 4 9-14
69 Beau Henderson – Tyler Reis Travelers Rest HS 5 5 9-13 5 5 9-13
70 Hunter Hood – Landen Graves Mortimer Jordan Bass Club 3 3 9-13 3 3 9-13
71 Stuart Roggli – Abbigail Roggli Grundy County HS 3 3 9-10 3 3 9-10
72 Hunter MCClaskey – Blane Poiroux Elizabethton High School 3 3 9- 9 3 3 9- 9
73 Tyler Wagnon – Lucas Terry AL-East Limestone 3 3 9- 7 3 3 9- 7
74 Jake Mims – Caleb Bryant GA-Alexander HS 4 4 9- 5 4 4 9- 5
75 Jared McCain – Jarrett Floyd Piedmont High School 3 3 9- 5 3 3 9- 5
76 Carter Ball – Ethan Shaw Noblesville High School 4 4 9- 4 4 4 9- 4
77 Bryson Thurman – Chase Potter NWGAHSAA – Sonoraville High Schoo 3l 3 9- 1 3 3 9- 1
78 Hunter Brackett – Riley Brown Roane County high School 5 5 9- 0 5 5 9- 0
79 Will Delaney – Kaleb Ballard AL-Hillcrest High School 3 3 9- 0 3 3 9- 0
80 Kyle Calvert – Cole MacDonald AL-Good Hope Fishing Team 5 5 8-15 5 5 8-15
81 Drey Long – Austin Clanton Lawrence County HS 4 4 8-15 4 4 8-15
82 Taylor Cox – Ben Muse Carrollton High School 2 2 8-15 2 2 8-15
83 Hunter Swanson – Evan Swanson Tellico High School 4 4 8-14 4 4 8-14
84 AJ Segers – Justin Roberts Marion High School 4 4 8-13 4 4 8-13
85 Evan Redic – Kyson Brown Mt Juliet 3 3 8-13 3 3 8-13
86 Corbin Preston – Hayden Holloway Herrin High School 5 5 8-12 5 5 8-12
87 Wyatt Gabby – Drew Herrmann Marion High School 4 4 8-10 4 4 8-10
87 Bryson Giddy – Calab Boyd Lafayette High School 4 4 8-10 4 4 8-10
89 Brooks Anderson – Will Cain Mt.Bethel Christian academy 3 3 8- 9 3 3 8- 9
90 Cameron Bankston – Spencer Minter Whitwell High School 3 2 8- 9 3 2 8- 9
91 Austin Blair – John Pope Bunker Hill High School 4 3 8- 7 4 3 8- 7
92 Colton Kees – Zach Crowe Coalfield High School 1 1 8- 7 1 1 8- 7
93 Lucas Lindsay – Logan Parks Auburn Anglers 4 4 8- 6 4 4 8- 6
94 Hunter Wilkins – Will Miller American Christian acadamy 4 4 8- 5 4 4 8- 5
95 Matthew Stombaugh – Jesse Griffey 2 2 8- 4 2 2 8- 4
96 Levi Nelson – Dalton Bailey Hillcrest High School 4 4 8- 2 4 4 8- 2
97 Joshua Walker – Matthew Butcher Warren Co 3 3 8- 1 3 3 8- 1
98 Caleb New – Cade Barnes Tuscaloosa County High School 3 3 7-14 3 3 7-14
99 Noah Bentley – Dustin Teat Brookwood High School 3 3 7-13 3 3 7-13
100 Kurt Harris – Brayden Majors Brookwood High School 3 3 7-12 3 3 7-12
101 Hayden Gaddis – Marcus Whaley Seymour High School 3 3 7-10 3 3 7-10
102 Grant Rogers – Caleb Boyd Brookwood High School 1 1 7-10 1 1 7-10
103 Garrett Hall – Tyler Conley Rhea County High School 2 2 7- 8 2 2 7- 8
104 Patience Harris – Eli Gates Rhea County High School 2 2 7- 7 2 2 7- 7
105 Heath Yates – Brooks Crawford Ravenwood High School 3 2 7- 5 3 2 7- 5
106 Chase Shrum – Josh Carter Ridgeland Bass Anglers 2 2 7- 5 2 2 7- 5
107 Justin Botts – Jake Rouse 3 3 7- 2 3 3 7- 2
107 Fischer Keel – Will Garrett AL-Auburn Anglers 3 3 7- 2 3 3 7- 2
109 Bryan Speller – Chase Poole Sale Creek Anglers 1 1 7- 1 1 1 7- 1
110 Miller Jacobs – Avery Elliot Hillcrest High School 5 5 7- 0 5 5 7- 0
111 Noah Rutledge – Judd Schlies Bremen High School 1 1 7- 0 1 1 7- 0
112 Cole Rankin – Robby Vandergriff Grace Christian Academy 4 4 6-13 4 4 6-13
113 Cy Lambert – Houston Smith Cullman HS 3 3 6-12 3 3 6-12
114 Tyler Anderson – Morgan Suarez 3 3 6-11 3 3 6-11
114 Asher Culton – Braxton Reed Soddy Daisy High school 3 3 6-11 3 3 6-11
116 Jarrett McMillan – Scout Suddeth GA-Bremen High School 3 3 6-10 3 3 6-10
116 Hayden Murphy – Trent Beaty NWGAHSAA – Gordon Lee High Scho o3l 3 6-10 3 3 6-10
118 Garrett Hayes – Dylan Hayes Northwest Georgia High School 2 2 6- 9 2 2 6- 9
119 Emil Wagner – William Perry Walton High School 3 3 6- 7 3 3 6- 7
120 Bailey Fain – Dalton Harrison Lenoir City High School 2 2 6- 7 2 2 6- 7
121 Jake Beihoffer – Tyan Massengale TN-Soddy Daisy HS 2 2 6- 5 2 2 6- 5
121 Wade Sneed – Tyler Price TN-Rhea County High School 2 2 6- 5 2 2 6- 5
123 Bailey Bleser – Matthew McDonald Catholic Central High School 2 2 6- 4 2 2 6- 4
124 Thomas Smith – Tucker Hooker Sale Creek Anglers 3 3 6- 3 3 3 6- 3
125 Garrett White – Tanner Mcclain Rhea County High 3 3 6- 2 3 3 6- 2
126 Colby McCrary – Jack Gipson Whitwell High School 1 1 6- 2 1 1 6- 2
127 Kaleb Clifton – logan Belew 3 3 6- 1 3 3 6- 1
128 Gil Crew – Reese Kingston Alexander HS 3 3 5-15 3 3 5-15
129 Tucker Perrin – Jackson Murphree springville Anglers 2 2 5-15 2 2 5-15
129 Nolan Smith – Jameson Wright NWGAHSAA – Heritage High School 2 2 5-15 2 2 5-15
131 Grant Dees – Ben Freeman Grundy County 1 1 5-14 1 1 5-14
132 David Chadwick Salyer, Iii – Tyler Anderson 2 2 5-13 2 2 5-13
133 Dylan Flood – Logan Viars NWGAHSAA – North Murray High Sch o3ol 3 5-12 3 3 5-12
134 Isaac Turner – Cam Rutledge 3 3 5-10 3 3 5-10
135 Harry James – Trip Costello Franklin High School 1 1 5-10 1 1 5-10
135 Ty Smith – Jared Spradlin Gordon Lee HS 1 1 5-10 1 1 5-10
137 Bailey Silcox – Tyler Glascock 3 3 5- 9 3 3 5- 9
138 Cade Briggs – Tanner Holmes Northgate High School 2 2 5- 7 2 2 5- 7
138 Hunter Conaster – Luke Patton York Bass Fishing Club 2 2 5- 7 2 2 5- 7
140 Blake Richardson – Ethan Bone Heritage High School 1 1 5- 5 1 1 5- 5
141 Zach Holbrook – Jacob Boggs Perry County Central High School 2 2 5- 3 2 2 5- 3
142 Jake Buchanan – Curtis Spinks Carrollton Trojans 2 2 5- 2 2 2 5- 2
142 Tyler Cunningham – Bradley Kendrick Hillcrest High School 2 2 5- 2 2 2 5- 2
144 Alyssa Taylor – Dawson Mason Walker Valley High School 1 1 5- 2 1 1 5- 2
145 Adam Gentry – Braydon Mattox Villa Rica High School 2 2 5- 1 2 2 5- 1
145 Hunter Robertson – Caleb Butcher 2 2 5- 1 2 2 5- 1
147 Noah Winchester – Mason Ketcher Elizabethton High School 2 2 5- 0 2 2 5- 0
148 Chase Garrison – Brady Garrison MGA Fishing Club 1 1 5- 0 1 1 5- 0
149 Kaleb Boatwright – Zack Brooks North Augusta Fishing Team 1 0 5- 0 1 0 5- 0
150 Briar Lee – Trevor Cartwright 2 2 4-15 2 2 4-15
151 Dylan Perry – Chandler Moore Heritage High School 2 2 4-14 2 2 4-14
152 Luke McHan – Evan Thomas Fannin Fishing Club 3 3 4-13 3 3 4-13
153 Jt Minor – Pryce Whitefield Gallatin High School 2 2 4-13 2 2 4-13
154 Peyton Trimm – Parker Trimm Northside High School 1 1 4-12 1 1 4-12
155 Noah Varner – Nate Varner Rhea County High School 3 3 4-10 3 3 4-10
156 Michael Bobich – Jack Blomquist Plainfield South Bass Fishing Team 2 2 4-10 2 2 4-10
156 Mac Raughton – Zac Raughton North Georgia High School anglers 2 2 4-10 2 2 4-10
158 Hunter Beckjorden – Kyle Jacobs Temple High School 1 1 4-10 1 1 4-10
159 Branson Defoor – Kobe Mccall North Murry High School 2 2 4- 8 2 2 4- 8
160 Hunter Richie – Blake Groce NWGAHS–Gordon Lee High 1 1 4- 8 1 1 4- 8
161 Caleb Crabtree – Trent Boyett Lincoln County High School Falcons 2 2 4- 7 2 2 4- 7
161 Eli Lubbehusen – Connor Rogers Southridge High School 2 2 4- 7 2 2 4- 7
163 Derek Sutton – Eli Jones Villa Rica High School 2 2 4- 6 2 2 4- 6
164 Orion Feaster – Thomas Trevino Livingston Academy 1 1 4- 6 1 1 4- 6
165 Hayden Reece – Christian Rose North West High School 1 1 4- 3 1 1 4- 3
166 David Dueland – Keaton Kinney Cullman High School 2 2 4- 1 2 2 4- 1
166 Connor Ezzell – Riley Kilpatrick AL-Athens Anglers 2 2 4- 1 2 2 4- 1
166 Logan Jones – Sean Chauncey Karns High School 2 2 4- 1 2 2 4- 1
166 Austin Waelzinski – Nathan Welch Franklin High School 2 2 4- 1 2 2 4- 1
170 Aj Youther – Brittany Harris Rhea County High School 2 2 4- 0 2 2 4- 0
171 Zachary Blaylock – Ethan Dunn NWGAHSAA – Murray County High Sc 2hool 2 3-15 2 2 3-15
171 Carter Roberts – Gunner Lee Northwest Georgia High School 2 2 3-15 2 2 3-15
173 Chase Cantrell – Nathan Powell TN- Whitwell HS 2 2 3-14 2 2 3-14
173 Kell Green – Jimmy Long Fannon High School 2 2 3-14 2 2 3-14
175 Patterson Beene – Mitchell Herndon 1 1 3-14 1 1 3-14
176 Fisher Swanson – Cody Swanson 2 2 3-12 2 2 3-12
177 Corbin Fowler – Derrick Green NWGAHSAA – Coahulla Creek 2 2 3-11 2 2 3-11
178 Jackson Kulijof – Coleman Bingham 2 2 3-10 2 2 3-10
179 Cole Wooten – Preston Kendrick Gardendale High School 2 2 3- 9 2 2 3- 9
180 Dalton Noble – Cameron Fugate Perry County Central High School 2 2 3- 8 2 2 3- 8
180 Samuel Vandagriff – Matthew Vandagriff TN-Warren County 2 2 3- 8 2 2 3- 8
182 Cody Banks – Auston Ricks AL-Cold Springs Fishing Team 2 2 3- 7 2 2 3- 7
182 William Pritchett – Myles Bennett 2 2 3- 7 2 2 3- 7
184 Jackson Viall – Wyatt Springer Gallatin High School 2 2 3- 6 2 2 3- 6
185 Tyler Finley – Hayden Pugh MPHS Bass 2 1 3- 6 2 1 3- 6
186 Tyler Lubbat – Nolan Siara Buffalo Grove Bass Fishing 2 2 3- 5 2 2 3- 5
187 Hayden Fox – Evan Cauthron Mt Juliet 1 1 3- 4 1 1 3- 4
188 John Evans Thrower – Aubrey Whisenant Arab Fishing Knights 2 1 3- 3 2 1 3- 3
189 Dara Hand – Jake Griggs Vinemont High School 1 1 3- 3 1 1 3- 3
189 Caton Odom – Jacob Goforth Sequoyah High School 1 1 3- 3 1 1 3- 3
191 Will Schibig – Austin Mcwhirter Gallatin High School 1 1 3- 2 1 1 3- 2
192 Weston Terry – Charlie Terry Boyd Buchanan High School 1 1 3- 1 1 1 3- 1
193 Hunter Flory – Austin Flory Rhea County High School 2 2 2-14 2 2 2-14
194 Avry Thomason – Wesley Hagan 2 2 2-13 2 2 2-13
195 Eli Chambers – Hunter Herfurth Vinemont High School 1 1 2-13 1 1 2-13
196 Dylan Pittman – Michael Evans Whitwell High School 1 1 2-12 1 1 2-12
197 Chase Disney – Leslie Overton Grace Christian Academy 1 1 2- 9 1 1 2- 9
197 Cole Rominger – Koby Johnson Brookwood High School 1 1 2- 9 1 1 2- 9
199 Dustin Benefield – Will Spencer Arab High School 1 1 2- 6 1 1 2- 6
199 Ezra Smith – Devin Howard 1 1 2- 6 1 1 2- 6
201 Caitlynn Bishop – Molly Gentry Rhea County High School 1 1 2- 4 1 1 2- 4
201 Kaleb Cook – Hudson Tinnell Helena High School 1 1 2- 4 1 1 2- 4
203 Austin Braboy – Wesley Dunn McCracken County High School 1 1 2- 3 1 1 2- 3
203 Storm Erwin – Tyler Lusk 1 1 2- 3 1 1 2- 3
203 Luke Neely – Cody Landreth NWGAHSAA – Whitfield 1 1 2- 3 1 1 2- 3
206 Taylor Crawford – Allie Tuggle Gardendale high School 1 1 2- 1 1 1 2- 1
206 Ryan Godsey – Dakota Harris Ridgeland Bass Anglers 1 1 2- 1 1 1 2- 1
206 Kolby Holcomb – Jacob Cross Bradley Central 1 1 2- 1 1 1 2- 1
206 Zach Vaughn – Christian Vaughn NWGAHS 1 1 2- 1 1 1 2- 1
210 Alex Gibson – Nathan Ownby Walker Valley 1 1 2- 0 1 1 2- 0
210 Austin Goins – Brandsford Dean TN-Rhea County High School 1 1 2- 0 1 1 2- 0
210 Connor Hicks – Clay Patterson Ravenwood 1 1 2- 0 1 1 2- 0
210 Calvin Lang – Rylee Shell Guntersville High School 1 1 2- 0 1 1 2- 0
210 Luke Lynn – Brandon Cobb Marion High School 1 1 2- 0 1 1 2- 0
210 Ethan Manley – Tucker Mathis Rhea County 1 1 2- 0 1 1 2- 0
216 Gannon Beavers – Tyler Wells NWGAHSAA – Coahulla Creek High S c1hool 1 1-15 1 1 1-15
216 Jordan Lawson – Carson Ellison 1 1 1-15 1 1 1-15
216 Mattie Powell – Chellan Cantrell Whitwell Highschool 1 1 1-15 1 1 1-15
219 Linzi Abbott – Lili Waters Cold Springs 1 1 1-14 1 1 1-14
219 Hunter Hasty – Warren Carnes NWGAHSAA – Coahulla Creek 1 1 1-14 1 1 1-14
219 Eric Lampkin – Chase Fowler Arab High School 1 1 1-14 1 1 1-14
222 Bronson Goff – Nate Lear Muhlenberg High School 1 1 1-13 1 1 1-13
222 James Mantooth – Charlie Harless 1 1 1-13 1 1 1-13
224 Will Bryant – Alex Hadden NWGAHS Calhoon High Anglers 1 1 1-12 1 1 1-12
225 Austin Daniel – Kyler Cleghorn NWGAHSAA – Lafayette High School 1 1 1-11 1 1 1-11
225 Haley Fox – Robert Goodner Bradley Central 1 1 1-11 1 1 1-11
227 Jordan Feltner – Abby Ison Perry County Central High School 1 1 1- 8 1 1 1- 8
228 Austin Birdwell – Matthew Weaver Grundy County High 1 1 1- 7 1 1 1- 7
229 Aaron George – Kyle Burtam Odenville Bass Club 1 1 1- 3 1 1 1- 3
229 Bailey Talent – Bailey Pennycuff Livingston Academy 1 1 1- 3 1 1 1- 3
231 Andrew Bunch – Bryson Cartwright Bradley Central 1 1 1- 0 1 1 1- 0
232 Dalton Bailey – Lenoir City High School 0 0 0- 0 0 0 0- 0
232 Brandon Bates – Logan Phillips Soddy Daisy High School 0 0 0- 0 0 0 0- 0
232 Mason Beck – Brent Cowley Springville Anglers 0 0 0- 0 0 0 0- 0
232 Jon Bedford – Ty Cobb Lawrence County High School 0 0 0- 0 0 0 0- 0
232 Alex Boles – Rogers Dustin 0 0 0- 0 0 0 0- 0
232 Joshua Born – Tyler Wolfe-Driver 0 0 0- 0 0 0 0- 0
232 Zane Bowen – Stone Boyd Lenoir City High School 0 0 0- 0 0 0 0- 0
232 Matthew Bradham – Jaret Rushing Henry County High School 0 0 0- 0 0 0 0- 0
232 Landon Bradley – Troy Plemons NWGAHSAA – Gordon Lee High Scho o0l 0 0- 0 0 0 0- 0
232 Isaac Brewington – Hayden Merrell Mount Juliet High School 0 0 0- 0 0 0 0- 0
232 Hunter Brown – Carter Farrow NWGAHSAA – Ringgold High School 0 0 0- 0 0 0 0- 0
232 Conner Brown – Will Buckner Northwest High School 0 0 0- 0 0 0 0- 0
232 Bryson Canizales – Coy Mount 0 0 0- 0 0 0 0- 0
232 Coty Carlock – Branson Sticklan NWGAHSAA 0 0 0- 0 0 0 0- 0
232 Colby Chapman – Will Smith NWGAHS–Gordon Lee High School 0 0 0- 0 0 0 0- 0
232 Evan Chastain – Jackson Weeks Fannin Fishing Club 0 0 0- 0 0 0 0- 0
232 Carson Childs – Royce Crowe North Oconee High School 0 0 0- 0 0 0 0- 0
232 Jaxon Collake – Andrew Jones Heritage High /School 0 0 0- 0 0 0 0- 0
232 Makayla Collins – Seth Hodge 0 0 0- 0 0 0 0- 0
232 Oakley Connor – Gantt Connor SC-Travelers Rest HS Devildog Angle r0s 0 0- 0 0 0 0- 0
232 Landry Cooper – Cameron Kirkland TN-Sequoyah High School 0 0 0- 0 0 0 0- 0
232 Peyton Cox – Shawn Mills Taylor County HS 0 0 0- 0 0 0 0- 0
232 Preston Crowley – Wesley Hall Tuscaloosa County High School 0 0 0- 0 0 0 0- 0
232 Owen Crump – Ryan Coates 0 0 0- 0 0 0 0- 0
232 Ross Davis – Ethan Chastain NWGAHS–Murry County High 0 0 0- 0 0 0 0- 0
232 Steven Deason – Blake Handley AL-Hayden HS 0 0 0- 0 0 0 0- 0
232 Gabe Dempsey – 0 0 0- 0 0 0 0- 0
232 Wesley DeVaney – Nick Fain Bradley Central High School 0 0 0- 0 0 0 0- 0
232 Gavyn Driver – Harrison Jones NWGAHSAA – Dalton Bass Cats 0 0 0- 0 0 0 0- 0
232 Connor Edwards – Jackson Elder American Christian Academy 0 0 0- 0 0 0 0- 0
232 Trevor Ezell – Cameron Brewer Hillcrest High School 0 0 0- 0 0 0 0- 0
232 Andrew Fisher – Conner Fisher Callhoun HS 0 0 0- 0 0 0 0- 0
232 Brody Frazier – Jordan Frazier NWGAHS– North Murry high 0 0 0- 0 0 0 0- 0
232 Jacob Frazier – Kaden Hillman Hazard High School 0 0 0- 0 0 0 0- 0
232 Jacob Gardner – Jason Blevins Rhea County high School 0 0 0- 0 0 0 0- 0
232 Jacob George – Brody Anderson Odenville Bass Club 0 0 0- 0 0 0 0- 0
232 Tyler Goodwin – Raymond Davis Odenville Bass Club 0 0 0- 0 0 0 0- 0
232 Lawson Graves – Cameron Glasscock Cullman High School 0 0 0- 0 0 0 0- 0
232 Jackson Greer – Jason Gulley Skipstone Academy 0 0 0- 0 0 0 0- 0
232 Parker Grefrath – Jacob Whitehurst Franklin High School 0 0 0- 0 0 0 0- 0
232 Justin Gribble – Tanner Van Pelt NWGAHSAA – Lafayette High School 0 0 0- 0 0 0 0- 0
232 Cody Griffith – Luke Vickers Auburn Anglers 0 0 0- 0 0 0 0- 0
232 Chandler Guffey – Sam Morgan GCHS 0 0 0- 0 0 0 0- 0
232 Max Gunter – Justin Manis Sequoyah High School 0 0 0- 0 0 0 0- 0
232 Spencer Hammontree – John Hammontree NWGAHSAA 0 0 0- 0 0 0 0- 0
232 Adam Harris – Dylan Moore Sequoyah High School 0 0 0- 0 0 0 0- 0
232 Hunter Harrison – Jacob Smith SC-Travelers Rest HS Devildog Angle r0s 0 0- 0 0 0 0- 0
232 Reece Hawthorne – Seth Blocker Boyd Buccanin 0 0 0- 0 0 0 0- 0
232 Chandler Heffington – Taylor Hammons Lincon County High School 0 0 0- 0 0 0 0- 0
232 Will Helton – Kason West NWGAHSAA – Northwest High School 0 0 0- 0 0 0 0- 0
232 Dawson Hembree – Seth Roberts Campbell Co HS Cougars 0 0 0- 0 0 0 0- 0
232 Morgan Henshaw – Isaac Herpst NWGAHS Lakeview HS 0 0 0- 0 0 0 0- 0
232 Houston Hill – Hunter Ford Gibbs HS 0 0 0- 0 0 0 0- 0
232 Evan Hill – Tanner Sexton Brentwood High School 0 0 0- 0 0 0 0- 0
232 Tristan Holt – Baker Zink East Hamilton Cane Anglers 0 0 0- 0 0 0 0- 0
232 Jason Hooper – Jordan Myers 0 0 0- 0 0 0 0- 0
232 Brandon Iles – Ridge bofer 0 0 0- 0 0 0 0- 0
232 Holden James – Jordan Alazzam Sale Creek 0 0 0- 0 0 0 0- 0
232 Alex Jimenez – Blake Osborne Marion High School 0 0 0- 0 0 0 0- 0
232 Brett Johnson – Zach Johnson Walker Valley High School 0 0 0- 0 0 0 0- 0
232 Clay Johnson – Nathan Reeder Livingston Academy 0 0 0- 0 0 0 0- 0
232 Dylan Jolly – Ward Barber Cohulla Creek 0 0 0- 0 0 0 0- 0
232 Hunter Juvers – Matthew Juvers 0 0 0- 0 0 0 0- 0
232 Reece Keller – Macon Gentry Hayden High School 0 0 0- 0 0 0 0- 0
232 Jon Kilpatrick – John Long LCHS Bass Team 0 0 0- 0 0 0 0- 0
232 Joseph Kovatch – Cameron Story Hartley Hawgs 0 0 0- 0 0 0 0- 0
232 Landen Little – Tino Flamini NWGAHSAA – Dalton Bass Cats 0 0 0- 0 0 0 0- 0
232 Kyler Martin – Connor Wooten NWGAHSAA – Lafayette High School 0 0 0- 0 0 0 0- 0
232 Hunter McClendon – Dylan Byrd Cold Springs HS 0 0 0- 0 0 0 0- 0
232 Jeff McCormick – Douglas Nelson Warren County 0 0 0- 0 0 0 0- 0
232 Robert Mccrary – Jackson Lytle Rhea County High School 0 0 0- 0 0 0 0- 0
232 Chase Mccullough – Tyler Padgett Coahulla Creek 0 0 0- 0 0 0 0- 0
232 Devin Mckillip – Shane Bowman 0 0 0- 0 0 0 0- 0
232 Morgan Miracle – Logan Miracle 0 0 0- 0 0 0 0- 0
232 Gage Mosteller – Dylan Cabel NWGAHS 0 0 0- 0 0 0 0- 0
232 Anthony Murdock – Zachary Portillo York Bass Fishing Club 0 0 0- 0 0 0 0- 0
232 Zackary Nicholson – Dalton Tankersley Fannin County Fishing Club 0 0 0- 0 0 0 0- 0
232 Hudson Parker – Alexandria Black NWGAHSAA – Dade County High Sch o0ol 0 0- 0 0 0 0- 0
232 Conner Patterson – NWGAHS–Murry County High 0 0 0- 0 0 0 0- 0
232 Brendin Pederson – Sean Arrowood Walker Valley High School 0 0 0- 0 0 0 0- 0
232 Spencer Peters – Ethan Campbell 0 0 0- 0 0 0 0- 0
232 Fletcher Phillips – Griffin Phillips Gardendale 0 0 0- 0 0 0 0- 0
232 Lake Pickens – Ethan Ensley Northwest Georgia High School 0 0 0- 0 0 0 0- 0
232 Hunter Presley – Dillon Nelson 0 0 0- 0 0 0 0- 0
232 Doston Putman – Alex Curington GoodHope High School 0 0 0- 0 0 0 0- 0
232 Ethan Rice – Gabe Paris NWGAHSAA – Gordon Lee High Scho o0l 0 0- 0 0 0 0- 0
232 Colton Richard – Trent Hulsey Cullman High School 0 0 0- 0 0 0 0- 0
232 Bryce Robbins – Daniel Tallent Sequoyah High School 0 0 0- 0 0 0 0- 0
232 Hayden Robbins – Cole Crosland 0 0 0- 0 0 0 0- 0
232 Nathaniel Robbins – Brae Williams Hillcrest High School 0 0 0- 0 0 0 0- 0
232 John Roberts – Luke Roberts Sale Creek High School 0 0 0- 0 0 0 0- 0
232 Garick Robinson – Micah Bryant Sequoyah High School 0 0 0- 0 0 0 0- 0
232 Zack Runyon – Tyler Gates Coahulla Creek 0 0 0- 0 0 0 0- 0
232 Noah Sanford – Caden Sanford Greer Middle College Charter High Sc h0ool 0 0- 0 0 0 0- 0
232 Rand Schneck – Logan Swafford Bradley Central High School 0 0 0- 0 0 0 0- 0
232 Lee Scoggins – Zach Haynes Tellico Plains High School 0 0 0- 0 0 0 0- 0
232 Emilee Scott – Braxton Hutson White County High School 0 0 0- 0 0 0 0- 0
232 Ethan Seitz – Andrew Murphy Hixon HS 0 0 0- 0 0 0 0- 0
232 Justin Selvidge – Noah Neil Lenoir City High School 0 0 0- 0 0 0 0- 0
232 Carter Sheets – Aedan Novelli 0 0 0- 0 0 0 0- 0
232 Carson Shepard – Matthew Keith Northwest Georgia High School 0 0 0- 0 0 0 0- 0
232 Sydney Shields – Justin Hoffman Vinemont High School 0 0 0- 0 0 0 0- 0
232 Chandler Starks – Jackson Adams NWGAHSAA – Dalton Bass Cats 0 0 0- 0 0 0 0- 0
232 Jimmy Thornhill – Evan Goodwin Odenville Bass Club 0 0 0- 0 0 0 0- 0
232 Braeden Thurmond – Colby Thurmond Coffee County 0 0 0- 0 0 0 0- 0
232 Bryce Townsend – Matthew Nanney Henry County High School 0 0 0- 0 0 0 0- 0
232 Dalton Vaughn – Grayson Birdwell 0 0 0- 0 0 0 0- 0
232 Garrett Warren – Sam Hoesley Hoover High school 0 0 0- 0 0 0 0- 0
232 Andrew Weaver – Gaven Brown Cole Springs 0 0 0- 0 0 0 0- 0
232 Colby White – Addison Collins Arab Fishing Knights 0 0 0- 0 0 0 0- 0
232 Edward Wiley – Sawyer Baldwin York Bass Fishing Team 0 0 0- 0 0 0 0- 0
232 Reid Williams – Ashton Smith 0 0 0- 0 0 0 0- 0
232 Dakota Wilson – Elijah Garrett Livingston Academy 0 0 0- 0 0 0 0- 0
232 Eli Winkler – Heath Longwith East Hamiplton High 0 0 0- 0 0 0 0- 0
232 Drew Woodard – Bryce Donnahoo 0 0 0- 0 0 0 0- 0
232 Jacob Wright – Jesse Blackmon Goodhope High School 0 0 0- 0 0 0 0- 0
BIG BASS
Day Name City,State Lbs-Oz
1 Adam Sansom – Chase CarteRrocky Face, GA 10-11
---