2018 Ray Scott Championship Field to Take on the Red River April 5-8, 2018
---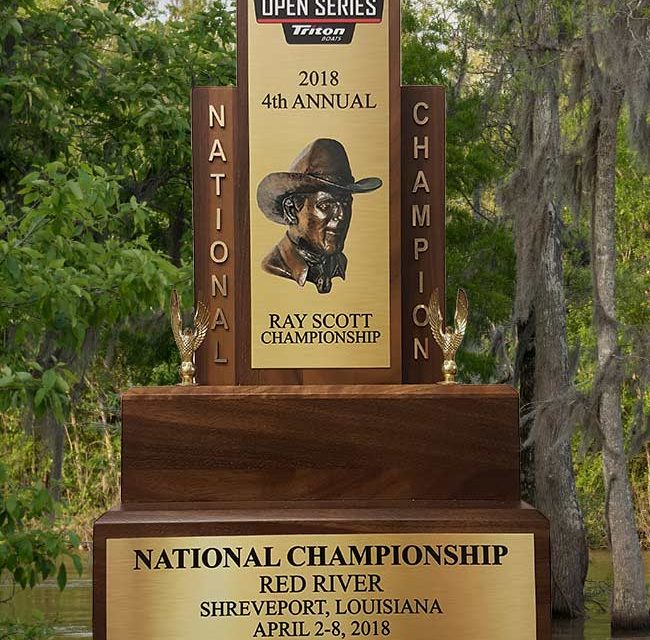 Athens, AL. – In the June of 1967, Ray Scott held the first modern-day bass tournament, which he called the All-American.  Fifty-one years later the best anglers from across the US are gathering to compete for the championship named after him, the Ray Scott Championship.  It's only fitting that at the same time the best in golf are playing at the Masters that the best weekend anglers will be competing for the Ray Scott Championship title. The 2018 Ray Scott Championship is being held on the Red River out of Shreveport-Bossier, LA April 5-8.
The Red River will test the anglers, but championships are intended to test competitors. They are forced to be both mentally and physically prepared for a four-day battle and find ways to score and win. In the world of bass fishing, this means consistently weighing in a limit of bass each day of the event.
The Red River has been the site of Bassmaster Classics as well as many weekend angler championships. The Red River is made up of pools, and our anglers will fish pools 3, 4 and 5. The anglers will launch each day on pool 5 about 12 miles north of the pool 5 lock and dam. Pool 5 is considered the most stable dealing with inflowing water. Anglers will fish Pool 4 which is more like a river than pool 5 and is loaded with Oxbows. These Oxbows fish well with higher water, but the anglers will have to navigate the lock to get there. Locks on the Red River can take thirty minutes to an hour to navigate.
A real gambler might shoot for Pool 3, but that means a two-hour run each way, navigating locks and still have enough time to turn in a good limit. Anglers that makes a pool 3 run better have a game plan that works.
The last few big events held on the Red River proves that plastics and bladed swim jigs are very productive. However, other baits that produce big bags are square bill crankbaits, jigs and spinnerbaits. Thank goodness there is a Bass Pro Shop right in Shreveport. Once the anglers in this championship figure out what is the hot bait(s), they will sell out fast.
A good example would come from a veteran of the Red River Homer Humphreys Jr. In April of 2008, Humphreys placed second in a BASS Open making only a 12-minute run from the launch. He caught his fish by swimming a BassGitter jig and a chatter bait. That week Humphreys and his partners brought in 90 pounds of bass.
Alternatively, in 2014 Stephen Browning won a BASS Open. He used a 1/2-ounce chartreuse-and-white spinnerbait when the wind was blowing on day one. However, his money bait was a square-bill crankbait.
In an interview on bassmaster.com Browning said, "Every day the fish are going to be on a specific piece of cover," he said. "It requires keen observation and brain recall of what the fish are relating to on that given day."
Based on Browning's comments about the tournament it may come down to the anglers that can catch a limit then find one or two kickers each day. His final weight was 44 pounds 3 ounces or 14.66 pounds a day. His three days weights were 14 pounds 15 ounces, 13 pounds 9 ounces and the final day 15 pounds 11 ounces.
The 2018 Ray Scott Championship may come down to who can be the most consistent angler that brings in 15 pounds per day average.
The Boater Ray Scott Champion will win $50,000 and a new Triton 21 TRX Bass Boat powered by a Mercury 250ProXS.  The Co-Angler Ray Scott Champion will win $25,000 a new Triton 19 TRX Bass Boat powered by a Mercury 200ProXS. Both Triton Bass Boats are rigged with ABA Sponsor Products. Garmin Marine Electronics, T-H Marine Accessories and powered with Optima Batteries.
The Shreveport-Bossier Sports Commission is hosting the 2018 Ray Scott Championship. Not only does the Shreveport-Bossier City area provide a top-notch area to hold tournaments they have a lot to offer anglers when they are off the water. Shreveport-Bossier is also home to the famous Louisiana Boardwalk. Where there is a lot to discover from the Bass Pro Shop to Joe's Crab Shack.  The area offers entertainment for the whole. For a list of fun things to do visit https://www.shreveport-bossier.org/things-to-do/.
If that wasn't enough, it is full on crawfish season! That means some the best Cajun food you could ever experience. Crawdaddy's Kitchen, LarryP's Boiling Pot, Marilynn's Place and the Blind Tiger are just a few of the local Cajun cuisine hot spots to choose from.
The public is invited to attend the Ray Scott Championship daily weigh-ins at Red River Marina South starting Thursday, April 5th at 3 pm. The final weigh-in will be on Sunday, April 8th with the top 25 boater and co-anglers. Red River Marina South is located at 250 Red River South Marina Road, Bossier City, LA 71112, (318) 747-9545.
American Bass Anglers' commitment is to provide low cost, close to home tournaments for the weekend angler and at the same time offer each competitor an upward path for individual angler progression. For more information about American Bass Anglers and the American Fishing Tour, the ABA Open Series, the Triton 100% Plus Team Tour, or the American Couples Series, visit www.americanbassanglers.com 
---